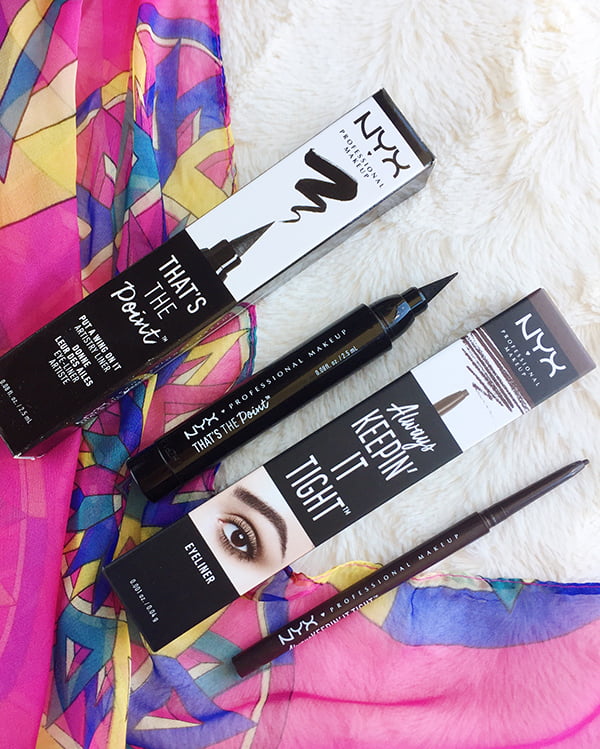 I was in need of new eyeliners because my beloved The Balm Schwing liquid liner was starting to go bad. Although I love Stila and MUFE eyeliners, I did not want to spend $$ on them at the moment. When I was browsing in Ulta, I saw walked by the NYX section and saw scoped out some of the eyeliners. I purchased the That's the Point liquid eyeliner (in the tip "Put a Wing on It") and the Always Keepin' it Tight eyeliner (in the shade "Brown).

The That's the Point ($9.99) collection comes in eight different tips of black liquid eyeliner. I happened to get the tip Put a Wing on It, which is fatter in diameter than than the other eyeliners. It tapers to a very thin, sharp tip at the top. You can use the top of the tip to line your upper lashes, and angle it to get the wider line for your wing. I like how hard the tip is (a lot of drugstore liquid eyeliners I have tried have a tip similar to this, but it was too soft, therefore I was unable to apply precisely). Unfortunately, I am not pleased with how it's not rich black: it lacks pigmentation, even when I shake before opening. If I do want more pigmentation though, I have to press down harder as I'm applying which I'm not super comfortable doing in case if I mess up, or ruin the tip. Some reviewers on Ulta complained that the eyeliners would It's annoying and a bit of a letdown, but I won't let stop using it. I would just need to set it with a black eyeshadow, which is another added inconvenience.
Now the Always Keepin' It Tight ($8.99) pencil eyeliner was a huge disappointment. The eyeliner is very thin and is meant to be used as tightlining your lashes. It is also retractable. However, it has almost zero pigmentation and no matter how much I try to keep layering the product, hardly anything comes out. I mean, I can tell that my lowerlashes have eyeliner as I am applying it, but it fades within minutes, and throughout the day it looks like I never even applied it. In addition, it keeps breaking even though I try to minimize twisting it as much as possible. It is way too delicate.
Overall, I would say that the That's the Point liquid liner is alright, but not amazing. I do like how they come in different tips rather than shades, that you can check out here. As for Always Keepin' It Tight, I really do not recommend that. Maybe I got a bad batch, but it is definitely not worth the money. Now back to searching for that perfect brown pencil eyeliner…
Have you tried any eyeliners from NYX? What are your favorites?
Hannah is a travel writer, graphic designer, and the founder/editor of Hannah on Horizon. She is based in Sacramento, California, living with her husband and two adorable dogs. She shares tips on how to experience luxury travel on any budget, and how to maximize time at each trip or destination, no matter what your budget or amount of vacation time at work. She enjoys making you feel like you have visited each destination with her through her storytelling and informative writing style.