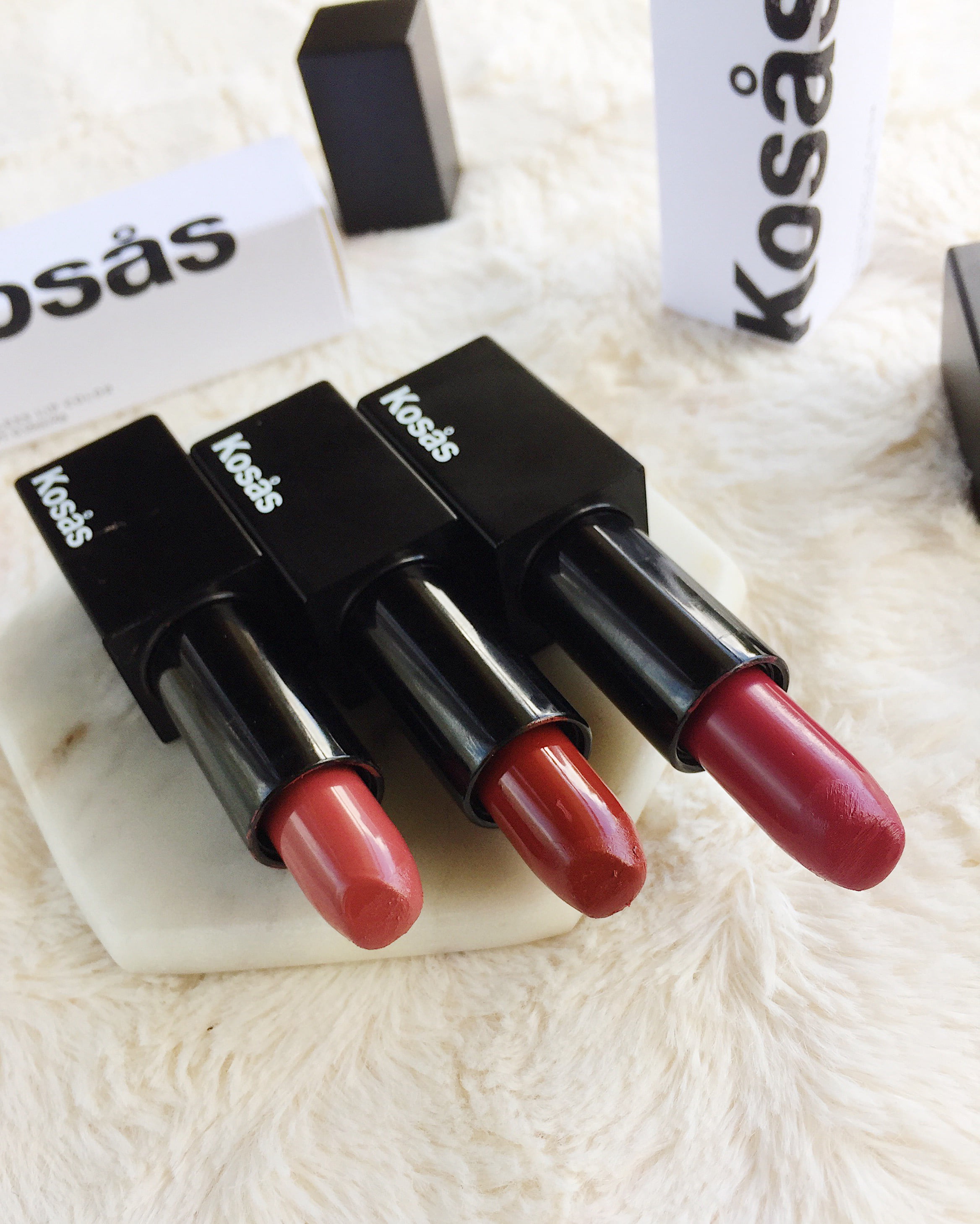 I almost wasn't going to review these because I already started wearing them before I got a chance to take photos of them, because I loved them that much, then I realized that the tips were no longer perfect. Oh, the pressures of being a blogger and having the most "perfect" photos. I also realized again…who cares if they aren't catalog-ready? I still wanted to make a blog post/review dedicated to these 3 lipsticks from Kosås Cosmetics.
Kosås is a fairly new clean green beauty brand, started in 2015 by Sheena Yaitanes. She developed a passion for makeup at a young age (due to her mother working in the beauty industry), which lead her to study chemistry and painting in university. She blends colors, coming up with ones that universally flatter all women. Kosås lipsticks are made with safe, clean ingredients such as:
Green tea seed oil (heals cells and fights free radical damage)
Grapeseed oil (anti-inflammatory and moisturizing)
Rosehip seed oil (heals cells and reverses environmental damage)
Mango seed butter (heals and moisturizes)
Shea butter (to soothe and moisturize)
Orange oil (adds a sweet, uplifting scents)
Kosås does not contain any of the following ingredients: parabens, phthalates, BHA/BHT, mineral oil, propylene glycol, polyethylene glycol, fragrance, or retinoids. They are also gluten, soy, egg, nut and cruelty free.
You can shop for Kosås lipsticks online on their website, Neiman Marcus, Credo Beauty, and The Detox Market. I purchased them at Credo Beauty. Each lipstick tube is $28 a pop and is packaged in in a sleek, rectangular black tube, similar to NARS' lipsticks. It also has a magnetic enclosure. NARS' lipsticks are also $28 but only have 0.12 oz worth of product, whereas Kosås lipsticks have 0.14 oz. worth of product. So you get slightly more for your buck here.
The formula is very creamy and smooth…I would say it's almost semi-matte. It lasts for a few hours without eating, but because of the creaminess and after a meal, yes you do have to reapply. But it's oh-so comfortable. At the end of the day my lips start to show flakes but that's because I have very dry lips. That might not be a problem for you though. If you have chronically dry lips like I do, I recommend exfoliating with a wet towel or a toothbrush before bed (or upon waking up), and wearing a heavy lip mask.
While Kosås lipsticks have 8 shades, I picked up 3: Undone, Fringe and Royal.
Undone: Undone is a neutral "toasted pink", though it appears more brown on some skin tones. At first, I was disappointed in this shade because I wanted more of the brown look and I thought it was too light. It shows up more as a peachy pink to me. In fact, I was reading Makeup and Beauty Blog's review on the Kosås lipsticks and was wondering why Undone looked darker on her than it did on me, and we almost have the same skin tone. Nevertheless, I actually started wearing this shade pretty frequently because it's safer and less bold than the other shades, and it actually grew on me and I now love it. It's such a pretty, feminine shade for the spring and it's actually much warmer and more peachy under natural light. It gives my lips a healthy, vibrant appearance.
Fringe: This is definitely my sort of color! Fringe is a grungy, 90's shade of red but it's not too dark or intimidating to pull off. This is perfect for fall, though I still sometimes wear it. It's a cleaner, more vampy version of my beloved MAC lipstick in "Retro" (with a bit of "Diva" mixed in).
Royal: This berry shade is actually my favorite of the bunch (though I lovelovelove the other 2!) It's pink and girly enough for spring, bright enough for summer and vampy enough for fall and winter. It's bold, but not too bold for everyday wear.
Yes, the Kosås lipsticks are a bit pricey, but I believe it's worth it based on the stunning colors, comfortable, creamy formula, packaging, and high quality safe ingredients. If you are looking for a clean, cruelty-free alternative to the NARS lipsticks, I cannot recommend Kosås enough!
Hannah is a travel writer, graphic designer, and the founder/editor of Hannah on Horizon. She is based in Sacramento, California, living with her husband and two adorable dogs. She shares tips on how to experience luxury travel on any budget, and how to maximize time at each trip or destination, no matter what your budget or amount of vacation time at work. She enjoys making you feel like you have visited each destination with her through her storytelling and informative writing style.