You probably aren't familiar with California's capital, but if there's one thing you need to know, Sacramento has a thriving coffee scene. If you're searching for some of the best coffee shops in Sacramento, you have come to the right place!
According to WalletHub, Sacramento was ranked among the top 20 as one of the best cities for coffee in the U.S. The personal finance website measured different factors such as the number of cafes per capita and the average price of a cappuccino.
And in 2015, Matador Network ranked Sacramento as the #1 coffee city in the world!
In just about every corner of Sactown, you can find a bougie, Instagrammable coffee shop with fancy latte art, or an old-school hidden gem. And if you are a creature of habit, you won't have a hard time finding Starbucks or Peets. You don't need to venture out to San Francisco or Seattle for your java fix!
If you are looking for a place to relax, a date spot, or your next remote workspace, look no further than the best coffee shops in Sacramento!
The best coffee shops in Sacramento
Temple Coffee Roasters
2829 S Street
Sacramento, CA 95816
Temple's other locations
Temple is one of the most popular and best coffee shops in Sacramento, hands down. While there are multiple locations all over the area, the café off of 28th and S streets is the busiest. The lines are bursting outside the entrance, even during the weekdays! The founder, Sean Kohmescher, opened up the first café in 2005 inspired by the temples he visited in Indonesia to create a sense of community he experienced there. Today, there are locations all over Midtown and Downtown Sacramento, Folsom, and Davis.
Using a farm-to-cup approach, Temple sources their beans from various farmers and pays them above Fair Trade prices so that they can have a stable income. They also work with farmers and producers who reduce their environmental impact through water conservation, forestry, and shade management.
You honestly can't go wrong with whatever you choose at Temple. They even have a delicious matcha latte! I am also fond of their cold brews, like the ginger cream one pictured below as a part of their specialty fall menu. If you're hungry, grab a donut!
Pachamama
919 20th Street
Sacramento, CA 95811
Pachamama's other locations
Founded by farmers in Latin America, Pachamama sold its first bag of beans in the Davis Food Co-Op. Today, Pachamama has storefronts in Sacramento, Davis, and Placerville. I highly recommend visiting the Midtown Farmers Market on Saturday mornings and walking over to Pachamama, which is right down the street. Their specialty drinks use oat milk as the default creamer, and they have a decent amount of indoor and outdoor seating. The Midtown location is where they have their own roastery.
Pachamama also has its own booth in the Davis Farmers Market on Saturday mornings! So when you're strolling around Downtown Davis, make sure to stop by and get your fix!
Chocolate Fish Coffee Roasters
4749 Folsom Blvd.
Sacramento, CA 95819
Chocolate Fish is an award-winning coffee shop with three locations, one in Folsom, and two in Sacramento in the East Sac and Land Park locations. The East Sacramento location is also where they have the roastery. They have a spectacular relationship with their farmers, and their mission is all about making coffee accessible to the public through education. They offer different classes such as home brewing, latte art, and coffee tasting workshops (I've taken a roastery tour with them many years ago). If you are interested in becoming a barista, Chocolate Fish even offers SCA-certified (Specialty Coffee Association) classes to help you along the way.
Their drinks are on point, and you have to try their blended drinks (though technically it's a secret menu item). You can get blended drinks in a coffee, mocha, or white mocha flavor. They also have fancy toasts with avocado or jam, and a pretty mean Belgian waffle!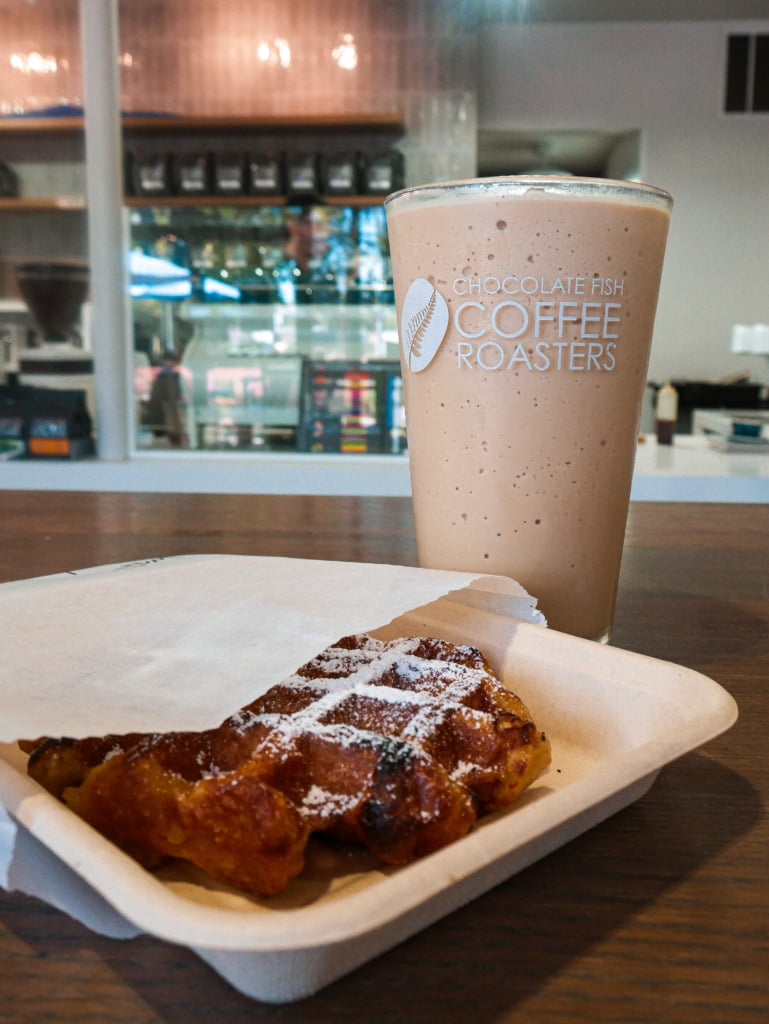 Goodside Coffee
1430 H Street
Sacramento, CA 95814
You want Instagrammable? You got it with Goodside Coffee. Located in Downtown Sacramento's Mansion Flats neighborhood, Goodside reps its location with its large mural etched with fancy lettering inside. The cafe is large and airy with decor thoughtfully planned throughout the space. Not only do they have delicious lattes, but they also offer brunch! I can't recommend their bagels enough.
Camellia Coffee Roasters
1200 R Street, #130
Sacramento, CA 95811
Camellia Coffee Roasters started off as a wholesale roaster and was named after the camellia flower. By the way, did you know that Sacramento is the camellia capital of the world?!
Today, Camellia Coffee Roasters has its own café located in R Street Corridor, a Midtown neighborhood filled with art galleries, breweries, shops, and restaurants.
Camellia has the typical drinks you find at a coffee shop, but I recommend the Horchata cold brew! They also offer food such as breakfast sandwiches, croissants, bagels, and hand pies. Don't forget the "babyccino" for your little ones (yes, it's a cup of whipped cream like the puppuccinos). All the pastries came from Faria Bakery, Sacramento's "boulangerie" in the Oak Park neighborhood.
Milka Coffee Roasters
1501 G Street
Sacramento, CA 95814
Another Instagram spot, Milka Coffee Roasters is an 1861 Victorian house turned cafe in Downtown Sacramento. Much like Goodside Coffee, the interiors and decor are dreamy and impeccable, albeit much smaller. The staircase leads you to the cafe to your right, while the waiting area has empty space and a window from ceiling to floor, letting the light in. On the other side of the waiting area is the lounging area. You might need to wait and fight for a spot (especially on the weekends) with how tight it is. But it's all worth it! I totally recommend the maple latte with oat milk.
Drip Espresso
1004 24th Street
Sacramento, CA 95816
Drip Espresso is the newest café listed and is Black-owned and woman-owned. Three sisters, Keiona Williamson, Jasmine Bronson, Tai Yanna Williamson, and Taylor White, came together to build Drip Espresso from the ground up during the pandemic. Their coffee shop location was originally a vegan café that their parents owned. Their father passed away and their mother decided to sublease the space to her daughters, continuing the family legacy. They also fundraised with the help of iFundWomen.
The sisters wanted to create a space where people can savor delicious drinks and food, study, work, and chill while enjoying the beautiful interior design. They source their beans and ingredients from BIPOC-owned, women-owned, and LGBTQ+-owned vendors. They also cater to EVERYONE with dietary needs, so most, if not all, of their food items, are vegan and/or gluten-free.
Naked Coffee
3527 Broadway
Sacramento, CA 95817
Naked's other locations
Naked is a small coffee shop with specialty drinks and four locations in Sacramento. The Broadway location in the Oak Park neighborhood is where they have the roastery, whereas the Midtown location is more of a lounge with eclectic decor. The Oak Park location has very limited seating, but they are bar-type seats facing the roastery. It's pretty neat seeing the bean-to-brew behind the scenes! If you're interested, maybe a barista could show you around 😉 also, their Vietnamese iced coffee is delicious and just what you need for a shot of energy!
18 Grams Coffee Roasters
9677 East Stockton Blvd.
Elk Grove, CA 95624
There are two 18 Grams locations, one inside the Nordstrom Rack in the Arden area, and the other in Elk Grove, a suburb right below Sacramento. They are known for a cozy atmosphere, Instagram-worthy decor, and a unique menu with drinks that may not be offered at other cafés. There are a variety of Asian-inspired drinks. While they have the Thai and Vietnamese iced coffees that are pretty common, they also offer Yuanyang, a Chinese drink that blends espresso and black tea with condensed milk. If you have a sweet tooth, try the ube latte, made from the purple Filipino yam. You can also try other beverages like the rose or charcoal lattes, iced strawberry matcha, or the Mexican mocha. 18 Grams also offers an extensive tea menu!
Water & Salt
1620 West Capitol Avenue
West Sacramento, CA 95691
Water & Salt is unique because they specialize more in their alkaline waters (and the fact that you can buy jugs of them and refill as needed), but they have a coffee bar! They are more wellness conscious in that they offer organic cold brew and bulletproof coffee (that's butter in coffee for the keto/low-carb people). For some extra sweetness, they only have monkfruit (no Stevia 🙁 ) On the other hand, they also serve not-so-"healthy" drinks such as Hawaiian shave ice, ice cream, and affogato (espresso with ice cream). The only downside is that Water & Salt is easy to miss because it's along West Capitol Avenue, West Sacramento's largest street, and there is no seating inside, and just two tables for two outside.
No shortage of coffee in Sacramento
One thing is for sure: you won't be lacking in any options for the best coffee shops in Sacramento. If you're all about good vibes and a jolt of energy, you'll find it all here!
Heading or moving to Sacramento? Check out these posts!
Hannah is a travel writer, graphic designer, and the founder/editor of Hannah on Horizon. She is based in Sacramento, California, living with her husband and two adorable dogs. She shares tips on how to experience luxury travel on any budget, and how to maximize time at each trip or destination, no matter what your budget or amount of vacation time at work. She enjoys making you feel like you have visited each destination with her through her storytelling and informative writing style.