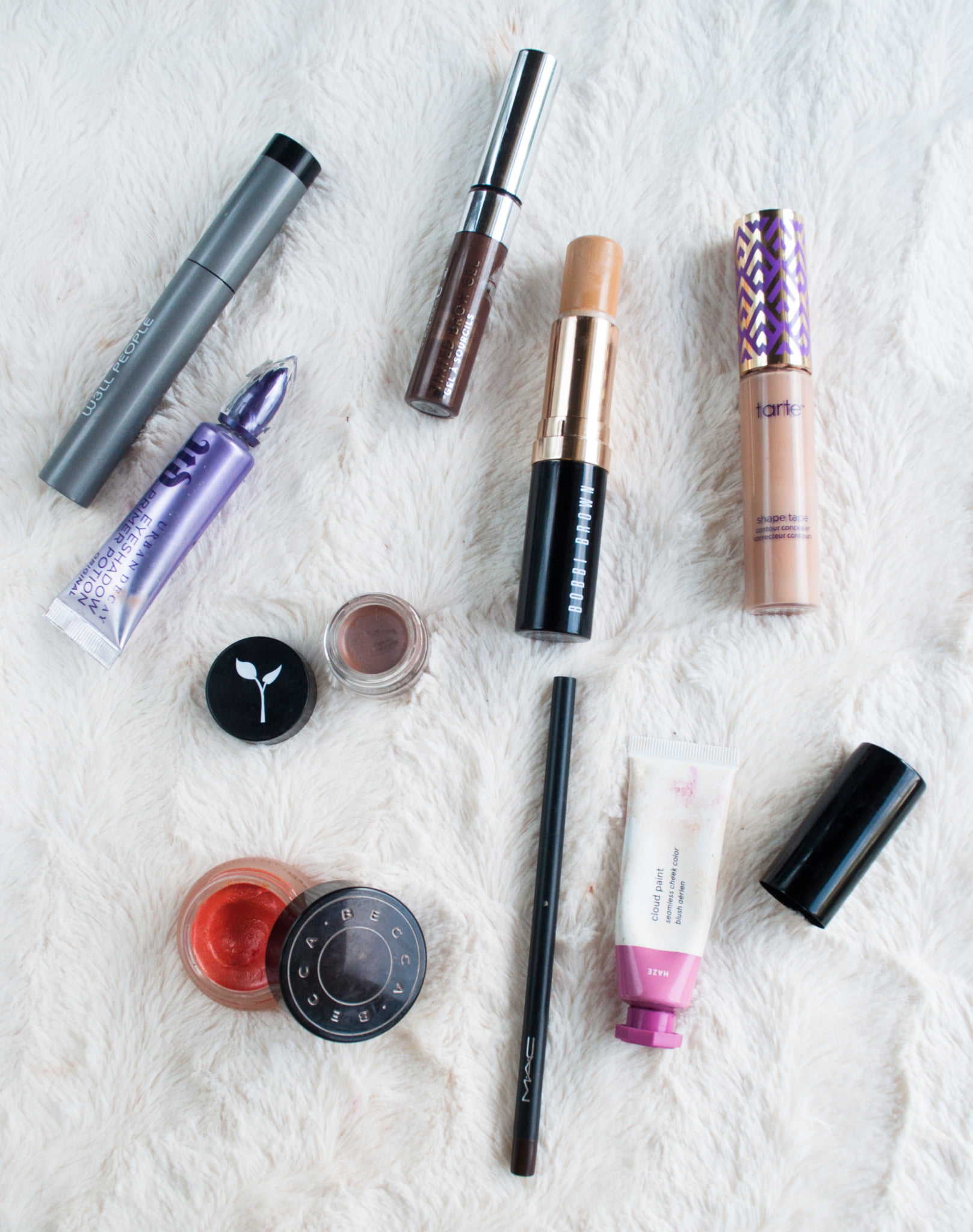 Last week, Cecilio and I stayed at my mom's house for a week while she and the rest of my family went to Hawaii for vacation (jealous). We were there to dogsit their dogs, and we brought ours too. It was like a kennel! But I love our 4 little loves. As I was deciding what to pack, I wanted to bring no-fuss products (no eyeshadow palettes, no powdered face products, no brushes). Actually, this has been my everyday makeup to work (and I usually add liquid liner and my beloved Charlotte Tilbury Dolce Vita palette). It's just that going to work from my mom's is a 30 minute commute as opposed to the usual 15 minutes from my place. So I wanted to simplify as much as possible.
I draw on streaks of the Bobbi Brown Skin Foundation Stick (can you see how close I am to being done? It's taking forever though!) on my nose, cheeks, chin and forehead and rub with my fingers in circular motions. Then I add the BECCA Backlight Colour Corrector in "Peach" on my dark circles, and applied dots of the Tarte Shape Tape Concealer and blended with a tissue paper (I forgot to bring my mini sponge). I swear, if I didn't have dark circles, I'd have many more makeup free days.
For my eyes, I always fill my brows with the Anastasia Beverly Hills Tinted Brow Gel to give them life (I'm halfway done with this product too!) But when I want more drama, I outline my brows and draw in small streaks with the MAC eyebrow pencil, then I fill it in with the ABH brow gel.
I bought the Terre Mere Indelible Creme Eyeshadow from Hautelook (for about $9, it's $35 otherwise) to give my lids some color. The shades I brought are no longer available on their website though, and honestly, they are very tiny brand. Of course I don't put it on without my beloved Urban Decay Eyeshadow Primer Potion.
Right now, my mascara of the moment is the W3LL PEOPLE Expressionist Pro Mascara, and I wear this everyday. I love how volumizing and lengthening this mascara is, it gives me the lashes of my dreams (with all natural and organic ingredients too!)
I dab on dots of the Glossier Cloud Paint in "Haze" on both cheeks and blend away. I love this blush, the shade "Haze" is a deep berry that really flatters my skin tone and gives my cheeks life.
As far as lipsticks go, I wore what I felt like at the moment that day but I found myself reaching for the Kosås lipstick in "Royal".
Do you ever do your makeup without brushes too?
Hannah is a travel writer, graphic designer, and the founder/editor of Hannah on Horizon. She is based in Sacramento, California, living with her husband and two adorable dogs. She shares tips on how to experience luxury travel on any budget, and how to maximize time at each trip or destination, no matter what your budget or amount of vacation time at work. She enjoys making you feel like you have visited each destination with her through her storytelling and informative writing style.