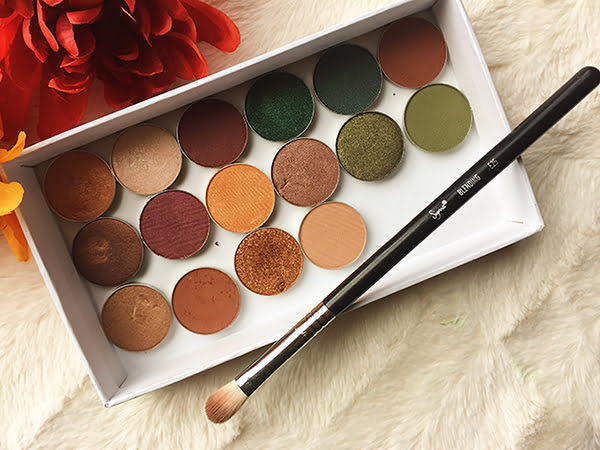 Though I have a bajillion eyeshadow palettes, I have been reaching for my loose Makeup Geek eyeshadow pans.
I've been getting a little bit bored with my other palettes, and I love how Makeup Geek has a different variety of shades and formulas of eyeshadow that you can order and customize into an empty Z-palette. Also, the pigmentation of Makeup Geek eyeshadows are OUT OF THIS WORLD. You just need to swipe once on your finger, and you get a big punch of color, which makes it super easy to play around with. I would say that they has even more pigmentation than my Urban Decay, Too Faced and Tarte eyeshadows. They are also so smooth and buttery to the touch, and they feel luxurious for $6–$10 a pan.
Right now, I have 16 Makeup Geek eyeshadows, and I am temporarily storing them in a loose box until I get a Large Z-palette (which holds 27 pans). I did order a Large Z-palette on Amazon, and it shipped but never got sent to me. I checked the order status, which said that it may have been lost. So I filed a complaint to the seller, and hopefully she sends me another one soon. I should have just ordered it directly from Makeup Geek itself (I only ordered it on Amazon because it was $18 as opposed to $20). I am also partial to Makeup Geek because the CEO, Marlena, is from Sacramento (where I live, and where the headquarters is located).
Anyway, here are my shadows and swatches…
COSMOPOLITAN
This is my first Makeup Geek eyeshadow, along with Cocoa Bear, which I received in my March 2016 Boxycharm. This is a stunning shimmery rose gold that I have been using on my lids!
SHIMMA SHIMMA
This shimmery creamy champagne is a cult-favorite among beauty junkies, and is in almost in every Makeup Geek collection. You can apply this on your lid, under your brow bone, or line your inner corners (which is my favorite way to use it). This can also be used as a highlighter for those with fair skin.
CHERRY COLA
This shade matches it's name. A matte brown with reddish undertones, I love adding some drama to my eyes using this shade for my crease or outer V corner.
EPIC
I've had the hardest time finding a richly pigmented emerald green shade. I finally found it with Epic. Epic is also foiled, which means that it's a cross between a powder and a cream shadow with extra shimmer and metallic finishes. I cannot wait to play around with this! It's a must for a night out beauty look.
ENVY
I was honestly torn between getting Epic and Envy, since Envy appeared to be the closest shade to Epic. I ended up getting both. The only difference is that Envy is not foiled, but still has a shimmery finish. It is not at all similar in person, and this shade is actually kinda disappointing. It's more blue-ish green. If you have to choose between the two, I would go with Epic. I will still use Envy as a base for Epic and my other green eyeshadows, and to line my lower lashes.
CABIN FEVER
It seems like many palettes have at least one shade that is similar to Cabin Fever, a matte warm brown. It is extremely versatile too, on it's own on your lid or as a base for other colors, a crease or a transition.
STEAMPUNK
Steampunk is actually a lot darker than it appears on the swatch. It's a duochrome shadow that mixes deep blue with warm copper. This I love using this on my outer corner for a smoky look.
BURLESQUE
Aside from green, I really love violet eyeshadows like Burlesque, a shimmery red violet shade with bronze undertones. I haven't played around with this all that much.
SIN CITY
Another eyeshadow I haven't tried but am excited to play around with, Sin City is a shimmery yellow gold that appears lovely on the lid and flatters all skin tones.
LUCKY PENNY
This is a deeper, more mauve version of of Cosmopolitan. In other words, Makeup Geek describes Lucky Penny as a medium rose brown with a shimmery finish. I do love blending Lucky Penny and Cosmpolitan together on my lid, making my eyes pop against the darker shades on my crease.
VENOM
Can you see how much I love the color green? Which is no surprise that I bought venom, a shimmery moss green with golden undertones.
DIRTY MARTINI
A matte olive green, Dirty Martini would either make a great crease or a base for Venom!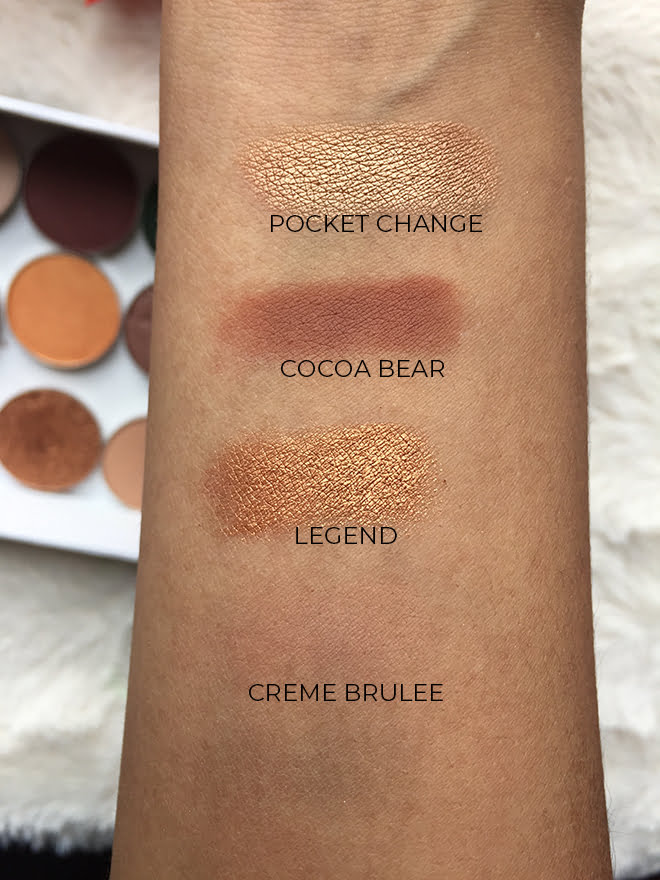 POCKET CHANGE
This shimmery medium bronze is stunning on the lid on its own for an everyday look or against darker shadows on the crease for extra drama! It also blends well with Cosmopolitan or Lucky Penny.
COCOA BEAR
This matte reddish medium brown is gorgeous for the fall and extremely versatile: whether you apply on your lid or crease, you are bound to find other shadows that complement or contrast against this shade and make creative looks with it!
LEGEND
A foiled bronze, this works best on the lid, especially on the outer part. I like using my finger to apply this instead of a brush so that it picks up as much product as possible.
CREME BRULEE
Described as a medium sand with a soft matte finish, this hardly shows up on my arm. It's slightly disappointing, but that means I can use it as a base from the lower lashline to my browbone.
I will be getting more Makeup Geek eyeshadows in the future, but for now, I love playing and experimenting with these shades.
Do you own any eyeshadows from Makeup Geek? What are your favorite shades?
Hannah is a travel writer, graphic designer, and the founder/editor of Hannah on Horizon. She is based in Sacramento, California, living with her husband and two adorable dogs. She shares tips on how to experience luxury travel on any budget, and how to maximize time at each trip or destination, no matter what your budget or amount of vacation time at work. She enjoys making you feel like you have visited each destination with her through her storytelling and informative writing style.