Valentine's Day is cool and all—it's a great excuse to eat chocolate for sure. But for Cecilio and I, our day is February 15: February 15, 2009 to be exact. So we are celebrating 10 years together, and next month we will celebrate our 2 year wedding anniversary.
10 years on Valentine's Day, I was single and 5 months out from a long-term relationship. Cecilio and I were starting to talk a little more and hang out outside of school. I was out with some church friends and happy to be single for once. I was probably out until 1 a.m. and I dropped off my friend Christina home. When I arrived home, I found a big teddy bear and a bag of Hot Cheetos at my doorstep. I had a suspicion, so I called Cecilio and asked if all of this was from him. He told me to step outside. There he was, with his guitar in hand, playing and singing "True Love Waits" to me. After talking for a bit, we decided to make it "official".
Who knew that in 10 years we would be almost 2 years into marriage with our own apartment and 2 dog children, climbing up the career ladder? And throughout the 10 years, we've experienced joy and rejoicing, but grief and loss? I know when there's pain the night, joy comes in the morning. Without further ado, I would like to share with you guys 10 years worth of photos: 1 photo per year!
2009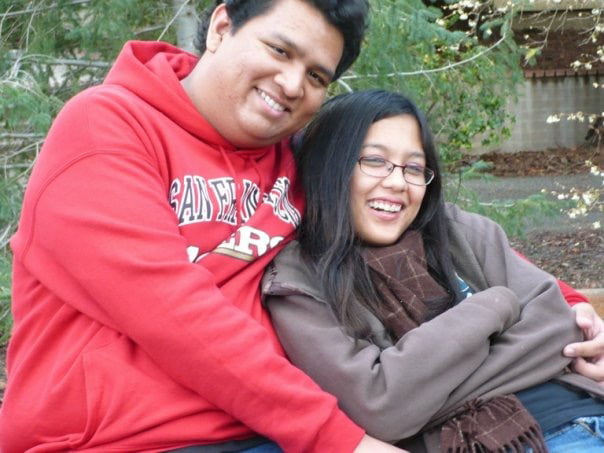 Here was the day after we decided to make it official as boyfriend/girlfriend. We went on a date strolling at the UC Davis Arboretum: it's a large trail and walkway (about 100 acres) of the campus filled with trees, gardens, and Putah Creek across it all.
2010
Here we were when we were still attending Sacramento City College and very much involved with their student-run newspaper, The Express. Cecilio was a writer, editor and Editor-in-Chief whereas I was a writer and a designer. Since then, we are still in the journalism (for him) and marketing/design (me) world, with him working as a web producer for a local news station and me working as a designer for a nonprofit.
2011
2011 was not a good year at all for both of us (nothing to do with our relationship: we were just both struggling in school, I had bad health issues and my dad was diagnosed with cancer that year) but I pulled up this photo of us at the California State Fair. You probably can't tell but I was really hot and sweaty here!
2012
Our first trip out of the U.S. together! I was a bridesmaid at my cousin's wedding in Vancouver and he was invited. Here we are at cocktail hour right before the reception and I just got done taking professional photos with the rest of the wedding party.
2013
This photo was taken on our 4-year anniversary, celebrating in San Francisco. My dad passed away 8 days prior to our anniversary, so it was a really tough time. But we tried to make the most of it and had a lot of fun: we walked around Union Square, explored MoMA, went to the beach and had sushi in Daly City.
2014
In San Francisco (actually this was taken in Pacifica, which is further south) again. This was in the summer of 2014, and I was heading into my senior year of university. This was when we were slowly starting to talk about marriage and our lifelong commitment…
2015
Oh look! What do you know, A RING! Here we are in NYC. I was hoping for the question to coming but also not expecting it at all. On this day (March 26, 2015), we decided to spend all day at American Natural Museum of History but walked around Central Park at first. Once we were done at the museum, we walked over to Central Park again. We got tired so we decided to sit in a little corner overlooking Manhattan, just talking about life. Once we decided to leave to have dinner, he went on his knee and popped the question. It was such a sweet, private moment. He called his family and I called my sister telling them of the news. Afterward, we took the subway and celebrated with champagne and dinner at an Italian restaurant. I called my mom after. Then we made it "Facebook official". We spent our last 2 nights in NYC exploring and taking in being engaged.
2016
This was one of our favorite engagement photos and the one we used for our Save-the-Date. We took our engagement photos 7 months before the wedding and we were knee-deep in planning. Since our initials are C and H, we always drive by the C&H Sugar building every time we drive home from San Francisco. It's so pretty at night when the sign is lit up too. We always wanted our photos to be taken there, and our photographer Elisabeth Arin made it happen for us! Yes, that is the building right behind us!
2017
March 18, 2017: the best day ever! Enough said <333
2018
We didn't take as many good photos together in 2018 because it was a terrible year between my big lupus flare-up and grandma's death. But we ended on a really good note—we stayed in Carmel for a few nights in December and hiked on a trail near the Mission. It was beautiful and warm: I did not want to go back to cold Sacramento! So this photo from December 2018 was the best one taken.
2019
I know 2019 was just beginning, but we celebrated Cecilio's 30th birthday a few weeks ago. His mom orchestrated a surprise birthday party and hosted it in the community room near their house (hence the bad lighting). But I can't wait to make more memories and take more photos throughout the year, especially when we go to London and Paris in October! (Yes, I did purchase the tickets already)
I wonder how our lives will be like in 10 years from now: maybe hopefully we have visited a few more countries and states and have a kid or 2 with our dogs by our side. I know things will not be easy at all: there will be turmoil. Often (or most of the time) I just want to sail through life with a few bumps here and there, nothing Earth-shattering. But that is not how life works sadly. There will be moments of misery and hardship but that's where we grow. And there is no one else I'd rather go through this life with. Despite those difficulties, it truly has made us a lot stronger and closer as a couple.
Hannah is a travel writer, graphic designer, and the founder/editor of Hannah on Horizon. She is based in Sacramento, California, living with her husband and two adorable dogs. She shares tips on how to experience luxury travel on any budget, and how to maximize time at each trip or destination, no matter what your budget or amount of vacation time at work. She enjoys making you feel like you have visited each destination with her through her storytelling and informative writing style.