Are you looking for festive ways to celebrate Christmas in San Francisco? Well, buckle up for this guide!
San Francisco has always had a special place in my heart, especially during the holidays. I grew up in Daly City, a suburb below the city. One of my earliest memories was slipping into the Union Square ice rink when I was 6. I fondly remember going back with my sister and cousins when I was 11, and I ended up getting lost at Neiman Marcus! I had to follow the security and they made an announcement about a lost child on the intercom (this was in 2000 before we all had cell phones). Of course, I freaked out at the time but it's fun to look back and laugh at the situation.
I moved to Sacramento after 6th grade and have been able to visit the City by the Bay a handful of times since then. Since it's only 90 minutes away from Sacramento, we would try to make trips whenever we had the energy, time, and money.
San Francisco is a world-class city, and I'm always in awe of the glittering lights at night and the view of the skyscrapers and Golden Gate Bridge. But during the holiday season, the City really lights up, literally and figuratively. There's something magical about the decor and lights everywhere. In spite of the hectic vibe, there is an air of cheer all around. Think of Christmas in San Francisco like celebrating Christmas in New York City, except warmer and cozier.
In this guide, I will share all the most fun and festive activities in San Francisco during the holidays!
Christmas in San Francisco: Magical Things to Do
Stroll through and shop at Pier 39
I know, I know, Pier 39 is as cheesy and touristy as you can get, but hear me out; during the holidays, it's all decked out in lights and festive decor. There's also a 60-foot-high Christmas tree at the entrance. Every half hour from 5–10 pm, the tree lights up, plays music, and turns into a kaleidoscope of swirling colors, which adds an extra dose of holiday cheer.
Stop by the Christmas shop in Pier 39, which is just called Christmas in San Francisco (I know, how generic can you get with a store name lol). Here, you can find Christmas decor that is uniquely San Francisco, like hand-painted ornaments of Lombard Street and cable cars.
If you have kids, they're going to LOVE going on the merry-go-round, which is full of lights.
Plus, you can also partake in other non-holiday activities like watching the sea lions over the water or ordering a bucket of mini donuts from Trish's!
Sip hot cocoa at Ghirardelli Square
Yes, Ghirardelli Square is named after Ghirardelli chocolates and there is an ice cream + chocolate shop paying homage to the chocolate company. Ghirardelli Square is full of shops, restaurants, and a hotel in the posh Marina neighborhood. You can walk around the square and take in (and take photos of!) all of the lights and the tree.
Don't leave Ghirardelli Square without visiting the Chocolate & Ice Cream Shop. It's a chocolate lover's dream filled with individual candy squares, chocolate bags, advent calendars, ornaments, stuffed animals, and magnets. In addition, you can also order sundaes, ice cream, or hot cocoa. There are two lines: one to purchase gifts and one to order the treats. You can choose to order to pick up in another booth or order "for here". There are tables inside so if you decide to stay and sip your sweet treat, the cashier gives you a number so that display it on your table and they can identify you with your drinks.
I ordered the holiday special, a peppermint hot chocolate, and Cecilio ordered a sea salt caramel hot chocolate. The cocoa was delicious! I also loved the whipped cream, it was full and rich. The only thing I wasn't too fond of was the peppermint. It wasn't pepperminty enough for me (but that's just my preference, I want it to taste as strong as toothpaste).
Scope out Union Square and skate your heart out
You CANNOT go to San Francisco during the holidays and miss out on Union Square. Union Square holds the most famous Christmas tree in the city, which stands 83 feet tall with over 1,100 ornaments and 33,000 LED lights. The tree is gifted by Macy's which is right next door. There is also an ice skating rink right next to the tree. We didn't get to go ice skating though even though I do want to (despite the fact that I slipped when I was 6, I skated for years after and was fine!). Cecilio doesn't want to risk falling and shattering bones or dislocating his shoulder again.
If you want a better view of Union Square, go to Cheesecake Factory on top of Macy's!
Window shop in and around Macy's
Even if you don't go Christmas shopping for your loved ones at Macy's, you have to go inside and see how decorated it is. I felt like I was in Harrod's all over again.
Or better yet, check out the window displays! If you want to check out adorable animals, you're in for a real treat. Macy's partners with San Francisco SPCA and SF Animal Care & Control to feature adoptable dogs, cats, and bunnies on the window displays. These are curated with the animals' comfort first and foremost. You can cuddle with the animals on the 7th floor for 10 minutes and $10. This is especially great if you are thinking of welcoming a furry friend to your home for the holidays and for life. Remember to adopt and don't shop!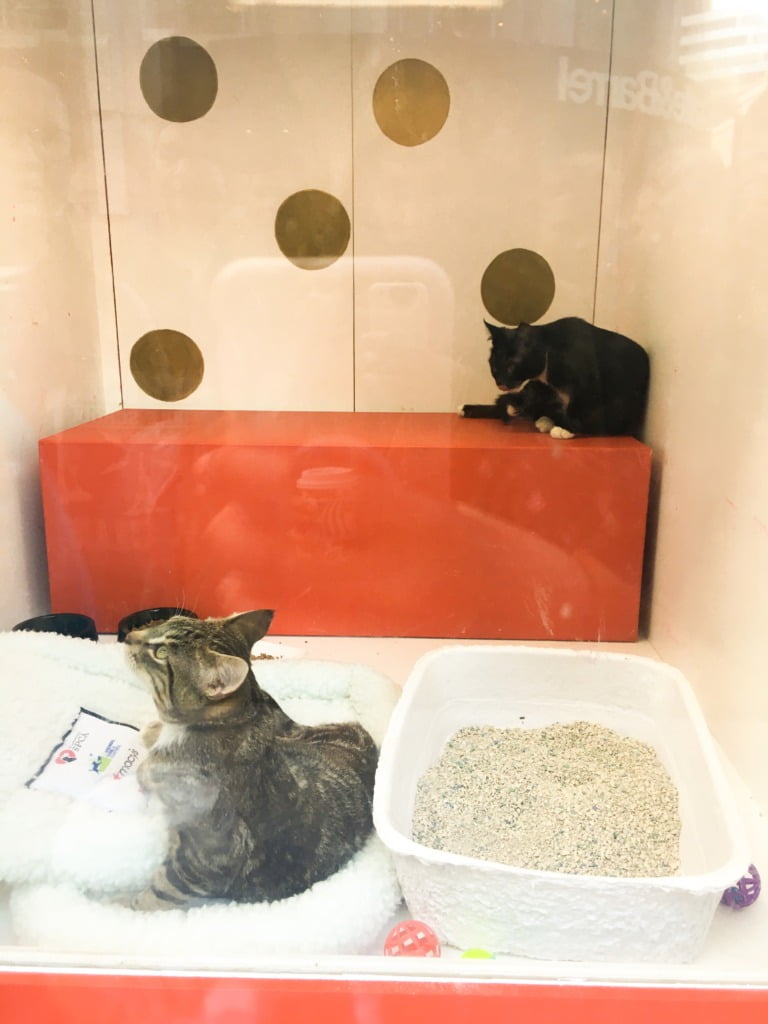 Watch the Nutcracker at San Francisco Ballet
What's a holiday without watching the classic ballet featuring the sugar plum fairies every year? Make sure to catch a Nutcracker performance at War Memorial Opera House. The performance dates for 2023 are from December 13–30. You can purchase your tickets here.
Ride the Cable Car to hear some caroling
The cable car is another major San Francisco icon (although Lisbon has them too, but they are the San Francisco of Europe). If you are a first-time visitor, you're definitely going to ride the cable car to hit most of San Francisco's top attractions like Nob Hill (where you can visit the Gingerbread House in Fairmont), Lombard Street, and Ghirardelli Square where you can get your holiday treats. The cable cars are all decked out in Christmas lights and the staff (not the drivers) will jingle some classic carols (like Jingle Bells) during the ride! No better way to spread the holiday cheer 🙂
Visit the Gingerbread House at Fairmont San Francisco
Located in Nob Hill, the 5-star Fairmont Hotel hosts extravagant holiday festivities with a fantasy experience, one of which is the Gingerbread House. The Gingerbread House is two-story, 25 feet tall, and 35 feet wide. Fairmont's culinary and engineering teams collaborated to make this happen! You heard me: the culinary team. The Gingerbread House is made of REAL gingerbread bricks: 6,000 or more to be exact! It is also made with 1,650 pounds of candy and 3,000 pounds of icing. And it smells divine.
While the Gingerbread House is amazing to look at and visit, there are numerous activities in the hotel. Photos don't do this justice.
Marvel at the Sugar Castle at the Westin St. Francis Hotel
For another sweet sculpture, head over to the Westin St. Francis Hotel in Union Square to see the Sugar Castle, a 12-foot-long rotating French chateau made completely out of sugar. Every year, the hotel's executive chef, Jean-François Houdré, whips up and handcrafts this masterpiece. He started making the Sugar Castle in 2005, and since then it's been another iconic San Francisco Christmas tradition for tourists.
The castle weighs about 1,300 pounds with 20 towers, windows, and 30 rooms. Surround the castle are snowy trees and a train track with a live toy train.
Be prepared to marvel over every nook, cranny, and detail. It's a labor of love!
Conclusion
But these attractions in San Francisco will add a twinkle in your eye with all of the lights, music, colors, and fresh smells. Celebrating Christmas in San Francisco also makes for fun date ideas for couples. I hope you get a chance to visit the City during the wintertime whenever you have a chance.
Hannah is a travel writer, graphic designer, and the founder/editor of Hannah on Horizon. She is based in Sacramento, California, living with her husband and two adorable dogs. She shares tips on how to experience luxury travel on any budget, and how to maximize time at each trip or destination, no matter what your budget or amount of vacation time at work. She enjoys making you feel like you have visited each destination with her through her storytelling and informative writing style.