While I do love me a bold pink lip or a vampy autumnal pucker, I know that those are not practical for everyday wear (especially if you work in an office). I have bemoaned though about how difficult it is to find the perfect nude/mauve/rosy pink if you are medium-skinned or deeper.
After wasting so much money on buying overly-hyped lip colors that didn't work well on my skin tone, I found a hand full of gems (aka lip colors that do flatter and do look beautiful on your lips) that I want to share with you. The beauty industry is getting better at considering us tan skinned ladies when developing their products, but they have a long way to go.
Lipsticks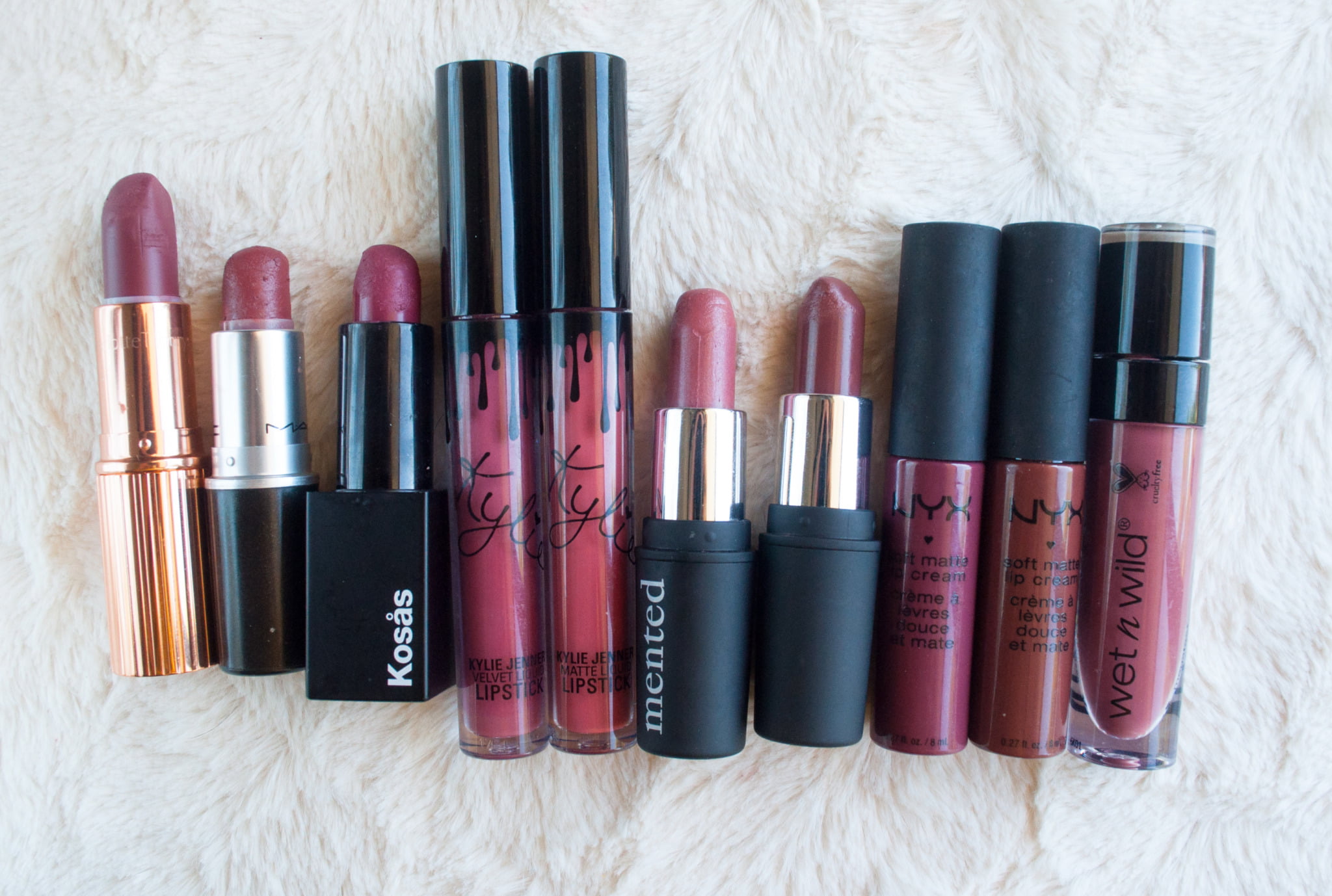 This medium berry mauve adds a bit of color on my beige lips! It's matte but has some slight moisturization, and lasts long. I used to not like the Charlotte Tilbury Matte Revolution lipsticks because they were too drying on me at the time, but right now my lips are ok. So I will start pulling this out more often. This is so pretty with Fenty Beauty Gloss Bomb on top!
For those who have followed my blog for a while, you know that I don't shut up about this lipstick. I really really need to finish this up. Even though I am switching over to cruelty-free beauty from now on, I will still finish this baby and I will look for a cruelty-free and/or green alternative. I love this warm brick red because of how much it flatters my skin tone, adds a grungy color (but not too grungy because it's warm) but fares will in all sorts of occasions (I've worn this to class, work, job interviews, date nights, my college graduation, even my engagement photoshoot!)
Though this is a berry shade, you can wear this all season round. It's girly enough for spring, bold enough for summer, vampy enough for fall and festive enough for winter. If you want a green alternative to the NARS lipsticks, I highly recommend the Kosas lipsticks! The formula is so creamy so if your lips are sensitive to matte lipsticks, you'll find these comfortable.
Yay! When Kylie's lips were extremely popular in 2014–2015, I searched high and low for the shades she were. Popular ones included MAC "Velvet Teddy" or Stila "Patina", which both did not look good on me. Well, Rosie is my shade equivalent to those. It's described as a "warm deep rose" on her website, but I would say it's more neutral. The velvet formula makes it much more creamy and comfortable than her matte liquid lipsticks, but not as long-lasting. It still lasts longer than most creamy lipsticks out on the market though.
"Kristen" is a warmer version of "Rosie", with its coral undertones and it's perfect for these upcoming summer months. I'm impressed with how the Kylie matte liquid lipsticks don't move. I've eaten some pretty difficult dishes (such as Taiwanese hot pot) and it didn't budge when I was finished! I've even applied this before brushing my teeth! If you don't want to buy anything from Kylie Cosmetics, Anastasia Beverly Hills' liquid lipstick in "Kathryn" is the perfect dupe.
I usually don't like pale pink lipsticks because 98% of them don't look good on me, but Mented Cosmetics is formulated specifically for women of color, and the shade "Pretty in Pink" has a light brown base. The formula is so creamy and comfortable too!
This is a medium berry brown is a must have for everyday wear if you share my skin tone! While it's perfect for the fall, you can basically wear it any time of the year. It's the perfect MLBB (My Lips But Better) shade.
For those on a budget, I highly recommend the shade "Budapest" from NYX in their Soft Matte line. The deep mauve is so versatile, and you can wear it from office to happy hour or date night. It's a little bit patchy but so creamy and comfortable! It is a little bit darker that Charlotte Tilbury's "Bond Girl".
The original Soft Matte Lip Creams mostly contained nudes and pinks for lighter skin. But the shade "Berlin" released in 2016 in the line as the 2nd batch, and I decided to try it. It was love at first swipe and I was so thrilled to find an affordable nude that actually showed up darker than my lips. "Berlin" is described as a "medium warm brown". For a cooler-toned version, get the shade "Dubai" (which I also love).
I haven't picked this up in a while, but here is another amazing medium rosy pinkish brown that amplifies the color of your natural lips! It's matte and it performs well for being under $5, and lasts throughout eating and drinking. I am blown away! Now that I found this again in my makeup drawer to review for the blog, I will start wearing it again.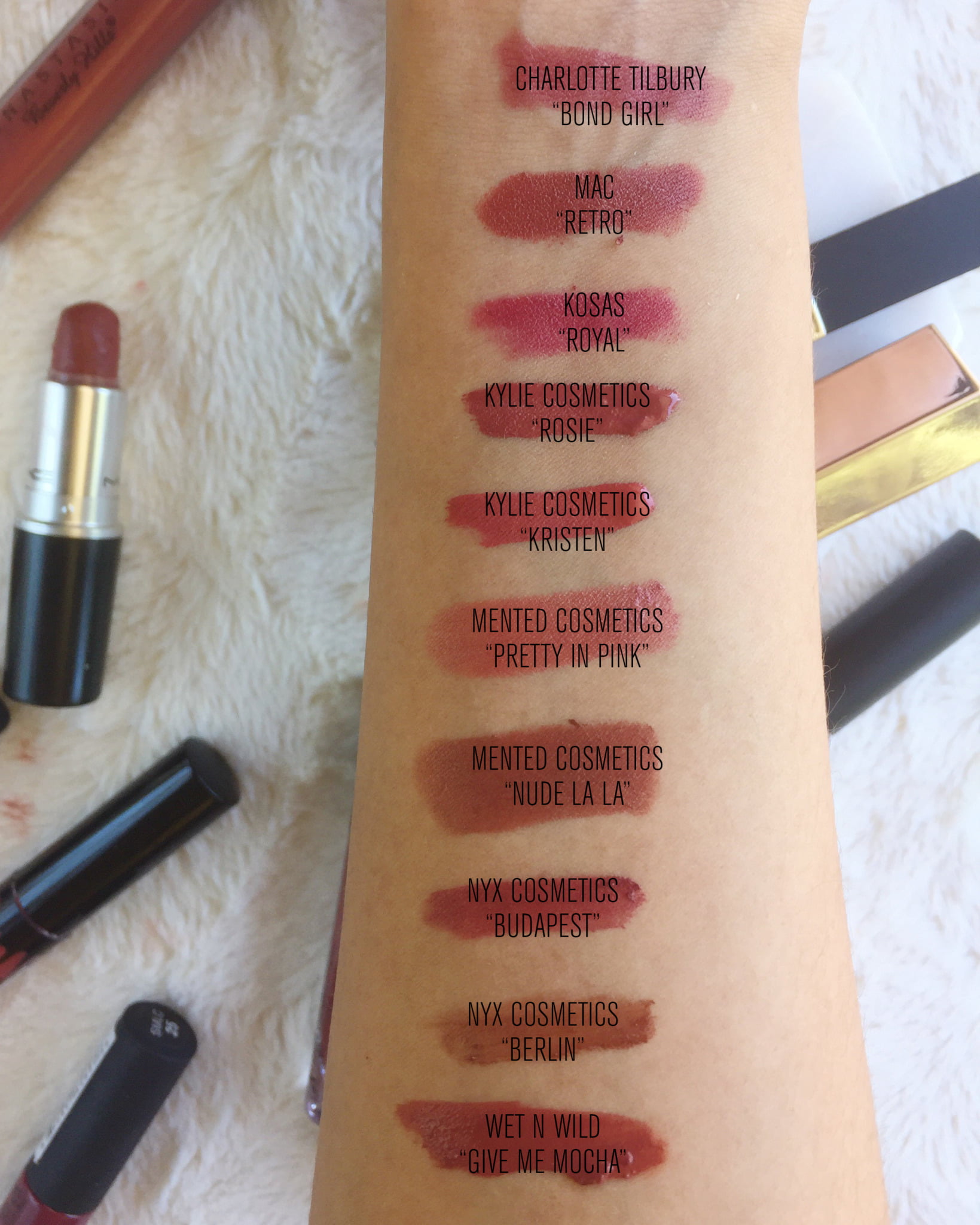 *These products were sent to me in exchange for a review.
However, my opinions about the product remain 100% honest and unbiased.
Hannah is a travel writer, graphic designer, and the founder/editor of Hannah on Horizon. She is based in Sacramento, California, living with her husband and two adorable dogs. She shares tips on how to experience luxury travel on any budget, and how to maximize time at each trip or destination, no matter what your budget or amount of vacation time at work. She enjoys making you feel like you have visited each destination with her through her storytelling and informative writing style.