As much as I love Too Faced, I haven't bought a lot of products from them because I felt like the packaging and quality of the eyeshadows (and other products) dipped. It also felt like they were just trying to push out as much limited edition items as possible. Like I said, their latest palettes felt half-assed, such as the mini Chocolate Chip palettes (which is just an all-matte version of the Chocolate Bar palette). While I loved the concept of the Clover palette (how CEO Jerrod Blandino pays homage to his dog and donated money to Best Friends Animal Society), I wasn't too hot about the shades or the overly cute packaging. It's something my 12-year-old self would've loved, and trust me, I do love cute things! And let's not get to how I think the colors of the new White Chocolate Bar palette are way too light and not WoC-friendly. No thank you. However, when I saw photos months ago of the Too Faced Chocolate Gold palette, I knew I needed it in my hands.
Like all of the other Too Faced Chocolate palettes, this baby costs $49 and consists of 16 shades. The palette contains mostly shimmers and only 4 mattes. What makes this palette stand out against the other Chocolate palettes is the bright colors (the other 3 have mostly neutrals). 14 of the shades have 0.85 grams of product, while the other 2 (Chocolate Gold and Rollin' in Dough) have 2 grams.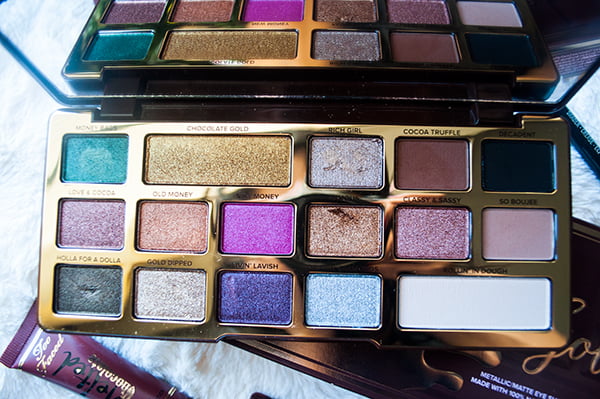 I could go on about the packaging. I love the chocolate bar dipped in liquid gold. Though I will say that Too Faced copied Makeup Revolution on this concept (it's usually the opposite because MUR is known for copying Too Faced palettes and blushes).
Money Bags (metallic emerald green)
Chocolate Gold (metallic bright yellow gold)
Rich Girl (metallic light taupe)
Cocoa Truffle (matte medium brown)
Decadent (matte brown)
Love & Cocoa (metallic brown with red-violet undertones)
Old Money (metallic burnt orange)
New Money (metallic fuchsia)
Famous (metallic copper)
Classy & Sassy (metallic rose gold)
So Boujee (matte light brown)
Holla for a Dolla (metallic olive green with yellow undertones)
Gold Dipped (metallic gold with cool undertones)
Livin' Lavish (metallic violet)
Drippin' Diamonds (metallic silver)
Rollin' in Dough (matte peachy nude)
The pigmentation is insane in most of the shades (particularly the more neutral ones). I say most, because the "fun" shades such as Money Bags, New Money and Livin' Lavish apply a bit on the sheer side. Money Bags appears super pigmented on the arm, but it doesn't translate as well on the lid. The brush does not pick up as much product (although that is true for any sort of shimmer eyeshadow), so you have to spray it with MAC Fix+ or apply with your finger to get that condensed amount of color. Decadent, the black shade is also not very pigmented and I had to swatch it on my arm a couple of times to get the amount of pigmentation I wanted to show you guys. It's an annoying extra step but I do like using the MAC Fix+ to add a 3D foiled effect on my lid. It's not perfect, but I love this palette enough to be willing to work with its flaws and use it on a regular basis.
Here are some of the looks I created with this palette:
If you love the other three Too Faced Chocolate palettes (Original, Semi-Sweet and Chocolate Bon Bons, all of which I have as well) then I highly recommend the Too Faced Chocolate Gold Palette to your collection. You can create so many different looks on its own or the other palettes. Oh and before I forget, can I mention that this has the amazing chocolate smell as well?
Do you have or want this palette? Would you like to see a post of me comparing and swatching this, the Original, Semi-Sweet and Chocolate Bon Bons palettes?
Hannah is a travel writer, graphic designer, and the founder/editor of Hannah on Horizon. She is based in Sacramento, California, living with her husband and two adorable dogs. She shares tips on how to experience luxury travel on any budget, and how to maximize time at each trip or destination, no matter what your budget or amount of vacation time at work. She enjoys making you feel like you have visited each destination with her through her storytelling and informative writing style.