I always recommend everyone to visit Oahu for their first time in Hawaii (even though the first island I went to was Big Island). Out of all of the 8 islands, Oahu is the most populated and is home to Honolulu, Hawaii's capital and largest city. Honolulu's world-class neighborhood, Waikiki, is buzzing with skyscraper hotels, shopping, nightlife, and restaurants, within steps from the beach.
But there's more to Oahu than Waikiki. You can venture outside of Honolulu to North Shore for a taste of Oahu's rural side with a splash of the surfing culture. Or you can head over to Ko Olina, 40 minutes west of Waikiki, to swim in any of the four lagoons or dine in the upscale restaurants (Ko Olina is also known for being family-friendly). Last but not least, on the opposite end is the windward side where the town Kailua resides, with its own small shops, restaurants, and beach. I promise you that you will never run out of things to do in Oahu!
Oahu has something to offer to everyone such as young families, couples, city-dwellers, and adventure-seekers. And that is why I recommend it as the island to go to for first-time Hawaii visitors.
There are so many things to do in Oahu in 4 days (obviously the more the better), especially if you stay in Waikiki. But it's still possible to visit attractions on other parts of the island during a 4-day itinerary.
Disclaimer: This post uses affiliate links, which means I make a commission if you book through this post. If you do decide to book using my links, thank you so much for your support!
Know before you go
Airports
Transportation
Renting a car
If you are just going to stay in Waikiki, then you're not going to need a car. And if you do plan to explore the other parts of Oahu, sure you can sign up for tours or take the bus or Uber everywhere, but having a car makes it so much easier to explore.
The HNL airport has no shortage of car rental companies to choose from. If I were you, I would make reservations in advance so that the process of picking up your car is much smoother. I booked our rental car in advance and we still had to wait in line for 45 minutes.
Rather than booking directly with the car company, I used my Capital One VentureOne credit card to make reservations through their travel portal. With this card, there are no annual fees and you can earn 5 miles per dollar spent on hotels and rental cars, and 1.25 miles per dollar on every other purchase.
You can get started to sign up for the Capital One VentureOne card today! I would say it's a great starter card for those who are dipping their toes in the world of travel hacking using points and miles. I also get bonus miles if you sign up using my referral link, so we both win! 🙂
TheBus
TheBus is Oahu's public transportation system and 108 routes and 3,788 stops all over the island. Bus fare is $3, with the maximum being $7.50 (after that, you no longer need to pay). Children 5 years and younger ride for free.
You could also purchase the HOLO Card for only $2 and load it up as you go. They are available for purchase at 7-11, ABC Market, and other supermarkets.
Waikiki Trolley
The Waikiki Trolley has different routes such as Diamond Head, Honolulu Museum of Art, State Capitol, Chinatown, Downtown Honolulu, and Ala Moana Shopping Center. You can purchase the pass online. You could purchase the 4-day all-line pass for $65, and $40 for children ages 3–11. It's their most popular pass too!
Biki
Biki is Honolulu's bikeshare system with 1,300 bikes at 130 self-service Biki stops all around the city. You can get a pass at any of the Biki stops. There are subscriptions you can purchase online, but those are geared toward the residents.
Where to stay
I stayed in Shoreline Hotel Waikiki, a cute, colorful (and Instagrammable) boutique stay. I would recommend if you are on a budget, need somewhere to stay, and don't plan to lounge around. It's comfy, super cute, and the staff are nice. Please read my review about Shoreline Hotel Waikiki to see if this is the right hotel for you!
Shoreline has a sister hotel, Coconut Waikiki, which is just a little further from the beach and right next to Ala Wai Canal. It's a little more affordable as well.
Although most people who go to Oahu stay in the Waikiki area, you can absolutely stay anywhere in the island. If you are looking for digs outside of Waikiki, here's some recommendations:
Things to do in Oahu: Honolulu's Waikiki area
People watch and take a dip in Waikiki Beach
One great thing about having a hotel in Waikiki is that you're minutes away from the beach. Waikiki Beach attracts all the crowds, and you can swim to your heart's content or sunbathe on the sand. The waters overlook Waikiki's skyscrapers and Diamond Head. Don't be surprised if you see some surfers at the beach too! Just be cautious about the waves because sometimes they get pretty strong. We swam there three times and on the last day, the waves got so strong I was scared to go back in and get dragged too deep in the water. Other than that, I just loved being one with the water.
Stroll, eat, and shop along Kalakaua Avenue
Kalakaua Avenue is Waikiki's main street dotted with stores (ranging from high-end to minimarts), restaurants, hotels, and bars. Scope out Royal Hawaiian Center to window shop at designer and Hawaiian-owned stores. Take your time to stroll and observe the crowds without getting too overwhelmed, lol. The streets are often filled with live music, and you can feel the energy 24/7.
Hike the Diamond Head Crate
Diamond Head is that volcanic cone you see right next to the skyscrapers at Waikiki Beach, and is a State Monument. It's actually only a 3-mile walk from Waikiki! It gets its crater shape from an eruption from sent ash into the air, and settled into the crater shape it is today. The crater is made from tuff, which is a porous rock formed from volcanic ash.
The hike is only 30 minutes and 0.8 miles long, but it's pretty very steep, so take your time getting up there if you need to. Once you make it to the top, you're rewarded with spectacular views of the beach and Honolulu.
Cecilio and I didn't get to hike Diamond Head 🙁 but I did on my first trip to Oahu 15 years ago with my family!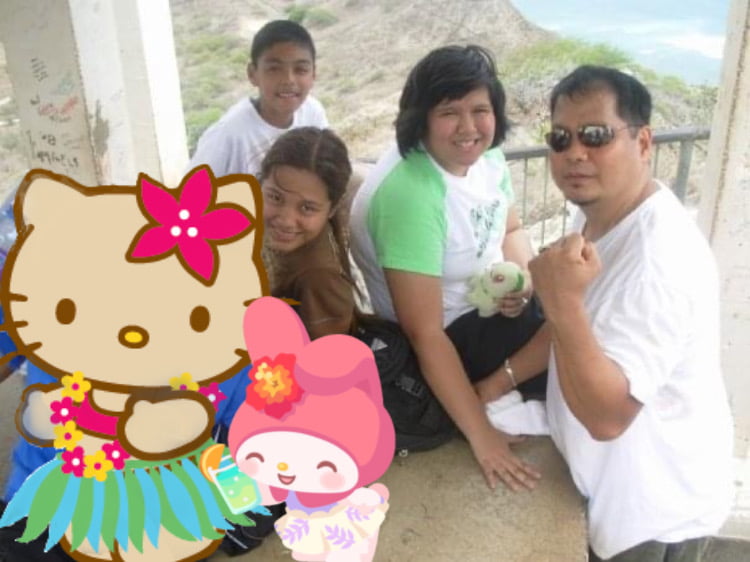 To hike Diamond Head, you must make reservations here in advance. The trail is open daily from 6 am–4 pm. The parking and entrance fee is $5 for all non-Hawaii residents.
Window shop at Waikiki Christmas Store
Did you know that there is a Christmas store that is open all year round? Located in the historical luxury hotel Moana Surfrider, Waikiki Christmas Store sells trinkets such as ornaments, snowglobes, and festive decor with a tropical twist. Unlike other Christmas stores around the U.S. (Like Bronner's Christmas Wonderland in Michigan), the Waikiki store is pretty small (I would guess like around 700 square feet?). I kinda regret not buying anything here, especially because we love to collect ornaments every year. These would be great to give as gifts for family and friends!
Stroll along Waikiki Beach at night
The vibe at Waikiki Beach at night is totally different! While there are way fewer people than during the day, you see some small groups of friends having a dinner picnic, and some people night swimming (although I would be too scared to do this). There's nothing like the shimmering buildings filled with energy and live music (we witnessed two weddings at some of the beachfront hotels), and it's just so romantic when you're with your partner!
Go to a Tiki bar
…or at least a lively restaurant that has Tiki decor and cocktails like Mai Tais, which is made with rum, Curaçao liqueur, orgeat syrup. and lime juice. The whole aesthetic is tropical filled with bamboo, palm trees, and thatch (straw huts).
Tiki's Bar and Grill, a lively restaurant in Aston Waikiki Beach Hotel, offers different variations of Mai Tais. You can even order a cocktail in a ceramic tiki cup for $18 and it's yours to take home! Mine is sitting in a drawer right now 🙂 I wasn't too crazy about my drink but I loved bringing a souvenir back home!
Pay your respects at Pearl Harbor
Okay, so maybe this isn't particularly in the center of Waikiki, but it's a few miles away. Now this was on Cecilio's bucketlist for a long time. Visiting Pearl Harbor and the USS Arizona Memorial was a harrowing and important experience, especially if you've learned about the bombing of the area by the Japanese in 1941 during World War II. You learn about it in school and kinda retain it in your head, but it doesn't really emotionally impact you until you are there at the Memorial site (where the ferry picks you up). I still have a hard time wrapping around my head that the ship is right under the memorial, with 900+ bodies decomposed 71 years later. Oh, and there are still oil leaks to this day.
Visiting Pearl Harbor is something I definitely recommend for those visiting Oahu at least once in their lifetime. And don't forget to visit the museums once you go back to the Visitor Center Complex, because most of them have an interactive component and showcase artifacts that were found during the attack (like a bomb, and a Navy soldier's uniform). There are also small models of the U.S. Military and Japanese ships.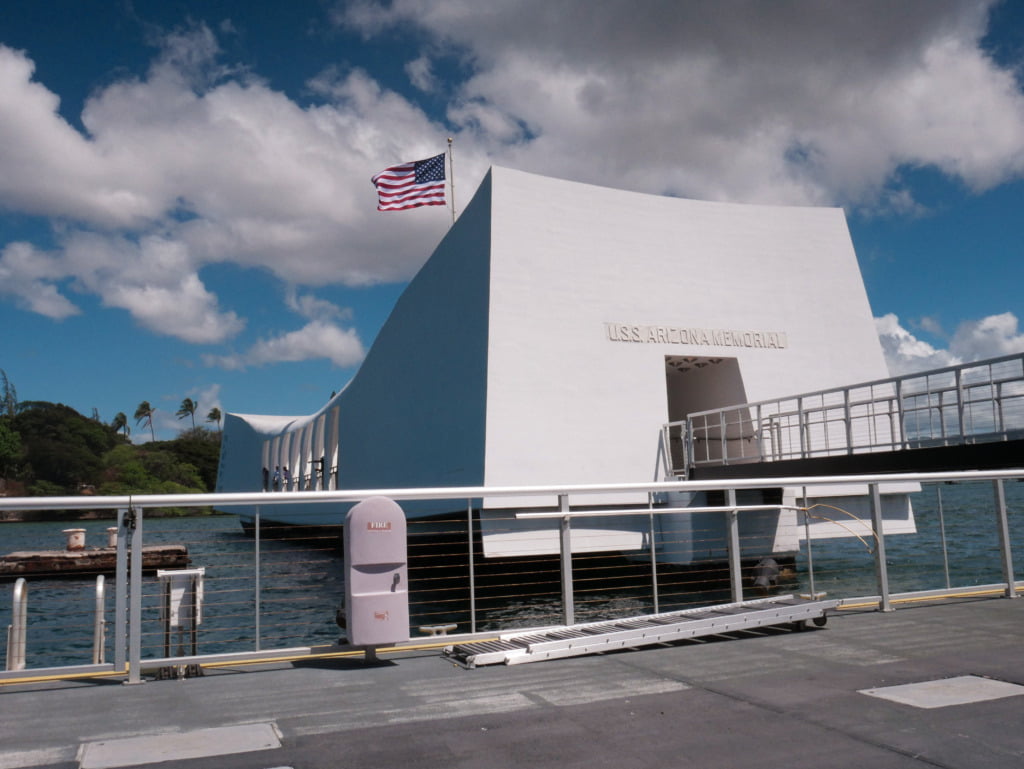 Try an acai bowl at Sunrise Shack
I learned about Sunrise Shack somewhere on Instagram. Sunrise Shack is a healthy food bar that offers bullet coffee, acai bowls, and smoothies, and it's known for being a hot Instagrammable spot. There are 5 locations in Oahu, but we ordered our acai bowls at the location by the beach, which is in Outrigger Waikiki Beach Resort.
I've been on an acai bowl kick during our stay in Hawaii, and eating them made me feel healthy and vibrant (even though I know there's probably hella sugar). Also, it felt super refreshing on a humid day in August! I ordered the Tropical Bowl, which had mango, banana, pineapple, coconut cream, honey, salt, granola, coconut flakes, honey, and pitaya. Cecilio ordered the Monkey Bowl, containing peanut butter, banana, coconut cream, granola, coconut flakes, and chocolate-covered almonds. We also both got iced bullet coffees and ate and drank by the beach. Personally, I loved it, but Cecilio was not a fan 😛
Things to do in Oahu: Ko Olina
Swim and snorkel in one of the four lagoons
The Ko Olina Resorts has 4 lagoons that are open to the public. They are manmade lagoons with large rock levies blocking them from the ocean, making the water calm and easy to swim in. You can also go snorkeling too, as there are some fish underwater.
Cecilio and I went to Lagoon #4 twice, since it had the biggest parking lot and it was free. I loved going there to escape the crowds from Waikiki Beach. The two times we went there were during the evening, and we got to watch the sunset, making it super romantic and calming both of us down after jam-packed days full of activities.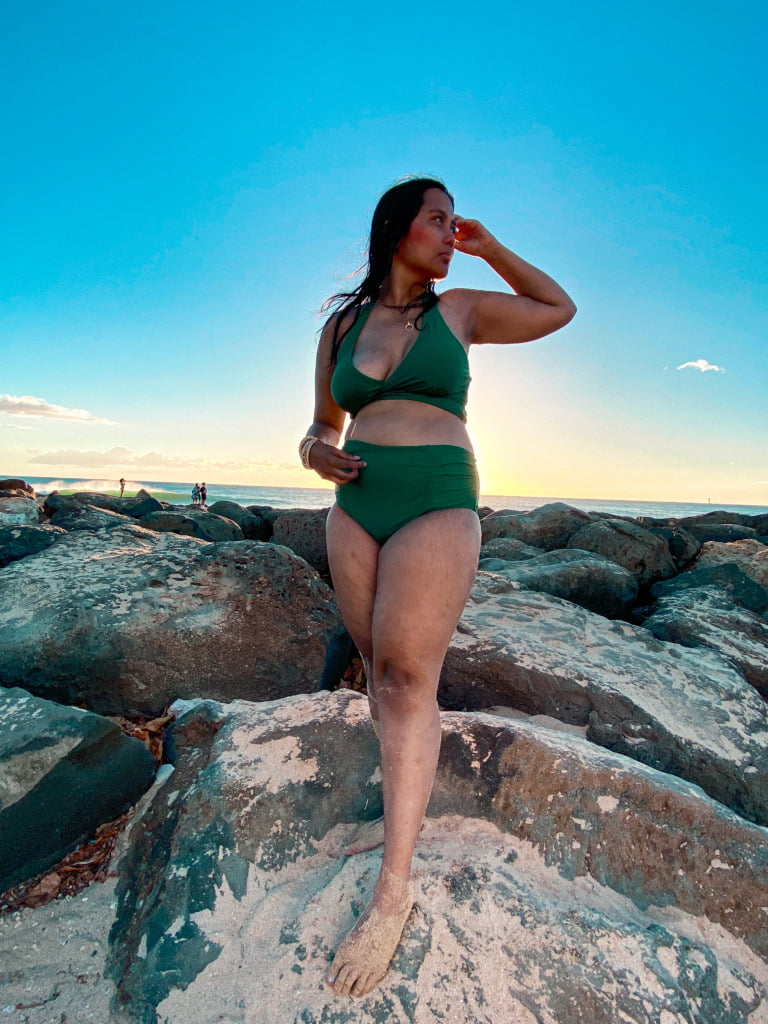 Attend a luau
While there are luaus all over Hawaii, the Paradise Cove luau is one of the best ones in Oahu, and is located in the Ko Olina resort area. My mom raved about it and recommended it to us, but by the time I tried to book it, it was already sold out 🙁
The Disney Aulani Resort also has its own luau, KA WA'A. I tried to book this too but this was completely booked out for 3 months!
If you plan to go to Hawaii and you want to make reservations for a luau, you have to book it months in advance or look for one that has availability.
Things to do in Oahu: East Oahu
Brunch at Cinnamon's
Cinnamon's is one of the most popular brunch spots in Kailua. They're known for their classic American dishes with a Hawaiian twist. I ordered the Baja Breakfast, which consisted of 2 eggs with chili peppers, tomatoes, cheddar cheese and kalua pork. They also serve loco mocos. Cecilio and I shared the macadamia nut cinnamon roll, which was super delicious!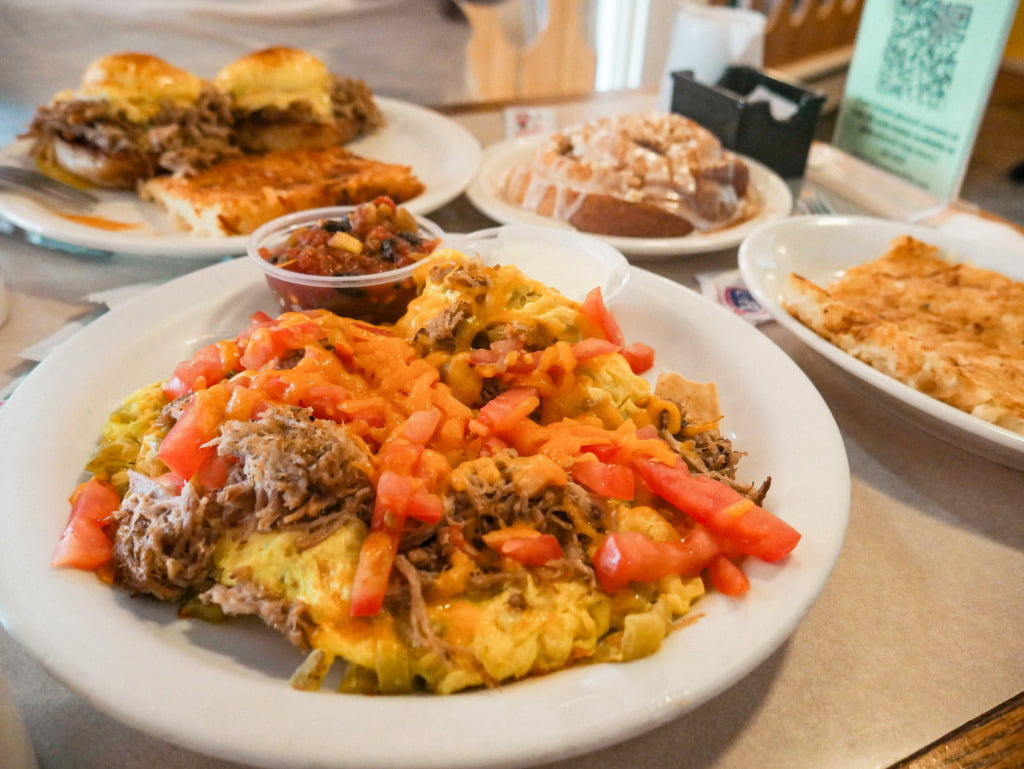 Tasting tour at Manoa Chocolate Factory
Want to try something different in Oahu? Head over to Manoa Chocolate Factory in Kailua to go on a tour to learn about Hawaii's craft chocolate from the bean to bar process. We can't forget about the best part, which is tasting all of the chocolates! Don't forget to treat yourself to a bar…or two or three (actually, we ended up buying six).
Swim, surf, and paddleboard at Kailua Beach or Lanikai Beach
Kailua Beach's turquoise waters are calling everyone's name. It's a haven for swimming, kayaking, and windsurfing. While there are fewer people than in Waikiki, I will have to warn you that parking is extremely limited. Cecilio and I were driving around in circles looking for a place to park and we had no luck. And you cannot park on the residential streets. If you want to go to Kailua or Lanikai Beach, I recommend you head there early, like at 9 am (or even earlier). If there's one thing I have learned, don't assume anywhere outside of Waikiki is going to be less crowded. You are still going to have to battle others for parking.
Things to do in Oahu: North Shore
Get a cup of Joe from Green World Coffee Farm
Green World Coffee has its own farm where they harvest and roast their beans daily. They also have a coffee shop and storefront. The farm is free to enter and you can walk around and admire the beans before they get roasted. I am sorry, but I wish I could've had something to say about the coffee, but we took a tour to North Shore instead of going ourselves. Getting coffee was a part of the tour, but our guide did not let us order anymore because "the line was too long", and hurried us. We only stopped to use the restroom, and I am still salty about how the tour turned out (more on that later).
Hike at Waimea Valley
The hike is 2 miles long each way and some paths are steep. The trail ultimately leads to Waimea Falls, and you can swim in it (I wouldn't though because I'm scared of the bacteria in still water). But don't be surprised if you don't see a waterfall, because there has been a drought (hard to believe that Hawaii can have droughts, but anything is possible in this day and age with climate change). Still, it's nice to just check out where the waterfall would be. And during the hike, you can spot some cool stuff like model huts, designed based on Native Hawaiians' living spaces.
The trail also has no shortage of flora like trees, plants, and flowers.
Outside of Waimea and North Shore, here is a list of epic trails to hike on in Oahu, depending on your skill level!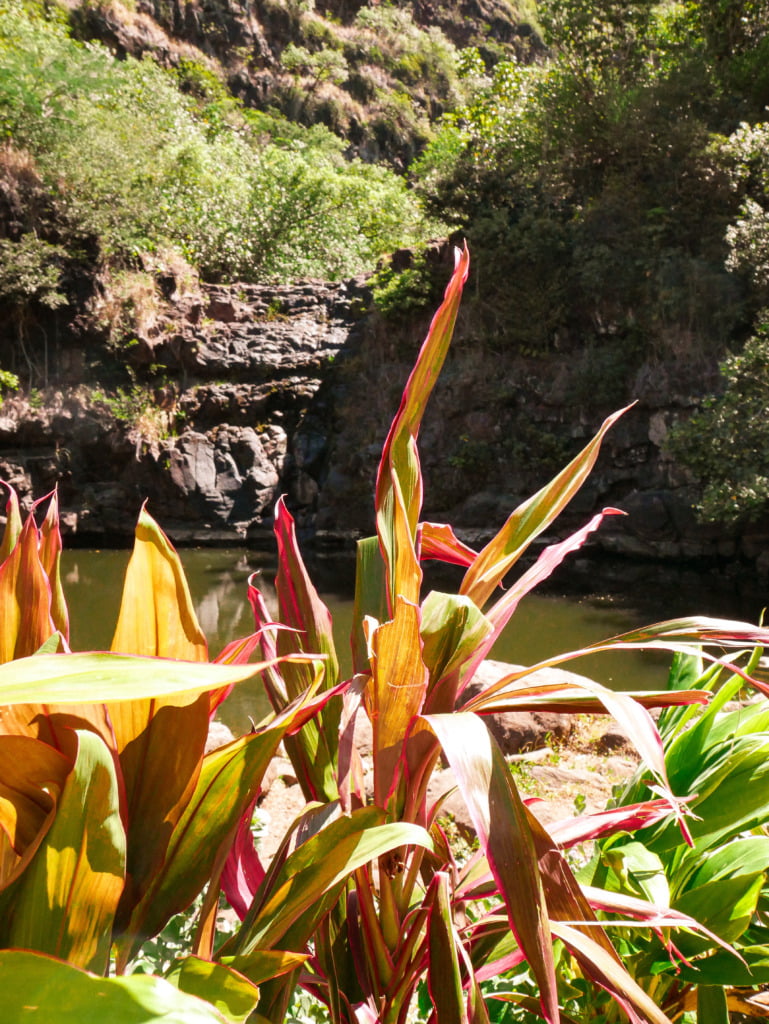 Swim and snorkel at Sunset Beach or visit turtles at Laniakea Beach
Again, I have no proof in the photos because this tour included a visit to one of the beaches and decided to not take us to either because "we had no more time". But we did get to drive by it. Sunset Beach is a mecca for surfing, but you can still absolutely swim, especially during the summer because the waves are calmer. During the winter, Sunset Beach is where surfers come out to play as the waves can rise up to 30 feet.
Itching to see some large turtles? Head over to Laniakea Beach. This is the beach that houses the most turtles in Oahu. Whatever you do, do not touch or feed them. Just admire them from a few feet away, and take kickass photos and videos (especially because I didn't get to).
This small nut farm farms and sells fresh, delicious macadamias. Its orchard has 1,700 nut trees and is the only working mac-nut farm in all of Oahu. And you can sample different macadamia nut flavors too! The flavored nuts we sampled were cinnamon, caramel, garlic Maui onion (my favorite), coconut, coffee, and honey roasted. They also sell coffee, macadamia oils, butter, hot sauce, jewelry, and other knick knacks!
Visit Waialua Sugar Mill
The Old Waialua Sugar Mill has their own cacao and coffee beans, and store employees welcome guests by giving them a tour of the mill. Then they also let you taste different samples of their coffee and chocolate. The chocolate isn't as extensive as Manoa's, but it was still good nonetheless. There are also a bunch of goodies you can buy like tea, jam, honey, and dried fruit. Don't forget to treat yourself to a refreshing drink at the Shave Ice stand! I recommend getting the coconut and lilikoi flavors together!
Use this list as a guide, and prioritize what you want
This list is based on what we did in Oahu for 4 days, but you can adjust it to your liking. We were able to see almost everything we wanted here, and you can decide if you want to add or forgo some activities in your itinerary. Whatever you do, don't overstretch yourself. A trip to Hawaii is supposed to be relaxing with pure bliss. While there are so many fun and amazing things to do in Oahu, don't burn yourself out!
And whatever you do, do not book with Aloha Hawaii Tours, unless you want to get duped (which is what happened when I booked their North Shore Tour through Groupon). And please do not make all these mistakes we made planning our trip!
Are you or anyone you know going to Oahu anytime soon? Be sure to bookmark and share this list!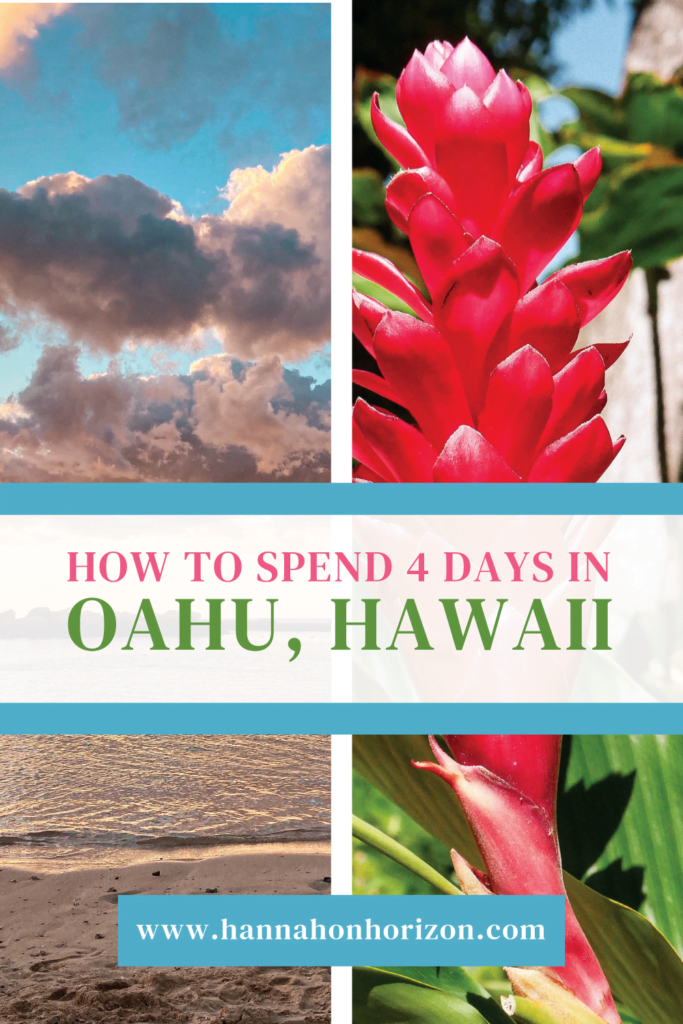 Hannah is a travel writer, graphic designer, and the founder/editor of Hannah on Horizon. She is based in Sacramento, California, living with her husband and two adorable dogs. She shares tips on how to experience luxury travel on any budget, and how to maximize time at each trip or destination, no matter what your budget or amount of vacation time at work. She enjoys making you feel like you have visited each destination with her through her storytelling and informative writing style.