For gorgeous views of Vancouver Island, snow-capped mountains (even during the summer!), grizzly bear sightings, and adrenaline-pumping adventures, visiting Grouse Mountain is a must!
Located 20 minutes away from Downtown Vancouver, Grouse Mountain is one of the North Shore Mountains in Vancouver. It is also only 5 minutes away from Capilano Suspension Bridge Park, another popular nature-y attraction in Vancouver.
I've been to Grouse Mountain twice, with the first time being when I was 19 and my whole family visited relatives on my dad's side. My second time in Grouse Mountain was during my recent trip to Vancouver visiting my relatives, and them showing me around with fresh new eyes as a 30-something-year-old woman. I got to spend more time in Grouse Mountain and take it all in.
I can't recommend visiting Grouse Mountain in the summer enough if you find yourself in Vancouver; photos don't do its beauty (or Canada's beauty) justice. Even if you aren't visiting Grouse Mountain in the winter to ski, you can still stroll on top of the mountain and discover the gems, from lumberjack shows to grizzly bears to even a few eateries!
Disclaimer: This post uses affiliate links, which means I make a commission if you book through this post. If you do decide to book using my links, thank you so much for your support!
Grouse Mountain: Admission & Pricing
Most people visiting Grouse Mountain opt for the Mountain Admission Ticket, which includes almost all the summer activities listed below except for ziplining and ropes course.
Here are the rates for the Mountain Admission Ticket:
Adult (19—64): $75
Senior (65+): $65
Youth (13—18): $55
Child (5—12): $39
Tot (4 and under): Free (but still requires a ticket)
Family (which includes 2 adults and 2 children): $189
If you are a Vancouver resident and wish you purchase the annual pass, click here for more information.
How to Get to Grouse Mountain
Grouse Mountain is located in North Vancouver, which is a completely different city on its own from the City of Vancouver. Both cities are separated by the Burrard Inlet.
Translink
Translink is Vancouver's public transportation system. But did you know that they also have a SeaBus?! That's right, a public transportation system that includes a boat. Not a privately-operated boat.
Coming from Downtown Vancouver, you would take the SeaBus crossing Burrard Inlet which transports you to Lonsdale Quay, a pier filled with restaurants, shops, and a public Market (it's similar to Granville Island). From Lonsdale Quay, you take the #236 bus to Grouse Mountain.
Driving
From Downtown Vancouver: Take BC-99A N, continue on BC-1A, exit on Marine Drive, and follow along Capilano Road.
From Burnaby: Drive through Trans-Canada Highway/BC-1 W and exit along Capilano Road.
Shuttle from Canada Place
During the summer, you can take a shuttle from Canada Place (where Vancouver Convention Centre is located) to Grouse Mountain. It operates everyday from 9 am–6 pm and arrives every 30 minutes.
Tours for Visiting Grouse Mountain
If you don't want to deal with the logistics of visiting Grouse Mountain, consider taking a group tour! Most tours to Grouse Mountain include stops at Capilano Bridge Suspension Park, especially since they are only 5 minutes away from each other.
Some tours take you all over Vancouver, but those are much more expensive.
Here are a few affordable-ish guided group tours to take when visiting Grouse Mountain and Capilano:
Time: 5 hours and 30 minutes
Highlights include:
Local Guide
Hotel pickup/drop-off or meeting point at Canada Place
Access to Capilano Bridge Suspension Park and Capilano Salmon Hatchery
Grouse Mountain Skyride
Time: 5 hours
Highlights include:
Local guide
Live commentary onboard the bus
Skipping the lines
Bottled water
Round-trip transfer in an air-conditioned coach
Time: 7 hours
Highlights include:
Passing by Lion's Gate Bridge with views of Vancouver Harbor, English Bay, and the Pacific Ocean
Live local commentary
Admission to Capilano and Grouse Mountain included
What to Expect at Grouse Mountain in the Summer: The Lowdown
The Skyride
The Skyride is a gondola that takes you on an 8-minute-long journey to the peak of Grouse Mountain. It arrives every 15 minutes to pick up and drop off visitors, and you are treated to breathtaking views of Vancouver's skyscrapers, Burrard Inlet, and emerald Douglas Fir trees. Try to get as close to the window as possible to capture those views!
Lumberjack Show
For a chance to sit down from all the hiking and walking you'll do in Grouse Mountain, be sure to check out a lumberjack show! These shows are fun demonstrations by performers showing off their skills, such as axe throwing, log rolling, and climbing a 60-foot tree.
The lumberjack shows are included in your Mountain Admission Ticket and have three shows daily: at 11:15 am, 2:00 pm, and 4:30 pm.
Peak Chairlift
For an even higher lookout and more panoramic views of Vancouver, take the chairlift to the apex of Grouse Mountain, which is 4,100 feet above sea level. Riding the chairlift is also included in the Mountain Pass.
Grizzly Bear Habitat
You'll get to meet Grouse Mountain's most famous residents, Grinder and Coola, two orphaned male grizzly bears living their best lives. They have just emerged from their 22nd hibernation, and during the summer, rangers give talks to help visitors and students learn about the two furry creatures. You can also stay updated on them with Grouse Mountain's Ranger Blog.
Grinder and Coola are a part of the Grouse Mountain Refuge for Endangered Wildlife (GMREW), a conservation and research center in the mountain. GMREW is also in charge of housing owls and hummingbirds and educates the public about their conservation needs.
Georgia Strait Lookout
You won't need to fight with others for the window inside the Skyride for Vancouver's views if you head over to the Georgia Strait Lookout! Take in the beauty of the juxtaposition of skyscrapers and the sea. Be careful because it's easy to fall; it's a steep drop walking over to Georgia Strait Lookout, but not too hard to get to since it's right next to the Skyride.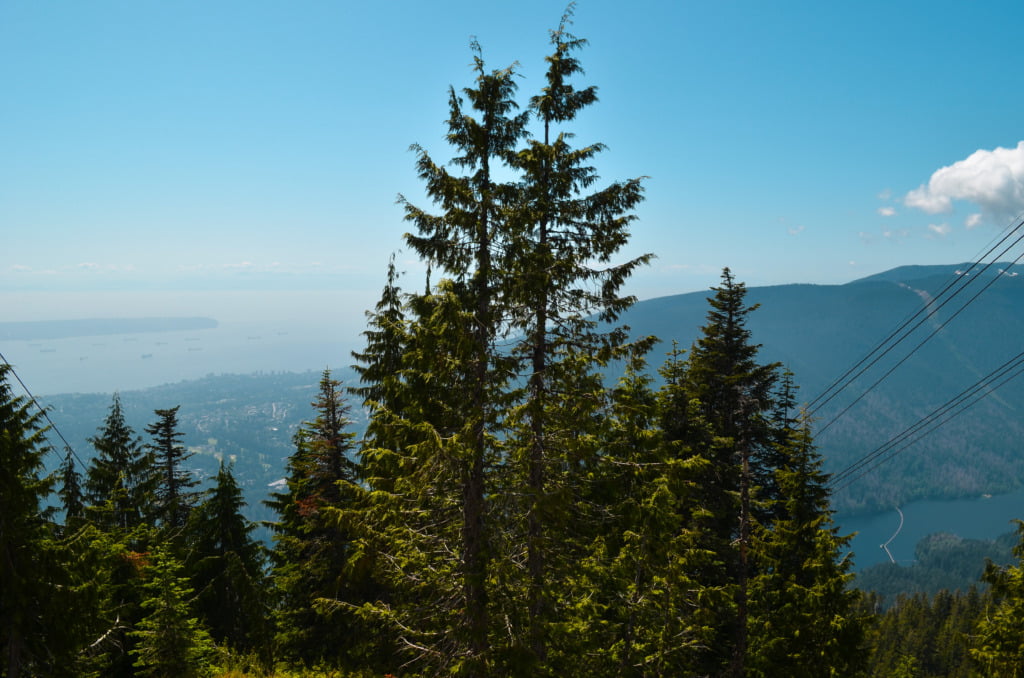 Mountain Ziplines
For an exhilarating activity visiting Grouse Mountain, be sure to go zip lining in the five-line course on the treetops! The ziplines can speed up to 70 km/hour (or 43 miles).
The zipline activity is NOT included in the Mountain Admission Ticket. It is $114 when you book online or $119 in person.
It is also a 2-hour activity; that was the main reason I opted out of doing it (also, I was lugging my cousin's big camera due to my camera conking out on my first day in Vancouver). My aunt and uncle were waiting for me on the ground since they didn't want to go up on the mountain (they were already tired from us exploring Capilano earlier, and they're older). I didn't want them to wait an extra 2 hours for me when they were already taking me around everywhere, and bending over backwards for me during my stay.
I along with other onlookers got to witness those who did do the zipline, and we cheered once the guides released them!
Mountain Ropes Adventure
Test your fitness with the Mountain Ropes Adventure. It includes a little ziplining, but there are other activities such as rock climbing, and four aerial ropes courses.
It is also not included in the Mountain Admission Ticket and costs $48 to book in advance or $53 in person.
The Mountain Ropes Adventure is completely supervised by guides and provides protective equipment for participants.
There is also a Kids Canopy Adventure for little ones ages 3–8 which is included in the Mountain Admission Ticket. While it's not staff-supervised, parents are responsible for supervising their children. The Kids Canopy Adventure is a much safer and milder version of the former!
The Grouse Grind
Not for the faint of heart, the Grouse Grind is a 2.5 km elevated trail, also known as "Mother Nature's Stairmaster". It starts at the base of Grouse Mountain in the parking lot, and there are 2,830 steps with an elevation gain of 2,624 feet. The trail takes you all the way to the peak of the mountain. The hike takes about 2.5 hours to complete, give or take.
If you are fit enough to hike the Grouse Grind (and you have to be incredibly fit), you will not need to purchase the Mountain Admission Ticket. Instead, you will need to purchase the Download Ticket in advance, in order to ride the Skytrain back down to the parking lot, since it is not recommended to hike back downhill. The ticket is $20.
Dining for all budgets
Feeling hungry visiting Grouse Mountain? You're in luck, there are a few eateries up on the peak, from casual bites to fine dining. Here are a few dining options for a grumbly tummy:
Altitudes Bistro: Elevated American/Canadian fare, best known for their mountain nachos. They also have poutine as one of their appetizers. For mains, they serve salad, sandwiches, and pasta.
The Observatory: This fine dining sit-down restaurant offers a 2 or 3-course meal. The Observatory serves mouthwatering dishes such as pan-seared scallops, burrata cheese, dry-aged beef tenderloin, mushroom ravioli, lemon tarte, and chocolate mousse. And with the name, you are guaranteed sweeping views of Vancouver Island. Reservations are required.
Lupins Cafe: Simple, self-service diner that offers burgers (including veggie burgers), pizza, hot dogs, fries, poutine, chicken strips, and soup.
BeaverTails: BeaverTails is a Canadian chain pastry shop. They are most known for their pastry, which is a pastry shaped like a beaver tail (pretty self-explanatory) with chocolate, vanilla, maple, or cheesecake frosting. There are also toppings such as bananas, Oreo crumbles, Reese's pieces, and brownie bites. They are often served with a strawberry lemonade or hot chocolate! BeaverTails also serves a "poutail", a savory beaver tail topped with poutine.
Grouse Grind Coffee Bar: Serving specialty coffee drinks and pastries.
Starbucks: Need I say more? There's a Starbucks on the mountain base next to the parking lot and the Skyride.
Gift Shops
There are two shops in Grouse Mountain: Outfitters, one which sells primarily sells activewear for your hiking and adventure excursions.
The Spirit Gallery Gift Shop sells handcrafted items from local artisans, such as jewelry, Northwest Indigenous carvings, paintings, clothes, ceramic dishes, and souvenirs.
Tips for Visiting Grouse Mountain in the Summer
Visit Capilano on the same day, but spend more time in Grouse Mountain.
Because both attractions are literally 5 minutes away from each other, there is no reason to not tackle both in one day. But I would allot more time to Grouse Mountain because it's bigger and has a lot more to do, especially if you decide to go ziplining or go on the ropes course since they are 2-hour activities.
With Capilano, after you cross the suspension bridge, you can do a little more hiking and walking. You can also climb up to the tree canopies and cross the mini bridges, and then walk by the pond where you can feed trout. You could spend maybe an hour or two in Capilano, whereas Grouse Mountain requires more of your time.
Dress appropriately, even during the summer.
Even though Grouse Mountain in the summer is completely different from their winter experiences, it still gets chilly on top (for me, it felt refreshing after walking around and working up a sweat in Capilano). At the very least bring a light cardigan that you can take off once you start to feel warm from even more walking.
And did I mention how much walking you will be doing? That means you need comfortable shoes with padding so your feet won't be in pain. I recommend the active shoes from Allbirds, since they have extra support and cushion. I wore a pair of the Allbirds Wool Piper sneakers during my whole trip to Vancouver, which are pretty comfortable, but did not give me the cushion I needed for the amount of walking I did. They are more for everyday wear. As a result, my feet started hurting and I needed to take breaks.
Check the weather forecast and predictions before your trip.
Vancouver has unpredictable weather, and I got lucky visiting Grouse Mountain on a sunny day. That's not always the case though. Input "North Vancouver" in your weather app, or visit Grouse Mountain's website for their daily weather report.
Don't forget your camera!
Grouse Mountain has so many beautiful views on every corner, from the views of Vancouver to the mountains to the wildlife. Don't waste your memories; bring a camera, even if it's one on your phone! And make sure to keep it charged!
Don't be afraid of the grizzly bears, but don't touch or feed them.
Unlike most grizzly bears in the wild, Grinder and Coola are tame since they are well-taken care of by conservationists who give them an environment as close to their natural habitat as possible. They are also enclosed and experience a lot of human interaction.
Still, do not provoke or touch them, or do anything that endangers you or them. Absolutely do not feed them, otherwise, they will get sick. They have a very specific diet to follow.
All in all, respect their home.
To save even more money, take the free shuttle from Canada Place.
A 3-hour parking ticket at Grouse Mountain is $8, and $10 if you plan to stay all day. If you can save money in one area, taking the shuttle from Canada Place is the way to go! It's only available in the summer, so take advantage of it if you are able! Also, traffic in Vancouver is pretty bad. Why give yourself a headache driving over when someone else can take you?
Be responsible for your trash, and leave no trace.
This should go without saying, but I think it's worth repeating over and over 🙂
Is it worth visiting Grouse Mountain in the summer?
Grouse Mountain is open all year and is a renowned spot for skiing and ice skating. But visiting Grouse Mountain during the warmer months is just as beautiful and epic! If you aren't a snow bunny, summer in Grouse Mountain has much more to offer including more outdoor activities and a chance to see wildlife!
Hannah is a travel writer, graphic designer, and the founder/editor of Hannah on Horizon. She is based in Sacramento, California, living with her husband and two adorable dogs. She shares tips on how to experience luxury travel on any budget, and how to maximize time at each trip or destination, no matter what your budget or amount of vacation time at work. She enjoys making you feel like you have visited each destination with her through her storytelling and informative writing style.