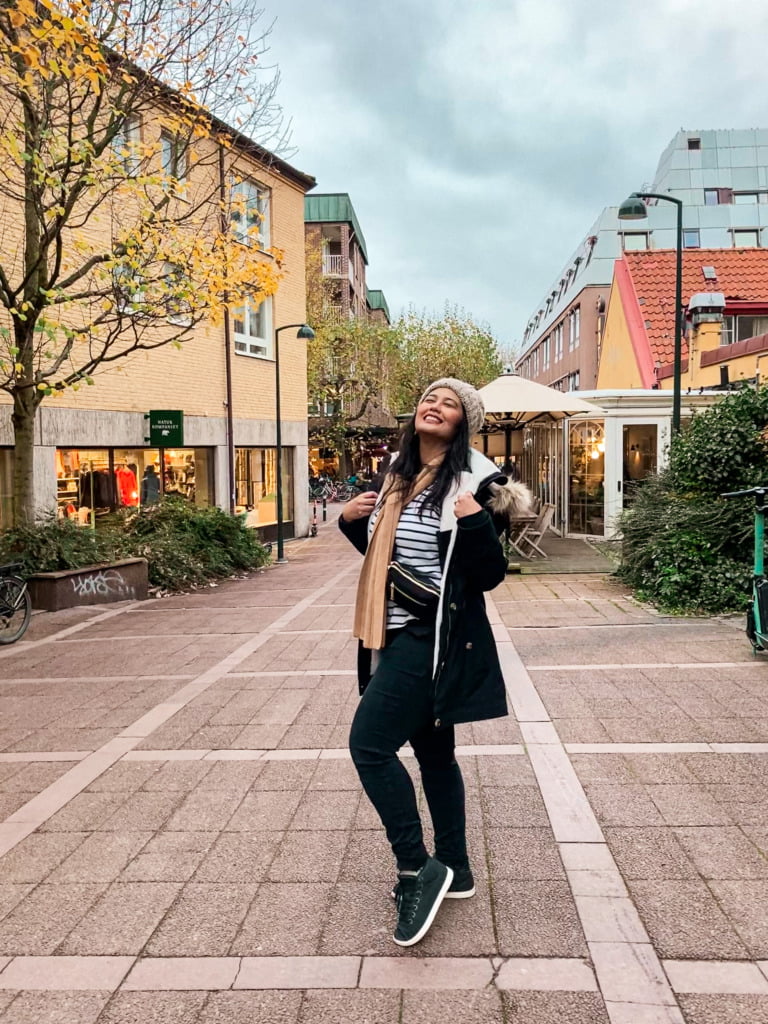 When I'm traveling, I love taking day trips from my main base. I can see and learn more about the destination I'm exploring with the limited PTO I have. When I found out that you can visit Malmö and Lund for a day trip from Copenhagen, I knew I had to go and cross off Sweden as another country visited.
Disclaimer: This post uses affiliate links, which means I make a commission if you book through this post. If you do decide to book using my links, thank you so much for your support!
How to visit Malmö from Copenhagen
Most people taking a day trip from Copenhagen will drive or take public transportation to Malmö through the Øresund Bridge (or vice versa). It is a which takes about 30–40 minutes both ways. I didn't do that. Instead, I booked a tour to Helsingør, spent time in Kronborg Slot, and then took a 15-minute ferry to Helsingborg. I know, I know, Denmark's Helsingør and Sweden's Helsingborg sound almost too similar. Then our guide drove us over to Lund and Malmö, where we spent an hour and a half each. After we finished our excursions, we drove through the Øresund Bridge back to Copenhagen.
For context, I will be basing this post off of my tour with Enjoy the Tours (which is not sponsored. I paid my hard-earned money for this). My tour guide, Mario, was the bomb. He was lively, animated, and attentive. He also was willing to make extra stops to drop off people at specific spots.
The drive from Copenhagen to Helsingør
The tour bus picked all of us up at Hotel Astoria, which is right next to Copenhagen Central Station. The drive to Helsingør was about 50 minutes long, but Mario kept us alert by storytelling all the landmarks, and neighborhoods we drove by. We drove through the scenic Coastal Road 152 (also known as Strandvejen), which shows off the Danish coast on one side, and forests full of wealthy houses on the other. We passed by Bakken, the oldest amusement park in the world (older than Tivoli) and Louisiana Museum of Modern Art.
What to expect at Helsingør
While it's a small town, visiting Helsingør could be a full day trip from Copenhagen on its own. Its most notable for Kronborg Slot, where Shakespeare's Hamlet takes place. This is where the majority of the tour group spent their time, myself included.
Outside of Kronborg Slot, there are a decent amount of things to do and see in Helsingør, such as Kulturværftet, St. Olaf's Church, and various museums and sculptures.
Kronborg Slot
As a UNESCO World Heritage Site, Kronborg Slot is a must-see for your day trip from Copenhagen. It's most known as the backdrop for Hamlet, in which the fictional name is Elsinore (the English name for Helsingør). It's the entrance of Øresund, the waters between Denmark and Sweden.
Originally, Kronborg started off as a simple fortress in the 1420s. A century and a half later, King Frederick II transformed it into a magnificent Renaissance castle due to the need for stronger and more modern fortifications after weaponry improvements from the Northern Seven Years' War.
For centuries, Krongborg has been the destination to throw parties and perform plays. Today, many visitors like myself visit the castle to get lost in its rich history.
Admission to Kronborg is 125 DKK ($17.50 USD) for adults, but with the Copenhagen Card, you can get in for free!
Kulturværftet
Across the street from Kronborg is Kulturværftet (The Culture Yard), a cultural center with sleek glass architecture. It was built in 2010, and inside there are 140,000 square feet full of space for concerts, performances, and other events.
Kulturværftet also holds the Shipyard Museum if you are interested in learning about all of the boats built in Helsingør.
There is also a library filled with playrooms, lectures, IT classes, and is visited by 1,000 people daily.
If you're hungry from walking all over Kronborg, you can order a smørrebrød or any other meal at Spisehuset in the first floor!
The ferry ride on Øresund to Sweden
In order to get to Sweden, our tour took a 15-minute ferry ride on Øresund to Helsingborg, Sweden.
Øresund is a strait that separates Denmark and Sweden, and connects the Baltic Sea to the Atlantic Ocean. The name means The Sound in English. A sound is an inlet that connects to multiple bodies of water and separates islands. It's like a fjord, except that it's much wider and fjords are made from glaciers.
The ferry was super nice inside, that I wished the ride took a little longer! There were gift shops, and upper deck, and a cafe where you can order lunch, coffee, and alcoholic drinks. I ordered an Irish coffee and sat at a stool by the window watching the waves of Øresund and anticipating every minute closer to Sweden. Of course, since it went by so fast, I couldn't finish my drink.
Landing in Lund—What to Expect
After landing on Helsingborg, you take the highway to go to Lund.
Lund is a small college town, home of Lund University—so there's going to be a younger crowd. It also traces back to the Medieval times.
Lund Cathedral
This is Lund's renowned landmark. What used to be a Catholic church is now a part of the Lutheran Church of Sweden. It's even more gorgeous in person, and the inside is beautiful, but I couldn't take photos inside. You are free to tour or worship and contemplate.
Centrala Staden
From the downtown area filled with cafés, shops, and restaurants to the open-air musem Kulturen, Centrala Staden is Lund's jewel. Practice fika like the Swedes, which is taking a nice long coffee break with a pastry and savoring every second (I do this at home too in the morning, but Cecilio and I call this sit and sip and I'm frazzled getting ready for work).
I ordered a latte and a heart-shaped cream-filled pastry at Patisseriet. While. I didn't sit, sip and savor as long as I wanted since we didn't have a lot of time to explore, I was able to get my own taste of fika (while panicking wondering why the bus didn't arrive yet when I was actually waiting too early and realizing I misheard the pickup time, and realizing I wasted time worrying when I could've explored more of Lund).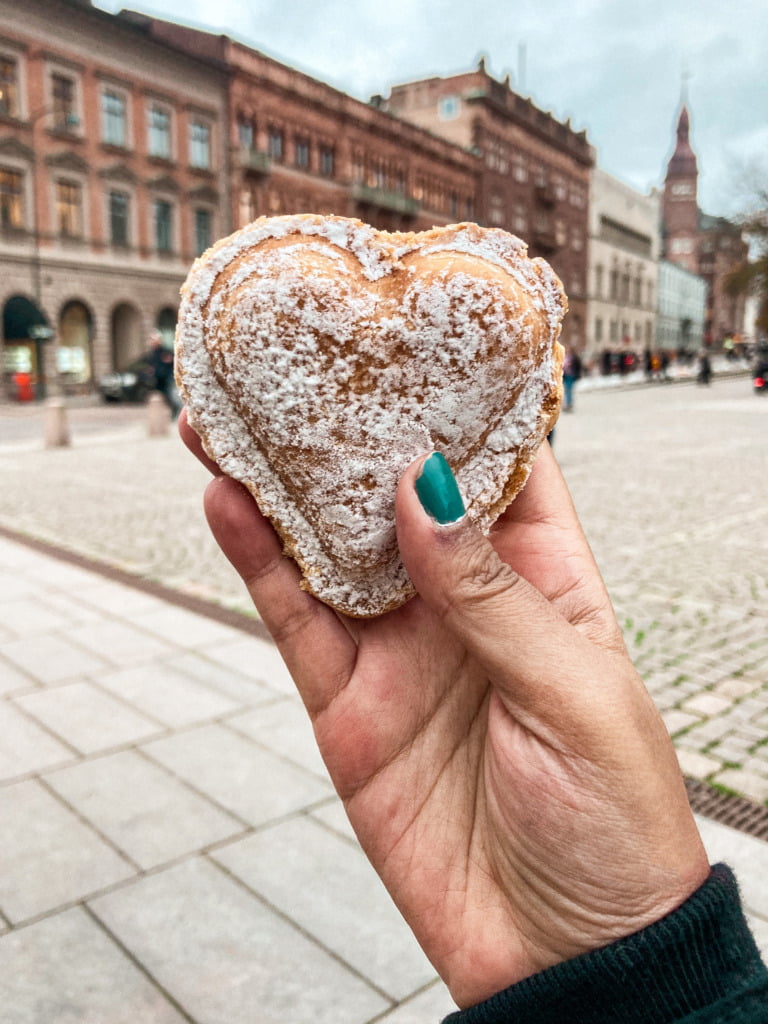 Things aren't cheap in Scandinavia, but if you're going to go shopping, it's better to do so in Sweden instead of Denmark. The taxes are slightly lower in Sweden, not by much but every bit counts.
Be sure to hit up, Åhlens, a Swedish department store with 50 locations across the country! I mostly hung around the makeup aisle. While they did have American brands, there were some Swedish makeup brands that piqued my interest like Isadora and Estelle & Thild. I didn't get anything though (next time!).
There are also so many cute gift shops and clothing boutiques to check out around Lund, even if you're just looking!
Mulling around in Malmö
Malmö is a 20-minute drive from Lund and is Sweden's third-largest city after Stockholm and Gothenburg. Even though there is a university, Malmö University, I wouldn't call it a college town per-say like I would with Lund. However, Malmö is more sprawling and growing with tech and IT companies, making it a great place for postgrads to live and work.
Honestly, because we didn't spend a lot of time in Malmö and it was already dark by the time I got there, it didn't wow me the way Lund did.
Lilla Torg
The center of Malmö lies Lilla Torg (Little Square), a charming medieval square filled with more restaurants, pubs, and cafés. More H&M and similar clothing botiques, for sure.
Maybe I was a little more biased towards Lund, but when I went to dinner, I couldn't find a traditional Swedish restaurant. I was craving Swedish meatballs but there were none available around me. The fact that there was a TGI Fridays was kind of a red flag.
I had dinner at Mello Yello, a Swedish/American/Mexican/Italian-fusion restaurant (but there were no meatballs), and ordered a pasta with chicken and mushrooms. It was pretty good, but I felt like I could eat that anywhere else. In fact, I wish I could've just gotten some snacks and walked around, while saving my appetite for a nice restaurant in Copenhagen.
Turning Torso
Our tour guide drove us to the unique Turning Torso, the first twisted skyscraper in the world near Øresund. At 190 m (620 feet) with 54 stories and 147 apartments (the first two floors are office space), it is also the 2nd tallest building in the Nordic region!
It was also designed by the famous architect Santiago Calatrava, who is also known for blueprinting the Milwaukee Art Museum and the Sundial Bridge in Redding, CA (both of which I got to visit in person).
If you ever get a chance to visit Malmö, you have to check out the Turning Torso as it's a one-of-a-kind building! Each story twists relative to each other, with the ground floor and the top most story being completely perpendicular to each other.
Should you take your day trip from Copenhagen to Helsingør, Lund, and Malmö?
Theres no doubt in my mind that you should visit all three as a day trip from Copenhagen, especially if this is your first trip to Denmark and Sweden! I really enjoyed my tour and can't recommend it enough, especially if you are unfamiliar with the area and you just want to relax on the bus while the guide figures has everything set up for you.
That said, if I knew then what I know now, I would've done things differently. Helsingør requires a few hours of your time, not just 90 minutes. In addition to Kronborg Slot, you're going to want to check out what the rest of the town has to offer!
Malmö and Lund should be done together on a separate day from Helsingør, that way you can spend more time in both areas for a longer period of time. I would especially recommend going really early in the morning to maximize your time. If I did this and had more time in Malmö, I would've had a more favorable opinion of the town. I am always willing to revisit though!
Other Resources
If you want to sit back and enjoy the scenic drives while your tour guide does all the work, here are the tours I would recommend for your perfect day trip from Copenhagen to Sweden (and Kronborg!):
Here are some posts you might find helpful:
Love what you read? Share the love and pin below!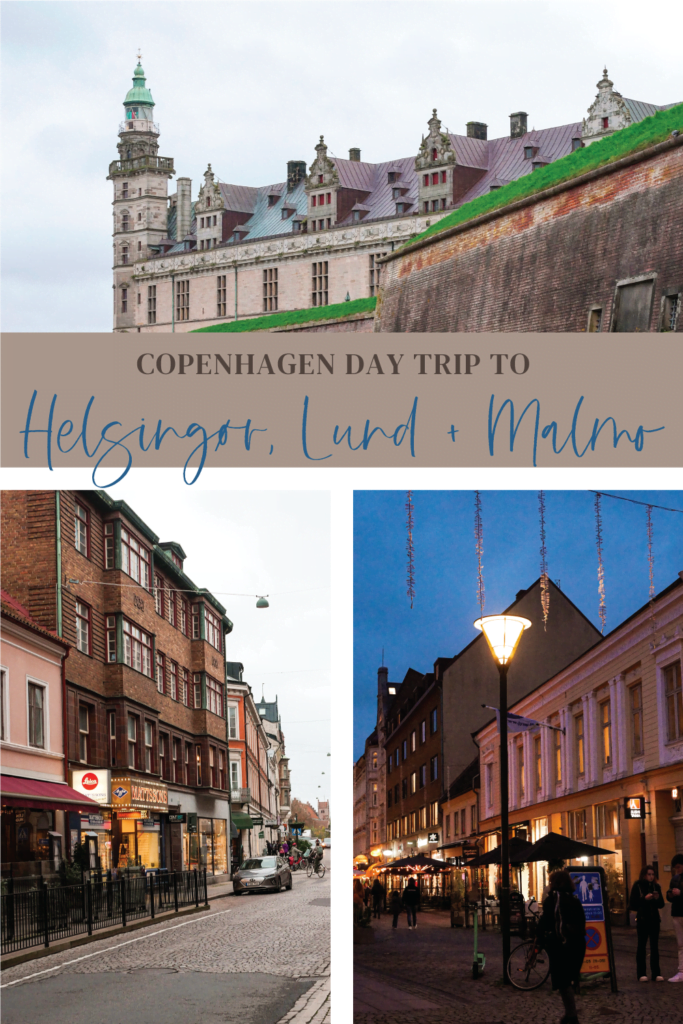 Hannah is a travel writer, graphic designer, and the founder/editor of Hannah on Horizon. She is based in Sacramento, California, living with her husband and two adorable dogs. She shares tips on how to experience luxury travel on any budget, and how to maximize time at each trip or destination, no matter what your budget or amount of vacation time at work. She enjoys making you feel like you have visited each destination with her through her storytelling and informative writing style.