I've always loved Hourglass' palettes and blushes, and I've heard nothing but great reviews about them. My first and only Hourglass product is their Mineral Veil Primer which I absolutely adore because even though it's mattifying (and I have dry skin), it gives me a soft glow. When I saw the Ambient Lighting Edit Volume 3 palette though…I needed to have it. It was on my radar for weeks, but I couldn't justify spending $80 on a single palette. Luckily, my mom and stepdad gifted me with a $50 Sephora gift card for my birthday, and I waited until the VIB sale to take the plunge and purchase it, and I ended up spending only $19. It may seem steep spending $80, until you see how each Ambient Lighting powder/blush/bronzer runs in between $22–$50, so you're getting a great deal getting multiple shades in this little palette.
The Ambient Lighting Edit Volume 3 palette is encased in a rose gold, mirror-esque case, which is sleek and stunning but it also leaves smudges. It consists of six shades, three of which are already existing and three which are new:
Diffused Light (existing): soft, warm, ivory finishing powder. I set my concealer on my dark circles with this.
Hypnotic Strobe Light (new): warm, pale pearl highlighter with finely milled shimmer. It reminds me of BECCA's Opal.
Dim Light (existing): peach beige finishing powder. I set my foundation with this with a big, fluffy powder brush.
Luminous Bronze Light (existing): medium bronze infused with one of their lighting powders (Luminous Light).
Surreal Halo (new): medium berry blush infused with champgne.
Pure Effect (new): medium warm pink blush.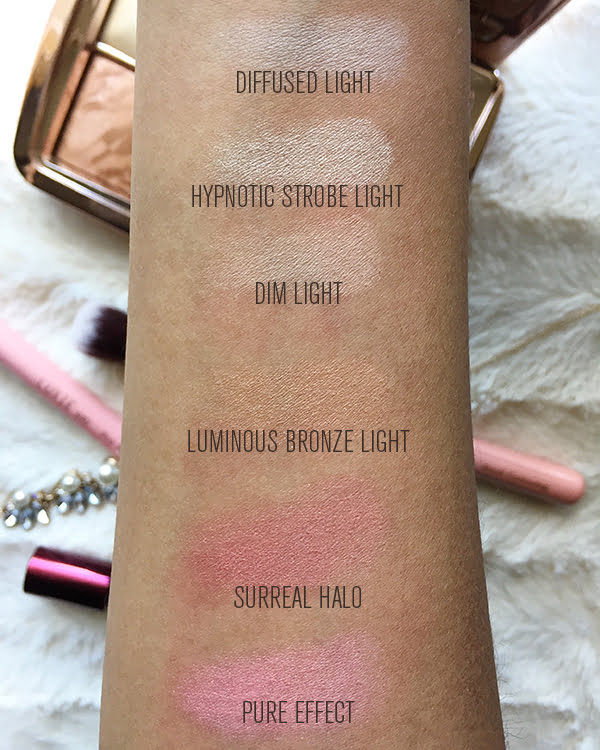 At first, I was slightly disappointed with how the colors were so much different in person than online. I was drawn to this palette because on the screen, Surreal Halo and Pure Effect appeared darker. I read the reviews and saw that this palette is much more friendly for tan skin, compared to the Ambient Lighting Edit Palettes vol. 1 and 2. The bronzer, Luminous Bronze Light, is slightly light for my skin tone but buildable and gives me a warm natural glow. This bronzer is not used for a sharp, Kim K-contoured look. The blushes are also buildable, which is great because you can choose how much (or little) amount of pigmentation you want. I guess I am too used to the "in-your-face" pigmented blushes and highlighters from BECCA or NARS, which can also be really hard to blend if you accidentally put too much. I especially love the blush, Surreal Halo and the highlighter, Dim Light. I use Diffused Light to set my dark circles, but it does tend to accentuate the dryness if you overdo it (for concealer, I use Tarte Shape Tape, which already super matte).
I have been using this powder everyday, and it's a great work-friendly palette since all of the shades are natural looking and they enhance your beauty. The glow from the finishing powders, Dim Light and Diffused Light make you look more awake because of the glow. Did I mention that it photographs insanely well, especially under natural light? Dim Light blurs my pores and gives me an IG-filtered look.
I also like having all of my face makeup products all in one little palette so I'm not fumbling through my makeup drawer over what bronzer/blush/highlighter to use. And it's also great to bring for travel, since it easy fits in your makeup bag compared to having a separate powder/bronzer/blush/highlighter.
If you want an all-in-one palette that gives you everything you need for face makeup and you want to try the powders Hourglass has to offer (without paying full-price for a single powder, and purchasing them individually), I cannot recommend this palette enough.
Do you have this palette, or any products from Hourglass?
Hannah is a travel writer, graphic designer, and the founder/editor of Hannah on Horizon. She is based in Sacramento, California, living with her husband and two adorable dogs. She shares tips on how to experience luxury travel on any budget, and how to maximize time at each trip or destination, no matter what your budget or amount of vacation time at work. She enjoys making you feel like you have visited each destination with her through her storytelling and informative writing style.