In recent years, Portland has been a popular destination in the Pacific Northwest. As a hipsters' haven filled with breweries, cafes, food carts, and vintage shops, this funky city attracts millions of visitors yearly. However, if you are taking a day trip and don't have enough time, I got you covered! You can absolutely spend one day in Portland and do and eat everything to your heart's content!
While planning our trip to Seattle, Cecilio wanted to take a day trip to Portland. I wasn't keen on it at first but decided, why not? I ended up embracing the weird, eclectic town that makes me think of Seattle and Sacramento's lovechild.
And now I want to go back and stay overnight for a few days and DIY my own food tour…because that is exactly what I remember Portland for.
Disclaimer: This post uses affiliate links, which means I make a commission if you book through this post. If you do decide to book using my links, thank you so much for your support!
One Day in Portland: Know Before You Go
Coming from Seattle
By car, Portland is a 3-hour drive from Seattle through I-5 (sometimes a little less depending on traffic and how many stops you take). If you're staying in Seattle for at least 4 days, I recommend using one of them to take a day trip to Portland. I'm only mentioning this because Seattle is the closest big city, and for all intents and purposes, this is a one-day guide.
Transportation and Parking
Unlike in Seattle, you can explore all the nooks and crannies of Portland car-free. This also reflects on how environmentally-conscious the city is.
The TriMet System
Portland boasts having some of the best public transportation called The TriMet, which includes the bus service, MAX Light Rail, and Street Car. The fare is the same for all modes, which is $5 for adults all day, $2.50 for seniors/disabled/low-income residents, and $1.25 for children ages 7–17 (those younger than 7 can ride for free).
Bicycles
There are no shortages of bike lanes and trails in Portland! Bike rentals are all around the city and maps to help you find your way around. There is also a bike-sharing service called Biketown, where you can rent any of the orange-branded bikes across downtown and surrounding neighborhoods.
E-Scooters
In addition to bike rentals, Portland offers electric scooter rentals through Lime, Bolt, and Spin. Like Biketown, Uber, and Lyft, all you need to do is download the provider app and unlock a scooter.
By car
Cecilio and I used our rental car all around Portland, and the city has a parking meter service called Parking Kitty where you download the app, punch in the street zone you're on along with your license plate, and how long you are going to be parked. We did this for three different spots and it was super easy (and cheap!).
FAQ
Is one day in Portland enough to see everything?
It absolutely is, as long as you leave very early (I recommend leaving at 9 am or earlier), especially if you are coming from Seattle. Since Seattle is 3 hours away, it is crucial to leave as early as you can to avoid traffic and in case you have to make a lot of stops along the way.
What is the most visited place in Portland?
This guide takes you through all of Portland's biggest attractions in one day, including but not limited to Voodoo Doughnut, Powell's Books, Japanese Garden, and one of Portland's many food cart pods.
Is there a lot to do in downtown Portland?
YES! Since you only have one day in Portland, time is precious. Downtown Portland has SO much to offer, such as Pioneer Square, more food carts, Portland Art Museum, and the Farmer's Market on Saturdays! You can just park your car and leave it there all day until it's time to leave. Downtown is right next to Pearl District, which houses Powell's books and all of the best restaurants, coffee shops, and more!
Related: If you plan to stay overnight and spend a few days in Portland, check out my 4-day Portland itinerary!
One Day in Portland: Things to Do
Eat at a food cart.
While most cities have smatterings of food trucks here and there, Portland is known for its 500+ stationed food cart pods. You'd be hard-pressed to walk around Downtown or Pearl District without stopping by one. The idea of these carts is that you sample different businesses (while supporting them) without having to wait and eat at a sit-down restaurant.
There are a wide variety of cuisines participating in these pods, but I saw mostly Mexican, Mediterranean, and Korean carts.
Cecilio and I went to the 5th Avenue cart, which is the most well-known one.
If you have one day in Portland, you have to try at least one or two food cart pods.
Stroll around Powell's Books
At 68,000 square feet, the largest independent bookstore in the world is right in the heart of Portland's Pearl District. Powell's has nine color-coded rooms with over 3,500 new and new and used books, magazines, and gifts. You could get lost here, and Cecilio and I spent over an hour wandering around.
The bookstore even has its own coffee shop, Guilder Cafe, which is said to be Princess Bride themed. You can sit on any of the tables, or the staircase seating (that kinda looks like the bleacher seats) overlooking everything and people-watching.
Don't be fooled by these photos, it was really crowded!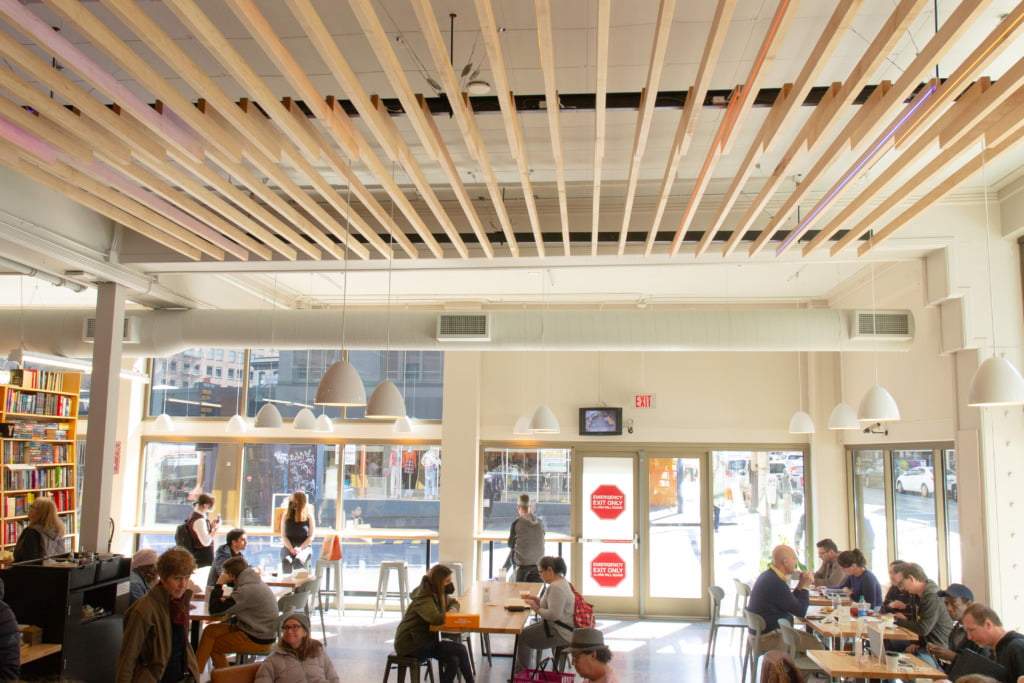 Take photos in front of Instagrammable murals
Bustling with hipsters and creatives, there's no surprise that Portland is full of street and wall art. Just across the street from Powell's Books is this fun pizza sign that I had Cecilio took a photo in front of (and now I wish I took a photo of myself).
Don't forget the Keep Portland Weird sign, which is just down the street from Voodoo Doughnuts!
Grab some donuts at Voodoo Doughnut
One day in Portland isn't complete without getting a fresh box of donuts. Everyone knows about Voodoo Doughnut, but there are some shops that are just as good, if not better, such as Blue Star.
The line in Voodo was about 10–15 minutes, but it gives you time to scope out the menu and decide what to order.
You got your classic donuts such as the Homer (named after the signature pink sprinkled donut from The Simpsons) and chocolate along with unconventional flavors like Grape Ape (which, according to Cecilio, tasted like medicine).
I loved my Home and Strawberry Go-Tart donuts!
Stroll around the Portland Japanese Garden
Get out of the concrete jungle and head over to the Portland Japanese Garden, which is 10 minutes away and atop a hill. I've read that this is the most authentic garden outside of Japan, and as bad as I want to go there, it's not going to be for a while but this is the next best thing.
It is so peaceful and one of my favorite highlights of the trip. I loved being surrounded by the greenery and Japanese-inspired architecture and streams with koi fish underneath.
There is also a tea cafe (which we didn't get to try because we came a little late and they were closing) and a small gift shop.
Dinner at Cafe Nell
Wrap up your day with a fancy dinner at Cafe Nell, a French-inspired restaurant fused with PNW fare. The ambiance is cute and perfect for couples, especially because this is our anniversary dinner. The food was even better though! I am still dreaming of the dishes…
For cocktails, don't sleep on the Harvest Martini, which is vodka, lemon, and pear puree. It tasted like fresh lemonade and candy. I loved it so much that I ordered two.
The appetizers we ordered were the bruschetta, which had kale, brussels sprout leaves, pumpkin seeds, butternut squash puree, dried cranberries, and olive oil on a baguette.
We also ordered mushroom and spinach pillows which were wrapped in puff pastry, deep fried and served with avocado jalapeno sauce.
For our entree, while Cecilio ordered risotto, I had prawn pasta with pesto and parmesan cheese. Wow, my mouth is watering again.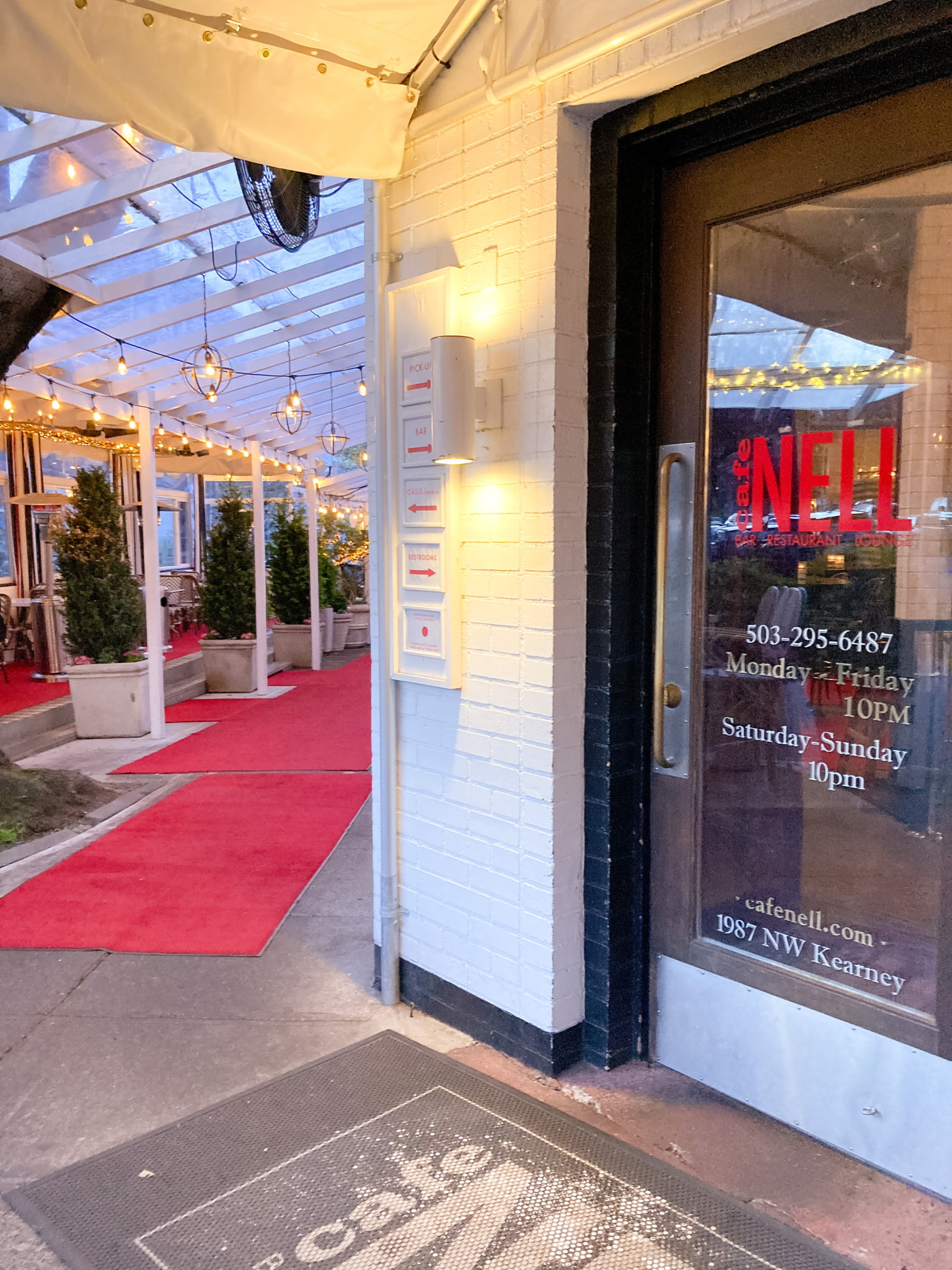 Alternative Activities for One Day in Portland
If you aren't keen on the activities mentioned above, here are some other awesome things to do and make the most of your time for one day in Portland:
One Day in Portland: Wrap-up
This itinerary will help you visit all the coolest spots for one day in Portland within a limited amount of time.
Have you been to Portland or any part of PNW before?
More Day Trip Itineraries:
Hannah is a travel writer, graphic designer, and the founder/editor of Hannah on Horizon. She is based in Sacramento, California, living with her husband and two adorable dogs. She shares tips on how to experience luxury travel on any budget, and how to maximize time at each trip or destination, no matter what your budget or amount of vacation time at work. She enjoys making you feel like you have visited each destination with her through her storytelling and informative writing style.