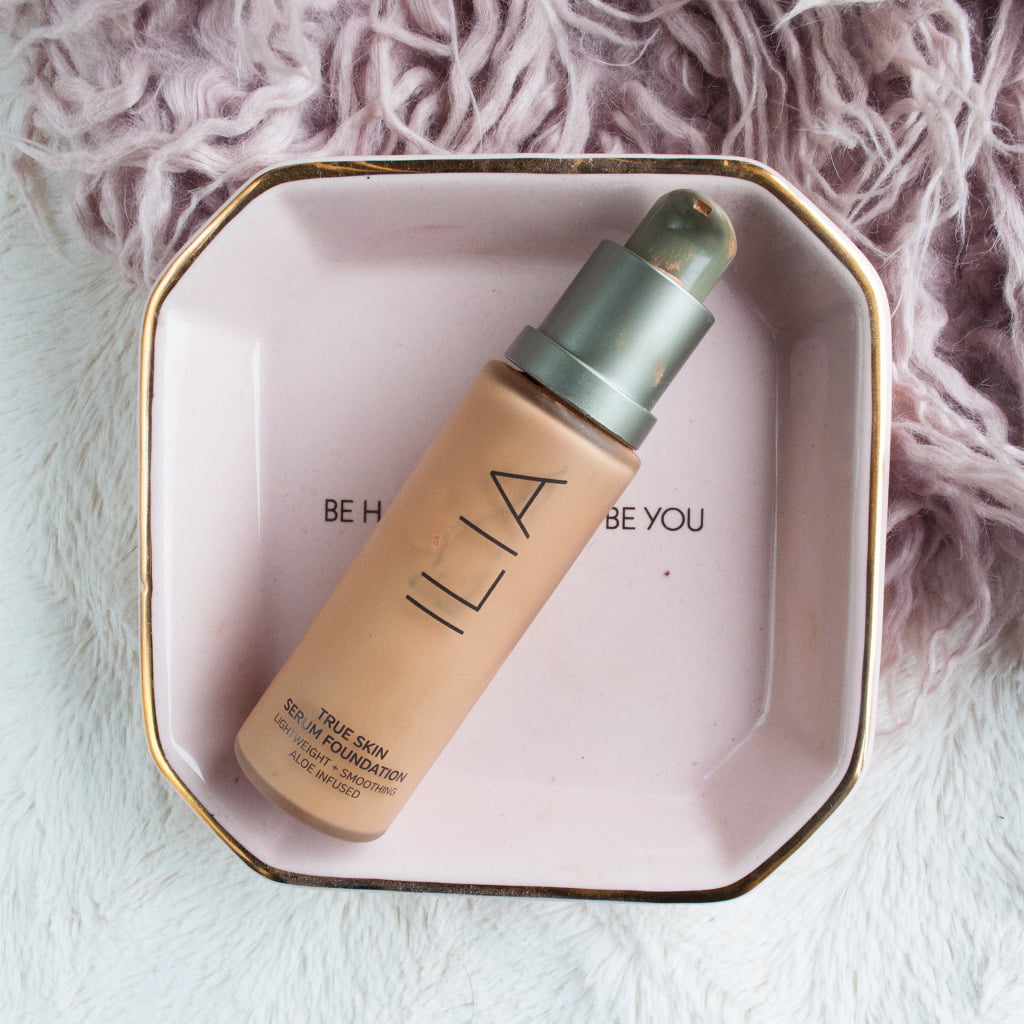 Let me talk about the foundation I haven't shut up about for the past 9 months.
Since going greener and cruelty-free, I was on the search for a foundation that would replace my holy grail Giorgio Armani Luminous Silk Foundation, give me the same coverage, photograph beautifully but contains clean ingredients. I found what I was looking for in the Ilia True Skin Serum Foundation.
I was eyeing the foundation last year but I didn't want to spend $54 only to find that I didn't like it. Luckily, I was able to get a free sample at bluemercury in San Francisco (while waiting for dinner reservations across the street) since Ilia had a small section. The MUA matched me best with the shade Catalina (medium with warm golden undertones) and kindly gave me a small jar with the product. I tested it out for the first time a few days after and fell in love. That was when I decided to use up all of the jar and purchase the full-sized version (which is 1 oz.). It comes with a pump which is great because I refuse to buy a foundation that doesn't have a pump or isn't squeezable (which is why I never bought NARS foundation).
Here is a description of the foundation in a nutshell (per Sephora's product page):
This foundation weightlessly delivers buildable, light to medium coverage with a radiant finish. It nourishes with a powerful blend of botanical actives that leave skin looking refreshed, vibrant, and like skin, only perfected.
It contains aloe leaf extract to help soothe, nourish and moisturize, mastic which refines the appearance of pores, and jojoba oil which reduces dryness and provides a glow.
A lot of people who have this actually say that this doesn't have enough coverage and that it's more like a tinted moisturizer. I beg to disagree: for me personally, it's pretty medium coverage and does a good job of hiding the redness of my nose and face. Sure, it's no Double Wear or Lock It Tattoo, but I don't need that amount of coverage. I will say that it's good for those with all sorts of skin. If you have dry skin like I do then it's great as long as it's not too dry (I had really dry patches on the cheeks near my nose and this foundation accentuated it, especially after setting powder). But now that my skin is back to normal it looks great and photographs well! Those with oily skin will like this too from the mattifying effect from the mastic.
As long as I set this with powder and/or setting spray, this will last me all day and all night.
So you can tell I really love this foundation, right? It's safe to say that it is the clean, green dupe of my beloved Luminous Silk. It's not completely perfect but it gives me a filtered look from the inside out (with how the ingredients that's supposed to improve your skin AND how it looks flawless in person and on camera). I always apply with my trusty Real Techniques Sponge. Because I wear this everyday to work, it is worth the $54. If I am not wearing this, I probably am wearing the Suntegrity Impeccable Skin Sunscreen. Would I repurchase? Hell yeah. I can see myself emptying this next year.
I really recommend the Ilia True Skin Serum for all skin types, especially for those trying to go green and/or cruelty-free. It is available at Sephora, Credo Beauty, and The Detox Market. I'm saving my pennies for the Sephora VIB Rogue Sale because I will be buying Ilia's primer and doing a review on that in the next few months.
Hannah is a travel writer, graphic designer, and the founder/editor of Hannah on Horizon. She is based in Sacramento, California, living with her husband and two adorable dogs. She shares tips on how to experience luxury travel on any budget, and how to maximize time at each trip or destination, no matter what your budget or amount of vacation time at work. She enjoys making you feel like you have visited each destination with her through her storytelling and informative writing style.