Published on May 2022
Updated on May 2023
If you're heading to the airport without checking a bag, you're wondering how to pack makeup for carry-on before going through security fast and keeping your toiletries. Never fear, I will show you how to seamlessly pack with some of my favorite TSA-approved beauty products! As a former beauty-turned-travel blogger, I learned a lot about what to pack, what to separate, and what to leave.
You don't need to give up your holy grail beauty products, but packing makeup for your carry-on does require a little bit of flexibility.
If you are still struggling with what to pack for other stuff, here is a list of long-flight essentials for your carry-on to help you pack seamlessly.
Disclaimer: This post uses affiliate links, which means I make a commission if you click on the link at no cost to you. If you do decide to purchase through these links, thank you so much for your support! I only share links to products and/or services I love and would personally use.
How to pack makeup for carry-on
Before anything else, follow TSA's 3-1-1 liquids rule.
According to TSA (Transportation Security Administration), all passengers are allowed to carry liquids that are 3 ounces or less, in one quart-sized clear bag. All passengers are only allowed one bag, hence why it's called the 3-1-1 rule.
The items below are considered a liquid and must be in a quart-sized bag:
Toothpaste
Shampoo/conditioner
Mouthwash
Aerosoles
Lotion
Cream
Gel
Paste
Because creams and gels fall under TSA's liquids category, that means you do need to add your cream blushes, lipsticks, lip balms, and brow gels in the bag. And while this post primarily covers makeup, we don't want to leave out the other items.
Here are some other tips on how you to make packing makeup for your carry-on easy and efficient!
Try to use a non-liquid foundation.
Liquid foundations are standard for your base products, but they can get pretty messy and sometimes come in bulky packaging. Even though cream foundations and blushes are considered a liquid, they are much more compact and easier to pack in a carry-on. I know that cream products are more for those with dry skin, so if you're on the oily side, definitely get yourself a powder foundation. I'd still put them in your carry-on, but it's still more compact than a liquid foundation. Plus, I recommend packing powder products in a carry-on instead of checked luggage because I'd be so afraid of them crumbling. I would recommend the following products:
Cream foundation:
Powder foundation:
If you have to bring liquid foundation, put it in a small plastic sandwich bag.
I personally do not have a stick foundation (but I used to have the Bobbi Brown one which I loved and eventually emptied), so I am going to bring this Beautycounter foundation (even though it's bulky AF) because I am trying to use it up and I'm halfway there.
I have also heard about putting a piece of plastic wrap in between the foundation cap and body to prevent it from exploding and leaking due to the air pressure the higher the elevation. I personally haven't tried that but I just might for peace of mind!
Disclaimer: For more beauty product recommendations, check out my favorite travel-friendly and TSA-approved picks from Sephora!
Stick to eyeshadow duos, trios, or quads.
Ditch the big eyeshadow palette. I don't recommend the 16-shade eyeshadow palettes because it's going to take up unnecessary space in your carry-on. Any palette with 4 or fewer shades will be a huge space saver! You basically just need a lighter shade for your lid, something darker for the outer corner, and something in between for your crease (a shade slightly darker than the shade of your browbone).
Quads:
Trios:
Duos: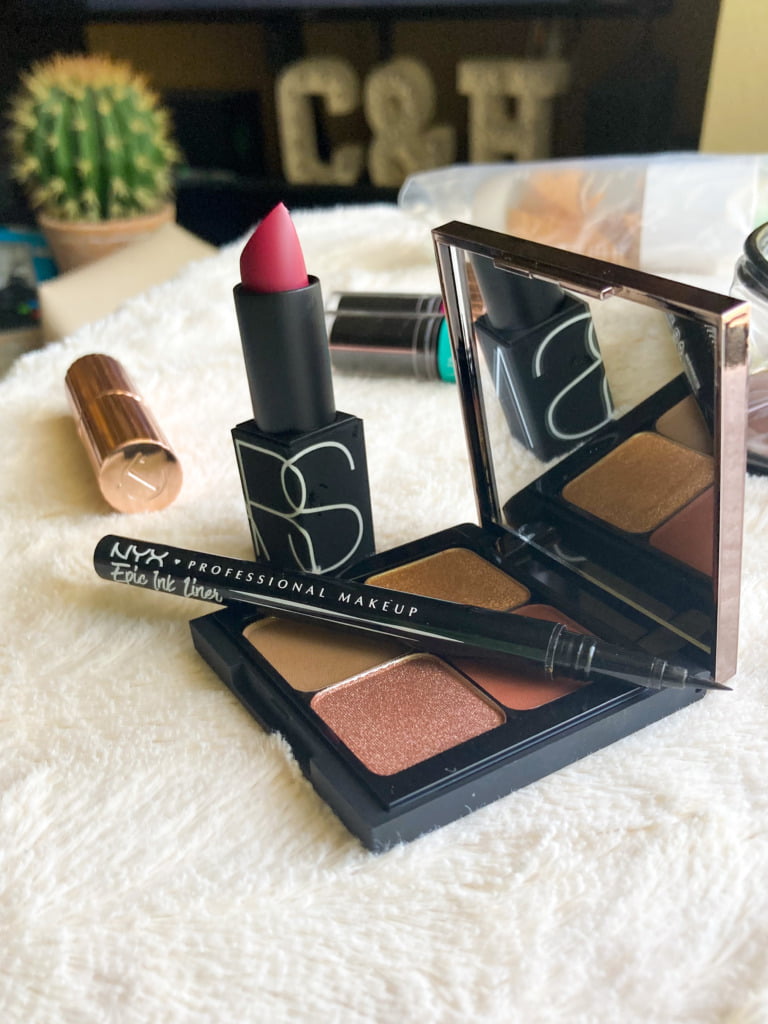 Stick to pressed instead of loose powders.
We all love that airbrushed look from loose powders, but the particles could easily fall out when you have it packed, even if it's closed tightly. This is where I suggest using a pressed powder instead! If you can't let go of your beloved loose powders, you can crush a little bit of the pressed product with a spatula or a toothpick, and apply it on your face with a fluffy powder brush.
Tinted pressed powders:
Translucent pressed powders:
Use contour face palettes or duo sticks.
Packing an individual bronzer, blush, and highlighter will take up A LOT of space. So why not invest in a face palette that has all three? Or you can also find contour sticks like NYX's Wonder Stick, which is much more space-saving (they also have Wonder Stick blushes now!).
Face Palettes:
Contour/blush sticks:
Separate your powders from your liquids
Since powders aren't a part of TSA's 3-1-1 rule, it's best to keep them in a separate container (along with makeup tools, brushes, and sponges). This is especially important if you are not checking luggage and only bringing a carry-on, because you are going to want to make room for other liquids such as toothpaste, skincare, contact lens + solution, and lotion.
Buy reusable makeup remover cloths instead of wipes
While the wipes are wet in and of themselves, the TSA does not count them as a liquid because they aren't wet enough. That said, they do come in bulky packaging and will take up room in your carry-on. Plus, they aren't good for the environment. Instead, buy some reusable makeup towels where you can just add water and wipe on your face (personally, I love to add water and cleansing balm to it). It's much more gentle on your face too. The MakeUp Eraser is one of the original brands, and you can read my review on this post. However, you can find dupes everywhere that are just as effective.
Pack 1 or 2 of your signature lipsticks
I don't know why, but I used to pack at least 4 lipsticks and a lip gloss thrown in. Now I like to keep it simple by packing only two shades: a nude-ish, MLBB (my lips but better) shade like the Charlotte Tilbury lipstick in Pillow Talk Medium, and a bright one, like the NARS lipstick in Jolie Mome. Lipstick is my favorite makeup product ever, so I never go without it! It ties in with your overall look 🙂
Need more help with packing makeup for carry-on?
I have a full packing list dedicated to toiletries waiting for you if you sign up for my newsletter below so that you can pack your makeup in a carry-on seamlessly. If you're like me, you tend to forget a few things. Not anymore with this list! In addition, you can expect to see other exclusive travel hacks, updates, and even some fashion and beauty tips!
Now let me ask you…how do you pack up makeup for carry-on and traveling?
Hannah is a travel writer, graphic designer, and the founder/editor of Hannah on Horizon. She is based in Sacramento, California, living with her husband and two adorable dogs. She shares tips on how to experience luxury travel on any budget, and how to maximize time at each trip or destination, no matter what your budget or amount of vacation time at work. She enjoys making you feel like you have visited each destination with her through her storytelling and informative writing style.