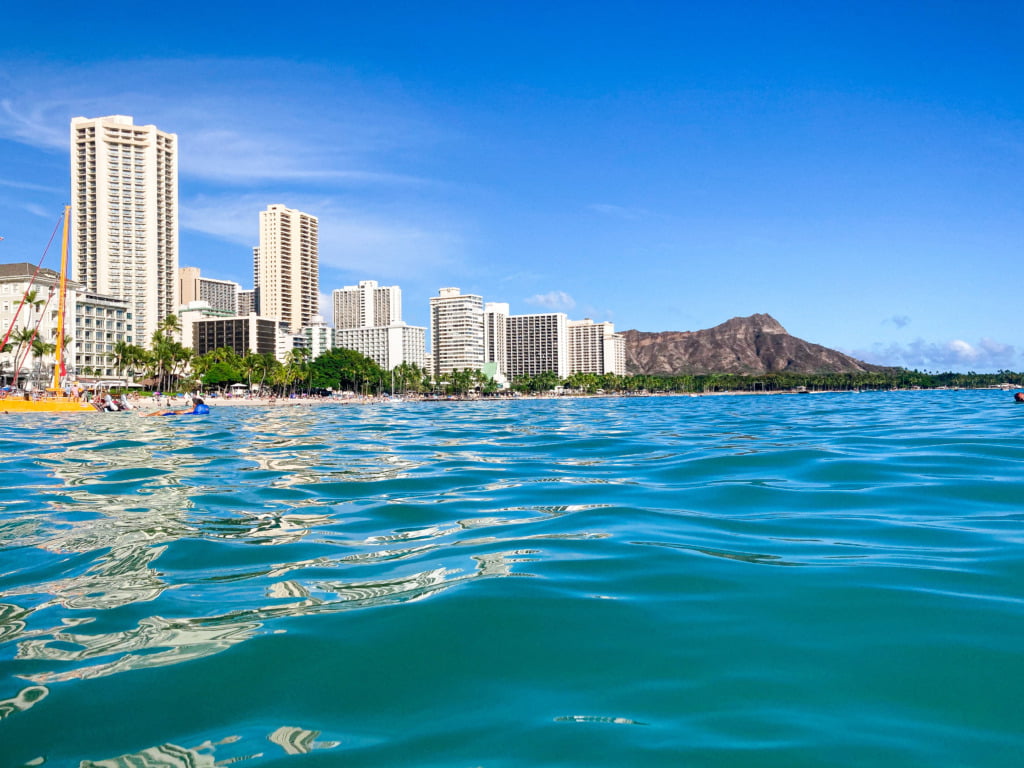 Disclaimer: This post uses affiliate links, which means I make a commission if you book through this post. If you do decide to book using my links, thank you so much for your support!
While I had a wonderful time in Oahu, Hawaii with Cecilio, it wasn't without mishaps. I'm a big-time procrastinator (which I need to continually work on), and I tend to rush through things without reading the fine print. As a result, we made a lot of mistakes during our trip to Oahu. 
Planning ahead thoroughly would've made our trip so much smoother and easier. Overall, we were refreshed and relaxed, but there were some things we made difficult on ourselves.
I hope you can learn from the mistakes we made in Oahu to ensure that your trip is full of pure tropical bliss and mai tais!
Mistakes I made in Oahu as a result of not planning ahead:
Not communicating with Cecilio enough about our expectations.
This is my 4th trip to Hawaii, and my 2nd trip to Oahu. Cecilio has never been to Hawaii before, but he has familiarized himself with the islands (especially about Pearl Harbor). Waikiki is the center of everything—after all, we did end up staying at Shoreline Hotel in Waikiki. 
We talked about wanting to explore outside the Waikiki area and visit other parts of the island. And we did, but there were parts that frustrated both of us because of the traffic and parking situations. I mostly wanted to explore most of the island while he mainly preferred staying in Waikiki. His argument was that since our hotel was in Waikiki and we were within walking distance from the everything, it was best that we spent more of our time there. He wanted to relax on a beachy vacation, and save the sightseeing and explorations for Europe.
This was because he was the one driving the whole time and struggling to find parking, and because we were already paying daily parking at the garage across the street. He was driving in an unfamiliar state where there was bad traffic; not as bad as California's, but enough to frazzle him and cause some tension between us. But we listened and met each other in the middle so that we were both happy and relaxed.
I did tell him that while Oahu is amazing and great for first-timers to Hawaii, Maui is where you go to relax. And now he wants to go to Maui next time we go back to Hawaii!
RELATED: Are you going to Hawaii in the future? Don't plan without this 4-day guide to Oahu, which includes Waikiki, North Shore, Ko Olina, and East Oahu!
Waiting until the last minute to try to rent an umbrella 
As someone with lupus, it's really important for me to stay out of the sun as much as possible. Obviously it's pretty hard to do that in Hawaii, but I found out about Hawaii Beach Time, a rental service that delivers equipment to your hotel. This included umbrellas, beach chairs, snorkeling equipment, etc. 
I only found out about the service 2 weeks before our trip. Since packing a beach umbrella is impractical, I called them on the 2nd day to try to rent one. They took a while to respond at time (we were communicating through text), and they said that they needed to look to see if they had any available.
We had some poor communication, but it wasn't their fault. It was mine for waiting until I arrived to inquire about renting an umbrella. In fact, their website states that the earlier you request equipment, the more likely you'll get what you need.
Even though I didn't get to rent from them, I still highly recommend Hawaii Beach Time if you need equipment in a pinch. They even provide a hammock and life jackets!
If you have lupus, sun-sensitivity, or conscious about protecting yourself from the UV rays, get yourself the umbrella! It's $36/week to rent. Your skin (and other organs) will thank you.
Don't go to Hawaii without purchasing some sun protecting summer essentials!
Waiting until the last minute to buy a prescription snorkel mask
Again, another mistake as a result from me procrastinating. I'm near-sighted and was due for an optometry appointment, so I needed to get my prescription in order to buy a prescription snorkel mask so that I could see underwater without having to use my contacts under a regular snorkel mask (although that could've worked too).
I ordered my prescription snorkel mask from House of Scuba, a week and a half before our trip, assuming it would come on time since they are based in San Diego. I assumed that it would arrive in Sacramento within days.
Nope. They just shipped it out on our 2nd day in Hawaii.
Also, we never even got to snorkel because of all the driving around and limited time.
But let's just say that I can use it as an excuse to go somewhere beachy next year so that I can snorkel.
Assuming that anywhere outside Waikiki is going to be less crowded 
While Waikiki is Oahu's playground, that doesn't necessarily mean that other parts of the island are desolate. In fact, when we went to Kailua for the Manoa Chocolate Tour, we tried to go to the beach in the town and we couldn't because there was nowhere to park. The parking was completely full and we kept driving around Kailua in circles. Absolutely no one was leaving the beach parking lot. Most of Kailua is residential so we couldn't park in front of houses. Manoa Chocolate is located further away from the beach, and we were able to park in front of the Kailua Library. If you want to explore Kailua Beach (which is amazing for swimming and paddleboarding, and filled with shops and local eateries nearby), it's best to arrive at 7-8 am.
I also wanted to take a 2nd day trip to North Shore from Waikiki after having a sour experience with a tour company taking us there (more on that in a little bit). But coming back from North Shore to Waikiki, we saw that there was a lot of traffic to go to the beaches. And this was just on a Thursday! I wanted to redo our day trip there on a Saturday and I just couldn't imagine how much worse going there would've been. North Shore is where most tourists go to escape from Waikiki since it's more rural but filled with hiking trails, small restaurants and shops, and beaches with turtles. It's also a surfer's haven due to the strong waves.
And if you want to go to Hanauma Bay, Oahu's most popular snorkeling spot? Good luck finding parking anywhere after 7 am, unless if you are willing to pay extra for a bus transfer.
Waiting until the last minute to try to book a luau
I'm not huge on luaus, but I think anyone who goes to Hawaii should experience them at least once. I went to a luau in the Big Island in 2005 (when I was 15), my first trip to Hawaii. I mean, the dancing and performances are cool and the food is decent (not outstanding). They are also very expensive. It's a unique experience that showcases Hawaiian culture and traditions. Cecilio wasn't keen on going to one, but I wanted us to go since this was his first time in Hawaii. 
We never got to go to one because most of them were booked out. My mom raved about the Paradise Cove Luau but they were sold out during our stay. I wanted to go to the Ka Wa'a luau at the Disney Aulani resort but it's completely booked until November!
If you are planning to go to a luau on your upcoming trip to Hawaii, make sure you book it months in advance. Also, make space in your budget if it's a top priority for you to you.
The biggest mistake I made in Oahu activity-wise
Booking a day trip to the North Shore through Aloha Hawaii Tours
Cecilio and I wanted to take a day trip to North Shore, which is about 40–60 minutes away from Waikiki. I found out that Aloha Hawaii Tours had a tour to North Shore through Groupon which was 50% off. Overall, I paid $140 for both of us total which also included a 20% off discount from Groupon. I booked it so Cecilio wouldn't have to drive.
Booking through Aloha Hawaii Tours was a huge disappointment, not only for us but for the other people on the tour. It was completely disorganized.
For the North Shore tour, the itinerary included getting coffee at Greenworld Coffee Farm. The tour included an option to hike in Waimea Valley to see the Waimea waterfalls OR to go paddleboarding. Then, we were supposed to visit Sunset Beach, and explore the macadamia farm and sugar mill. 
No coffee, no waterfall, no beaches
First off, the tour guide said we had no time to get coffee at Greenworld because the line was too long and we only stopped there to use the restroom.
There has been a drought so there was no waterfall in Waimea. I wish the tour guide could've given us an option to explore more time on the beach. The two ladies who went paddleboarding were underwhelmed by the lagoon they did it on and only ended up paddling for 15 minutes. On the bright side, I did end up getting coffee at one of the shops at the Waimea Valley entrance.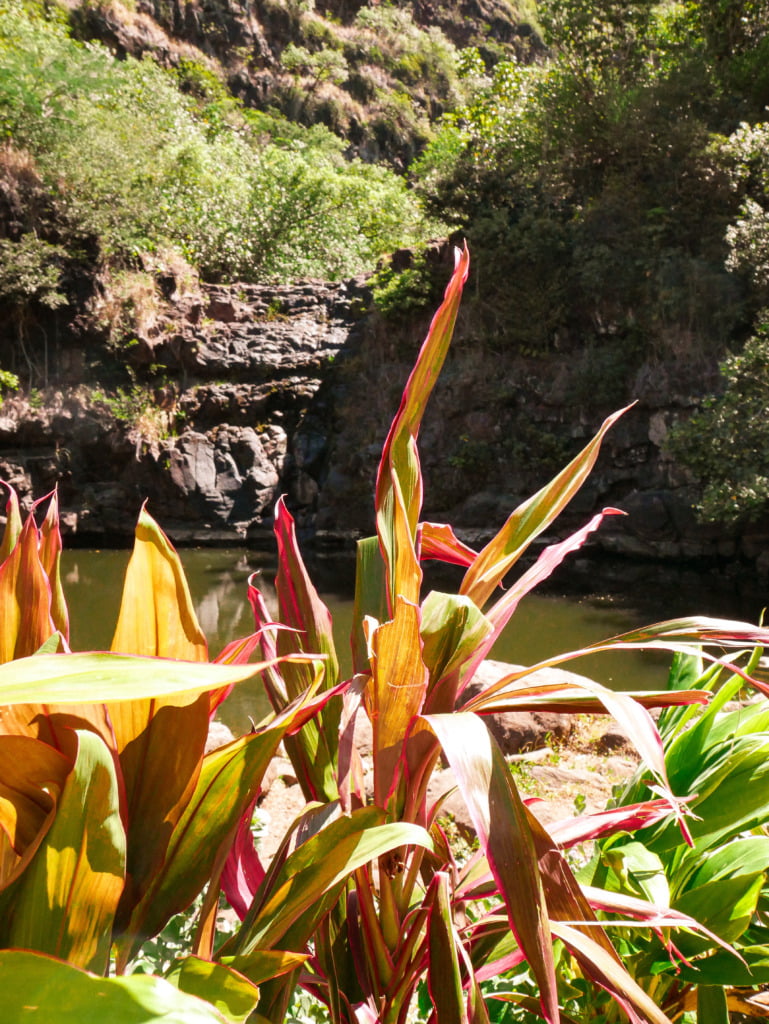 We didn't get to go to Sunset Beach because of some traffic, but the tour guide said he would take us to another beach to see turtles. We didn't even get to do that as promised.
When we arrived at the North Shore Macademia Nut Company and Waialua Sugar Mill, we probably had about 20 minutes maximum in each stop. Cecilio and I were trying to make the most of it despite all the changes. But when the tour guide and other people would go back in the bus right away, I felt like we were holding them up. I wanted to spend more time at the stops because of all of the plans changing. I enjoyed tasting the flavored macadamia nuts, coffee, and chocolate and wanted to take my time at the spots.
The tour also ended 2 hours earlier than it was supposed to. I felt robbed that day.
The tour I wish I would've booked instead
If I could go back, I would've booked the North Shore Tour with Oahu Photography Tours instead, even if they are much more expensive. While their tours are activity-based as well, there is an emphasis on photography for the guests. It is basically your typical tour + photography workshop rolled into one. This would've been perfect as I am trying to improve my skills and develop my style as a travel photographer.
Mistakes I made in Oahu food-wise
Not trying malasadas
Hawaii is known for malasadas, Portuguese-style donuts without the hole, and made with evaporated milk. I wanted to go to Leonard's, the best place to get them. But for some reason we never did. And I regret that. They did have Penny's Malasadas, which was at the food court in Waikiki Shopping Center, and Cecilio and I were already at that food court on the first day. But I was dead set on trying Leonard's. Again, I will use that as an excuse to come back to Hawaii!
Ordering the poke and kale salad at Heavenly 
Cecilio and I ate dinner at Heavenly, the restaurant adjacent to our hotel. I love poke, so I ordered poke which came with a kale salad. I always remember that I don't like kale; I don't like the texture, and I got served a big bowl. Guess I should've ordered something else instead.
Ordering coconut chicken at Tikis Bar and Grill
On our last night in Hawaii, we ate at Tiki's Bar and Grill. We ordered poke sliders (where the poke was on top of crispy wontons) and they were delicious. I ordered coconut chicken thinking it was going to be crispy and battered like coconut shrimp, which I love. I was wrong. The chicken was not battered and just had coconut flakes on top of it, and it was so freaking dry. The green beans on the side were overcooked and shriveled. I had to force myself to swallow it (having dry mouth from lupus doesn't help) and eat what I could I didn't want to be wasteful. Now I wish I could've ordered the coconut shrimp instead! Again, this is an example where I rush and don't read through things thoroughly.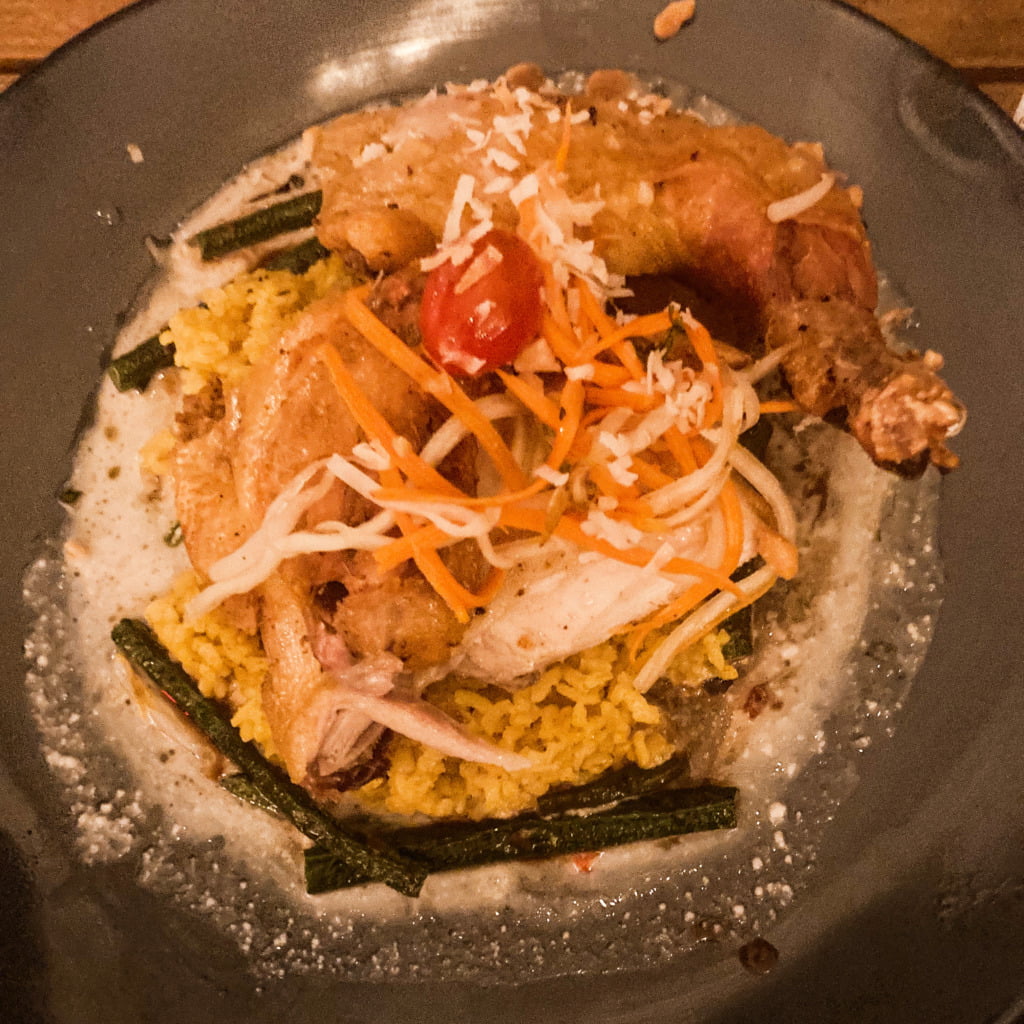 Learning from these mistakes
Even though I have been to Hawaii before, I always learn what to do (and what not to do) on every trip. Our trip to Oahu was no exception.
I am sharing these mistakes I made in Oahu not only as a reminder to myself, but for you if you do decide to go to Hawaii!
Did you find this post helpful? Share the love—bookmark, pin, or leave a comment below!
Hannah is a travel writer, graphic designer, and the founder/editor of Hannah on Horizon. She is based in Sacramento, California, living with her husband and two adorable dogs. She shares tips on how to experience luxury travel on any budget, and how to maximize time at each trip or destination, no matter what your budget or amount of vacation time at work. She enjoys making you feel like you have visited each destination with her through her storytelling and informative writing style.