Does anyone have champagne taste on a beer budget like me? You like finer things, but you try not to go out of your way to buy them if you can't afford them. Especially in a country as expensive as Denmark.
I recently just got back from Copenhagen, and I will say that November is a perfect time to visit because the weather is still nice (chilly, but refreshing) and you can find a goldmine of affordable hotels. I was able to find hotels to stay in for less than $120 a night!
Ultimately, I ended up staying at Motel One Copenhagen. It was very affordable (although I did splurge a little by paying extra for a room with a view) and close to most of the attractions.
Read more to find out about my experience staying in Motel One Copenhagen, and decide if you too should stay there!
Disclaimer: This post uses affiliate links, which means I make a commission if you book through this post. If you do decide to book using my links, thank you so much for your support!
What to expect at Motel One Copenhagen
About Motel One
Motel One is a German-based hotel chain with over 75 locations across Europe, the UK, and one in New York. They are known for being affordable but providing a high-quality experience to their guests. All of their hotels are centrally located, making it easy to explore and access public transit.
Yes, it has "motel" in the name, but they are nothing like the motels in the U.S. that offer bare-bones experiences. So don't be put off by the name! The only thing they have in common is the price range.
Design
The Motel One chain prides itself on being a design hotel, meaning that its biggest draw is its design. That could mean the architecture, interiors, and furnishings. It also means that the hotel is designed purposefully to match the aesthetic of its location, which Motel One does while staying on brand.
Danish culture plays a big emphasis on hygge, the act and art of coziness and self-care. In Denmark, hygge is a lifestyle. This is evident in the lobby design in which the reception is also a bar, and right next to it are tables where you can lounge around while having coffee or other drinks. All around the lobby, lounge, and buffet area displays illustrations and work from local Danish artists.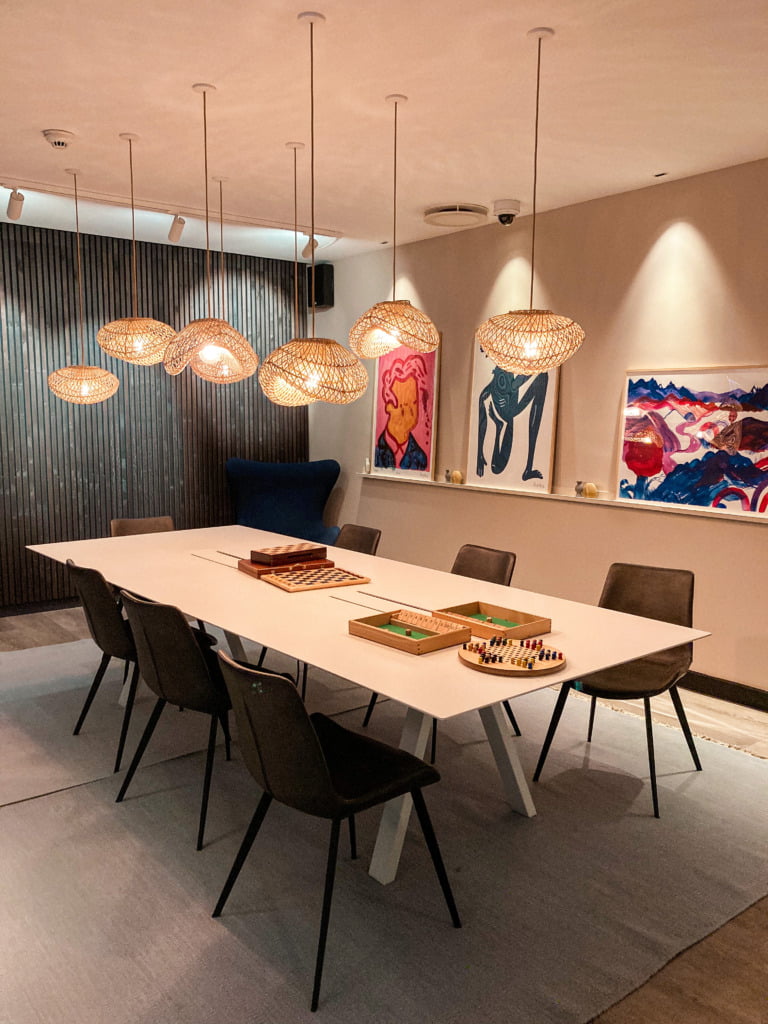 You can also see it in the rooms where they display whimsical Scandinavian art and design while balancing it with minimalism which makes things not overstimulating.
Rooms
I can't rave about the rooms enough. I stayed in a bedroom with a queen-sized bedroom and a view of the city. Like I said, I splurged a little bit to get a room with a view, which was 792,00 DKK ($110.58) per night. My room in Hawaii was much smaller and more expensive at $180 per night!
The bed was insanely comfortable. I felt like I was sleeping on clouds every night! All of Motel One's beds are box-spring and the linens are made with Egyptian cotton, known for being super soft and luxurious.
My room and bathroom were spacious for European standards. The bathroom was sparkling clean with a granite shower stall, fluffy towels, and a hair dryer.
I also had a small couch right next to the bathroom, but there was a gap in between so I was able to use that space to work out (which I only did one night because my feet and legs were already screaming in pain from all the walking). I used the couch to store some of my stuff.
Location
Because all Motel One locations are centrally located, they are perfect for first-timers in their respective city. In my case, Motel One Copenhagen was minutes away from Tivoli Gardens, Rådhuspladsen (Copenhagen City Hall Square), Strøget, Strædet, Højbro Plads, Gammel Strand, and Christiansborg Palace.
It's also a 20–30 minute walk from Copenhagen's most photographed harbor Nyhavn and most photographed statue, the Little Mermaid.
I spent a TON of time in Strøget and Højbro Plads, which made it easy to stop by and rest in my room as needed. And boy did I need to rest as much as I could, between battling jetlag, walking a lot, and getting lost in the city.
Also, there is a train station in Rådhuspladsen, a 5-minute walk away from the hotel. The Copenhagen Metro Station is super easy to navigate!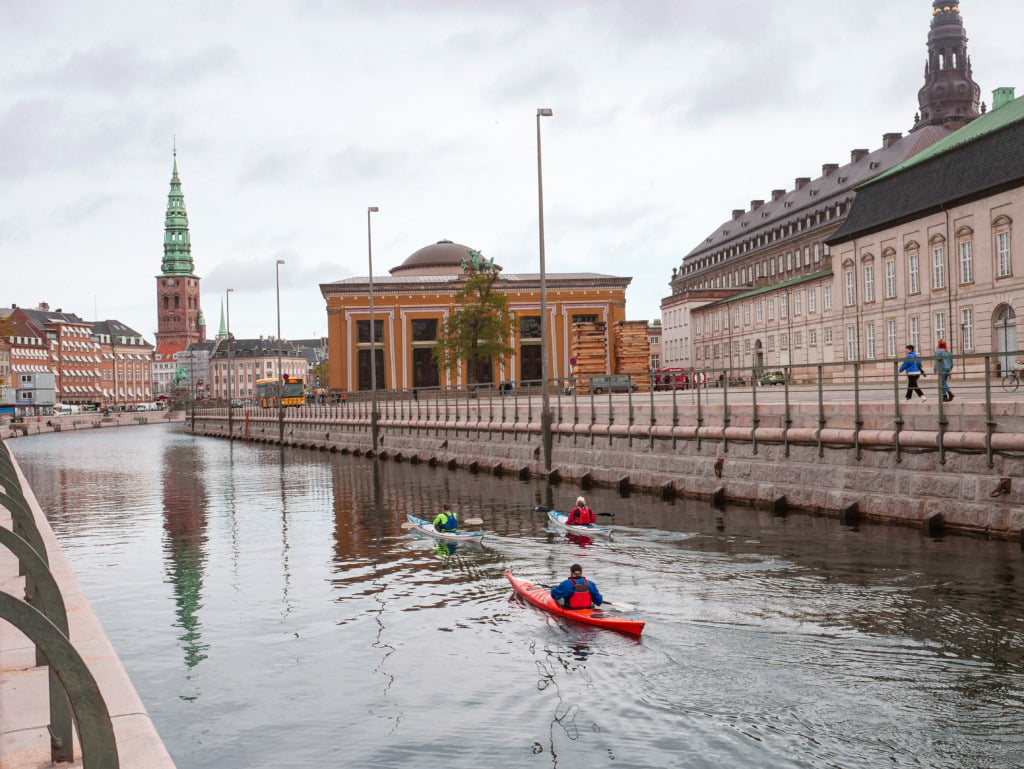 Food & Drink
Motel One Copenhagen offers a breakfast buffet everyday. Unfortunately, it is not complimentary. You have to pay to eat there. You could add it to your bill if you wanted to eat there everyday or pay as needed. I paid as I went since I wanted to try other eateries around the area.
The buffet offers organic, healthy fare. You get typical breakfast foods like eggs, bacon, cheese, bread, yogurt, and fruit. They also offered pain au chocolate and croissants (which is kinda random since those are French).
As far as Danish cuisine, there are delicious, soft, flaky Danish pastries that I split in half and would spread with cream cheese, butter, and jam. Danish cuisine is really big on bread and butter, hence their signature smørrebrod dish. The word smørrebrod literally means "buttered bread", but the lunch dish you think of has buttered thin rye bread with herring (or other meats) and pickled vegetables. For the breakfast buffet were a variety of spreads like butter (even vegan butter), cream cheese, jam, peanut butter, and Nutella. If you wanted something more savory, there were meats and cheeses you could put on your bread.
There were so many drink options like water, juice, milk, and tea. In addition, the buffet had a really cool coffee machine that served different kinda of drinks like lattes, mochas, cappuccinos, macchiatos, or regular drip coffee. All you needed to do was place your mug under the machine, press the button to choose the coffee you want, and the machine brewed it for you!
Hospitality
The hotel staff were incredibly nice and helpful. If there was anything I needed, they went out of their way to help me. For example, when I was out and about on my last day to go to the spa, I requested to have my check-out time be at 1 instead of 12. They let me stay for an extra hour. However, the key stopped working when I arrived back from the spa, and I let them know and they extended my time in my room before checking out.
Sustainability Efforts
Practicing sustainability is at the forefront of Motel One as a whole. You can read more about their goals and methods to make Earth a better place to live. The bathroom provides full-sized shampoo, conditioner, and body gel locked against the rack, rather than mini-sized toiletries. Everything is 100% free of microplastics.
Motel One also aims to save electricity by only allowing guests the ability to turn the light on or off with the room key. If you want the light on, you have to use your key on an attachment.
My final verdict on Motel One Copenhagen
What I loved
Low cost, especially for the superb quality
One of the comfiest beds I have ever slept in
Proximity to Copenhagen's biggest attractions and a train station
The decor and funky art
The sustainability efforts
What I didn't love
Usually I am pretty hard to please, but I honestly cannot think of any complaints about my stay. Sure, it would've been nice if the breakfast was free or if I had a mini bar or microwave in my room. But then again, a lack of those are probably what keeps the costs low.
Would I recommend Motel One Copenhagen?
Without a doubt, I 100% recommend Motel One Copenhagen. The prices are unbeatable, yet you can still live luxuriously with this 4-star hotel. This is not one of your "you get what you pay for" things. It's not over the top or gaudy either. You're minutes away from restaurants, coffee shops, and shopping areas in Strøget and Strædet, and if you want to venture off into other neighborhoods such as Nørrebro or the Meatpacking District, it's only a few train stops away.
I appreciated how close everything was so when I needed to rest or drop off something, I could at any given moment. And the bed had me doze off into lalaland within minutes.
Overall thoughts
I loved my stay so much that I am curious to try other Motel One locations in Europe! I consider myself a "mid-range" or affordable luxury travel blogger; someone who is on a budget yet someone who wants all the comfortable amenities. The Motel One hotels offer exactly that.
Hannah is a travel writer, graphic designer, and the founder/editor of Hannah on Horizon. She is based in Sacramento, California, living with her husband and two adorable dogs. She shares tips on how to experience luxury travel on any budget, and how to maximize time at each trip or destination, no matter what your budget or amount of vacation time at work. She enjoys making you feel like you have visited each destination with her through her storytelling and informative writing style.