I haven't done a fashion post in a long time, and this is my first one ever in this new blog, so I'm very excited to show you guys this navy blue midi wrap dress!
GCGme contacted me to see if I was interested in trying on any of their outfits, and I was browsing through the website, the KIARA Evening Midi Dress* caught my eye, so that was the outfit I chose. When it arrived and I first tried it on Easter, it did not disappoint: I fell in love instantly. It's the perfect length and hits my knees, as I'm not comfortable wearing skirts or dresses above my knees, especially if I feel like my buttcheeks can almost be exposed (although those denim miniskirts that were popular when I was in high school in the mid-2000s are now coming back in style—did anyone have a pair? I sure did!) I also love how it's ruched at the waist with a wide band: I've always been proud of having a smaller waist in proportion to my chest and hips, but prednisone has made my middle thicker. This dress gives me my waist back.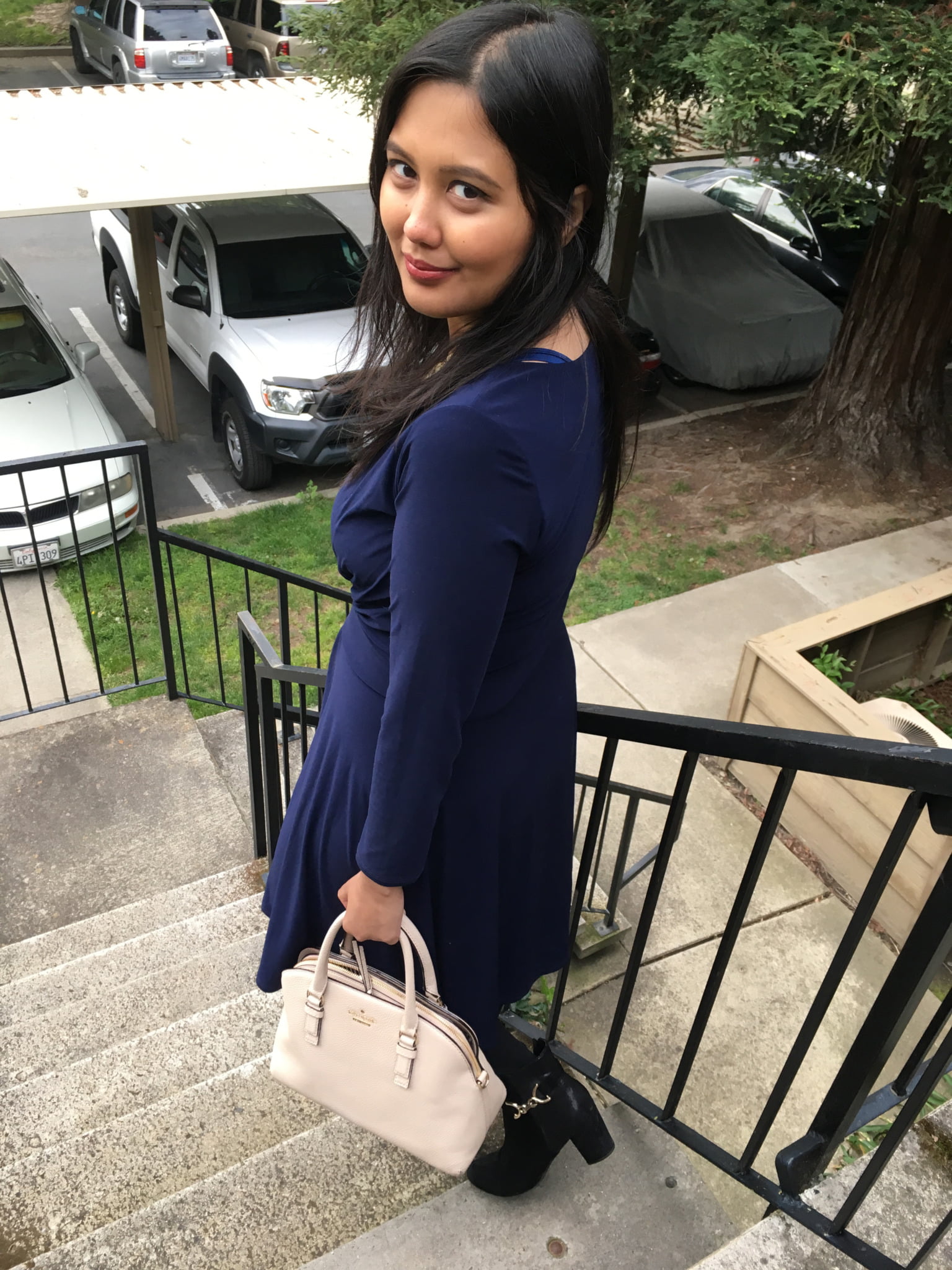 These photos were taken after work, so on that day I wanted to take a business-casual approach to this dress and accessorize accordingly. I wore black tights and ankle boots for more edge and less stuffiness. I wouldn't wear tights with these if I wore sandals, but the place I work for prohibits wearing open-toe shoes (what a shame! I have to pass up all the cute sandals being sold right now!)
Though I chose this solid number of the many patterned ones on GCGme's website, I still wanted to add pops of color and shape so that the dress itself isn't so bare. I bought both the bracelet and necklace from Francesca's Collections. My necklace has stones draping, as if it was a part of the dress. And of course, my Kate Spade Jackson Street Lottie satchel, which I bring everyday, completes the look.
I would love to do more fashion-related posts in the future. It's just that I've been very self-conscious about my body from taking prednisone. I weigh 146 right now and a size 8/10 (pre-prednisone, I weighed 129 and wore a size 6/8), which isn't too bad, but more than I am comfortable with. But then there's a bigger chance that I might have to increase my prednisone, which really really scares me. I am terrified of going up to the 160's or possibly even higher (my highest was 158). I am praying that I won't have to, but if I have to, I have to. I shouldn't let it stop me from wanting to buy new clothes, or use the ones I currently have and blog about them. I deserve nice clothing no matter what size. Before I got really into makeup, I was more of a fashion girl. I loved layering and accessorizing, even though my makeup was very minimal. Now it's practically the opposite. However, sometimes I dress frumpy when I am on the drug, which actually makes me look and feel worse. When I take find a piece of clothing that I love (like this dress), flatters my shape and makes me feel stylish, my confidence soars. No matter what size.
Thank you GCGme for this gorgeous, simple dress! This is definitely going to be a staple in my wardrobe, and I can see myself wearing it regularly, whether at work, a daytime party, brunch, or date night!
*This product was sent to me in exchange for a review.
However, my opinions about the product remain 100% honest and unbiased.
Hannah is a travel writer, graphic designer, and the founder/editor of Hannah on Horizon. She is based in Sacramento, California, living with her husband and two adorable dogs. She shares tips on how to experience luxury travel on any budget, and how to maximize time at each trip or destination, no matter what your budget or amount of vacation time at work. She enjoys making you feel like you have visited each destination with her through her storytelling and informative writing style.