On planning our UK trip, Cecilio and I decided to take a Stonehenge and Bath day trip from London. Stonehenge is listed as a UNESCO site, and I learned about it through an art history class back in university. Cecilio suggested that since we were already going all the way to London from California, we might as well take a side trip.
Stonehenge is a prehistoric monument located in Wiltshire, England with a ring of standing stones. It is only an hour and a half away from London and equidistant to Cardiff. It is now managed by the English Heritage.
Stonehenge's History and Structures
Stonehenge remains a mystery to historians and visitors. It may have been built over 10,000 years ago, but the site as we know it today was built approximately 5,000 years ago as an enclosure where people buried the cremated. Scientists have found that there were at least 25 people who were cremated, some of which lived near Stonehenge, and others who were from Wales.
The two types of stone in this site are sarsen (silicified sandstone, the larger stones) and bluestone (known as diabase, for the smaller stones). It also remains a mystery as to how the stones got transported without a wheel or pulley device. Some have said that the prehistoric people organized logs to place the stones on (as you can see below as an example). There is even some mythology about Merlin the Wizard helping construct the site.
How to get to Stonehenge and Bath from London
You could drive there yourself through the M3 and A303 freeways. However, since we were unfamiliar with the roads in England (especially with driving on the other side), we decided to book a tour that included Stonehenge, Bath, and an entrance to the Roman Baths. The company, Anderson Tours, picked all of us up at Earls Court in London. We were amongst a small group along with 4 other Americans, 2 Canadians, and one Australian in a coach.
Our Viator excursion
Our driver, Keith, was extremely informative, funny, and helpful. During the drive, he talked about life in Britain and London in general, along with some tidbits about Stonehenge. He also joked that to get citizenship in the UK, it should be required to sit in the traffic and withstand the weather for a few months. An hour into the drive, he dropped us off at a rest stop to use the toilet and to get some snacks. There was a Starbucks at the rest stop, so Cecilio got some coffee and I ordered tea for my throat.
Visiting Stonehenge
It was on the sunny side during the first part of the drive. But as we got closer, the rain came. When we finally got dropped off, it was pouring hard. We got dropped off at the Visitor Centre, and normally you would have to walk to go to the site. But because it was raining hard, everyone had to ride a bus to get to the site. It was muddy.
I almost regret booking this tour because while my jacket was waterproof, it rained so hard that all of my clothes got soaked. Lesson learned: always make sure to pack accordingly when going to Europe in the fall. However, the rain stopped and the sun shone, and there was a rainbow (which I didn't get to snap a photo of because my phone needed rest from how wet it got).
We had the option to use the audiobook but we ended up not doing so.
The stop at Stonehenge was approximately 2 hours long. There were hordes of other visitors, including schoolkids on field trips. We took a bus back to the Visitor Centre, and stopped at the gift shop to buy a magnet. The gift shop was dedicated to all things Stonehenge–shirts, Christmas ornaments, puzzles, you name it! Even chocolates!
Near the Visitor Centre and the gift shop were some prototype huts where the neolithic workers supposedly lived while developing the Stonehenge site. Obviously, these weren't the original ones as these were constructed by volunteers in 2013. These huts reflect what life was like for the workmen while in the process of building the site.
Heading to Bath
Our group finally got back in the coach to head to Bath. Keith and our other tour guide, Tess, kept us entertained with facts about the little houses by the side on the way. They eventually gave us a brochure and map of Bath along with a list of highlights to do there. Once we arrived in Bath, we had 3 hours to kill until we all met up in a designated area.
Almost everything was within walking distance, but if you wanted to venture out further to the Fashion Museum or Jane Austen Centre (neither of which we went to), you could hop on and hop off a bus.
Most of us in the group upgraded our tickets so we could see the Roman Baths, so we followed Tess to get there. She gave us our tickets to enter the baths.
The Roman Baths
The Roman Baths is a site that was once used for public bathing. It is now a walkthrough museum featuring artifacts and artifacts from the Roman period. You could also use an audiobook to guide you.
Afternoon Tea at Bath Bun Tea Shoppe
This was the only time Cecilio and I had afternoon tea during our trip to England. Bath Bun Tea Shoppe has been around since 1761 and was named after Dr. Oliver's very own biscuit laced with sugar and fruit. While they do serve that particular Bath Bun, we decided to just opt for traditional tea, scones, and sandwiches. I also ordered a delicious Victoria sponge cake that had a cream filling and was very moist. The tea was served with milk, and I particularly loved the sandwiches which had cheese, ham, and marmalade.
Relaxing in Parade Gardens
After a long past few days of being on our toes and walking around, it felt nice to take a break and surround yourself with nature. Parade Gardens is a gorgeous park next to Bath Abbey, and while it usually costs £2 to get in, we didn't see any of the admission workers. So we were able to head downstairs to the garden. I will say that there is a public restroom that costs a few pence (British coins) to use.
Below is a statue of King Bladud and the Bath Pigs. It was said that he could not be coronated as the king because of his leprosy. He and his pigs wandered around the countryside, and his pigs were cured of scurvy and other skin conditions by rolling around in hot mud. Bladud tried doing that himself and was cured of his leprosy.
After all of that, we rested a bit…and I shopped at Primark. I know, I know. There was a store in Bath and I needed a few things (I bought a top, a scarf, extra socks, and a beanie). But at least I had that extra time to kill before heading home.
The drive home was a bit rough because there was a traffic jam and bad weather, but I was able to get a decent amount of sleep.
Stonehenge & Bath Day Trip: Would I recommend it?
Overall, Cecilio and I were extremely glad we booked this day trip. It was a nice getaway from the hustle and bustle of London (though I previously mentioned how much I loved the energy). We felt peaceful and relaxed going into Bath and taking things as slow as we possibly could even though we had only 3 hours. We were finally able to breathe for a bit.
I highly recommend a day trip to Stonehenge and Bath, especially if you are a newcomer to London with a few extra days to spare and if you're not comfortable with going on your own. I also recommend Anderson Tours for its excellent service and top-notch experience. You can book them directly on their website or through Viator. They also have tours to Windsor Castle, Oxford, Stratford-upon-Avon, and Cotswold.
Read about our experience in London as first-timers and three-day stay in Paris!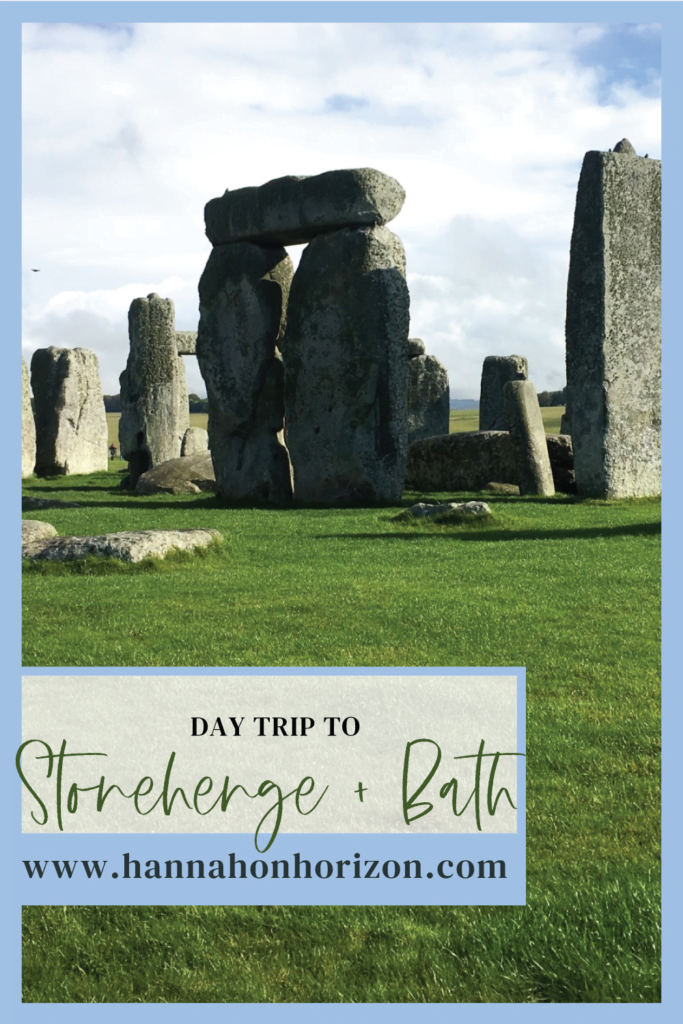 Hannah is a travel writer, graphic designer, and the founder/editor of Hannah on Horizon. She is based in Sacramento, California, living with her husband and two adorable dogs. She shares tips on how to experience luxury travel on any budget, and how to maximize time at each trip or destination, no matter what your budget or amount of vacation time at work. She enjoys making you feel like you have visited each destination with her through her storytelling and informative writing style.