I visited Kansas City to attend the WITS (Women in Travel Summit) for the first time. I wasn't sure what to think; all I knew is that it is known for BBQ and the Chiefs (blech). Surely it wasn't glamorous as other Midwestern cities like Chicago or even Milwaukee. But I came with an open mind.
I didn't expect to be blown away. This medium-sized city situated in America's Heartland has SO much to offer, such as a hardcore sports scene, booming arts culture, rich history, and a mouthwatering culinary experience. Whether you are a 20/30-something looking for nightlife, a serious foodie, or traveling with young children, you're going to find yourself at home in Kansas City.
Disclaimer: This post uses affiliate links, which means I make a commission if you book through this post. If you do decide to book using my links, thank you so much for your support!
Know Before You Go
Airport
The Kansas City International Airport (MCI) is about 20 minutes away from Downtown KC.
Weather
Spring in Kansas City is supposed to be warm and temperate. But there was a really bad heatwave during my time there. It was humid and oppressive around the mid-90s, which was unusual for mid-May. But that is the norm around summertime.
Fall is stunning filled with burnt leaves and moderate temperatures.
Winter brings snow and frigid temperatures, but not as brutal as in other Midwestern areas.
Transportation
While you can rent a car and it's pretty easy to drive around, Kansas City's transit system, RideKC, encompasses their buses, park and ride program, and KC Streetcar.
If you are staying in Downtown, forget about renting a car and take advantage of the Streetcar. It's completely FREE, comes every 15 minutes, and stretches from the River Market area all the way to Union Station.
Where to stay
I stayed in Kansas City Marriott Downtown, which was where WITS was held, which has two buildings and a sky bridge connecting both of them. There are a wide variety of hotels you can choose from:
Best Things to do in Kansas City
Walk around Union Station
Union Station is the hub for Amtrak trains. It's also an iconic monument and a historical landmark built in 1914 and renovated in 1999. The building is inspired by the Beaux-Arts architecture, a style derived from 19th century Paris incorporating the Neoclassical, Renaissance, and Baroque movements. You can see this with the intricate chandeliers and ceiling. This makes for some great Instagram photos!
Eat, drink, shop, and stroll your way through Crossroads Arts District
Crossroads Arts District has fabulous local restaurants, bars, coffee shops, boutiques, and art galleries. Think of this neighborhood as a mini Portland. No chains here! Local artists paint the town with their murals all over the buildings.
Raygun is a union-supported shop for unique KC souvenirs for your family, friends, or yourself (ok…it's a small chain…but only across the Midwest). 15-30% of their profits go to organizations that fund public education, equality, personal freedom, human rights, and the environment.
Need your caffeine kick? You're going to need to stop by Cafe Corazon, a popular Latin-owned coffee shop in the neighborhood. I recommend the Mocha Azteca, which is coffee with cacao nibs ground with cinnamon, sugar, and peanuts, or the Spicy Mayan Mocha. They also have Latin pastries such as a delicious cheesy Argentinian empanada!
Don't forget about the restaurants! I love Thai food, and Baramee Thai Bistro did not disappoint (even though I order my usual pad Thai with tofu. Still so delicious!). Extra Virgin has mouthwatering Mediterranean dishes (along with its sister Italian restaurant, Farina), which I so badly wanted to go to but didn't get a chance to.
Up-Down, an arcade bar featuring 50+ craft beers and video games from the '80s and '90s, is a popular spot for Millennials and Gen-Xers.
Farmer's Market at the River Market neighborhood
Similar to Crossroads Arts District, on the other side of Downtown KC lies the River Market Neighborhood. The area is also filled with boutiques, ethnic restaraunts, antique shops, and the Arabia Steamboat Museum.
The heart of River Market is the Farmer's Market, open on Saturdays and Sundays from 9 am—3 pm. Vendors all over Missouri and Kansas (State) come together to sell flowers, produce, honey, and pastries!
Eat your weight in BBQ
I can't talk about Kansas City and not mention the BBQ, their signature dish! The thick sauce has the perfect balance of sweet and savory with a tiny dash of spice, using molasses, tomatoes, and chili powder. I am not a huge BBQ eater but my taste buds died and went to Heaven.
I had these pulled pork nachos from Plowboys, which is just on another level. My new blogging friend, Chrissy (from Destined Globetrotter) and I went to Q39, a popular spot 10 minutes outside of Downtown known for their burnt ends.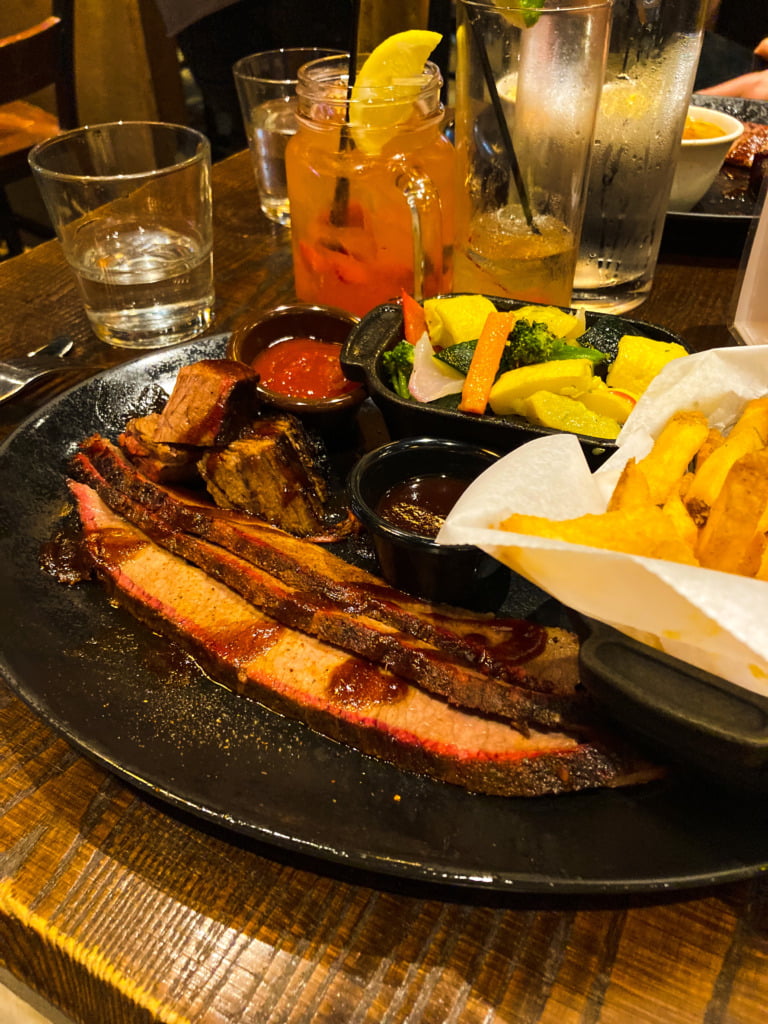 Go on an Urban Hike around the city
The stereotype about Midwests' flatness does not apply to Kansas City. If there's one thing I need to let you know, it is HILLY. Like, San Francisco level hilly. Be prepared for those inclines and bring comfy shoes.
It's so hilly that you can make walking around the city a hiking experience, thanks to Urban Hikes KC. Lisa Peña, founded Urban Hikes KC meshing her love for hiking and city life. She was actually inspired by Urban Hiker San Francisco!
Urban Hikes KC is a 4—6 mile guided tour, taking you around both Kansas Cities (this post is about Kansas City in Missouri, but there is also a Kansas City in Kansas…I'll get to that in a bit). You can book here depending on which area you want to explore, and you can also book experiences intertwined with the hikes such as wine and cheese tasting, mural scouting, pottery classes, and even a fitness-incorporated one with cardio intervals.
During WITS, I got to go on a Coffee Tasting Tour hosted by Urban Hikes KC. Lisa took us to different coffee shops while sharing the history of KC and the stories behind the artists' murals.
Shop at Country Club Plaza
This upscale shopping center's building is inspired by the Moorish Revival style, similar to the architecture of Seville, Spain. You can see with the tiles and details.
While Country Club Plaza the typical mall stores, you cannot miss the Made in KC Market. Everything is created and curated by local artists and business owners, and anything you purchase goes back into the KC economy. There are so many knick knacks and gifts like stickers, stationary, BBQ bottles, jewelry, and more!
Inside the market has a Made in KC coffee shop (there is also another location in Downtown). Made in KC serves some of the best coffee in the area!
NOTE: It's important for me to share that JC Nichols, the developer of Country Club Plaza, was known for "redlining" neighborhoods surrounding this area, meaning he prohibited Black Americans from owning property and moving into white neighborhoods. While eventually redlining became illegal, the effects are still here today. Thankfully, the memorial fountain named after him has been renamed. We need to acknowledge history so that we can heal and grow from those practices and dismantle them fully.
Coffee shop hop
Seattle and Portland aren't the only coffee-centric cities. You'd be surprised to find out that Kansas City has a strong coffee culture, and that there are unique cafes all over! From my new favorites Cafe Corazon and Made in KC to the first Vietnamese-owned Cafe Cà Phê and Hawaiian-themed HiTides, you're bound to find unique, tasty, crafted drinks.
Watch a performance at Kauffman
The Kauffman Center of Performing Arts is home to the Kansas City Ballet, Symphony, and Opera. The architecture consists of two half-shell shaped buildings divided in half, and constructed in a way so that each building can host a performance at the same time with strong acoustics and so that you can't hear the performance in the opposite building.
Kauffman also hosts graduations, yoga classes, weddings, and private events.
Even if you don't go inside, it is just marveling to take a look at from afar. It's like the Midwest's Sydney Opera House.
Take a day trip to the OTHER Kansas City in the Kansas Stateside
This is going to sound confusing, but while this post is about Kansas City in the State of Missouri (KCMO), there is also another Kansas City in the State of Kansas (KCK) within 10 minutes. It is a separate city with a different mayor, but both cities are a part of the Kansas City Metro area hoisted by the Missouri side. It is much quieter, but has its own charm.
Don't miss stopping by the Kaw Point Park, which has bountiful trails and nature. It is also the first stop of Lewis & Clark expedition. The Kaw Point Park is where both Kansas and Missouri Rivers meet, and you get a beautiful view of Downtown KCMO.
KCK has a 25% Mexican population, and you'd be surprised to find out that it is the Taco Capital of the US. As a Californian, I have a hard time trusting tacos that aren't in bordering states. But trust me when I say these tacos rival that of LA's. There are over 50 taquerias specializing in dishes from regions all over Mexico. Visit KCK markets their taco trail, and I went on a tour with them as a part of WITS. Let me just say that I would fly over back if just for the tacos.
Like KCMO, KCK has similar things to offer (on a smaller scale) like murals and dive bars.
Don't count Kansas City out!
Whether you have to go to Kansas City for work or family, don't think of this place as an afterthought. After walking around for a full 5 days, I have gotten acquainted and fell in love.
If I inspired you to book your next trip to the City of Fountains, be sure to share and pin below!
Hannah is a travel writer, graphic designer, and the founder/editor of Hannah on Horizon. She is based in Sacramento, California, living with her husband and two adorable dogs. She shares tips on how to experience luxury travel on any budget, and how to maximize time at each trip or destination, no matter what your budget or amount of vacation time at work. She enjoys making you feel like you have visited each destination with her through her storytelling and informative writing style.