There's nothing more classic than American summer carnivals with deep-fried foods, live music, farm animals, and (kinda) janky rides. Tens of thousands flock to the California State Fair yearly to enjoy a taste of fried goodness, experience family fun, and to see all the agriculture and industries the Golden State has to offer.
Due to the pandemic, there was no fair in 2020 and 2021 and reopened in 2022. The 2023 California State Fair dates are on July 14–30.
Disclaimer: This post uses affiliate links, which means I make a commission if you book through this post. If you do decide to book using my links, thank you so much for your support!
California State Fair 2022: Know Before You Go
Location
Cal Expo
1600 Exposition Blvd.
Sacramento, CA 95815
Hours
Monday—Thursday: 11 AM—10 PM
Friday—Saturday: 10 AM—10 PM
Parking
Parking is $15, and the parking lot wraps around Cal Expo. If you don't want to pay for parking and are willing to walk a few blocks away, you can park in Arden Fair Mall or Point West Plaza (which has Olive Garden, Kohl's, and David's Bridal).
Admission
General (Adult): $14
Senior (62 and better): $12
Youth (5—12): $10
Children 4 and under: Free
Unlimited Ride Wristband: $37–$42
Carnival Tickets: $1/per ticket
Carnival Fast Pass: $10
The fair also has packages that include daily admission, unlimited monorail rides, and food festival passes from participating booths. Don't delay, book your tickets today!
Other things you need to know
As of 2022, the California State Fair implemented a clear bag policy, and it must be no larger than 12″x12″x12″. If you need to bring a solid colored bag, the maximum size is 5″x8″. I suggest getting a clear fanny pack so that you can move your arms freely and your shoulder isn't restricted from a purse strap. This is the fanny pack I bought, and I was able to store everything I needed. It's always good to have since a lot of stadiums and entertainment centers are requiring you to bring a clear bag.
It gets insanely hot. July in Sacramento is brutal (for that, they should move the fair to the fall). When Cecilio and I went, it was in the high 80's, but on other days it was hot as 100°+. Stay cool by drinking lots of water and staying in the shade (there are lots of shady areas). The seating area in the food court has a little roof that sprays mist, which helps a little (every little bit helps!). Don't forget to wear sunscreen too!
With how hot it gets during fair season, protect your skin from the sun and its UV rays with these summer essentials!
California State Fair 2022: Things to do
Eat your heart out to some traditional carnival staples
Now, I hope you literally don't eat your heart out if you do have a heart problem, since some of the foods here miiiiighttttt not be best for it. But it's a once-a-year thing, so treat yourself (and be cautious if you do have heart disease and high blood pressure).
You can't go wrong with turkey legs and corndogs. I'm not a fan of either, so I decided to get these cheesy bacon fries. It was super delicious!
You can't forget dessert too. Cecilio and I usually get deep-fried Oreos and deep-fried cookie dough, but this year we opted for the funnel cake.
This is going to sound really random, but I also love the tacos from Pepe's. Oriental Cuisine Express (which is basically the fair's Panda Express) has a delicious orange chicken bowl with chow mein. Not exactly what you have in mind when it comes to fair food, but it's yummy nonetheless!
Pet and feed some baby farm animals
This is usually for kids, but I believe you are never too old to be around cute farm animals. The petting zoo is filled with goats, sheep, cows, pigs, and llamas. They even have wallabies! Admission is $5 per person, and you can feed the animals with a cone full of pellets for another $5 (or 2 for $8).
Scope out the livestock animals inside the barn
Right next to the petting zoo is the Tractor Supply Co. Big Barn, where livestock barn animals and their producers are competing for a prize during the Livestock Awards Ceremony. This is to show the public the work it takes to raise these animals, and showcase the best of the best livestock in California. The cows are there everyday, while the sheep and goats take turns. The pigs were there on the 15th, while the llamas and alpacas are coming from the 29th—31st.
Stroll around the garden
Right next to the Tractor Supply Big Barn lies the garden, filled with flowers, fruits, and vegetables just waiting to be harvested. It's pretty indicative of Sacramento's "Farm-to-Fork" culture.
It's also educational, since you learn about the 70+ crops. You also learn about water saving tips, since the garden is sponsored by California Department of Water Resources, and because when are we not in a drought?
Sample award-winning goods
The local olive oils, jams, honey and cheeses are to die for; why not get a taste of them in one of the many booths? Agriculture is strong in California, and we have tasting samples to prove it.
Marvel at the other art installations
You can't really see it (but I tried to capture it in different angles), but this installation is the silhouette of California, showing where different crops are grown in each region. For example, Santa Clara County is known for producing garlic because that is where the city Gilroy is in, known for the now-defunct Gilroy Garlic Festival. And of course, you can't miss Sacramento's Farm-To-Fork waterfront (so many people are peeved with how they changed it from "City of Trees" to "Farm-To-Fork"). You also might see that there are a mass of avocados in San Diego County, with how close it is to Mexico.
This beautiful sunflower installation is dedicated to Ukraine, and is borrowed by the Marin County Fair.
Cool off with a wine slushie
Walk over to Save Mart Wine Garden to order a wine slushie, which come in different flavors. This is also where the California State Fair's Wine Competition is held, and where you can also sample different vinos. There are so many seating areas and designated phone charging stations. Surround yourself with lush plants while you sip on a refreshing slushie to take a break before your next activity.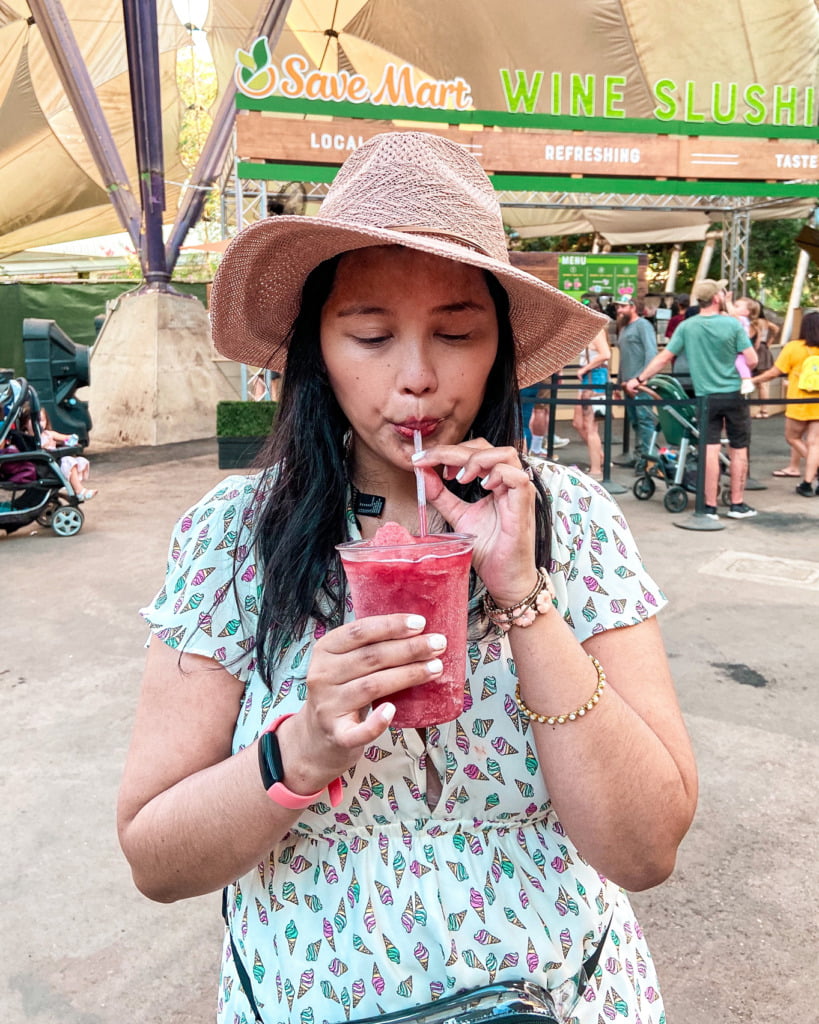 Enjoy views from the sky ride
Most people I talked to say they aren't a huge fan of the rides. I like some of them, but if I had only one ride to choose from, I would recommend the sky ride. It's slow so you won't get nauseous (especially after all the eating and drinking), and you get stunning aerial views of the fair. I recommend going right before the sun sets to get that beautiful golden hour and when the booths start turning on their lights!
Catch a concert
There are many concerts going on in the California State Fair, but the main artists perform on Golden 1 Stage. Artists such as Chaka Khan and The Guess Who have taken the stage in 2022. When we went, Journey Revisited performed so we got to hear some classics like "Lights", "Don't Stop Believin'", and "Open Arms".
The concerts are free with the $14 General Admission ticket, but depending on who's performing, you can pay $15—$25 for reserved or ADA seating.
Even if you don't attend the concerts, you will still be able to hear them perform as you are walking around the fairgrounds.
Dance and take a photo with Poppy
If you happen to find the Poppy, the official California State Fair mascot, do not hesitate to take a photo with him! He can be found walking around the fairgrounds with an employee, on different rides, and take photos with so many people. He brings a smile to everyone's face, young and old.
Every year, we celebrate Poppy's birthday by inviting other local mascots (like Dinger from Sacramento River Cats) and they all do a dance number on the PG&E Center Stage. We usually have cupcakes afterwards too! But unfortunately, his birthday wasn't celebrated in 2022. 🙁
Dance in the Silent Disco
Cecilio and I didn't go to the Silent Disco this year, but we did a few years ago. It's free to go in, and you are greeted with headphones where you can adjust the volume and change the stations. The room is dark with some moving lights for that fun clubbing experience. The headphones offer three music genres: Top 40/EDM, 80s/90s/00s, and Hip Hop/R&B/Latin. It is such a fun experience, especially when you don't know what other people are bopping to!
Candy Maze Selfie Experience
I'll admit that this isn't my favorite activity, but the 14 photo stops are pretty cute and quirky and make for great Instagram shots. You walk through a maze of candy that you can purchase, with the photo stops in between. I didn't put them on my Instagram because I was already a sweaty mess from walking around earlier.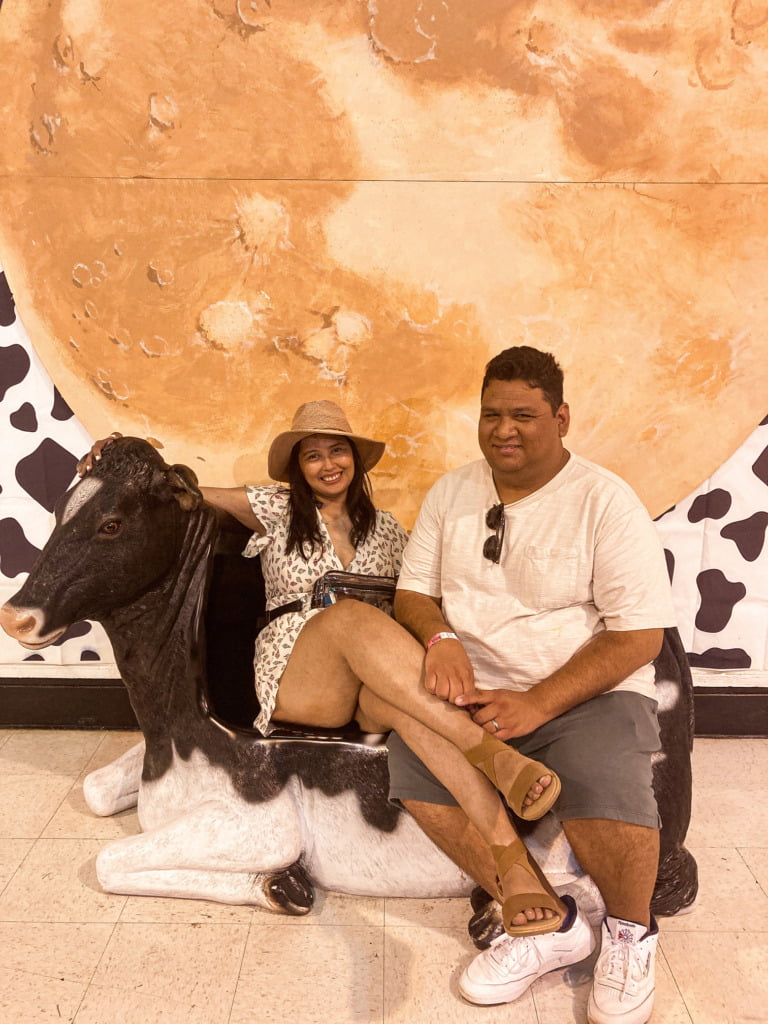 Visit the brand new California Cannabis Exhibit
This year, the State Fair introduced the Cannabis Exhibit, which features cannabis farmers and cultivators all over California. More than 300 entries were submitted to the competition, and 60 of those entries won trophies and medals. There are also live plants growing in the exhibit from a farm in Sonoma County. You then walk through life-sized graphics teaching you about the history of cannabis, the anatomy of the plant, and showing you where in California the farms are located.
The whole point of this exhibit is to showcase the farmers who work hard in cultivating the plant and to destigmatize the use of cannabis, especially since it has been legalized for recreational use in California since 2016 (and for medical use since 1996).
You can also shop for CBD and THC-infused things such as skincare, drops, tea, and edibles.
There is even a bar from Lehua Brands offering CBD slushies and seltzers. I ordered the mango slushie and it was really delicious; I actually liked it a lot more than the wine slushie! It made me relaxed for sure 🙂
Ways to save money on the California State Fair
Yes, I have to admit that the fair is very expensive (and that is a common complaint among fairgoers, even when I was an intern). But there are ways to save:
SMUD Giving Mondays
By bringing 3 non-perishable food items to the far before 3 pm on one of the Mondays, you will receive free admission AND help support the Elk Grove Food Bank. Win-win, that's for sure!
Tuesday Kids Free Day and $2 Rides for All
On Tuesdays, those who are ages 12 or under get FREE admission! On any other day, youth ages 5—12 admission is $10. If you are bringing a group of children, you can save big on this one. And rides are only $2 for all fairgoers, no matter what age.
Military, Veteran and First Responder Appreciation Day
Veterans and active members of the military or first responders (including police, firefighters, and EMT) get free admission upon showing proof of ID on July 21 (2023 date is TBA). Thank you for your service!
Senior Savings Friday
Instead of paying $12 for Senior admissions, going to the fair on a Friday, you pay $10. This is for those ages 62 and better 🙂
$2 Taste of the Fair
On Wednesdays and Thursdays, participating food vendors offer smaller versions of their dishes for $2. This is a great way to sample all the foods you want to try on a budget!
Be sure to pin and save this post for the 2023 California State Fair!
As I am typing this right now, the California State Fair is wrapping up in a few days. But hopefully, this post gives you a good idea of the best things to do and eat for the 2023 State Fair and beyond.
Whether you're there for the foods, the rides, or the performances, the State Fair has something to offer while educating the public about California's strong agriculture.
How's your local state or county fair like?
Hannah is a travel writer, graphic designer, and the founder/editor of Hannah on Horizon. She is based in Sacramento, California, living with her husband and two adorable dogs. She shares tips on how to experience luxury travel on any budget, and how to maximize time at each trip or destination, no matter what your budget or amount of vacation time at work. She enjoys making you feel like you have visited each destination with her through her storytelling and informative writing style.