If it's your first time in Tokyo, or even Japan for that matter, do not miss visiting Asakusa, the historical district. The temples, old-school alleys, rickshaws, and kimono-wearing tourists take you back to Tokyo from the Edo period. Actually, Asakusa has more in common with Kyoto than with its uber-modern neighbors Shibuya and Shinjuku.
From marveling at Sensoji Temple to eating your way through izakayas at Hoppy Street to shopping your heart out, your head will still be buzzing full of things to do in Asakusa. You could spend a whole day there!
Cecilio and I spent 11 nights in Japan, the first 5 of which were in Tokyo. We visited Asakusa twice in a row; that's how much I enjoyed it. In my defense, it was raining hard on the first day, making it difficult to fully enjoy it. And it was the day we were going to wear our kimonos; thankfully the rain stopped by the time we wore them! If it didn't rain, I would've been more apt to do a lot more activities so that we wouldn't have needed to come back the next day.
Make sure to save and bookmark this post for your future trip to Tokyo, and share it with those who you know might be visiting soon!
No time to read? Pin and save now, read later!
Disclaimer: This post uses affiliate links, which means I make a commission if you book through this post. If you do decide to book using my links, thank you so much for your support!
Best Things to do in Asakusa
Sensō-ji Temple
The most notable attraction in Asakusa is Sensoji Temple, Tokyo's oldest temple. Sensoji Temple is also one of the most visited religious sites in the world, attracting over 30 million visitors a year. It is also known as Asakusa Kannon Temple, dedicated to Kannon, the bodhisattva (Buddhist deity) of compassion.
Sensoji Temple's history dates as far back as 628 AD. Legends say that two fishermen brothers found the statue of Kannon in the Sumida River. Together with their local chief, Haji no Matsuchi, they created a shrine dedicated to the statue from a grass hut, eventually converting it into Sensoji Temple. The original temple burned down during an air raid in World War II but eventually became reconstructed into the attraction we know and visit today.
Before you head to the Main Hall, you'll pass the Kaminarimon Gate, then stroll through Nakamise Shopping Street. Then you'll pass through the Hozomon Gate.
Nakamise Shopping Street
Walking towards Sensoji Temple from the Kaminarimon Gate, you'll see stalls of gift shops and eateries lined up. That is Nakamise Shopping Street, and it's a great spot to try delicious snacks or shop for souvenirs.
Nakamise also has had a volatile history. The shops established their roots in the 18th century as a way to attract visitors to Sensoji Temple. But in the 19th century, the government banned the shops, but eventually became reconstructed. Then they were destroyed during the 1923 Great Kantō Earthquake, reconstructed once again, and burned down again during World War II.
Today, Nakamise has around 90 stalls.
One bit of advice: get there as early as possible. I'm talking about 7–8 a.m. or earlier. It can get really crowded in the afternoon, especially on a sunny day. Cecilio and I went to Asakusa two days in a row, and it was raining hard on the first day…but it was still packed! The next day was sunnier and of course, more people. I just could never have it in me to wake up as early as I wanted to.
Rent a Kimono
Because Asakusa exudes a traditional, historical vibe that contrasts with the rest of Tokyo, it's the ideal spot to rent a kimono. There are kimono rental shops on every corner in Asakusa, offering hundreds of different styles and accessories like the obi (wide belt), zōri sandals, kanzashi (hair accessory), and handbags.
With Sensoji Temple and the old-school Japanese alleys around the corner, Asakusa serves as the perfect backdrop for donning a kimono for those Instagram shots!
Other kimono rental experiences to book
Ride the Rickshaw
Rickshaws are human-operated carts and were the primary mode of public transportation in China and Japan during the 19th century. This was also a source of income for men during that time. But after the introduction of cars and trains, fewer people rode rickshaws.
Today, tourists ride rickshaws all over Asakusa for a novelty experience in Asia. It's also a way to rest your feet after walking all day because let's face it; sightseeing in Japan is extremely physical and will have you walking for miles all day. Especially because there are not a lot of benches or places to sit, and if you take the train to go everywhere, you are going to have to catch a few flights of stairs. Riding a rickshaw gives you a chance to kick back and take in the sights, sounds, and smells of Tokyo's historic district. It's one of the most unique things to do in Asakusa!
Rickshaw rides to book in Asakusa
Fun fact: While rickshaw pullers were primarily a male-dominated role, today, there has been a growing number of women rocking the field!
Cruise the Sumida River
You probably don't think of cruising as a part of your Tokyo itinerary. But the Sumida River is just a few blocks away from Sensoji Temple, with Tokyo Skytree right next to it.
Riding a cruise on the Sumida River will give you views of Tokyo you wouldn't see on foot (and unique photos along with them!). And I can't stress this enough again; you'll get a chance to sit down again after having sore feet from all the sightseeing and walking.
Catch views from Tokyo Skytree
If you love observatory decks and being on top of the world, don't miss a chance to catch views from Tokyo Skytree, the tallest observation tower in the world at 634 meters high (2,080 feet).
Tokyo Skytree offers breathtaking panoramic views of the Asakusa cityscape and the Sumida River. You can explore the observation decks (for more photos!), dine at their restaurant 634 Musashi, have coffee or dessert at the Skytree Cafe, or go shopping for souvenirs.
Just beware that if you don't buy tickets in advance online, you might have to wait for hours in line to buy them in person (just based on what I've heard).
Visit the Asakusa Culture Tourist Information Center (especially for free views!)
If you don't wait to pay for tickets to the Tokyo Skytree or wait in line, you can visit the Asakusa Culture Tourist Information Center. It's completely free! Sure, it might not be as high as the Skytree, but you can still get sweeping views all around. You will just need to go to the 8th floor, where the observation deck is located. There's also a cafe if you want to munch on light bites or have a drink. You can still see the Skytree from the observation deck, and you're much closer to Sensoji Temple (it's only across the street!).
If you're looking for information on tours, this building has it. You can collect brochures and pamphlets about sights, activities, and the surrounding area; you name it, they have it.
What makes the Asakusa Culture Tourist Information Center unique is its striking architecture, made of timber and glass but made to look like wood. The building was designed by world-renowned architect Kengo Kuma, who designed the Japan National Stadium, which hosted the 2020 Tokyo Olympics.
Take a train ride to Ueno Park
Ueno Park is one of Tokyo's most popular parks, and it's not too far from Asakusa, since both are located in Taito City. It's only a 15-minute train ride. At 133 acres, Ueno Park is sprawling with foilage, walkable paths, and museums such as the Tokyo National Museum, National Museum of Nature and Science, and National Museum of Western Art. It's also home to Ueno Zoo, Japan's oldest zoo, with animals such as two giant pandas, tigers, polar bears, and gorillas.
In front of the Tokyo National Museum, there is a pond and some nice spots to sit down, let the kids play, and people-watch. There's also a Starbucks right next to the zoo!
Window shop at Nishisando Shopping Street
If you're looking to shop beyond Nakamise, walk over to Nishisando, an indoor shopping street west of Sensoji (perfect for rainy days!). It has a wooden floor, and the ambiance is meant to replicate the Edo period. It also has the matsuri vibe going on!
The shopping street is lined and crammed with restaurants, cafes, ice cream stalls, stores selling souvenirs, Japanese dance costumes, kimonos, and samurai stores.
Where and What to Eat in Asakusa
Hoppy Street
Hoppy Street is a popular alley lined with sit-down restaurants and izakayas (Japanese bars with small bites). While it can be dead during the day, the eateries are still open.
I recommend eating at Kanoya, where Cecilio and I had lunch. It's a popular restaurant on Hoppy Street, specializing in okonomiyaki (deep-fried savory Japanese pancake). They even have monjayaki, a more liquid version of okonomiyaki specific to the Kantō region (where Tokyo is located).
2 Chome-4-11
Asakusa, Taito City, Tokyo 111-0032
Sukiya
If you've never tried a gyudon bowl (Japanese beef rice bowl), you're missing out. It's a bowl of white rice topped with beef, onion, and soy sauce. Sometimes there are noodles too.
Sukiya is a popular Japanese chain casual eatery known for its gyudon bowls, and it was love at first bite for me! It had a deep umami flavor and was piping hot, which was perfect for a rainy day. I never expected such a simple dish to taste so freaking delicious.
If we didn't eat here, I would've been put off my gyudon bowls altogether since I had a disappointing one for dinner on the flight back home with Zipair.
When you're seated, there's a tablet where you order your bowls, and once you're done ordering, all you need to do is wait to get it served to you. And the service is fast; I'm talking 5–10 minutes.
2 Chome-9-14
Asakusa, Taito City, Tokyo 111-0032
Food stalls in Nakamise or front of Sensoji Temple
Nakamise is not only lined with gift shops, but with food stalls! Try delicious delights like Ichigo daifuku (mochi-coated strawberries), taiyaki (cream-filled pastry in the shape of a fish), and melon bread.
During the weekend, there are also a few food stalls outside of Nakamise closer to Sensoji Temple, where Cecilio and I ordered fish tempura and takoyaki (deep-fried octopus balls).
Asakusa Yokocho
While there's definitely no shortage of places to eat in Asakusa (or Tokyo in general), you can scope out the new food hall, Asakusa Yokocho, after a bit of shopping. It's located in the mall Tokyo Rakutenchi Asakusa on the 4th floor. It's right above Uniqlo and across the street from Don Quijote, and the whole food hall is inspired by matsuri, which are Japanese traditional festivals. Asakusa Yokocho is filled with bright colors, and Instagram-worthy decor (lanterns galore!). Some of the eateries include a sushi restaurant, an izakaya, a brewery with snacks, and a Korean restaurant!
Asakusa Yokocho also has a kimono rental shop, where Cecilio and I fitted and rented our kimonos for a day.
2 Chome-6-7
Asakusa, Taito City, Tokyo 111-0032
Kaminari Issa – Matcha Sweets Factory
Matcha is a huge staple in Japan and it's one of the most popular flavors for dessert. Ice cream, cake, lattes…you name it, they have it!
If you're craving all things matcha, head over to Kaminari Issa, your one-stop shop for all things matcha, from their famous matcha-filled cream puff to ice cream, iced lattes, shaved ice…and even matcha beer.
The cafe's inside is inviting with earthy motifs like bamboo, and the merchandise is neatly laid out in a way that made me want to buy extra souvenirs (that I no longer had space for in my luggage). There's also some seating for friends to relax while enjoying a sweet treat.
2 Chome-7-3
Asakusa, Taito City, Tokyo 111-0032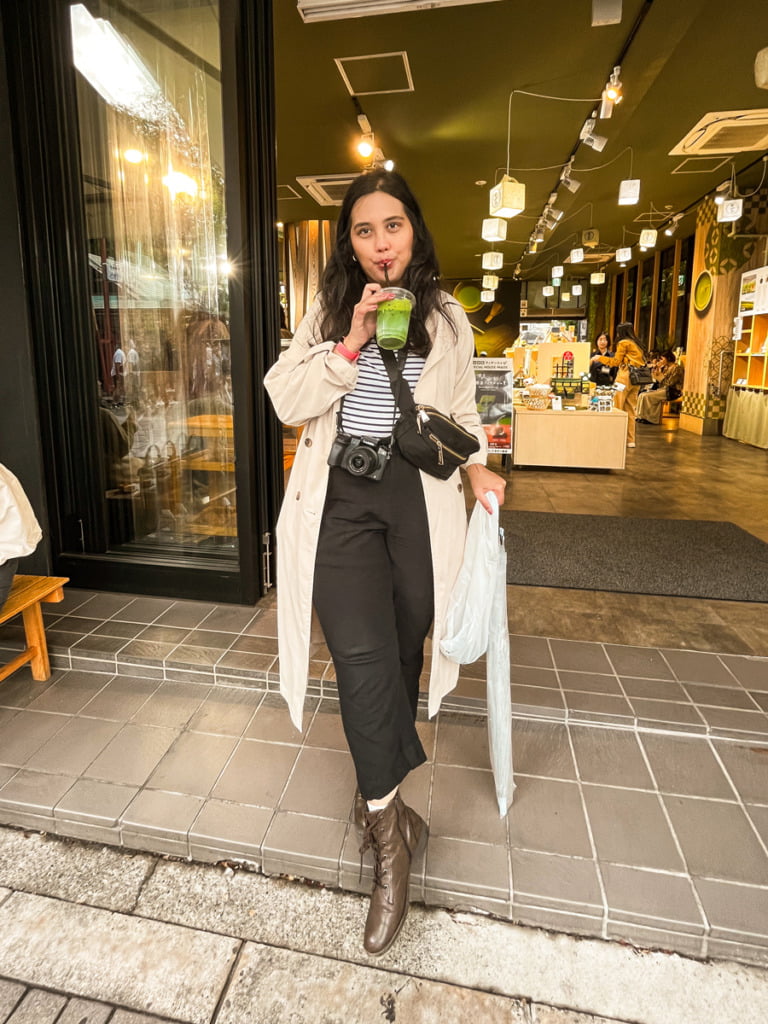 Oimoyasan
Calling all sweet potato fans; if Google Maps is directing you from the Asakusa Station to Nakamise and Sensoji Temple, keep your eye on a stall that advertises its fried sweet potatoes in English, while the name and descriptions are in Japanese. That is Oimoyasan, a sweet potato confectionary. The sweet smell of caramelized sweet potatoes will entice you to order a cup of these golden goodies. And once you take a bite, you forget you're eating a vegetable when it tastes more like candy.
1 Chome-36-6
Asakusa, Taito City, Tokyo 111-0032
Frequently Asked Questions
What is Asakusa known for?
To sum it up, Asakusa is known for its old-world vibe, as if you stepped into Tokyo during the Edo Period. Its biggest attraction is Sensoji Temple, which is the oldest temple in Tokyo and one of the most visited religious sites in the world. The paths heading to the main temple are attractions within themselves, like Kaminarimon Gate, Nakamise Shopping Street, and Hozomon Gate.
Is Ueno Park in Asakusa?
No, Ueno Park is not in Asakusa. It is in the Ueno district. This can get a little confusing because both Ueno and Asakusa are in Taito City, one of the special wards in Tokyo. Ueno Park is 15 minutes away from Asasuka by the train.
Wrapping it up
With so many fun and interesting things to do in Asakusa, it's no wonder that millions flock over to this area to get a taste of historical Tokyo. Plan to spend all day in Asakusa, since you could spend hours exploring and not even scratch the surface. Most importantly, have fun!
Love what you read? Share the love!
Hannah is a travel writer, graphic designer, and the founder/editor of Hannah on Horizon. She is based in Sacramento, California, living with her husband and two adorable dogs. She shares tips on how to experience luxury travel on any budget, and how to maximize time at each trip or destination, no matter what your budget or amount of vacation time at work. She enjoys making you feel like you have visited each destination with her through her storytelling and informative writing style.