Copenhagen is not what most people have in mind for their next trip to Europe, but it should be! Unlike larger cities such as Paris or Rome, it is easy to acquaint yourself with Denmark's capital in a couple of days. I stayed for 5 nights, although I could've used an extra night or two (but that's just me, I wanted to explore every nook, cranny, and hidden gem of the city). No how long you stay, you will never get bored and find an endless amount of things to do in Copenhagen!
A few months prior, I decided to book a trip as a belated birthday trip for myself. I went solo because Cecilio cannot take time off of work during November (it's sweeps season, if you work in news, you know what I'm talking about). This was my first time going solo, unless if you count my trip to Kansas City for the Women in Travel Summit. I was pretty nervous, especially because I've never gone solo abroad, ever. Additionally, I also felt guilty for leaving Cecilio and the dogs behind (even though he supported my decision 100%). I also had second thoughts because going there and back from the San Francisco airport was a 9-hour flight just for 5 nights.
Needless to say, I had a fabulous time and it just enforced my love for travel even more (and my interest in solo travel as a married woman). I have no regrets whatsoever—YOLO! And now I am itching to go back and inspired to book another trip, as my PTO and wallet allow. I also fell in love with the city within minutes.
Disclaimer: This post uses affiliate links, which means I make a commission if you book through this post. If you do decide to book using my links, thank you so much for your support!
Know before you go
Airport
The Copenhagen Airport (CPH) is the main airport, located about 20 minutes away from the city center. It is located in Kastrup, a suburb east of Copenhagen.
Transportation
Metro
The Metro (also known as "The M") is the easiest and most efficient way to get around Copenhagen. If someone as directionally challenged as me can figure it out, then you can too! The trains arrive every 4 minutes or less. The Metro has 4 lines and operates 24/7. If you purchase the Copenhagen Card, then you have free access.
Right now, Ukrainian refugees also have free access to The M with a special ticket!
Bus
I've only used the bus once, but it's also reliable and also comes on time. On average, it arrives every 3–10 minutes, and maybe up to 20 minutes during rush hour. Like The M, your bus fare is waived with the Copenhagen card.
Taxis
There are no Ubers or Lyfts in Denmark, but I have found that the taxis to be extremely reliable. I rode with Taxa 4×35 from the airport to my hotel (heads up: their app didn't work for me, but I was able to hitch a ride with them).
I also rode with Viggo, a green/eco-friendly taxi service that uses zero emission cars. They are probably the closest thing to Uber in Denmark, and the app is almost exactly alike. It is pricier than Taxa 4×35, but I like knowing that I support businesses that strive to do better for the environment.
Bikes
Copenhagen is one of the most bicycle-friendly cities in the world (along with Davis, CA). It's not uncommon to see more bikes than cars, or even people! It's not surprising that you can rent a bike anywhere you go. Visit Copenhagen has a list of where you can rent a bike around the city!
Where to stay in Copenhagen
I stayed in Motel One Copenhagen, which is close to Tivoli Gardens, Strøget, and Gammel Strand. It's what I call a "budget luxury" or "mid-range" hotel; it's affordable but feels comfortable and upscale. As a 4-star hotel, I only paid around $100 a night! That is incredibly affordable for an expensive country like Denmark. I could've paid less for a cheaper room, but I really wanted a room with a nice view. It helps that I went in November too.
Read more about my stay in Motel One Copenhagen.
If you are more into hostels than hotels, Copenhagen Hostel Downtown is just a few buildings down, and is super lively at night!
If neither of these is your cup of tea, you can find a plethora of other hotels below 🙂
Weather in Copenhagen
Make no mistake; it's chilly in Copenhagen. I went in November and it wasn't that bad, as I was nice and bundled up. Walking a lot helped me warm up too. It was about 50°F on average, but I watched the temperature go down has the months passed by. November is a wonderful time to visit Copenhagen before it gets too cold in the winter months, and you get to see fall foliage. December is an amazing time to visit Copenhagen because of the Christmas cheer and hygge on steroids.
If you visit Copenhagen in the spring, you will be able to see some gorgeous blooms, especially cherry blossoms. If you visit Copenhagen during the summer, you can swim in one of the many harbor baths alongside the canals!
Other things you need to know
Everyone in Denmark (and Sweden) speaks perfect English. In fact, if you aren't fluent in Danish, the Danes prefer to speak to you in English. This isn't like Paris where the French expect you to learn the language. I did, however, learned Danish through Duolingo because it was fun to learn and it helped me understand menus, signage, and a few other things. Some Danish words/phrases are also similar to English like hej (hi), tak (thank you or please), ja (yes), nej (no), jeg (I), velkommen (welcome), god morgen (good morning), and godnat (goodnight).
Most of the hotels, tourist attractions, and sights are in the Indre By (inner city) area. This includes Tivoli Gardens, Strøget, Nyhavn, Little Mermaid, Christiansborg Palace, Amalienborg Palace, and most museums.
The Danish are friendly and hospitable, but introverted and aren't really into small talk. That's perfect for me because I'm an introvert with mild social anxiety, but I can make small talk when I can. But for some extroverts, that is a problem and it might come across as standoffish. There was one instance where one guy went up to me and started talking to me while I was taking photos in Magstræde, but he might have been hitting on me too. It's kinda funny, he started talking to me in Danish and then realized that I didn't, and asked, "do you speak Danish?" and in my head, I'm like, do I look like I speak it?
It's one of the safest cities in the world, especially for women. I walked alone at night. I would never ever do that in the US or even in London! And thankfully, the guy above left me alone after a few moments of chatting and passing each other by a second time.
Denmark may be a homogenous country, but Copenhagen is surprisingly more diverse than I expected. I have not experienced racism or microaggressions as a Filipina/Indian woman. I can't speak for every BIPOC, this is just my personal experience. Other BIPOC travel creators I follow have felt safe in Copenhagen as well.
It's not a cheap city. You can save money by purchasing the Copenhagen Card, which grants you access to over 80 attractions around the city and its suburbs, and public transportation. Visiting during shoulder season, as I did in mid-November, helps too as the hotels and accommodations are much cheaper. I will say that my biggest expenses were from the food, day trip to Sweden, and spa session at AIRE Ancient Baths.
If you are too tired to go out for dinner on your first night (hello jet lag!), download the Wolt app (the international equivalent of DoorDash) and order food delivered straight to your room.
Even though Denmark is in the European Union, they do not use euros as their form of currency. Instead, they use the Danish Kroner (DKK).
Short on time? Pin now, read later!
Epic things to do in Copenhagen you need to put in your bucketlist ASAP
Go on a free walking tour
On my first full day in Copenhagen, I booked a 3-hour tour with Copenhagen Free Walking Tours. It was a great way to save money while sightseeing and getting to know the city. Once you see Copenhagen's biggest attractions with this tour, you can always revisit on another day. This time, you won't get lost.
During my first full day, I walked from my hotel all the way to Nyhavn before my tour. I got lost looking for City Hall and needed to get a taxi as I went in the opposite direction *facepalm*
After the tour, I got my bearings and was able to find my way around the city.
We walked by Copenhagen Courthouse, Carlsberg Brewery, Strøget, Strædet, Magstræde, Højbro Plads, Gammel Strand, Christiansborg Palace, Nyhavn, and Amalienborg Palace.
Pay homage to The Little Mermaid
No trip to Copenhagen is complete without visiting the Little Mermaid (Den lille Havfrue in Danish) statue. This bronze figurine was crafted by Danish-Icelandic sculptor Edvard Eriksen. Be forewarned that the statue is a lot smaller in person. Many people find her underwhelming, but I personally enjoyed seeing her!
There are also crowds of people trying to take photos and selfies with the statue. I like to call her the Mona Lisa of Copenhagen.
We are all familiar with the Disney movie, but The Little Mermaid originated as a fairytale written by Hans Christian Andersen in 1837. The original story is not so pleasant either.
Since the statue's unveiling in 1913, it has been Denmark's biggest attraction. There are also about a dozen replicas around the world.
Take a stroll around Nyhavn
Nyhavn is Copenhagen's iconic and most photographed waterfront district with bright-colored buildings. It reminds me of Amsterdam with a much wider canal (I've never been to Amsterdam yet, it's just based on what I see in photos). There is also so much history behind Nyhavn. Hans Christian Andersen has lived in house no. 20! The canal holds historical wooden ships, and at the end of the area lies the Memorial Anchor.
Take some Instagram-worthy photos and stop by one of the many eateries, bars, and cafes for a quick bite!
Roam and ride around Tivoli Gardens
Built in 1843, Tivoli Gardens is one of the oldest amusement parks in the world. It's known for its wooden roller coaster and a variety of other rides. The park is full of beautiful greenery and florals! The impact Tivoli Gardens has is so tremendous that it actually inspired the Disney parks.
In addition to the rides and gardens, there are also concert halls, theater, and ballet performances.
Tivoli Gardens was closed during my time in Copenhagen, and reopened a few days after I left (in time for the Christmas market!). It's definitely a must-visit for couples and families!
Watch the changing of the guards at Amalienborg Palace
Amalienborg Palace is where the Danish Royal Family lives. They are the Buckingham Palace of Copenhagen. My tour guide said that the majority of the Danish population doesn't mind the Royals since they live a pretty relaxed lifestyle. You might see Prince Frederik in public at a restaurant without security and he blends in with the crowds. They drive themselves and some of their children attend public schools.
You can watch the changing of the guards daily from noon as they arrive from Rosenborg Castle to Amalienborg Palace.
You can take a guided tour inside the palace or visit the Amalienborg Museum!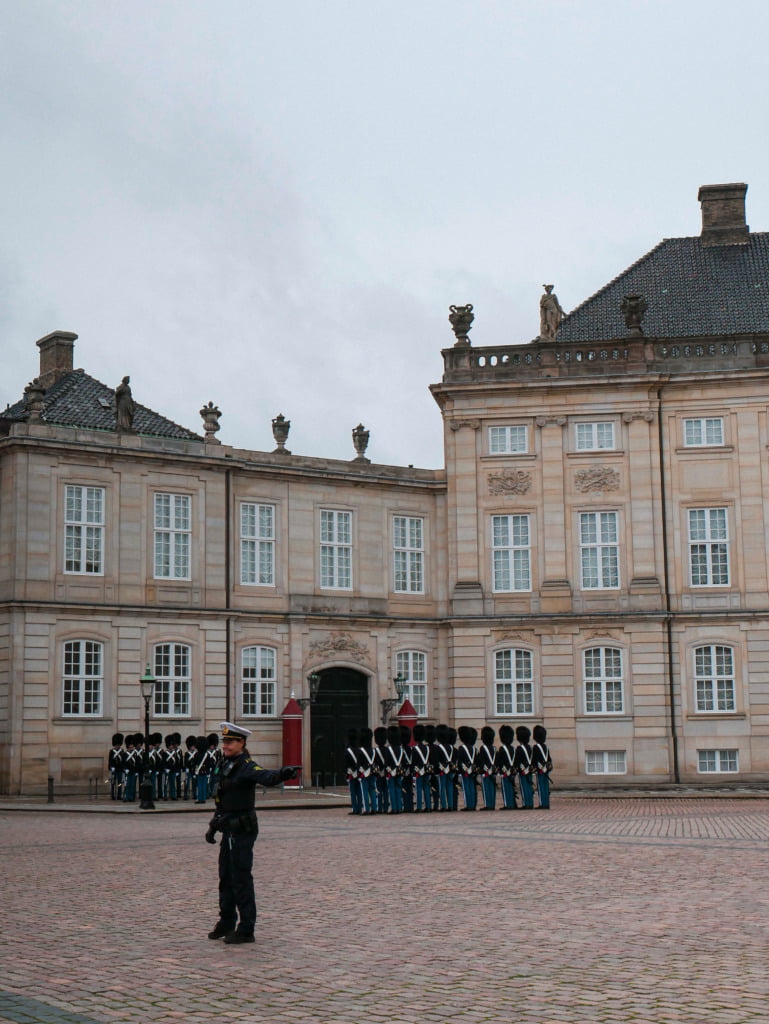 View Copenhagen from the perspective of a boat
Even though I wasn't able to do this (and I regret not doing so), I highly recommend taking a canal tour. Especially on Nyhan. After all, the name Copenhagen means "merchants' harbor", and the city started off as a village harbor.
If you purchase the Copenhagen card, you have free entrance to the canal tours!
Try the smørrebrød, Denmark's most famous dish
You cannot go to Denmark and not have smørrebrød, the open-faced sandwich made with rugbrød, a thin rye bread with different toppings such as herring, salmon, pork, cheese, boiled egg, and pickled vegetables. The word smør means butter, and there is always a smear of butter or lard on top of the bread before you put the toppings. Because there are so many toppings stacked on top of the bread, you have to eat it with a fork and knife. Otherwise, it would be messy to eat by hand.
Shop, stroll, and eat at Strøget
Strøget is one of the longest pedestrian-only streets in Europe at 1.1 km (.68 miles). It is lined with different kinds of shops from big chains like H&M and Zara to smaller Danish boutiques, gift shops, bookstores, restaurants, bars, and coffee shops. This is where all the action and energy are. I would compare Strøget to Champs Elysees, but I like it so much better. It's still very much a tourist attraction, but not as much as Paris' renowned shopping area. If you need a break to sit down and people-watch, you can chill at Højbro Plads and Nytrov around the corner.
Coffee break at Strædet around the corner
While Strøget is a ton of fun, around the corner is Strædet, a street dedicated to art galleries, coffee shops, and smaller Danish businesses. It's also a way to explore and get away from the hustle and bustle of Strøget.
Walk through Magstræde, one of the oldest streets in Copenhagen
Magstræde is around the corner from Strædet right next to Gammel Strand, one of Copenhagen's oldest streets dating back to the 1520s. It has survived the city's two major fires in 1728 and 1795. Today, its colorful buildings rival that of Nyhavn's. My tour guide said that it is one of Copenhagen's top Instagram spots!
My hotel was down the street from Magstræde, so I was able to wake up pretty early, get ready, and take photos around 7:30 am!
Eat your way through some of the highly-rated restaurants
You'd be surprised to learn that Copenhagen is a foodie city, filled with eateries of all price points. From traditional Danish restaurants to ethnic cuisines, you'll find everything and anything here. I was actually shocked to find a sheer amount of burger joints and American restaurants!
You can try a bit of everything at Tivoli Food Hall.
If you have the money to burn, make reservations at Noma or Geranium.
For something more affordable (but still not necessarily cheap), go to Vækst, which is in the Michelin guide. The restaurant is beautiful inside, and they serve fine dining Danish cuisine with an emphasis on fresh vegetables.
Climb the Round Tower to see Copenhagen's aerial views
Located in Strøget, the Round Tower (Rundetårn) is a 34.8 meter (114.17 feet) building with an observatory showcasing aerial views of Copenhagen. It dates back to the 17th century and is a part of the Trinitatis Complex, also holding the Trinitatis Church and a library (what used to be the Copenhagen University Library).
There are no stairs (except for the very top going the observatory), and that staircase is short, steep, and narrow. Instead, it has a steep spiral ramp that turns 7.5 times. It is what you call an "equestrian staircase". This makes it so that horses were able to climb, helping carry books and other heavy items to the observatory centuries ago.
If your legs get tired from all of the walking, there are some stops to go to the restroom, art/design galleries, and information centers along the way!
Admission is 40 DKK ($5.65 USD) for adults or free with the Copenhagen card!
Climb the spire at Church of Our Saviour—or, visit the cathedral
Another landmark to climb for sweeping views is Church of Our Saviour, Denmark's most famous church in the Christianshavn neighborhood. There are 400 steps to the top, with the last 150 steps being outside the spire. It's not for those who are afraid of heights, and it's higher than Round Tower at 90 meters (295 feet). Because the top of the spire is outside, it can get slippery when wet. When it rains or snows, they close down the spire for safety reasons.
It rained when I visited, so I didn't get to climb. That's a bucket list for next time though!
However, you can still enter the cathedral for free and marvel at the Baroque interiors. You can listen to epic hymns from the carillon (a percussion instrument like an organ). Church of Our Saviour is known for having the largest carillon in Northern Europe. It plays every hour from 8 am–midnight.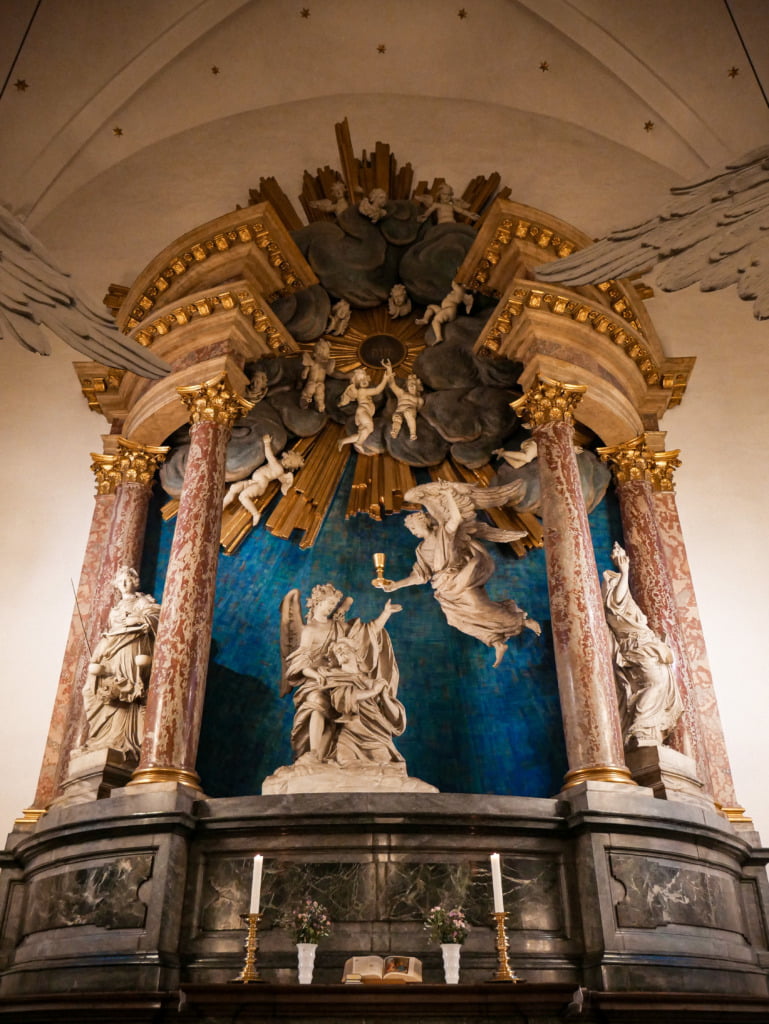 Visit the Museum of Danish Resistance
History buffs will learn in-depth about Denmark's volatile relationship with Germany during World War II. Especially as Germany tries to take over Denmark. You learn how Danes during that time struggled between resisting occupation or retaliating with violence. The museum is interactive and filled with projectors from documents from the time of the resistance.
Fact: Denmark is the only country that actively resisted Germany's occupancy. They also were able to save almost all Danish Jews from the Holocaust.
The Museum of Danish Resistance is 95 DKK ($13.30 USD) for adults or free with the Copenhagen card. It's nearby The Little Mermaid and Amalienborg Palace.
Venture outside of Indre By and explore the other neighborhoods
While Indre By is where most of the hotels and attractions are located, you can get a true taste of Copenhagen's residential areas venturing outside. These other neighborhoods are a few train stops away.
Below are some of the following neighborhoods:
Nørrebro: Full of vintage shops, delicious eateries at every price point, and funky vibes, Nørrebro reminds me of Midtown Sacramento. It's an artist's dream come true. Did I mention that the food scene is top-notch? I went to Mirabelle for brunch, a cozy bakery/café, and you wouldn't believe how busy it was on a Sunday morning!
Vesterbro/Meatpacking District: What used to be known as Copenhagen's red light district is now filled with restaurants, cafés, nightlife, and art galleries. Tivoli Gardens is wedged between Vesterbro and Indre By.
Christianshavn: I would say that Christianshavn is a mix of Indre By and Vesterbro, with its colorful brick houses lining the canals (like Nyhavn!) and thriving food scene. Don't forget to visit Freetown Christiana, the hippie commune district where marijuana is sold (but illegal in Denmark). It's colorful and shows you how the alternatives live and play. Even though it's another top attraction in Copenhagen, photos are not allowed in Freetown Christiana.
Take a day trip to Sweden
Yes, I am talking about Sweden the country. Copenhagen and Malmö, Sweden are connected by the Øresund Bridge. It is about a 40-minute drive or bus ride both ways through the bridge. That is how most people visit Malmö, whether it's by themselves or with a tour.
I did not do that. Instead, I booked this tour where we visited Kronborg Castle in Helsingør (an hour north of Copenhagen), and then took the ferry to Helsingborg, Sweden. Then we drove to Lund and Malmö and spent an hour and a half in both cities. I wasn't too crazy about Malmö, but I loved Lund as it was a cute and quaint college town. I was happy to cross off another country visited! And if I had more time off, I would've flown to Stockholm for a few days.
Get your hygge on at a coffee shop
Part of why I felt so at home in Copengen, is because of hospitality and emphasis of hygge. Practicing hygge, especially during colder months, helps your health and well-being.
Let's just say Copenhagen as a whole is a hug in a mug of a city. It's a design-conscious city, so shops and business owners strive to make the vibe hyggelig with fairy lights and candles.
There are so many coffee shops in Copenhagen where you can sit, sip a nice cup of Joe and watch the world go by. I've heard so many great things about Coffee Collective, a small Copenhagen chain.
Espresso House is the Starbucks/Costa of Scandinavia (it's kinda scary how similar they are). I really enjoyed the Christmas latte, which has cinnamon and cardamom, and whipped cream. I enjoyed taking a break to sip while sitting at the bar area facing Strøget.
Emmery's is also another cozy café chain with delicious, organic baked goods!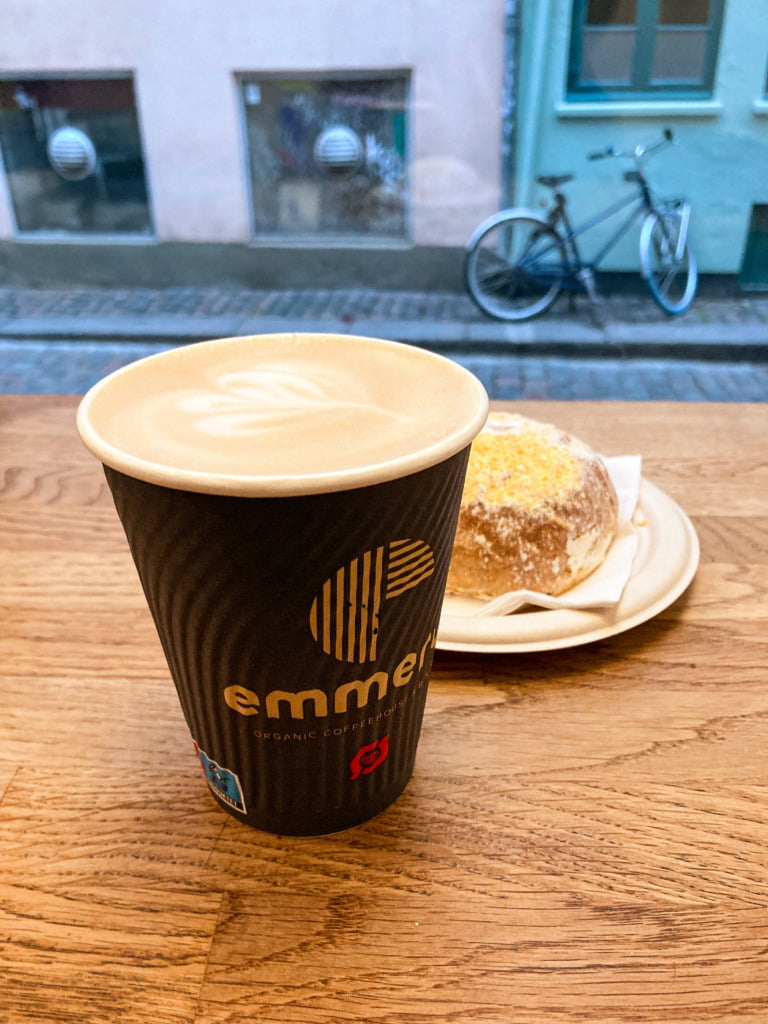 Treat yourself to a spa day
Hygge is more than coffee sips and blankets. It's also the act of self-care and rejuvenation, and pampering sessions are a part of that. It's no surprise that Copenhagen has a handful of spas and baths.
La Banchina is part sauna, part restaurant, and part wine bar right by the harbor in the Christianshavn neighborhood. You can swim in the harbor, but it was too cold for me to do so in November. Perfect during the summertime though! As of right now, the sauna is under renovation.
CopenHot is another popular spot by the harbor with two saunas and a jacuzzi, but they are in the process of relocating.
I booked an hour-long Roman bath experience and hour-long massage at AIRE Ancient Baths Copenhagen, located in the Vesterbro neighborhood. It was rated voted as the Best Spa in Denmark in 2021. AIRE takes on the ancient Roman baths with a modern twist, and also has other locations around the world (like in New York, London, and parts of Spain).
The baths have different temperatures, a pool-sized jacuzzi, and two small cold plunging pools. There was also a foot-deep cold pool with stones for you to step on for your feet. My favorite part was the floatarium! Sadly, I was not allowed to bring my phone in the bath area. But it helped me be more present and soak in every last moment of my trip (no pun intended).
The massage was just what I needed after having sore legs, hips, and knees from nonstop walking. I felt like my legs were going to fall off at one point, and after my massage, my body felt light and nimble.
I had an amazing sesh at AIRE and felt glowing inside and out. After my massage session, I treated myself to a glass of cava and chocolate truffles 🙂 (which they offer as an add-on) no better way to end the trip!
Thoughts from a first-timer to Copenhagen
I wasn't sure what to expect, especially as one of my first solo trips. But with my 5 nights in Copenhagen, I felt so at home and I'm sure this won't be my last visit. I also enjoyed visiting a city that had a decent amount of tourists, but not too overrated (I'm looking at you Paris. I'm sorry, I'm just tired of Paris!). Next time, I would love to bring Cecilio and show him around and introduce him to all the fun things to do in Copenhagen. If we were trying to be expats, this is where I would want to live.
Whether you have 1 day or 1 week, you will always find an endless amount of things to do in Copenhagen. And the air of hygge will make you feel like you lived there forever as well.
Have you been to been to Copenhagen or any other Scandinavian destination?
Love what you read? Share the love and pin below!
Hannah is a travel writer, graphic designer, and the founder/editor of Hannah on Horizon. She is based in Sacramento, California, living with her husband and two adorable dogs. She shares tips on how to experience luxury travel on any budget, and how to maximize time at each trip or destination, no matter what your budget or amount of vacation time at work. She enjoys making you feel like you have visited each destination with her through her storytelling and informative writing style.