One of my favorite attractions in Vancouver is Granville Island. Buzzing with art galleries, locally-owned shops, eateries (and lots of them!), and water-based activities on False Creek, Vancouver's peninsula is a haven for tourists AND locals. No matter who you are, you'll never run out of things to do in Granville Island; this little spot has something to offer for absolutely anyone!
I went to Granville Island as a part of my quick trip to visit my family in Vancouver. I visited back in 2012, but we did not stay for too long. This time, we spent all day exploring Granville Island, to where my relatives said that it was like they were tourists in their own hometown!
Granville Island was also home to Emily Carr University, a public art school. In 2017, the school moved to a new location 10 minutes away. The university left its mark and inspired Granville Island to be the eclectic, artsy area it is today.
No trip to Vancouver is complete without stopping by Granville Island, and hopefully this guide will help you navigate everything to do, see, and eat in Vancouver's top attraction!
Disclaimer: This post uses affiliate links, which means I make a commission if you book through this post. If you do decide to book using my links, thank you so much for your support!
Granville Island: A Brief History
Before Granville Island became one of Vancouver's hottest destinations, it was originally a sandbar called Snaq (or Senakw), also a habitat for Indigenous Squamish people. They used the area for resources such as fishing and other gathering.
Originally, Vancouver was named Granville until it was renamed Vancouver in 1886. But the name Granville was kept and the little area near False Creek.
In 1869, there was a small reserve created in False Creek, forcing residents to leave the area from European colonizers.
The Granville Bridge was built in 1889, connecting both sides of the shores of False Creek. Settlers saw the potential for building the area, and by the early 20th century, it was booming with over a thousand employees with 40 industrial companies. However, the Great Depression and World War II brought a decline in the boom.
For the next few decades, Granville Island was completely abandoned. Former Liberal Minister Ron Basford spearheaded the idea to redevelop Granville Island (and eventually, one of the parks in Granville Island was named after him).
Fast forward to the 1970s, there have been more shops, restaurants, and art studios popping up, with outdoor spaces getting revamped. Granville Island Public Market reopened in 1978.
Today, Granville Island attracts more than 10 million visitors a year.
RELATED: Vancouver is in the Pacific Northwest, and only 2 hours away from Seattle. Here are some resources for other destinations if you plan to go to the Pacific Northwest!

Your Ultimate 4-Day Guide to Seattle
Why You NEED to Visit Seattle Starbucks Roastery
How to Spend One Day in Portland
Things to Do in Portland | Your 4-Day Itinerary
A Tasty Guide to Portland's Food Cart Pods
Frequently Asked Questions
What is Granville Island known for?
Granville Island is a peninsula surrounded by the waters of False Creek, with Downtown Vancouver on the other side. Granville Island is known for its robust art scene lined with galleries and art studios. The most popular attraction is Granville Island Public Market, with more than 50 food purveyors along with restaurants and fast-casual eateries. You can also do water activities such as whale watching, kayaking, boating, and waterbiking.
Is Granville Island touristy?
Sure it is, I mean it attracts more than 10 million visits a year! Touristy doesn't always mean cheesy. There's a reason why some of the top destinations are "touristy". That said, Granville Island > San Francisco's Pier 39. Any day.
How long should you spend time in Granville Island?
That is completely up to you! If you only want to walk around and eat in Granville Island Public Market, a couple of hours should suffice. If you want to explore beyond that and check out the shops in Net Loft, art galleries, and ride the Aquabus, plan for spending all day there.
How do you get to Granville Island?
There are plenty of ways to get to Granville Island. You can drive, although it is a little tough to find parking. However, parking is only $3/hour on the weekdays and $4/day on the weekends.
If you're coming from Yaletown or Downtown Vancouver, you can walk, bike, or take the Aquabus (which is actually super fun).
Planning to ride Vancouver's bus system TransLink? Take #50 from Gastown in Downtown Vancouver!
Can I still visit Granville Island when it rains?
Yes you can! You just won't be able to sit outside in the courtyard during the rainy days, or the park. You probably wouldn't want to go boating or kayaking either. But you still can stroll around the Public Market, Net Loft, and Kid's Market.
The Aquabus still runs when it rains. In fact, it operates everyday of the year except for Christmas.
Don't forget; the art galleries and studios are still open when it rains!
Things to do in Granville Island
Shop for produce and delicious food at the Granville Island Public Market
Granville Island Public Market is filled with fresh produce, meats, pastries, and more than 50 food vendors. Think of it like the Canadian version of Seattle's Pike Place Market or San Francisco's Ferry Island Building. Local artisans also sell gifts, photo prints, and pottery in the market.
There is a 2nd building in Granville Island Public Market that's basically like a food court, with seating and eateries like pizza, Chinese, Middle Eastern, and more! If you are a coffee aficionado like I am, definitely grab a cup of joe from Blue Parrot Coffee.
You can also take your food outside in the courtyard where there are lots of benches for you to sit (though, it does get crowded and you might need to share seating with strangers). There are some ledges for you to sit down and chill, people-watch, and take in views of False Creek and the boats passing by.
The Public Market is one of the most popular things to do in Granville Island; if you have limited time and had to do only one thing, I recommend mostly sticking there!
Have a drink at Granville Island Brewing
For happy hour, grab a cold beer at Granville Island Brewery. Know that you will have to wait a while since it's a popular spot; I was in line for 25 minutes!
I highly recommend their peach sour, especially if you're not a huge beer person and find IPAs gross. They also have typical bar food, like wings, chips and guac, burgers, and tacos.
Go whale watching
You can spot some whales all year with Wild Whales Vancouver, such as orcas, humpback whales, and other creatures like sea otters, sea lions, and dolphins. You will also see incredible views of Vancouver's other attractions such as English Bay, Coal Harbour, and Stanley Park. You also have the option to choose which boat you want to go in, such as a semi-sheltered vessel, an open-aired one, or a zodiac boat.
Don't forget to bring your camera since this is a once-in-a-lifetime experience (I have never gone whale watching and it's been on my bucket list for a long time). Whale watching on the waters is one of the most unique things to do in Granville Island, for sure!
Here are some whale-watching tours you can take coming from Granville Island:
Visit a local artist's open studio
Brimming with over 100 galleries and art studios, supporting a Vancouver-based artist in their studio is one of the best things to do in Granville Island. Every little bit of support counts, especially because art isn't the most lucrative career and they have to eat too! The art scene in Granville Island is diverse; you have so many artists in different practices such as painting, woodwork, sculpting, jewelry-making, fashion, and photography.
I visited Charlene Long, a Vancouver-based landscape artist. She has a whimsical twist to her work using bold, vibrant colors, and her latest series was inspired by the lines of a Canadian poet, Pauline Johnson.
Charlene was in the middle of producing some of her artwork while selling original pieces, minis, prints, and painted jewelry boxes.
Ukama Gallery has some stunning sculptures from artists from Zimbabwe, along with Canadian-based abstract painters.
You can support these artists by buying an item (even if it's small), grabbing a business card, signing up for their newsletter, and sharing their work on social media.
Take the roundtrip Aquabus to Yaletown
Yaletown, Vancouver's affluent neighborhood, is just on the other side of False Creek. You can either bike all the way there OR you can take the Aquabus Ferry, which is a mini boat that transports you to Yaletown and gives you gorgeous views of its skyscrapers and Granville Island on the other side. Yaletown has so much to offer such as Engine 374 (the first transcontinental passenger train in Canada), Science World, upscale restaurants (where celebrities dine!), boba shops, art installations, and trendy clothing boutiques.
Get the Aquabus day pass, which gives you access to unlimited rides. Here are the day pass rates:
Seniors (65+): $17 CAD ($12.64 USD)
Adults (13–64): $19 ($14.13)
Children (4–12) $17 CAD ($12.64 USD)
Infants (3 and under): Free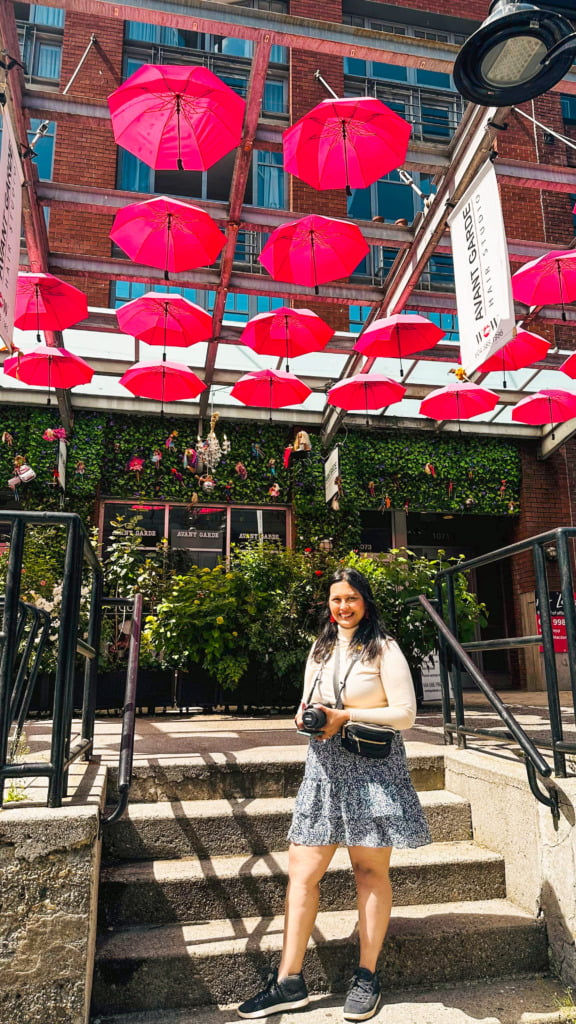 Go on a food tour at Granville Island Public Market
With the abundance of food from different cuisines at Granville Island Public Market, it's easy to get overwhelmed with what to order, especially without wasting food or blowing your budget. You want to eat it all! I know I do.
Going on a food tour in Granville Island sounds pricey up front, but you pay for an experienced tour guide to help you navigate and sample some of Vancouver's best eateries.
Here are a few walking food tours in Granville Island for your taste buds:
Time: 2 hours
Highlights include:
20 tastings from different local foods such as aged cheese, British Columbia wine, donuts, truffle salami, and poutine
Recommendations of the best eateries from your tour guide
Small group (15 maximum) for a personalized experience
Learning about the history of Granville Island Public Market and Vancouver
Time: 2 hours
Highlights include:
Tour guide who is also a chef
Sample different kinds of food such as chocolate, Canadian cheeses, chai lattes, charcuterie, donuts, maple-glazed salmon, and bread
Small group (10 maximum) for a personalized experience
Learning more about the businesses and food vendors of Granville Island
Time: 2 hours
Highlights include:
Delicious croissant and mini pizza on brioche bread
Bowl of seafood chowder or tomato bisque
Choice of one of three flatbreads: Italian Ham, Souvlaki, or Prosciutto Arugula
Small group (10 maximum) for a personalized experience
Time: 3 hours
Highlights include:
Skipping the line to try 20+ tastings, including bread, charcuterie, Canadian cheeses, and donuts
A flight of beer, sake, or spirits at one of Granville Island's distilleries or breweries (must be 19 or older)
Walking tour of Granville Island beyond the Public Market including nearby shops and artisans
Dinner at Tap & Barrel
Tap & Barrel is a small Vancouver restaurant chain right by the harbor that offers delicious fusion dishes, and an abundance of beer, wine, and cocktails. If the line at Granville Island Brewing is taking too long, I highly recommend scoping out Tap & Barrel; the space is much bigger, there are way more food options and they serve drinks other than beer! I definitely enjoyed my tuna ceviche with chips and cherry blaster (which has vodka, lemon, cranberry, maraschino juice, maraschino cherry amaro, and cherry gummy candy).
Shop Local at Net Loft
Another building in Granville Island you need to scope out is Net Loft. It is filled with shops selling handcrafted items, art galleries, and clothing shops.
Here are the following stores that stood out to me:
Go on a luxury sunset cruise with Yoho Cruises
You and your crew can go boating down False Creek in a luxury yacht with Yoho Cruises. While they mostly focus on private events such as corporate parties and weddings, they also have some sightseeing sunset cruises for fellow tourists, with dinner provided.
Take your little one to Kid's Market
Granville Island is a family-friendly destination, and children going to be in Heaven with Kid's Market. The 2-story building is filled with toy shops, a children's-only hair salon, bumper cars, a candy shop, VR games, an arcade, and a playplace with a slide and ball pit. Outside Kid's Market, there is a pond and a water park.
Pamper Fido and Fluffy with some treats and toys at the Granville Island Pet Treatery
In addition to being kid-friendly, Granville Island is also dog-friendly. It's unsurprising to see people walk around with their beloved furry child. Outside the Kid's Market is a caboose-turn shop, Granville Island Pet Treatery, filled with healthy, organic treats for your little love. There are also toys (like this cute Tim Pawton's stuffie), collars, and bandanas (I wanted to get one with Canada's maple leaf pattern, but the bandanas were too big for my dogs).
Feline parents, don't worry; there are also treats for cats as well!
Rent a boat (or waterbike) and sail (or pedal) through False Creek
No boating license required! Actually, Granville Island Boat Rentals does provide a free boating license upon renting their boats. So channel your inner Spongebob and sail all around False Creek to get gorgeous views of Vancouver's skyscrapers and the water.
Boat rentals start at $60 CAD. You must be at least 21 to rent.
Feeling a little more adventurous? You can also rent a waterbike and pedal on the water to get your fitness on!
So…is Granville Island worth visiting?
The consensus of this post is that you abso-freaking-lutely need to visit Granville Island in Vancouver. In fact, I recommend dedicating a whole day there because there is so much to see and do beyond the Public Market. With sampling some of Canada's finest dishes, marveling at local artists' masterpieces, and sailing the waters of False Creek, you will never be bored!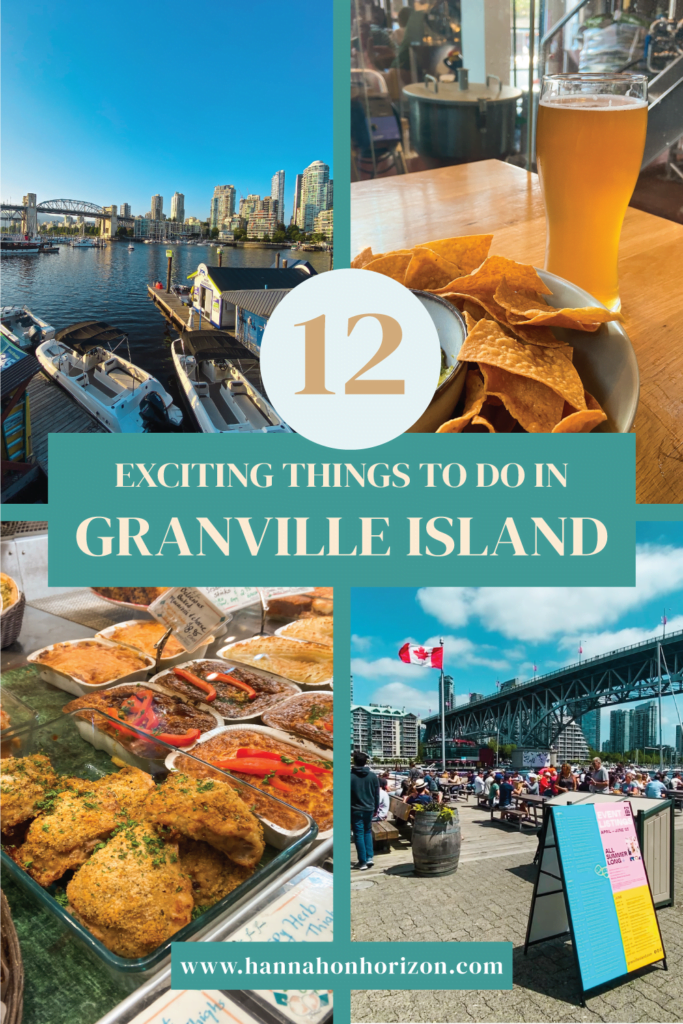 Hannah is a travel writer, graphic designer, and the founder/editor of Hannah on Horizon. She is based in Sacramento, California, living with her husband and two adorable dogs. She shares tips on how to experience luxury travel on any budget, and how to maximize time at each trip or destination, no matter what your budget or amount of vacation time at work. She enjoys making you feel like you have visited each destination with her through her storytelling and informative writing style.