Published on April 2022
Updated on September 2023
You may be familiar with the first Starbucks storefront right by Pike Place Market. But did you know that a few blocks away the globally-loved coffee chain has their own roastery?
The Seattle Starbucks Roastery combines the typical storefront along with a lounge, restaurant, cocktail bar, and gift shop with the space and equipment to process the coffee beans. If you're visiting Seattle, I suggest you visit this instead of the first Starbucks!
About the Seattle Starbucks Roastery
There are six roastery locations all over the world which also include New York, Chicago, Shanghai, Milan, and Tokyo. The Seattle Starbucks Roasrery was the first location built in the Capitol Hill neighborhood in December 2014. Starbucks Reserve was conceptualized to compete with high-end coffee retailers in 2010, then eventually started building the brick-and-mortar roasteries.
One thing you need to know is that it is difficult to park in the Capitol Hill neighborhood. Cecilio and I were going around in circles looking for street or parking garages and couldn't find anything. Eventually, we found a small parking spot a few blocks away and paid for a few hours. We were meeting my cousins from Vancouver who happened to be in Seattle and they too had a hard time parking, and I felt so bad. I would suggest taking an Uber or public transportation. Or if you are up to it and if the weather is nice, park near Pike Place and walk a bit!
The roasteries are thought of as a "theme park experience" because they include coffee and cocktail tastings, gifts, and the ability to see the beans being roasted, processed, and shipped. I like to call it "Coffee Disneyland", especially after finding out there are other locations (I especially want to go to the Chicago location since it's the biggest one).
So why would I suggest visiting the Starbucks Roastery in Seattle (or in any of the locations above?)
Why visit the Seattle Starbucks Roastery?
It's larger than the typical Starbucks storefront.
According to Business Insider, the average Starbucks storefront is around 1,800 square feet. Even though Seattle roastery is actually the smallest one at 15,000 square feet, you will still be in awe (or maybe even overwhelmed!) with all the food and beverage choices, the tastings, the experiences, and the industrial-yet-rustic aesthetics. There is also a staircase to a mezzanine which is also a mini library with books about coffee, and you can get a nice view of everything.
Exclusive food and drinks not available in the storefront
Sure, you can still order the signature staples. But why would you when you can order the Irish con Crema? Yes, it's essentially a pour-over coffee with cold foam. But the brew is made from Reserve™ (which I repeat: you can't buy this at the store, only the roastery) whiskey-barrel beans from Guatemala, and is topped off with Irish Cream cold foam, leaving a hint of sweetness to balance out the earthiness of the coffee. This isn't to be confused with the Irish Cream Cold Brew, which you can find in a storefront. The Coffee Wave explains the difference between pour-over and cold brew.
Or maybe you want to try an affogato, which is two espresso shots poured over ice cream. Or a cold brew floats and malts. Yes, they have it here! In fact, these are a hit for kids who aren't too hot about coffee (yet) but want a sweet treat. My cousin's kids are 10 and 12 and they enjoyed the cold brew malt. You'll definitely find a Starbucks drink for your caffeine fix!
And if you aren't sure what to order, you can sample different flights!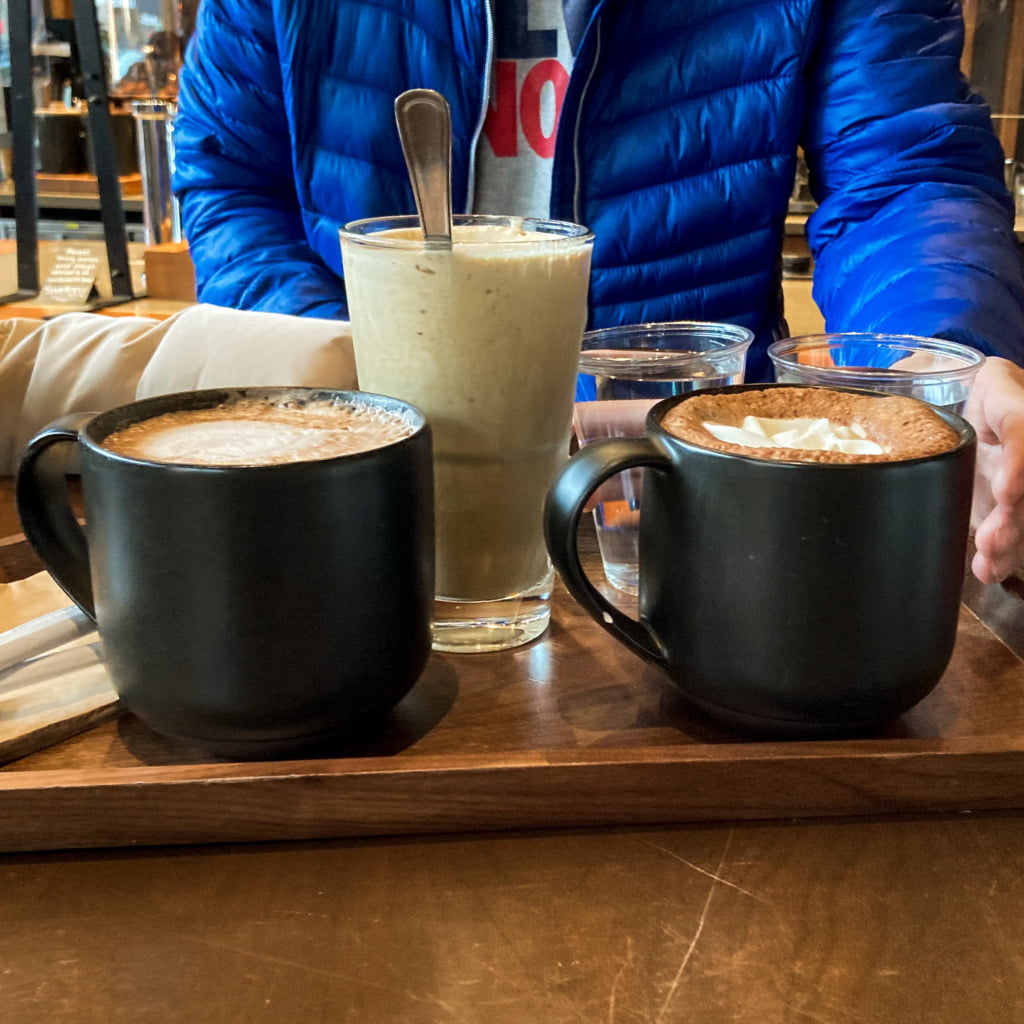 Two words: Arriviamo Bar
I love a good cocktail. Especially coffee-based cocktails. You know how they have spiked sweet coffees on the dessert menu at some restaurants? I love ordering myself one along with an actual dessert that Cecilio and I split. And I loooove a good espresso martini. I couldn't leave the roastery without an espresso martini, that's for sure.
You're not just limited to the espresso martini—there are other beverages such cold brew spiced rum, Brandy Corretto, whiskey cloud, and many more!
If coffee-based cocktails aren't your thing, I have heard some good things about the Aperol Spritz. You can also stick to the classics like Old Fashioned, Manhattans, or even beer and wine.
Delicious eats at the Princi Bar
Forget the day-old pastries and sandwiches at the Starbucks storefront, the roasteries offer fresh foods with their Princi Bar. There are some of the same items along with pizza, pasta, and dessert, used with high-quality Princi ovens. Princi actually used to have standalone locations offering before they shut down last year. However, they are still available in the roasteries.
Scoop your own beans at the scooping bar
While you can purchase beans in a sealed bag, there is also a scooping bar (I like to call it the coffee buffet) where you can choose whatever flavor of coffee beans you want and take home.
Watch the bean roasting behind the scenes
I mean, this is the whole point of this place, right? It's so cool being able to watch the roasting process from the green coffee beans being stored in the silo before the roasting process to them being de-gassed in the copper cask.
You can book a 30-minute tour here for $15/person (8 guests minimum, 26 guests maximum) to learn about the roasting process (Seattle Roastery Revealed), or to taste some coffee (Starbucks Coffee Master Training). For $25, you can go on the Roastery Experience Tour which combines both the guided tour and the tasting.
Under the Master Training, you can also add on a chocolate or pastry pairing for $4.50.
Deepen your taste buds and coffee knowledge with the Experience Bar
The Experience Bar is sectioned off at the back where the barista gives you coffee tasting through the Chemex, siphon pot, Clover Brewing System, French press, and pour-over machine. When we went, the Experience Bar was closed.
I've had these crafted coffee tastings before for a class in college with the baristas giving us samples poured with the equipment above. But they were at local coffee shops.
You can also book the Experience Bar for private events for up to 120 people for networking events! Hmm, I wonder if they host weddings?
Exit through the BIG gift shop
Sure, Starbucks storefronts have mugs and beans you can purchase (along with the occasional ornament). But the gift shop sells pins, tote bags, pins, wooden jigsaw puzzles, etc. We did not buy anything, but those who like souvenirs or window shopping will enjoy strolling through the knick-knacks.
Overall
I know that some coffee aficionados turn their nose up at Starbucks because it's a big chain, and prefer smaller, independent coffee shops. And that's okay because I LOVE both! In fact, I plan to feature more Sacramento coffee shops. There should be no gatekeeping when it comes to coffee. I just enjoyed my time and I want to share this experience with others and their next trip to Seattle 🙂
On a brighter note, have you been to a Starbucks Reserve Roastery?
Planning a trip to the Pacific Northwest? Here are other guides to help you!
Hannah is a travel writer, graphic designer, and the founder/editor of Hannah on Horizon. She is based in Sacramento, California, living with her husband and two adorable dogs. She shares tips on how to experience luxury travel on any budget, and how to maximize time at each trip or destination, no matter what your budget or amount of vacation time at work. She enjoys making you feel like you have visited each destination with her through her storytelling and informative writing style.