NOTE (as of June 2023): This post was written during Summer 2018, when I had a very bad flare from lupus, and had a seizure, and landed in the hospital for 11 days. I was flaring for months then, and when I ended up in the hospital, my team decided to put me on Cytoxan, which I took from May 2018—March 2020. I am no longer taking Cytoxan and on the way to remission.
I've talked about taking a form of chemotherapy, called Cytoxan, in a few of my blog posts since my biggest nightmare of a flareup and hospital stay in May. I've been wanting to do this post for a while and now I have more knowledge and experience about this treatment, here you go.
Cytoxan (Cyclophosphamide is the general name) is an immunosuppressive drug and chemotherapy used to treat different forms of cancer and nephrotic syndromes (I fall under the latter since I have lupus nephritis which targets my kidney). I try to tell most people that I take "infusion" instead of "chemo" so not to scare them into thinking that I have cancer, even though many chronic illness patients do take some sort of chemo. It's just that most people associate chemo with exclusively cancer patients. You can take it in an in oral form or an infusion form through an IV (which is how I am taking it).
While I was out and unconscious from my seizures, my mom had a talk with one of my rheumatologists about finding an alternative to my treatment other than constantly pumping me with prednisone. I was so thankful that she was an advocate for me in that sense, because the doctors know I hate taking prednisone and I don't want to go on a higher dose. Finally, they gave in and talked to her and Cecilio about putting me on Cytoxan while tapering my prednisone. I am currently taking 5 mg of prednisone (down from 60 mg when I was hospitalized), but I am afraid of going up yet again because my proteinuria increased pretty significantly. I stayed at the hospital for 11 days, and got my first infusion during my stay. When I was discharged on May 14, my report said that I was due for another one 2 weeks later (I also had an appointment with my rheumatologist that week).
When I saw my rheumatologist that week, they gave me a plan for me to take it every 2 weeks for 6 sessions (my first session was in the hospital) at 500 mg. Afterward, they would decrease the frequency to every month but increase the amount to 800 mg for the next 3 months (which is what I am currently doing). And then after that, I will be taking it every 2 months on 1600 mg. I honestly don't know when I will be done, but my rheumatologist and I will cross the bridge when we get there. I might have to go back on imuran, another immunosuppressive drug that treats lupus but is much milder than cellcept. I think you can take imuran while pregnant but definitely not cellcept.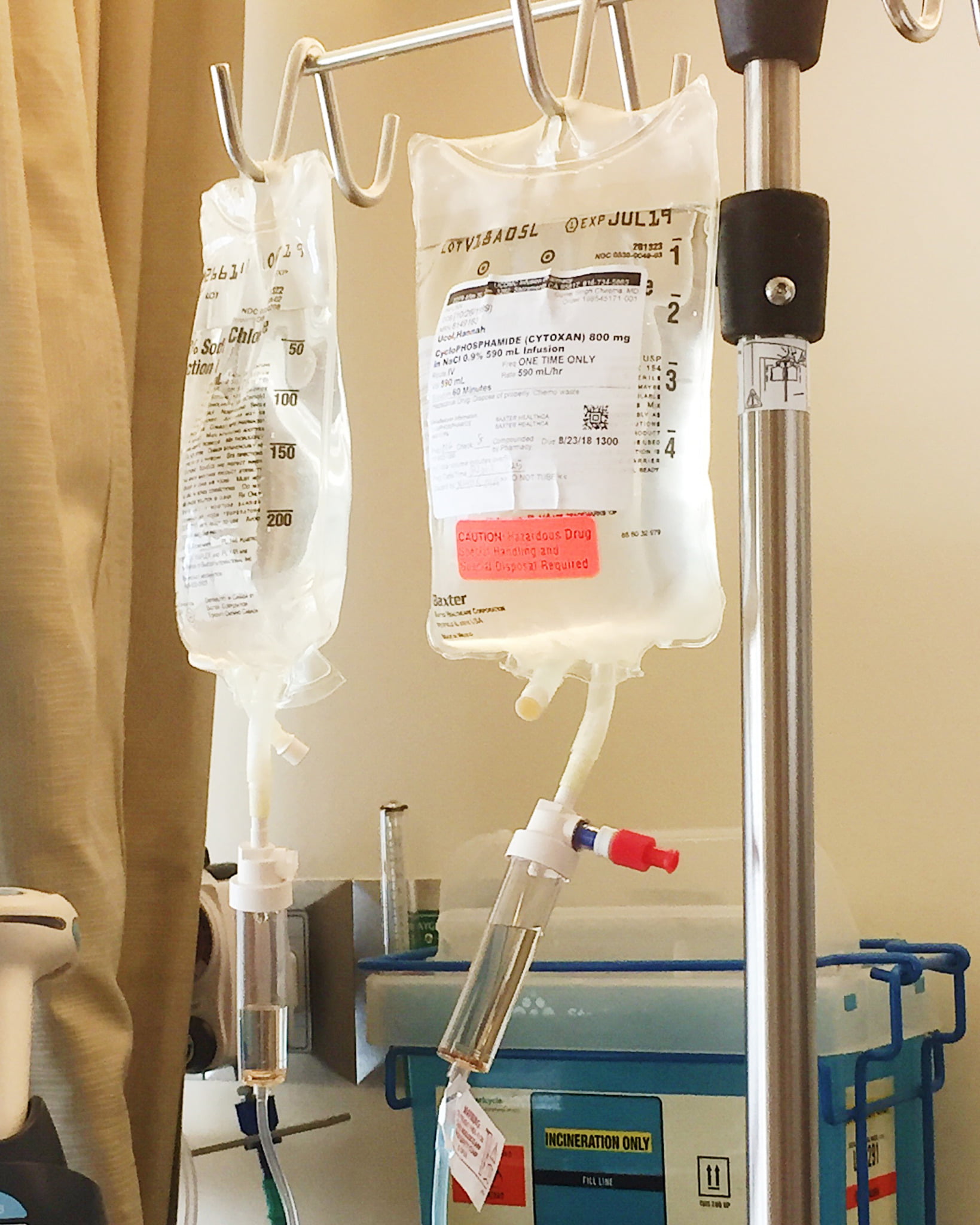 For every Cytoxan session, I have to get my blood drawn and give a urine sample a day or 2 before. Then on the day I have it done, I sit on a comfy recliner chair and the nurses put a needle in my right forearm or elbow and tape it. For the first two hours, they hook me up to the IV to put saline in me (2 bags, about a liter each) since Cytoxan is full of sodium. After I finish my first bag of saline, the nurses give me anti-nausea medications since nausea is one of the side effects of Cytoxan. After I finish both bags of saline, they hook me up with the Cytoxan, and a full bag lasts an hour. The doctors recommend that I drink a lot of water to get rid of the sodium from it (at least a liter for the next 3 days). Obviously, when I'm getting hydrated with the saline, I feel like I have to pee a lot, haha.
What side effects do I get from Cytoxan? One of the biggest ones that have affected my confidence is hair loss. I have always loved my luscious, thick hair. But after flareups in the past, it has thinned out. When I was in remission in 2016, my hair started slowly getting thicker again. But when I was doing my 6 500 mg sessions every 2 weeks, my hair was falling out in clumps. Every time I brushed, huge chunk would come off. It is the thinnest it's ever been, and sometimes I do want to cry looking at myself in the mirror and envying all of the girls on Instagram with gorgeous, thick, curled locks. I had to cut my hair above my shoulders since it looked really ratty and straw-like when it was long and too thin. It still looks pretty ratty so I have to straighten it frequently, and I've been having to put my hair up in a ponytail more because even if I brush and comb it, a lot of my strands flyaway and it looks like I just rolled out of bed. Also, I look like the freaking Founding Fathers wearing a ponytail now. Because I'm only taking monthly 800 mg sessions (because 500 mg every 2 weeks was basically 1000–15 mg a month for 3 months), my hair is not falling out as much (it still is though). I have some bald spots on my middle part. My nephrologist promises me that it will grow back though. I've read from other spoonies (one of them being Cecilio's former co-worker who is a well-known news anchor in our area and had medical problems as well) that looks-wise, losing hair felt worse than gaining weight.
Cytoxan may cause infertility, which is of course a cause for concern because I do want to have children in the future and I've struggled with amenorrhea in the past (and I recently missed my period between November–July). But praise God that I started getting my periods back since last month so there is hope for me to have children, as long as I am in remission for at least 6 months or more and I consult with all of my doctors. I want to have children maybe when I turn 32 (which is in 3 years from now), so that's another bridge to cross in the future.
Since increasing my dosage to 800 mg, I noticed that I feel a lot weaker, more tired and woozier. Sure, I felt pretty weak after taking 500 mg, but I was able to function the next day. Last month, I started my first 800 mg session on a Thursday, and the next day I felt too weak to function at work. So from now on, I will have my Cytoxan sessions done on a Friday as much as possible. I am still able to run errands but I just have to take it easier during the next 2 days. After my last session, I wanted to go to the mall to return a Too Faced palette I ordered online but came damaged and Cecilio and I were still able to celebrate his sister's boyfriend's birthday.
I have also noticed that my throat tightens and my voice feels weak immediately after my session, but it goes away after half an hour.
I am just so thankful that I am getting the help I need, and that my labs are looking better. Despite its side effects, Cytoxan has helped me function normally after the worst flare I have had in my life. It's also helped me decrease my prednisone because taking both at the same time is pretty dangerous. I want to thank the doctors and nurses at UC Davis Medical Center for treating me even though I was a bit difficult to deal with at times. And thank you UC Davis Cancer Center for continuing to treat me until I heal.
Hannah is a travel writer, graphic designer, and the founder/editor of Hannah on Horizon. She is based in Sacramento, California, living with her husband and two adorable dogs. She shares tips on how to experience luxury travel on any budget, and how to maximize time at each trip or destination, no matter what your budget or amount of vacation time at work. She enjoys making you feel like you have visited each destination with her through her storytelling and informative writing style.