Looking to visit Vancouver for your next vacation? This guide is for you! Ranked as one of the best places to live in the world, Canada's largest west coast city has SO much to offer like out-of-this-world nature, wildlife, a bustling art scene, delicious eateries, and access to outdoor activities. There's no doubt that there are an endless amount of things to do in Vancouver, and it's easily two hours away from Seattle by car.
I've been to Vancouver a handful of times since I have relatives that live there on my dad's side. I recently visited and stayed with my aunt and uncle, and got to spend a whole 4 days with them and my cousins and their families as my "personal tour guides". I got to revisit attractions I've been to in the past and explore new ones, in awe of Vancouver's beauty and falling in love over again.
Hopefully, I have convinced you enough about how you can spend 4 days in Vancouver yourself!
Disclaimer: This post uses affiliate links, which means I make a commission if you book through this post. If you do decide to book using my links, thank you so much for your support!
How to Spend 4 Days in Vancouver
Day 1: Richmond
Eat and stroll your way through Steveston Village
The Vancouver International Airport (YVR) is located within 15 minutes of Richmond, one of many of Vancouver's suburbs. For your first stop, you have to visit Steveston, a popular neighborhood in Richmond known for its fishing, canneries, restaurants, and coffee shops. Just around the corner lies, Steveston Village, a pier overlooking Fraser River, buzzing with a fish market, boats, and whale-watching excursions.
If you've never tried a lobster tail pizza, now is your chance at Steveston Pizza. My aunt recommended the "Serpent", which has shrimp, prawns, 5 Canadian lobster tails, and smoked salmon. I underestimated how HUGE the lobster tails were, and this pie ain't cheap either at $115 CAD (roughly $86 USD). And that is not their most expensive pie: the "C6" is $850 CAD ($642 USD) and has tiger prawns, lobster tails, caviar, and truffles. Our Serpent pizza was so delicious though! It certainly brought me into a food coma.
Get rid of the fishy aftertaste with some dessert, specifically soft-serve ice cream from Screamers.
Then, stroll the pier and the fish markets selling fresh salmon, tuna, sea urchins, and other seafood.
Explore Britannia Shipyards for a slice of history
Walk a few blocks away from Steveston Village to scope out Britannia Shipyards. Right next to the shipyards were living spaces for fishermen, cannery, and shipyard workers during the fishing season along the Fraser River. Most of the workers were of Chinese, Japanese, and First Nations descent. You can tour the shipyard building and some of the houses that have been preserved for tourists, all of which are free. As you're walking around Britannia Shipyards, you step back in history into how these workers lived and labored.
There are many bike trails leading to and around Britannia Shipyards, and spots by the dock where you can take in the quaint views of Fraser River.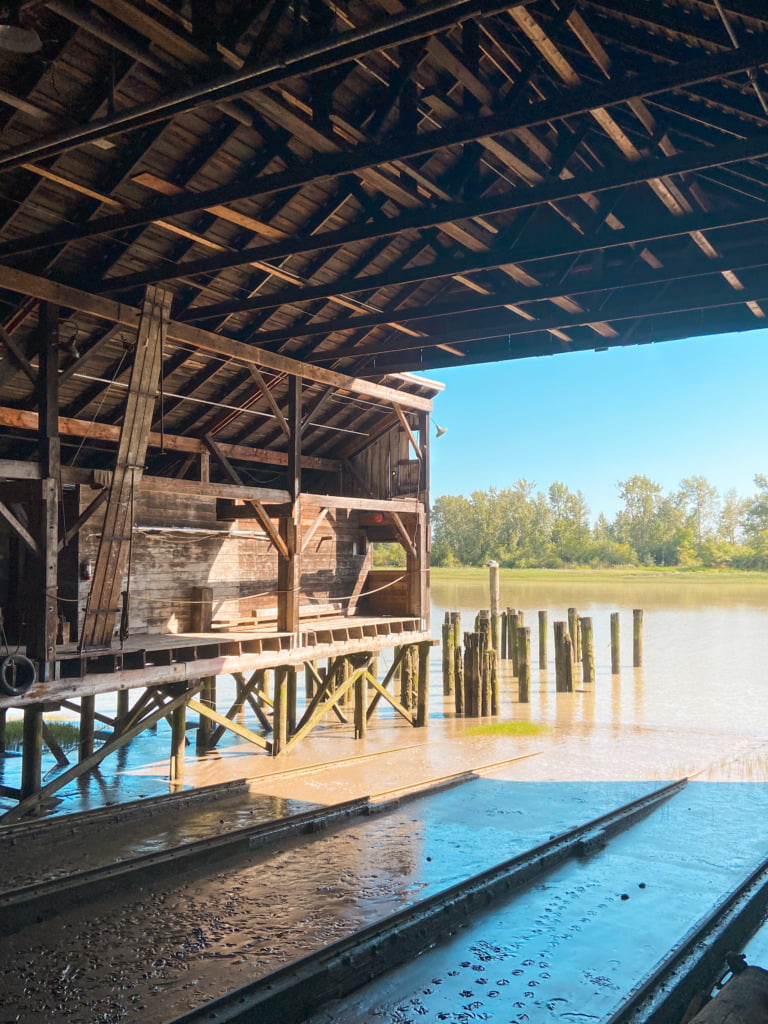 Richmond Night Market (Late April—Early October Only)
If you are visiting Vancouver in the summer, then you definitely need to go to the Richmond Night Market. It operates roughly from the end of April to the beginning of October first week of October every Friday, Saturday, and Sunday evening.
The Richmond Night Market is like a carnival and the night markets in Asia, and is lined with shopping vendors, food stands, games, live music, and bright, colorful lights. It's a total sensory overload in the best way.
The absolute highlight of the Richmond Night Market is the food, with the stands being mostly Asian or Asian infusion. Let me tell you: you haven't lived until you tried a sushi taco, with rice and the sushi fixings as the filling and the nori seaweed as the "tortilla". I'm also dreaming of the takoyaki, a Japanese snack that's deep-fried with octopus, tempura batter, pickled ginger, and onion, and topped with mayo. Cecilio and I are going to Japan in a few months, and we are super excited to taste everything there!
Day 2: Granville Island & Yaletown
For more action, delicious food, live music, water activities, and art, Granville Island is the place to be. It's a popular attraction that's not your typical cheesy tourist trap (*cough*San Francisco Pier 39*cough*) since it's also a local's favorite spot. I recommend spending all day in Granville Island if you have the chance because there's plenty to see, do, and eat.
Stroll the Granville Island Public Market
The center of Granville Island is, of course, the Public Market. With over 50 food purveyors and vendors selling produce, meats, and seafood…you're going to be in Foodie Heaven. Whether you're getting a bag of macarons from Bon Macaron Patisserie or ordering delicious Chinese takeout from Gourmet Wok or sampling different flavors of honey from Chilliwack River Valley Natural Honey, your tastebuds are going to have a par-tay. If it's a beautiful, sunny day, eat outside and hang out in the courtyard. Of course, everyone wants to take advantage of the sun too (it is nicknamed "Raincouver" after all, but during my recent 4-day visit, it was "Suncouver"). So that means that you might need to share benches with strangers.
If you want to try all the delicious foods Granville Island has to offer, consider booking a VIP Food Tour, with 20 tastings from food purveyors such as Canadian wine, salmon, donuts, and poutine.
Ride the Aquabus to Yaletown
If you've seen those small boats with the "Aquabus" logo with rainbow blocks etched riding down False Creek, that is the Aquabus that takes you to Yaletown, Vancouver's affluent neighborhood. You can also bike down the seawall to get to Yaletown, but personally, riding the Aquabus roundtrip was more fun.
Yaletown has so many attractions such as Engine 374 (the first transcontinental passenger train in Canada), Science World, upscale restaurants where celebrities dine, shopping boutiques, and art installations.
After walking your way through Yaletown, take the Aquabus back to Granville Island, then…
Window shop at the Net Loft
The Net Loft is an indoor shopping area in Granville Island filled with small businesses selling handcrafted items, art galleries, and clothing shops. I recommend scoping out Noorongji Books, an indie multicultural bookshop with different genres such as food, art, language, philosophy, and children's literature. You might even get tempted to purchase some books as souvenirs for yourself or loved ones (while shopping local!).
Visit a local artist's open studio
There are over 100 art studios and Granville Island, and the now-relocated public art school Emily Carr University used to be a corner away. This is what made Granville Island a prime art scene. But even as the school relocated, many artists still do their work in the area. As a graphic designer who took a few fine art classes in college, I have respect for those who do it professionally. Art is not the most lucrative career, and they need to eat too! Every little support counts, even if you sign up for their mailing list.
Happy Hour at Granville Island Brewing
One of Vancouver's most popular breweries is nestled in Granville Island, and I waited 25 minutes in line. I think it was worth the hype, even if I'm not such a beer drinker myself. I did get to sit down after hours of walking and enjoy a cold fruity beer with some nachos.
Dinner at Tap & Grill
If you want a wider selection of foods and drinks (aside from beer) and you don't want to wait in line, Tap & Grill is the place to be! The food is delicious, and the drinks are plenty. Even if you don't drink, there are some fancy mocktails for you!
Day 3: Capilano Suspension Bridge Park & Grouse Mountain
Capilano Suspension Bridge Park
Visiting Capilano Suspension Bridge Park is one of the most breathtaking things to do in Vancouver. I will say that it's not for the faint of heart if you're scared of heights. The bridge is 70 meters (230 feet) high and 140 meters (460 feet) long, crossing over the Capilano River. Once you cross the bridge, there is so much more to see and hike through. You can take some staircases down below to capture the river and Capilano Suspension Bridge at different angles. You can also climb up to the tree canopy, where there is a pathway going down with even more mini bridges. The canopy is higher than the main Capilano Suspension Bridge, but it's not as scary.
Once you finish the pathway, head straight to the pond and walk around it. You might be able to walk by a trout feeding demonstration, where you can feed them yourself.
Grouse Mountain
Since Capilano and Grouse Mountain are literally only 5 minutes away from each other, it's a no-brainer to hit both of them in one day. I would, however, spend more time in Grouse Mountain since there is a lot more to see and do, especially in the summer. The gondola up to the peak of Grouse Mountain is 8 minutes long both ways.
There are many things to do and see in Grouse Mountain during the summer like the most famous grizzly bears Grinder and Mascot, a lumberjack show, ziplining, and mountain ropes canopy. These are not available in winter; you can go skiing, snowboarding, snowshoeing, and ice skating during the colder months!
Don't want to drive? You can take a small group tour to Capilano and Grouse Mountain, with live commentary onboard the bus, and pickup/dropoffs at your hotel.
Day 4: Downtown Vancouver
Vancouver Olympic Cauldron
Head over to see the Olympic Cauldron at Jack Poole Plaza right next to the Convention Centre in Downtown Vancouver. The Olympic Cauldron was built for the 2010 Vancouver Winter Olympics and Paralympic Games and lit up in flames to kick off the events. Since then, it has lit up for the following Olympic and Paralympic games and other occasions.
Ride the Seaplane
I've already waxed poetic about how beautiful Vancouver is with its diverse landscapes, but to get a 360° view, try riding the Seaplane, which is right next to Jack Poole Plaza. It's basically like a helicopter, but instead of landing from solid ground, you start from the water and get that nice splash once you ascend and descend.
Stroll through Stanley Park
Honestly, you could spend all day in Stanley Park. At 405 hectares (1,001 acres), exploring Stanley Park is one of the most laid-back things to do in Vancouver. You can walk, bike, or rollerblade leisurely at your own pace across the park or by the seawall, passing Brockton Point Lighthouse. Every nook and cranny in Stanley Park is breathtakingly beautiful and photo-worthy.
If you want to explore some of Stanley Park's hidden gems, unknown trails, and true crime stories, consider taking a Secrets of Stanley Park Walking Tour.
Be sure to look for the Girl in a Wetsuit bronze statue, which was inspired by The Little Mermaid statue in Copenhagen. While the artist, Elek Imredy, didn't intend for Girl in a Wetsuit to be an exact replica, he wanted to give her a modernized look.
The Vancouver Aquarium is also located in Stanley Park, and is worth checking out if you intend to spend all day (I visited it when I was 19).
Be sure to take some snapshots in front of the totem poles as well!
You can also walk or drive all the way to Lions Gate Bridge, which connects to North Vancouver (where Capilano and Grouse Mountain are located).
English Bay Beach
You wouldn't think of Vancouver as the stereotypical "beachy" location, but head over to English Bay Beach and you might change your mind. Just around the corner from Downtown Vancouver lies English Bay Beach, a gateway to the Pacific Ocean. English Bay Beach is the perfect spot for sunbathing, biking, kayaking, and picnicking.
English Bay Beach is also where most Vancouverites learn to swim. Yes, while the waters are cold, it's swimmable during the summer months. And there are hardly any waves!
Shop and Eat at Robson Street
End your last day in Vancouver with their most well-known shopping area, Robson Street. With a mix of designer and affordable fashion shops, you can find what you're looking for to look and feel stylish. There are also delicious eateries from various cuisines and luxury hotels around the corner for you to stay in.
Alternative Things to Do in Vancouver
While this itinerary gives you the main attractions to visit Vancouver in 4 days, it is fluid and flexible. If any of these attractions are not your cup of tea, there are many more things to do in Vancouver that you might be interested in:
Queen Elizabeth Park
Lynn Canyon Suspension Bridge (A free alternative to Capilano)
VanDusen Botanical Garden
Science World
Vancouver Art Gallery
Lonsdale Quay (An alternative to Granville Island)
Vancouver Aquarium
Dr. Sun Yat-Sen Classical Chinese Garden
Whale watching
Know Before You Go
Airport
The Vancouver International Airport (YVR), is the main airport. However, you can also fly to Seattle-Tacoma International Airport (SEA), then drive 2 hours to the US-Canada border (this is how my family and I would travel to Vancouver). You can also fly to Bellingham Airport, which is only an hour away from the US-Canada border.
Where to Stay for 4 Nights in Vancouver
Transportation & Getting Around
The easiest way to get around Vancouver is by car. And Vancouver has a ton of traffic. But they do have a decent amount of public transportation options:
Translink
Translink is Vancouver's official public transportation system, and they're not just limited to buses:
SkyTrain: Vancouver's train system with three lines that stop in major parts of the city and the greater area including suburbs such as Richmond, New Westminster, Burnaby, and Surrey. They also have a stop at the airport.
West Coast Express: Another train system that transports you to other suburbs such as Port Moody, Pitt Meadows, and Mission.
SeaBus: This is such a fun way to get around Vancouver because it gives you the opportunity to commute to another area while sightseeing. The SeaBus ferries are located in Vancouver Waterfront Station and Lonsdale Quay.
Rapid Bus: If you are looking to go somewhere fast, look no further than the Rapid Bus, which makes fewer stops and arrives in 10–15 minutes. However, there are only six routes.
NightBus: Need to go somewhere late? The NightBus operates at 1:30 am and stops at 10 routes in Vancouver. You can also request a stop in between routes for safety reasons.
Aquabus
Unlike the SeaBus ferry, the Aquabus is a privately-operated boat that takes you through different routes through False Creek, most notably, with stops at Granville Island and Yaletown.
Bicycles
Vancouver is a bike-friendly city, especially on the seawalls. You have the option to rent a bike or use one of the bike-sharing programs, Mobi and Lime.
Uber/Lyft
Not much to say but Uber and Lyft are available in Vancouver and they are always reliable in a pinch, albeit pricey.
Frequently Asked Questions
How many days do you need to see Vancouver?
I feel like 3–4 days is a good amount of time to see Vancouver, especially if you want to explore its natural beauty. You could get lost in Capilano Suspension Bridge, Grouse Mountain, and Stanley Park. Let's not forget about all the shops and eateries on Granville Island and Robson Street! And if you want to take a day trip to Whistler and/or Victoria (which I highly recommend), you're going to need an extra day. In fact, my cousins recommend that visiting Victoria requires at least two nights.
What is Vancouver best known for?
Vancouver is known for its stunning and diverse landscapes, from the rainforests of Capilano Suspension Bridge Park to the peaks of Grouse Mountain to the waters of Burrard Inlet, English Bay, and False Creek.
There are also amazing day trips you can take from Vancouver. Whistler is a world-class skiing and snowboarding destination. Victoria and Nanaimo are quaint, charming towns filled with gardens, ponds, and cute buildings.
Lastly, Vancouver is known for their robust art scene, from the galleries all over Granville Island to totem poles carved by the Squamish tribe.
What kind of food is Vancouver known for?
Vancouver is a melting pot of so many different cultures, so it shouldn't be a surprise that it's reflected in the diverse amount of cuisines. There is a high Asian population in Vancouver, especially in Richmond, so take your pick and chow down! From sushi buffets to boba shops to small pho restaurants, eating out at all the delicious hot spots is another one of the best things to do in Vancouver!
And with the proximity to the coast, it's no surprise that Vancouver has an abundance of fresh seafood (like that lobster tail pizza I mentioned in Steveston above, and the Steveston fish market).
And of course, you can't visit Canada without trying poutine!
Concluding Your 4-Day Vancouver Itinerary
This guide was made for the person who has only 4 days in Vancouver to spare and wants to maximize their time by hitting the coolest spots and underrated gems.
Whether you are a total foodie, a shopaholic, or an outdoor lover, you're going to never run out of things to do in Vancouver!
More 3-5 Day Itineraries
Look, as much as I would love more vacation time, that's not always feasible. So I try to make the most of my trips in the few days I have, and I always try to keep that in mind for my readers. So if your itchy feet are craving a trip to book and only have a limited amount of days, here are some other guides that will hopefully give you some travel inspo with where to go and what to see in those 3—5 days!
Love what you read?! Share the love and pin away!
Hannah is a travel writer, graphic designer, and the founder/editor of Hannah on Horizon. She is based in Sacramento, California, living with her husband and two adorable dogs. She shares tips on how to experience luxury travel on any budget, and how to maximize time at each trip or destination, no matter what your budget or amount of vacation time at work. She enjoys making you feel like you have visited each destination with her through her storytelling and informative writing style.