It may be blazing hot in NorCal (quite literally with the fires from a few weeks ago) and there is not a crunchy red leaf in sight, but that did not stop Cecilio and I from heading up to Apple Hill once the skies cleared up.
About 45 minutes away from Sacramento, Apple Hill Growers Association comprises of rustic farms, vineyards, wineries, pumpkin patches, and even a Christmas tree farm! Apple Hill is the hot spot to go to for Sacramentans in the fall. Whether you want to go apple or berry picking with your family, wine tasting with the girls, stroll around on a romantic date, there is something you are bound to enjoy.
Disclaimer: This post uses affiliate links, which means I make a commission if you book through this post. If you do decide to book using my links, thank you so much for your support!
Apple Hill's High Hill Ranch: History
Floyd Bolster bought 10 acres of apple trees in 1951 after he retired, in Camino, a small California town wedged between Placerville and Pollock Pines. He passed away 6 years later, and his son Gene took over the land to fulfill his father's dream of being a farmer.
In 1964, Gene Bolster, local grower; Dick Bethell, El Dorado County's pomology specialist and farm advisor; Ed Delfino, El Dorado County's agricultural commissioner: and Bob Tuck, a retired army officer, all united to form the Apple Hill Growers. It has been over 50 years and Apple Hill continues to attract people from all over the world.

OUR HISTORY | APPLE HILL
Because Apple Hill has over 100 attractions, I will be covering High Hill Ranch, the largest (at 155 acres!) and most popular farm in the area.
How to visit High Hill Ranch
Nearby Airports
Driving there
If you are coming from Sacramento or the Bay Area, you are going to want to merge onto the U.S. 50 freeway Eastbound. You are going to turn left onto Carson Road, then turn right onto Gaitlin Road.
Coming from Lake Tahoe and beyond? Take U.S. 50 freeway Westbound, then turn right at Sierra Blanca Road before you turn onto Carson Road.
You will park on the dirt roads, and there will be parking officers to guide you.
Hours:
High Hill Ranch is open from mid-August to mid-December, from 10 am–4 pm everyday of the week.
Where to stay:
There are four hotels in Placerville you can stay in, in different price ranges:
If you prefer to stay in Sacramento and drive out, I recommend these hotels:
Apple Hill's High Hill Ranch: Attractions & Activities
Chill (and fish) by the pond
There is nothing more relaxing than sitting peacefully on one of the benches, hanging out by this beautiful pond that overlooks the foothills. Have a cup of coffee or some apple wine, and have fun people watching (and duck watching!)
You can also go fishing in this pond. Next to the pond are pole rentals, where you can borrow a pole, get your daily permit and bait for $9. Catching a fish is $11/pound. Cecilio and I don't fish so we didn't do this. My dad used to fish so this was something he would've enjoyed.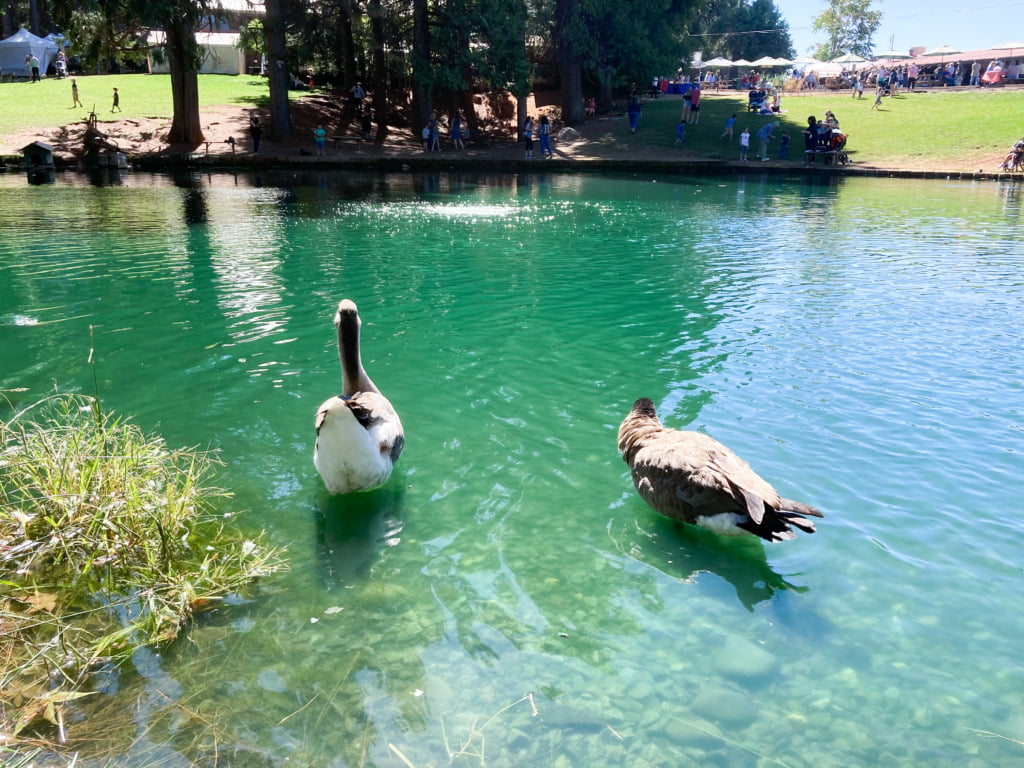 The pond is under a hilly area surrounded by trees where you can take some cool photos, especially the further away you are (so that no one photobombs, haha).
Grab a drink inside the wine shop
I know the sign below says that the wine shop is home to the cider shake, but it wasn't available inside. The cider shakes (which are non-alcoholic) were in a few other booths and stands. There were a few other drinks such as apple wine and apple beer. I ordered some apple champagne, which was only $7. It tasted like fresh, organic apple juice with that buzz I always chase after. There are a lot of patios outside, so Cecilio and I got to sit down while sipping our beverages.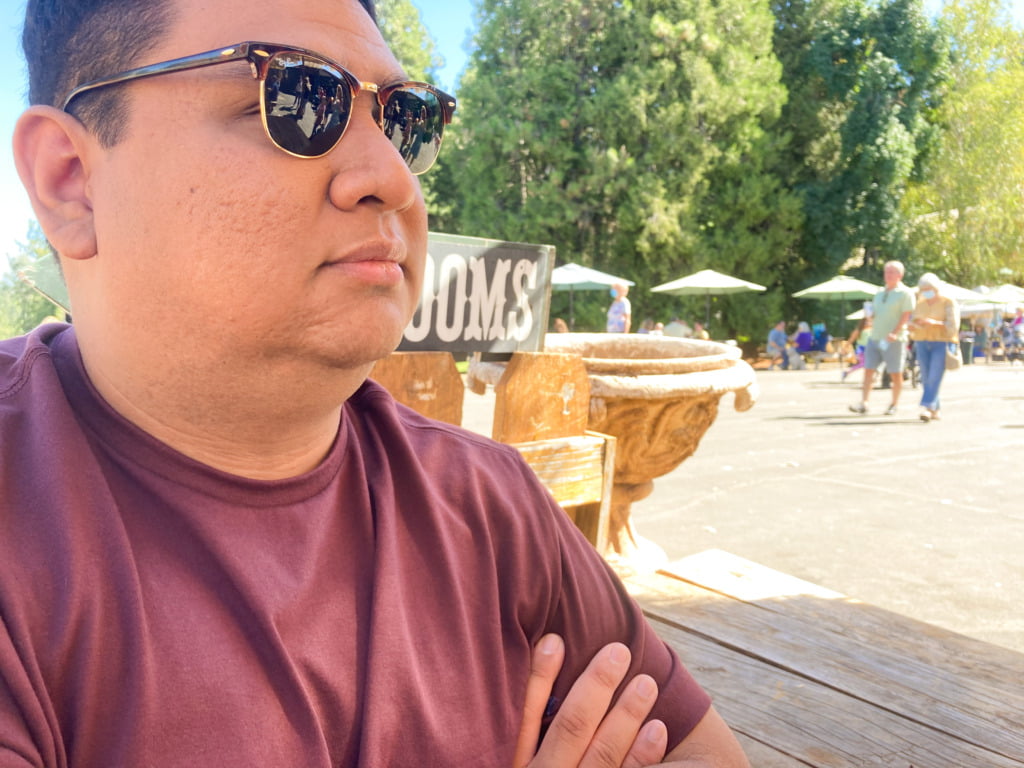 Walk around the Apple Stand (and don't forget the donuts!)
Like I mentioned earlier, you have to wait in line to get inside the Apple Stand because of COVID, and they only allow a limited amount of people. But once you get in, you can purchase whatever your heart desires: a variety of apples, apple wines, candy, seasonal produce, etc.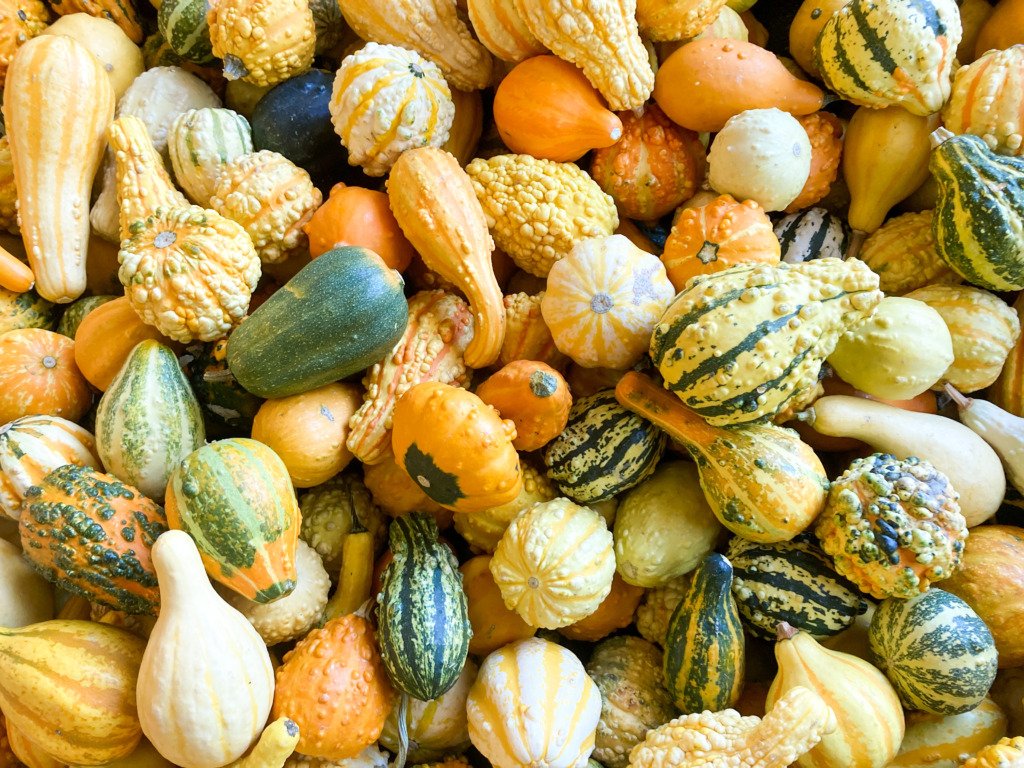 But do not leave the Apple Stand without getting some fresh apple donuts! There are four kinds: old-fashioned, crumble-topped, glazed icing, and cinnamon sugar. We purchased a dozen, so three of each for $16. And they were amazing. We finished it in 2 days (in my defense, I am having my "time of the month" cycle right now).
Window shop around the booths and crafts area
We didn't buy anything, but High Hill Ranch has a decent amount of gift shops and small businesses selling knick-knacks. I saw a few crafting booths too, like one for candle making (which sounds like so much fun!). I even saw a face painting booth for kids, which I was surprised given how close you have to be for that kind of activity.
If I had only one piece of advice to give you all, it's to not go on a weekend. Cecilio took a whole week off, and I took last Friday off, so Friday we went. There was still a decent amount of people, but we felt like we could breathe. The last few times we went during a weekend was PACKED. It's much harder to park, and you're constantly bumping into others.
If you want are living in or visiting Northern California during the fall, I highly suggest giving Apple Hill (specifically, High Hill Ranch) a visit. You can't beat beautiful, Instagrammable scenery, fresh apple and pumpkin pastries, and fun activities! Don't be surprised if you see me come back again in November.
Hannah is a travel writer, graphic designer, and the founder/editor of Hannah on Horizon. She is based in Sacramento, California, living with her husband and two adorable dogs. She shares tips on how to experience luxury travel on any budget, and how to maximize time at each trip or destination, no matter what your budget or amount of vacation time at work. She enjoys making you feel like you have visited each destination with her through her storytelling and informative writing style.