Every city has its own tourist spot for out-of-towners. Old Sacramento cannot be missed for visitors to California's capital. The waterfront area provides rich Gold Rush history, quirky gift shops, and easy access to the river and downtown. Old Sacramento has something for everyone from couples to young families! Even locals (like myself) frequent the area from time to time.
Disclaimer: This post uses affiliate links through GetYourGuide and Booking.com, which means I make a commission if you book through this post. If you do decide to purchase using my links, thank you so much for your support!
Brief History
How the city rose above the storms
Sacramento was founded by Samuel Brannan and John Sutter, Jr. in 1850. At the time during the California Gold Rush, the city became a central hub for miners in search of gold.
The original streets of Sacramento were built 10 feet below the level it is today. However, flooding has always been a problem here (and still continues to be). In 1850, Sacramento experienced its first major flood, and in 1852, the city was completely wiped out by the waters but was still saved. This prompted a proposal to raise the city, which was put off for a while. Sacramento then became California's capital in 1854.
Another major flood occurred in 1862, which finally led the city to be raised just above the original street level using thousands of cubic yards of dirt in order to save the city once and for all.
From slum to tourist spot
While the gold rush started declining, Sacramento became known for its agricultural industry. However, most of the district moved more east, eventually leading Old Sacramento to be abandoned. Around the 1960s, the city started refurbishing the area.
Today, Old Sacramento attracts around 5 million visitors per year.
Know Before You Go
Nearby airports:
Where to Stay:
Parking
While Old Sacramento has its own parking garage, there are a few parking garages nearby in the Downtown area.
Old Sacramento Garage
125 I St, Sacramento, CA 95814
Tower Bridge Garage
1289 Front St, Sacramento, CA 95814
DOCO Central Garage
414 J St, Sacramento, CA 95814
DOCO West Garage
325 L St, Sacramento, CA 95814
DOCO East Garage
579 L St, Sacramento, CA 95814
There is also street parking around the area from 10 am – 10 pm.
Activities to do
Grab a cup of joe at Steamers or Blueprint Coffee Project
Old Sacramento has two coffee shops suited to different tastes and preferences. If you like barebones coffee with traditional American dining, Steamer's is more your jam. It is also a classic Sacramento business that opened in 1994.
If you have bougie taste and have an affinity for all things Instagrammable, you're going to love Blueprint Coffee Project. It is a nonprofit owned and operated by Project Church next door. There's no food, but they do offer plant-based milk alternatives!
Window shop at Evangeline's
Evangeline's has two parts; a novelty gift shop and a costume shop adjacent. The gift shop, which is street level, sells cheeky merchandise (albeit, some a bit inappropriate; there's an 18+ section which I won't share here) dedicated to pinup ladies, Star Wars, anime, cannabis, and other references you can think of. It's kinda like Spencer's.
Right next to the gift shop is the 3-story costume mansion (2 stories above the gift shop). Even if you don't buy any of the expensive costumes, it's still fun to walk around each floor marveling at everything and walking up the elaborate staircase in a 19th-century building.
Each floor in the mansion has its own theme of costumes. The second floor is filled with Renaissance, gothic, 1920s, and scientist costumes. The third floor's costumes are fairytales, 1950s–1990s, and circus-themed. There is also a wall full of wigs, accessories, and makeup!
Into pop culture? Window shop even more at Stage Nine Entertainment
You can find all sorts of Disney and Hollywood memorabilia at Stage Nine, which is actually across the street from Evangeline's. If you love Marilyn Monroe, Audrey Hepburn, or Wizard of Oz, you'll find such merchandise here!
There are also Sacramento-themed souvenirs such as mugs, clothing, magnets, and postcards.
Stage Nine has a small room dedicated to all things Disney, such as art prints and sculptures. There is even a TV that shows Disney movies live!
If you have kids, they are going to love Toy Emporium, which is actually adjacent to Stage Nine!
Ride the train across Sacramento
You can take a 50-minute train ride overlooking the Sacramento River. Operated by the California State Railroad Museum (which is also in Old Sacramento), the Sacramento Southern Railroad transports you back to the early 20th century with its vintage locomotives. There is even a first-class section where you are served snacks and refreshments (which is what I want to do sometime). This excursion operates from April to September only.
Go on a river cruise
Hornblower's City Cruise takes you on a 90-minute trek on the Sacramento River. You can sit inside or go on the top floor deck. And yes, there's a bar. I did this during one of my friend's birthdays, and we left the tabs open to get multiple drinks. This cruise reminded me of the one I did in Seattle, except we didn't have a guide sharing Sacramento's history.
If you're local to Sacramento or you're visiting sometime in the future, you can easily book a cruise right now below if you'd like!
Candy taste to your hearts' content
Old Sacramento has multiple candy shops, but Candy Heaven allows you to taste the laffy taffy for free (my personal favorites are cinnamon roll, chocolate chip cookie dough, and mint). I always end up leaving with a bag of taffy and another bag of gummy sweets!
For homemade chocolates, popcorn, and ice cream, you're gonna want to check out Sacramento Sweets Co.
Try the Irish Coffee at Sean Finnegan's Pub
If you love caffeine-based cocktails like I do, you're going to enjoy the signature drink at Sean Finnegan's. It's a concoction of Tullamore Dew Whiskey, coffee, and heavy cream with cinnamon sprinkled on top using a stencil of Finnegan's logo.
There's also your standard bar food fare like nachos, pizza, and sandwiches.
If you happen to be in San Francisco, you're going to want to check out the Buena Vista, which is where Irish coffee started and what it's famous for. If it wasn't for Buena Vista, there would be no Finnegan's.
Grab a box of deep-fried goodness from Danny's Mini Donuts
Looking for a party in your mouth? You can find it over at Danny's, a small mini donut shop, and order from 4–30 of those bad boys. They come in flavors like chocolate, vanilla, cinnamon sugar, powdered sugar, and you can even order ice cream to go along with them! The donuts are lightly crispy while soft and warm inside. Best of all, they feel so light and don't weigh you down the way regular donuts do. And this is a Black-owned business!
Make art and support local artists at Atrium 916
Atrium 916 is a non-profit dedicated to creating art for the greater good of the local community and the environment. They offer an open art cafe where you can come in and paint to your hearts desire; the staff provides a canvas, brushes, paints, and stencils.
There are also original art prints, jewelry, and accessories hand-crafted and upcycled by local artists. Most of the earrings are made with inner tubes of a bike!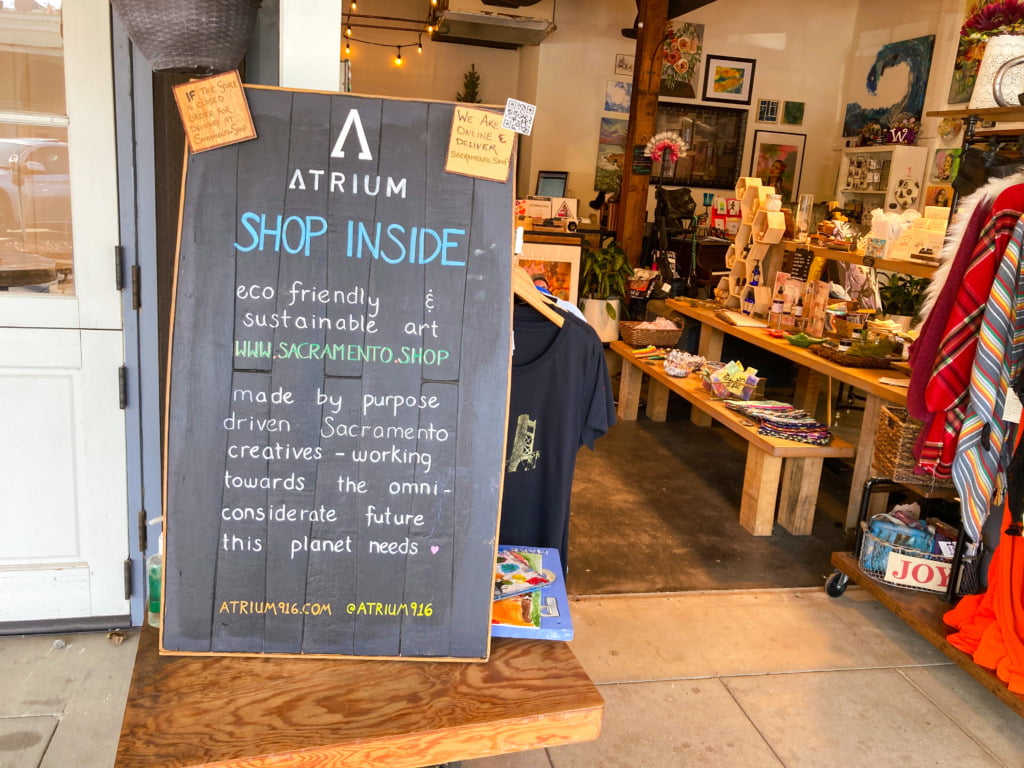 Cross the Tower Bridge over to West Sacramento
Right next to Old Sac is the Tower Bridge (basically Sacramento's Golden Gate Bridge), which connects to West Sacramento, a different city in a different county. West Sac's River Walk Park is great for a nice stroll, bike ride, or a picnic on a beautiful day. Because West Sac is a fairly small city, you can walk to The Bridge District where all the upcoming, hip restaurants are being built, or to Sutter Health Park for a River Cats game during the summer.
Walk over to DOCO for restaurants, shops, and entertainment
On the opposite side of Tower Bridge/West Sacramento is DOCO (Downtown Commons), filled with nightlife, restaurants, shops, and luxury hotels nearby. Golden One Center is nestled right inside, and is home to the Sacramento Kings and many concerts.
What used to be an old mall, DOCO replaced it with a walkable, lively atmosphere.
Be sure to bookmark this for your next Sacramento trip!
If you happen to be in the area, hopefully this post guides you on where to go and eat in Old Sacramento. No matter who you are or who you're with, there is something for everyone here!
Hannah is a travel writer, graphic designer, and the founder/editor of Hannah on Horizon. She is based in Sacramento, California, living with her husband and two adorable dogs. She shares tips on how to experience luxury travel on any budget, and how to maximize time at each trip or destination, no matter what your budget or amount of vacation time at work. She enjoys making you feel like you have visited each destination with her through her storytelling and informative writing style.