Just like with nude lipsticks, it's difficult to find nude blushes if you aren't fair-skinned.
I'm a bit of a blush addict, but I tend to reach for bright pinks, berries and corals because those suit my complexion the most. But what about an everyday nude blush to completes that "no makeup"-makeup look and gives you an outdoorsy flushed look? You know…my skin but better? Not to worry; I have 3 BEAUTIFUL blushes that will make your cheeks look glowing!
On my photo, this blush looks like a bright pink (it was the lighting, I swear and I was editing it to the best of my ability!) But in person, it's a dusty medium pinkish-nude. The texture is so soft, smooth and bouncy (for a powder blush too!) it's it's so so pigmented. This gives you a warm flush, and it is really long lasting. I would say that this has more of a satin finish.
If you are more into liquid or gel blushes, I highly recommend the Glossier Cloud Paint in "Dusk". Described as a brownish nude, for those with medium/tan skin like mine, it shows up more as a peachy nude. Nevertheless, it's still a gorgeous blush, especially for the spring. It's a little pigmented when you first squeeze it out from the tube, but it sheers out once you apply it on your cheeks and start rubbing it in. It's buildable to however much pigmentation you want, but a little goes a long way so don't overdo it. I like squeezing out 4 tiny dots per cheek and blending it in with my fingers.
I've never tried a loose powder blush, so I was worried that it was going to look cakey on me. Not so with this! It applies like a dream and looks oh-so-natural. It's light/medium brown with peach undertones. I've been wearing this everyday for work, actually. I just subscribed to Goodbeing, a green beauty box and I received this baby from this month's box.
To see what the boxes look like swatched…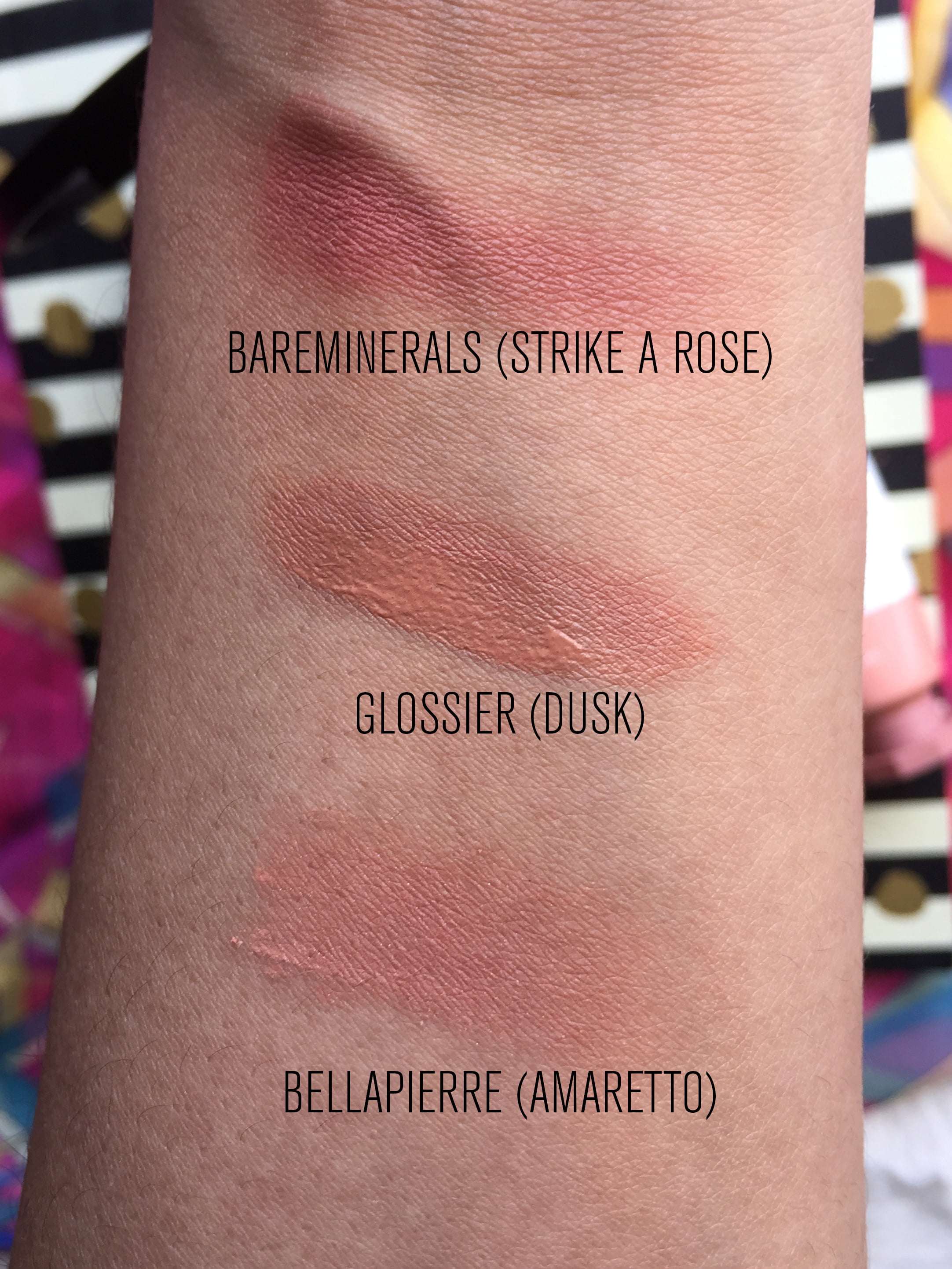 What are your favorite nude blushes?
Hannah is a travel writer, graphic designer, and the founder/editor of Hannah on Horizon. She is based in Sacramento, California, living with her husband and two adorable dogs. She shares tips on how to experience luxury travel on any budget, and how to maximize time at each trip or destination, no matter what your budget or amount of vacation time at work. She enjoys making you feel like you have visited each destination with her through her storytelling and informative writing style.