Yesterday may have been Valentine's Day, but my real "love" day with Cecilio happens to be today, our 9-year anniversary of togetherness (along with our wedding day, March 18, 2017). Long story short, I was out and about on Valentine's Day in 2009 and SO happy to be single after getting out of a bad relationship 5 months prior. Cecilio and I started developing a budding friendship. I came home past 1 a.m. with a teddy bear and Hot Cheetos on my doorstep. I called him out of suspicion, and he told me to go outside. There he was, with a guitar, playing "True Love Waits" by Radiohead. That was when we made it official. So in honor of our 9 year anniversary, get to know the man who is constantly featured in my blog(s): my best friend, my muse, my soulmate 🙂
1. We met on MySpace in July 2007. We both graduated high school and we were both joining our community college newspaper, after spending senior year getting involved in each of our respective high school newspapers. He asked on the message boards about it, and I responded and he added me as a friend on MySpace. A month later I added him on Facebook. I was in a relationship at the time so this was all platonic and I thought nothing more of it. We did become good friends afterwards, and the rest is history.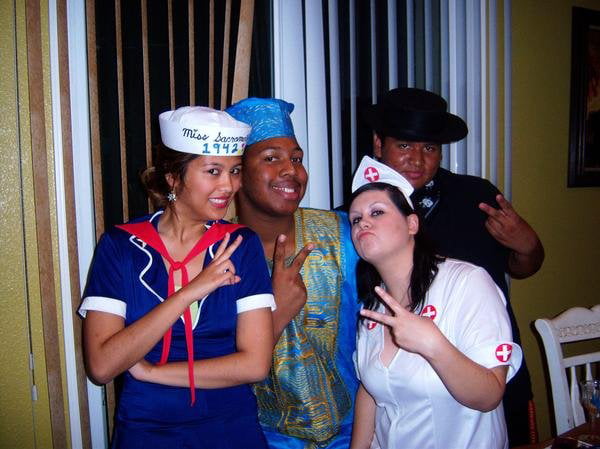 2. After community college, Cecilio transferred to UC Davis and I transferred to CSU Sacramento (GO Hornets!!)
3. He has worked for 2 different news stations in the Sacramento area.
4. At one of the news stations he worked for, one of the reporters ended up being the PR lady (and my boss) when I worked at the state fair. He didn't talk to her all that much, but she got to know me really well and she remembered him when I mentioned him!
5. He has 2 sisters, and his dad and grandpa have 3 sisters. So he is the 3rd generation of being the only boy in the family. I have 2 sisters. So I wouldn't be surprised if we end up having mostly girls in the future.
6. We do not have a big height difference (I am 5'4" and he is 5'8")
7. He is a huge fan of Star Wars and Star Trek.
8. Our first concert together was in SF to see In Flames, a metal band he loves.
9. His favorite foods are pizza, burgers, donuts and gummy bears.
10. He does not drink, and the very few times he has, he hated it.
11. We have 2 dogs, Aris and Chewy. He also has 3 cats at his parents' house: Precious, Milky and Nihei. At my parents', I have 2 other dogs: Flora and Natasha.
12. We are only 9 months apart in age.
13. He loves watches and sunglasses like I love makeup.
14. Lately, we have been watching a lot of cooking and food-related shows such as Chopped and It's Supper Time!
15. Actually, before we first met on Myspace (see #1), I read his little pieces in the local newspaper, The Sacramento Bee, before during our senior year in high school. The Bee had a "Sidetracks" section, which was a page written for and by teenagers. There were 2 columns about High School Musical (oh those were the days!) and he wrote the piece about disliking it. He also wrote a sad, cynical column on Valentine's Day. I remember reading both of those, not even knowing it was him at the time and that he would be a big part of my life!
16. Together, we have gone to SF (a bazillion times), Lake Tahoe, Reno, LA, Seattle, Vancouver, NYC (where he proposed!), and Playa del Carmen (our honeymoon). I can't wait for us to travel to more places, and I really hope so soon!
17. He is a huge fan of the Oakland Raiders, Oakland A's and Golden State Warriors (before everyone else started jumping on the bandwagon).
18. We both love the beach. He loves the snow too, but I just like looking at it and not being in it. But we could lay under the sun or swim in the water for hours.
19. Lately we've been playing Candy Crush on the iPad, and every time one of us loses, he blasts that losing song (the song that sounds like it came out of a Western movie).
20. I'm amazed with how he can get up as early as he does everyday to go to work at 6 a.m. (and walks the dogs too!) But hey, at least he gets off early (at 3 p.m.!)
21. Unlike most couples, I (as the woman) am the messy one among us. He is a stickler for cleanliness (though nowhere near as much as my mom is, thankfully).
22. Though we still eat out every once in a while, we have been cooking A LOT more at home. We've made different kinds of pasta, soups, roasted vegetables, chickpeas, burgers, smoothies, cookies, etc. I do want to do more food-related posts and incorporate recipes in this blog more.
23. As a Christian, I've always associated my faith with having to be Republican. But he taught and showed me that you can be a liberal Democrat and believe…in fact, the liberal values are more in line with Jesus' teachings (love thy neighbor, feed the poor, etc.)
24. Every weekend, he makes scrambled eggs (sometimes with bacon or ham, sometimes with spinach) and either pancakes, waffles or French toast.
25. He's a huge fan of Stephen King's books.
26. He dislocated his right shoulder playing badminton in high school. A few years later, he dislocated it again after his best friend's sister's wedding.
27. He had a dream about a giant homicidal turtle 10 years ago. Since then, he's been deathly afraid of turtles.
28. We love giving each other massages because it's a way to express love and affection (especially because his love language is "touch"). Plus, there's nothing like kinking out those tight knots in your body from sitting all day.
29. He has been there throughout my worst of times: my first hospitalization visit in January 2011 (at a hospital I didn't even go to but had to be rushed there because I had a fever of 104°), my hospital stay for a week from a stroke/seizure, and my dad's death in 2013.
30. Every time we drive home from the Bay Area, we see this big sign of the C&H Sugar logo because their headquarters is located in Crockett, a small city in East Bay along the Carquinez Bridge. We had our engagement photos taken in random areas in Crockett and at different parts of the C&H Sugar building.
Hannah is a travel writer, graphic designer, and the founder/editor of Hannah on Horizon. She is based in Sacramento, California, living with her husband and two adorable dogs. She shares tips on how to experience luxury travel on any budget, and how to maximize time at each trip or destination, no matter what your budget or amount of vacation time at work. She enjoys making you feel like you have visited each destination with her through her storytelling and informative writing style.