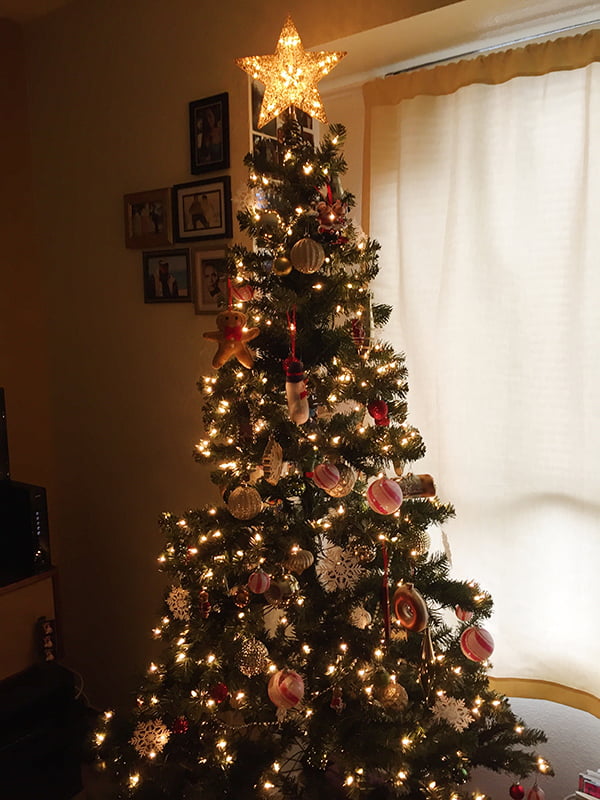 Merry Christmas Eve everyone!
One of the things I love about having my own apartment is being able to decorate it how I want it. Cecilio and I have lived at home with our families prior to getting married, and I've just been extra excited to decorate for the holidays!
Even though Christmas is one of my favorite holidays, I hate winter and cold weather, so decorating and lighting candles almost every night gives our place a sense of warmth and "hygge" (Danish word for comfort and happiness). It has been fun going shopping and creating a vision of how we wanted our apartment to look during the holiday season, and adding festive elements here and there. Our apartment is small (670 square feet), so we could not decorate too much due to space constraints (and because we can't really drill any holes). We purchased a fake tree from Walmart come in 3 parts you assemble together. It is 6'5″, and yes I forced it to make it fit in our tiny space! All we had to do was move our coffee table a little bit. The tree also came with built-in lights (I prefer the white lights over the colored ones: in my opinion, they are classier looking).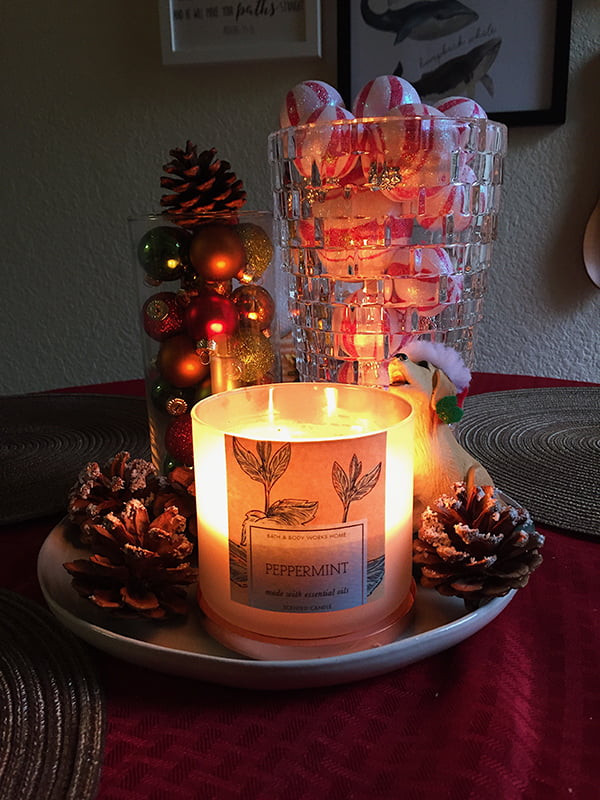 I am proud of this little centerpiece I created for our dining table, placing ornaments (such as these ultra cute ones) in the vases and adding pinecones. I love the Bath and Body Works Peppermint 3-wick candle. I also have their Fresh Balsam and Myrrh Candles, but the Peppermint is the strongest scented one. I will say though that Bath and Body Works' candles burns really quickly and I'm halfway done with the Peppermint and Fresh Balsam candles.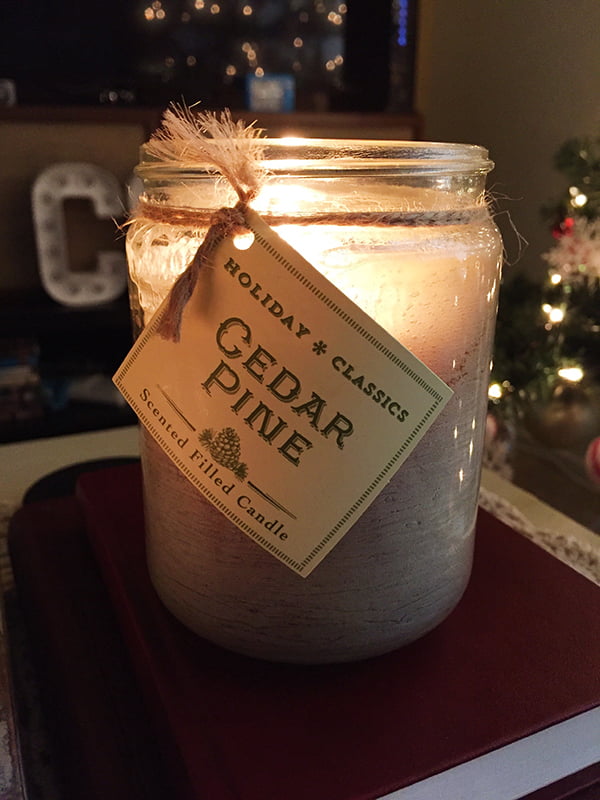 I created this centerpiece for the coffee table with peppermint shaped ornaments from Hobby Lobby, pinecones, a snowman figurine and a fake fir plant over fake snow to give the illusion of a snowy scene. Since the centerpiece is right next to the tree, I put the Bath and Body Works Fresh Balsam candle and this Cedar Pine candle from Cost Plus World Market to add that Christmas tree scent. I've grown up with real Christmas trees my whole life (my mom and I decided to buy a fake tree for the 1st Christmas since my dad passed away almost 5 years ago, since it was easier for us), so to have a tree without that wonderful, earthy scent feels incomplete. Cecilio, on the other hand, has always insisted on a fake tree because it's better for the environment. His family has chopped up real trees in the past few years though.
I'm in love with our ornaments! One of my favorite has to be the burrito ornament above (for me). I also bought a donut ornament for Cecilio. We also bought the Mickey and Minnie ornament as a souvenir from our Disneyland trip.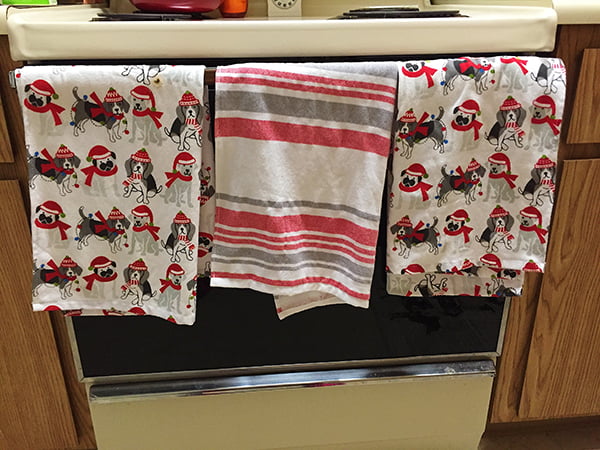 I've always wanted a nativity scene for Christmas, so when I found this one at Target, I had to go get it! Notice how I placed the myrrh candle right next to it: because in the Bible, when the 3 wise men traveled far to see Jesus as a baby, they sent Him gifts: gold (representing Him as King), frankincense (representing Him as a deity) and myrrh (representing His death on the cross).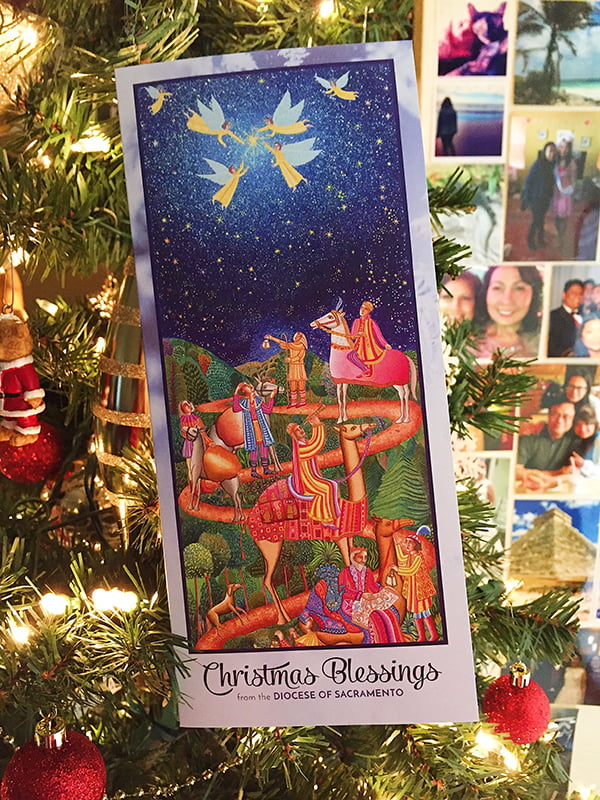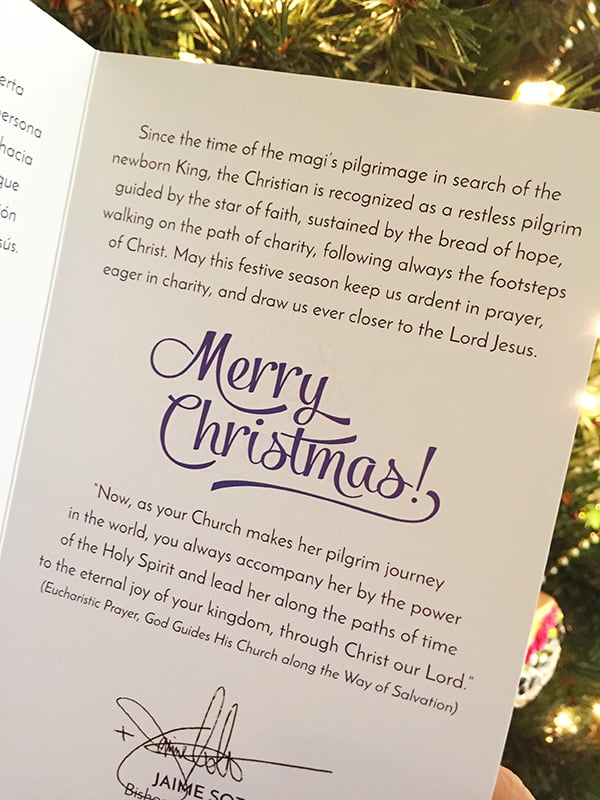 Finally, my stepdad gifted us this stunning Santa figurine from Berghold Vineyeards, the winery he and my mom go to and where we hosted her surprise 60th birthday party a few weeks ago. The owner handmade all of the Santa figurines (even the life-sized ones that cost up to $5000!)
I'm loving our decor. After Christmas, I will probably shop for some more items for next year's Christmas since it will go on sale.
What are your plans for Christmas? Cecilio and I have our tradition of celebrating Christmas Eve with my family: we have a formal-ish dinner and then open our presents at midnight. Then on Christmas morning, we go to his families' house to open our presents there!
Hannah is a travel writer, graphic designer, and the founder/editor of Hannah on Horizon. She is based in Sacramento, California, living with her husband and two adorable dogs. She shares tips on how to experience luxury travel on any budget, and how to maximize time at each trip or destination, no matter what your budget or amount of vacation time at work. She enjoys making you feel like you have visited each destination with her through her storytelling and informative writing style.