If you're looking for an expansive list of things to do in Baguio, you've landed in the right place. This guide will include attractions, activities, food, accommodations, and more to complete your whole trip.
Baguio City is a top destination in the Philippines for all sorts of travelers. You can be a family, solo backpacker, or honeymooning couple and there will be something for you to do and enjoy for sure. Dubbed the Summer Capital of the Philippines, it's one of the best places to go if you want to enjoy cooler weather amidst the Philippines' humid and tropical climate.
In this guide, I share with you some of the top things to do along with other good-to-know details when you're planning your Baguio trip.
Generally, you should visit Baguio anytime for the weather, the activities, and the food. The cooler weather is pretty self-explanatory, but the attractions and food deserve a deeper dive. So let's look at some of the best places to eat and things to do in Baguio City!
Disclaimer: This post uses affiliate links, which means I make a commission if you book through this post. If you do decide to book using my links, thank you so much for your support!
Things to do in Baguio
Visit Burnham Park
Burnham Park is the premier green space in Baguio City and a favorite among locals and tourists alike. The park's name takes after the American architect Daniel Burnham, who designed the city's master plan.
Some of the things you can do there include:
Taking leisurely strolls along well-maintained pathways
Rent a rowboat for a peaceful ride on the man-made lake
Have a relaxing picnic with family and friends
Rent a bike or pedicab and peddle your way around the park
Explore Mines View Park
Some of the most breathtaking panoramic views are in Baguio Mines View Park. The cliffside park has a panoramic view of some of Baguio's most scenic mountain ridges and the abandoned copper and gold mines of the Cordillera region. From this vantage point, you'll see the sprawling mountains, surrounding pine forests, and the nearby mining town of Itogon.
Aside from the stunning vistas, Mines View Park has a long area for souvenir shops and stalls. You can buy all sorts of traditional Cordilleran handicrafts, clothing, preserved food, and accessories there. It's a popular spot for taking photos and immersing oneself in the rich culture of the Cordillera region.
Strawberry Picking in La Trinidad
About thirty or so minutes away from Baguio, there's a town named La Trinidad. There, you'll find a paradise for fruit lovers, particularly strawberries. The region's cool climate and fertile soil make it an ideal place for cultivating these juicy, red berries.
At the strawberry farms in La Trinidad, visitors can experience the thrill of picking fresh strawberries straight from the fields. Besides strawberries, you can also find other locally grown produce, such as fresh vegetables and fruits, adding a delightful touch to your Baguio experience.
Session Road Walk
Session Road is the bustling commercial hub of Baguio City that stretches from the public market to Burnham Park and is lined with an array of shops, restaurants, cafes, and boutiques. Taking a leisurely walk along Session Road allows you to soak in the city's vibrant atmosphere, as you pass by various stores selling souvenirs, local delicacies, and crafts.
The iconic street is also home to several historical landmarks and modern establishments. This makes it a perfect spot for people-watching and experiencing the city's dynamic energy.
The Mansion and Botanical Garden
The Mansion, located along Leonard Wood Road, is the official summer residence of the President of the Philippines. The elegant white mansion boasts beautiful gardens and impressive architecture, making it an attractive sight to see from the outside. Although the mansion itself is not open to the public, visitors can take pictures from the gate.
Camp John Hay
Once a rest and recreation facility for the United States Armed Forces, Camp John Hay is now a historical and leisure destination in Baguio. This former military base is known for its charming log cabins, lush pine forests, and serene atmosphere.
Visitors can take a leisurely walk around the camp, enjoy a round of golf on the scenic course, or simply relax in the midst of nature. Camp John Hay also offers various recreational activities such as zip-lining, horseback riding, and eco-trails, providing an ideal escape for nature lovers and outdoor enthusiasts.
Go on a Guided Tour
Outside the Philippines, Baguio may not be as well-known as Manila, Palawan, or Boracay. But Baguio has its own charm that you can't miss! Going on a unique guided tour is one of the most fun things to do in Baguio. Check out these bespoke tours below:
Breathe Baguio Join-In Tour: You'll get roundtrip transfers from your hotel visiting attractions such as Tam-awan Village, The Mansion, Botanical Garden, and more! You also will be able to ride a jeepney (a colorful minibus in the Philippines, which is also the most popular form of public transportation there).
Baguio Strawberry Tour: Baguio is renowned for its strawberries, so it makes sense to try some of the freshest candy-like fruits in the area. You'll go strawberry picking at different farms, and visit Mines View Park and Camp John Hay. Also, don't forget about that yummy strawberry ice cream with a pink cone!
Baguio Bike Tour: Get some exercise and explore Baguio quicker than if you were to walk! This bike tour caters to both beginner and experienced cyclists. You'll get to cycle by attractions such as Botanical Park, Wright Park, and Camp John Hay.
Baguio Instagram Walking Tour: Did you even go to Baguio if you didn't have the photos to prove it? A tour guide will lead you to some of Baguio's prettiest nature spots and murals, where you can strike a pose and make your friends minty green with envy!
Where to Eat in Baguio
Outlook Steak and Grill
Outlook Steak and Grill is a must-visit dining destination in Baguio if you're a steak enthusiast. Located on the hillside overlooking the city, this restaurant offers a fantastic dining experience with stunning panoramic views.
They specialize in serving delectable steaks cooked to perfection, along with a variety of grilled dishes and flavorful sides. The combination of mouthwatering food and a breathtaking vista creates an unforgettable dining experience.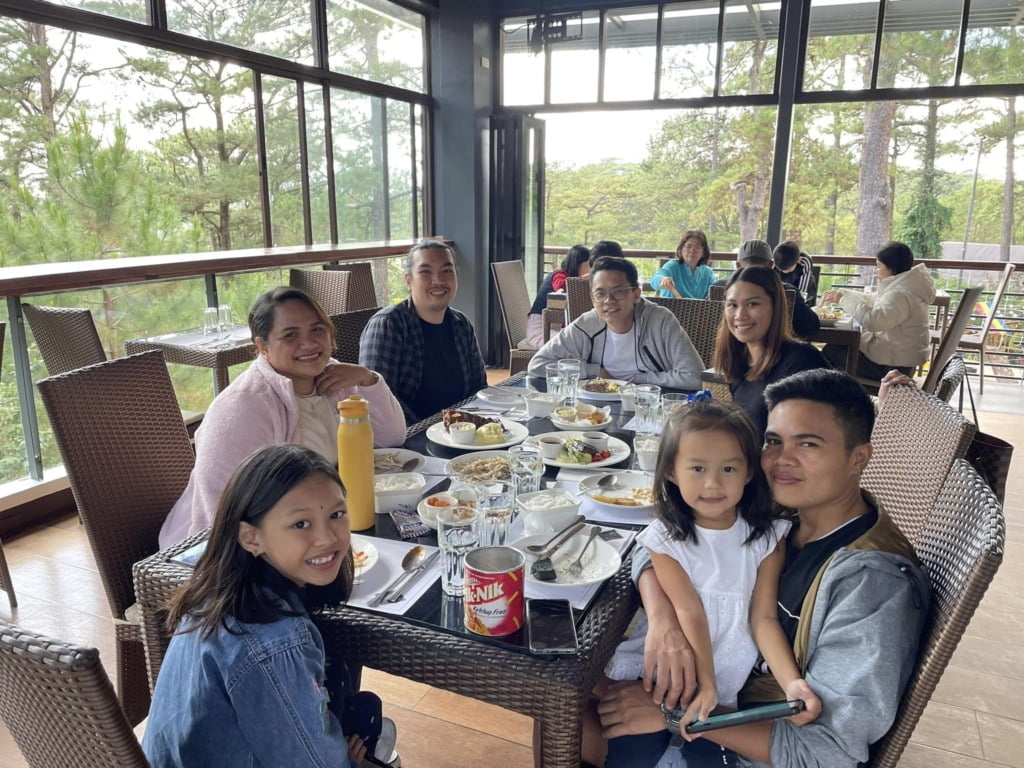 Good Taste
Good Taste is a favorite among both locals and tourists for its budget-friendly prices and generous servings. They serve a mix of Chinese and Filipino dishes, with their specialties including beef mami, pork chop, and buttered chicken.
Their branches are often busy with lines that snake around the entrances, but the delicious food makes it worth the wait. I highly recommend you get to the restaurant at least 30 minutes before lunch or dinner.
Choco-late de Batirol
For a taste of the classic Filipino chocolate drink tsokolate, Choco-late de Batirol is the place to go. They serve rich and creamy hot chocolate paired with traditional local delicacies like suman (sticky rice cakes) and bibingka (baked rice cake wrapped in banana leaves).
Hill Station
Set in a restored American colonial house, Hill Station offers an elegant and charming dining atmosphere. Their menu features a fusion of European and Asian cuisines, with dishes like roast beef, grilled lamb, and local vegetable salads. It's a great place for a romantic dinner or a special celebration.
Miners Cabin Cafe
Nestled amidst the picturesque pine trees, Miners Cabin Cafe offers a cozy and rustic atmosphere that perfectly complements its menu. Known for its hearty breakfast options and all-day American comfort food, this cafe is popular for those seeking a warm and inviting meal. From fluffy pancakes and gourmet omelets to burgers, sandwiches, and pasta dishes, Miners Cabin Cafe has something to please every palate.
How to Get to Baguio from Manila
There are plenty of ways to get to and around Baguio, but my top recommendation would be to drive there. If you don't have a car, you can find rentals from Clark or Manila that will cost around P1,000 to P1,500 ($18.26 to $27.39) per day.
If you're traveling in groups, this cost should pretty much match the price you'll end up paying if you take a bus to Baguio and get around by Taxi or Grab. Plus, fighting for a taxi will be a real battle when you're in Baguio given how densely populated the city is.
By car
So how do you drive to Baguio City from Manila? Here's a quick guide that should easily get you there.
Take the North Luzon Expressway (NLEX) — If you're starting from Manila, head north and take the NLEX. This expressway will lead you to Subic-Clark-Tarlac Expressway (SCTEX).
Continue on SCTEX — After NLEX, you'll enter SCTEX. Follow the signs for Tarlac City.
Enter Tarlac City — Once you reach Tarlac City, continue driving on the SCTEX until you see the exit for Tarlac-Pangasinan-La Union Expressway (TPLEX).
Take TPLEX — Take the TPLEX and follow the signs to Rosario, La Union.
Exit TPLEX in Rosario — At Rosario, take the exit to leave TPLEX and enter Kennon Road.
Drive up Kennon Road — Kennon Road is one of the major roads leading to Baguio. It's a picturesque route with sharp turns, so drive carefully and be prepared for slow-moving traffic during peak seasons.
Arrive in Baguio — Kennon Road will lead you directly to Baguio City. Once you're in the city, follow the signs to your desired destination or accommodation.
Flying
As of December 2022, Baguio's airport, Loakan Airport (BAG), opened for commercial flights. You can fly in from Manila's airport, Ninoy Aquino International Airport (MNL) straight to BAG, which is only a 45-minute flight.
Where to Stay in Baguio
There are several hotels in Baguio to choose from. Here are your top options based on your budget:
Budget hotel: City Center Hotel
City Center Hotel is a no-frills accommodation located on a vibrant corner street in Baguio City. Its convenient location puts guests within a 9-minute walk from the picturesque Burnham Park and just 3 kilometers from the tranquil Baguio Botanical Garden.
The hotel offers pared-back rooms with simple and functional furnishings. Guests can enjoy complimentary Wi-Fi to stay connected and flat-screen TVs for entertainment. For larger groups or families, there are upgraded rooms that can sleep up to 3 people and family rooms accommodating up to 5 people, ensuring a comfortable stay for everyone.
City Center Hotel is the perfect option for travelers looking for a hassle-free and convenient place to stay in the heart of Baguio City. It's relatively close to various restaurants and popular tourist spots such as Burnham Park. The hotel offers a comfortable and easily accessible stay, ensuring an enjoyable experience during their stay in the city.
Mid-range hotel: The Forest Lodge at Camp John Hay
Forest Lodge at Camp John Hay is a laid-back hotel nestled within the serene grounds of the Camp John Hay resort. Surrounded by a fragrant pine forest and offering views of the majestic Cordillera mountain range, this hotel provides a tranquil retreat for travelers seeking a peaceful escape.
The hotel is only 5 kilometers from the expansive Burnham Park, making it accessible to various attractions in Baguio City.
The rooms at the Forest Lodge are straightforward yet comfortable, designed to cater to the needs of every guest. Each room is equipped with cable TV, a mini-fridge, and tea and coffee-making facilities. For an even more enjoyable stay, some rooms feature verandas, allowing guests to take in the refreshing mountain air and picturesque views.
Luxury hotel: The Manor at Camp John Hay
Manor at Camp John Hay is a refined hotel nestled within the historic Camp John Hay resort, originally an American military recreational complex spanning 246 hectares of forested, hilltop terrain. This colonial-style building exudes an air of sophistication and elegance, providing guests with a memorable stay in Baguio City.
Each room features Wi-Fi connectivity, flat-screen TVs, minibars, and tea and coffee makers. The rooms showcase either forest or garden views, allowing guests to immerse themselves in the natural beauty of the surroundings. Additionally, 1- and 2-bedroom suites come equipped with microwaves, sofabeds, and separate living rooms, ensuring ample space and convenience for families or groups.
A variety of amenities and facilities await guests at The Manor. The wood-paneled restaurant serves delectable dishes in a cozy and inviting ambiance, while the piano bar provides a relaxing setting for drinks and entertainment.
RELATED: Before planning your next trip, be sure to check out these affordable luxury accommodations where you can live lavishly and sleep comfortably on a budget!
Best Time to Visit Baguio
The best time to visit Baguio is during the dry season, typically running from November to April. The temperature during these months is cooler and more comfortable compared to the rest of the year, making it an ideal escape from the heat in other parts of the Philippines.
Here are some reasons why the cool season is the best time to visit Baguio:
Milder Weather — Baguio is often referred to as the "Summer Capital of the Philippines" due to its cool climate. During the dry season, the temperature ranges from 15 to 26 degrees Celsius (59 to 79 degrees Fahrenheit), providing a refreshing and relaxing atmosphere.
Clearer Views — The cool season usually brings clearer skies, allowing for better views of Baguio's picturesque landscapes, mountains, and valleys.
Strawberry Season — If you're a fan of strawberries, visiting during the dry season gives you the opportunity to enjoy the peak of strawberry season in nearby La Trinidad, where you can experience strawberry picking and savor fresh strawberries and other produce.
However, it's worth noting that the cool season is also the peak tourist season in Baguio, so the city can get crowded, especially during holidays and long weekends. We visited Baguio around December, but this was one of the busiest seasons of the month. Traffic during this time was denser than usual, especially when driving around the SM Baguio area.
If you prefer a quieter and more budget-friendly experience, you might consider visiting during the shoulder seasons.
Is It Safe in Baguio?
Baguio City is generally considered a safe destination for tourists and travelers. Numbeo grades Baguio at a "Very High" rate of 86.22 on its 100-point scale during the daytime. It's less safe at night, with a score of 58.
But as with any travel destination, it helps to take some precautions to ensure a safe and enjoyable experience:
Be Aware of Your Surroundings — Like in any unfamiliar place, you should be aware of your surroundings and exercise caution, especially when you're in crowded areas or at night. Always closely monitor your belongings to avoid petty theft or pickpocketing, which leads to the next tip.
Secure Your Valuables — Keep your valuable items, such as passports, money, and electronic devices, in a secure place, like a hotel safe. Avoid using expensive jewelry or gadgets in open and public areas like Burnham Park, Session Road, or Mines View Park.
Use Reliable Transportation — Only opt for reputable taxis or rideshare services like Grab when using public transportation. If you can, we highly recommend renting a car from Manila or Clark as we did so you can also safely get around.
Travel in Groups — It's often safer to explore the city with a companion or in a group, especially if you plan to go to less crowded or remote areas.
Other Things You Need to Know
These are some of the other things that you should keep in mind when traveling to Baguio:
Altitude and Health Considerations
Baguio's altitude is 1,540 meters (5,050 feet) above sea level. If you're not accustomed to high altitudes, you may experience symptoms of altitude sickness, such as shortness of breath, headaches, or dizziness. It's essential to take it easy during your first day in Baguio, stay well-hydrated, and avoid strenuous activities until you acclimate to the altitude.
Traffic and Parking
Baguio can experience heavy traffic, especially during peak tourist seasons and holidays. Be prepared for slow-moving traffic, particularly on popular routes like Kennon Road. I highly recommend that you use cars with automatic transmissions to avoid wearing out your knees especially when you come to dead stops at sloped roads.
Bring Warm Clothing
Even during the dry season, Baguio's weather can be cool and chilly, especially during the evenings and early mornings. Pack warm clothing, such as jackets, sweaters, and long-sleeved shirts, to stay comfortable during your visit.
Conclusion
There you have it! This full guide to the best attractions, places to eat, hotels to stay at, and more should help make your next trip to Baguio fun-filled and memorable. We greatly enjoy going to Baguio as a family and we really believe that you will too. Happy travels and stay safe!
Love what you read? Share the love!
Patrick is a writer and digital marketing consultant based in Bacolod City, Philippines. He co-owns the blog, Embrace the Epic, where he and his wife Ces share their travels as they travel as work-from-anywhere entrepreneurs. They have two daughters, Alexa and Sam.