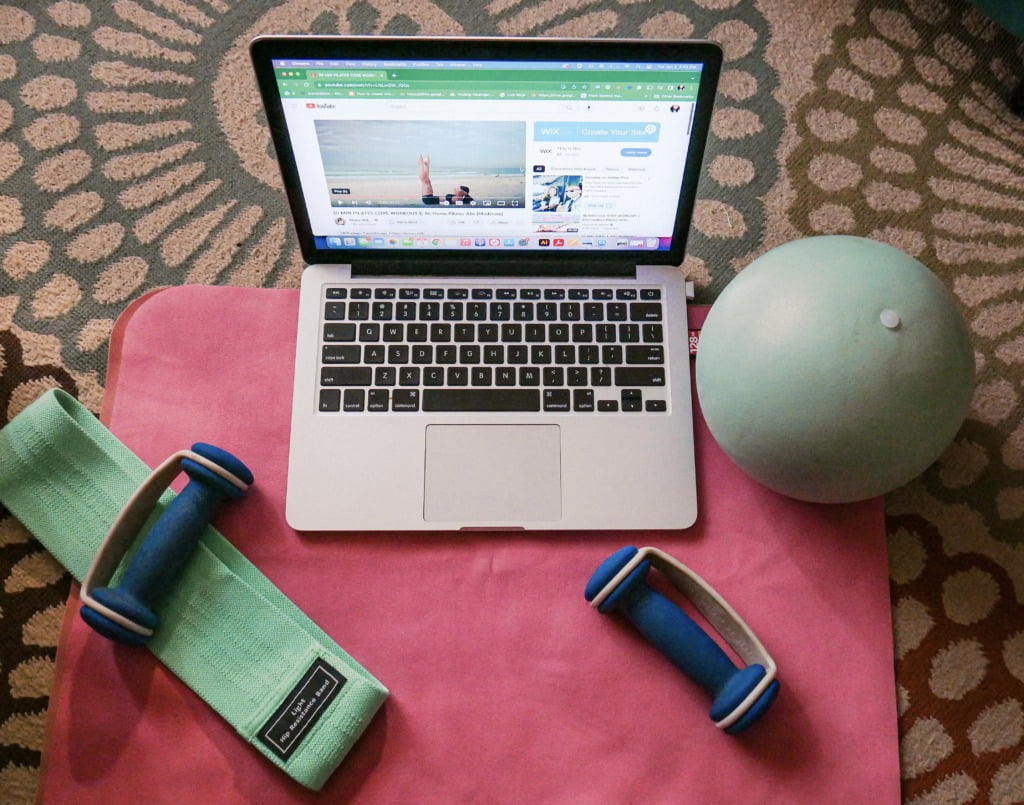 New Year, New Me…
It's that time when the gyms and boutique fitness classes take advantage of the crowds bursting in and selling their new year special, with stipulations in the fine print. Oh, they push out these offers knowing full well that within a few weeks, those same people will stop attending but will forget to cancel their memberships. In turn, the gyms and fitness classes rake in more money for themselves.
In fact, a study from U.S. News reports that 80% of these New Year's gym-goers quit their goals by February.
Now, I'm not really a gym person. But I used to be a member at expensive boutique classes like Pure Barre, 9Round, or Club Pilates that would run from $139–$200/month (okay, 9Round was only $70/month and it got canceled because I joined 2 months right before the pandemic started). And I would justify the cost because I had an instructor telling me from start to finish what to do vs. figuring things out on my own at a gym. I needed that motivation. And there would be fees if you canceled hours before the class started. But I would still end up canceling last minute and eating the cost.
That $200 could've been spent on a 4-star hotel in Mexico or the Carribbean (or even Europe during off-season!). Multiply that by 12, and you're throwing away $1,680—$2,400 a year. I could've bought 2–3 round trip tickets to Australia for that amount! And that doesn't include the memberships; you can end up spending more on gas, parking, bougie workout clothes, etc. A lot of these classes and gyms sell merch, and when I would forget to bring a pair of barre socks, I would have to buy them and it would cost $12–$16 for a pair.
Sure, I love how I looked and felt through those classes, but I aim to develop the self-discipline to work out from home. And that's where YouTube workouts come in. There are a plethora of solid exercise channels on YouTube that are free. And they can help you get in shape, reach your goals, and benefit you mentally.
The best (and most travel-friendly!) workouts on YouTube in 2023
You can save so much money by working out to YouTube videos. It takes a while to sift through the best ones, but that's where I come in and share the workout channels that will benefit YOU and your lifestyle. I searched for travel-friendly channels where there is no minimal or no equipment required. At most, the equipment is easily portable, such as a foldable yoga mat, resistance bands, and a pair of Bala Bangles that act as wrist or ankle weights (but more stylish!).
Here are some of the best workouts on YouTube (some I've tried, some that others rave about). These workout channels will help you stay physically and mentally healthy throughout the year. They will also serve you well when you're walking and exploring nonstop. And you can easily do them in your hotel or guesthouse!
Move with Nicole
I've done Pilates before, but working out to Move with Nicole has made me fall in love with the practice. Nicole guides you through a traditional Pilates flow, but she also has HIIT, yoga and barre fusion videos. Her voice and demeanor is calm and encouraging, which helps you get through the burn. You will be sore the next few days, but you get stronger and get through her videos with ease overtime.
Her workouts range from 15–60 minutes, so you can always pop in a shorter workout when you don't have a lot of time. She even has 5 minute quickies!
Most of her videos only require your bodyweight and a mat. However, she incorporates resistance bands and light weights for extra burn and strength, and balls and chairs for her barre workouts.
Fitness Blender
Fitness Blender is one of the OG YouTube workout channels. Run by married couple Daniel and Kelli, they have been in the game since 2010. Their mission is to actually make fitness affordable and accessible regardless of income. They put the people over profit. Who needs a gym membership when you have them?
Fitness Blender has a over a whopping 600 videos in their channel! They tend to focus more on weight lifting, but they have a lot of bodyweight, HIIT, and equipment-free workouts. That doesn't make them any easier though; no matter what you do, you're guaranteed a puddly sweat sesh with them. And, their videos range from 10–60 minutes. If you're short on time, you can pop in a 10-minute video or piece them together to create an hour long sesh.
They also have recipe videos showcasing delicious, healtthy, and quick meals like burrito bowls, egg scrambles, cookies, and homemade pizza!
Kukuwa Fitness
I discovered Kukuwa Fitness during lockdown in 2020 and it was love at first sweat! The founder, Kukuwa, hails from Ghana and leads the workout with her two daughters, Cassie and Sam (actually, they rotate throughout the video). With all that energy and spunk, it's hard to believe that Kukuwa is in her 60's! Everyone in the comments thought she was a sister or another friend of her daughters. It's hard to be mad at them while they're leaving you panting for dear life with their upbeat personalities. Cecilio says I look so happy working out with them!
Kukukua aims to bring African culture to you through dance fitness. During some of the videos, there are movements inspired by a variety of dances from African countries like Ghana, Uganda, Kenya, Mozambique, etc.
Most of Kukuwa's workouts are only 15–20 minutes, but they also have 30–45 minute ones like African Dance Jam (my go-to video from them!) and African Dance & Sculpt. Don't be fooled though; these videos are tough! I'm always struggling to keep up with them, but I have so much fine getting my heart rate up. It's way more fun than running aimlessly on a treadmill! There is no equipment needed whatsoever. Cardio-wise, Kukuwa Fitness is one of the best (and most-travel friendly!) workouts on YouTube.
Oh! And Kukuwa also has a tour company, Africa with Us, where they host fitness and cultural, dance, and fitness activities in different parts of Africa. Definitely in my bucket list someday!
Yoga with Kassandra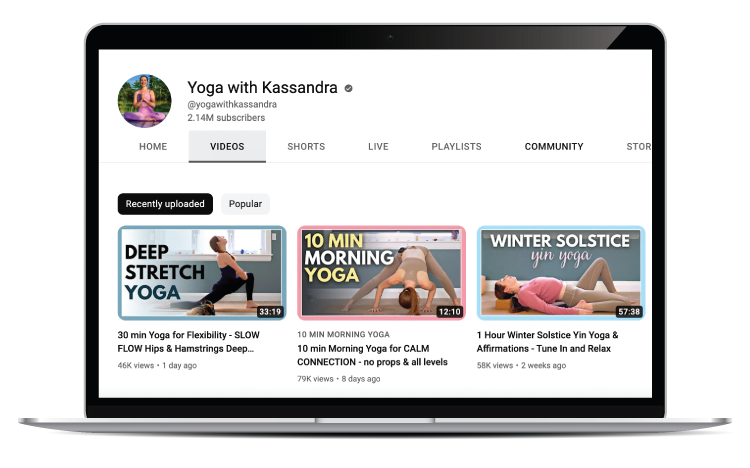 Yoga with Kassandra is my favorite yogi. She may not be as well-known as Adrienne, but I prefer her because she is more soothing and calming, not full of chitter chatter (no hate to Adrienne, I just don't mesh with her yoga style and teaching). Kassandra has a variety of videos that are 5–90 minutes long. She also does different styles, like Yin, Hatha, Slow Flow, Power, and Vinyasa. She even gets creative with her Vin to Yin videos, where it starts with an intenst Vinyasa flow and ends with deep, static stretches for 5 minutes. I always feel refreshed and loosened up after a practice with Kassandra.
Yoga is already portable and travel-friendly, and Yoga with Kassandra is no exception. She will incorporate blocks, straps, and pillows, all of which are easy to pack.
growwithjo
Lets face it; walking in place is boring. What's the point when you have nowhere to go? Well, growwithjo has creative walking videos where you can get a few thousand steps, and she will having you huffing and puffing! She incorporates sidesteps, kickboxing, swaying your arms as you're walking in place, you name it! And while most of her workouts are low impact, they are anything but low energy. She will have you drenched in sweat.
Growwithjo is not just limited to walking workouts. She has a lot of strength training and dance workouts with themes like KPop, Britney Spears, gospel, oldies, and many more! There's a reason why she is a TikTok favorite!
Getting fit and saving money
If you want to make travel a priority in 2023, I highly suggest skipping the gym in favor of these best workouts on YouTube. You can find a goldmine full of channels to help you get in the best shape of your life all while saving money for the trip of your dreams!
Have you used YouTube for exercise? What are your favorite channels?
Love what you read? Share the love and pin below!
Hannah is a travel writer, graphic designer, and the founder/editor of Hannah on Horizon. She is based in Sacramento, California, living with her husband and two adorable dogs. She shares tips on how to experience luxury travel on any budget, and how to maximize time at each trip or destination, no matter what your budget or amount of vacation time at work. She enjoys making you feel like you have visited each destination with her through her storytelling and informative writing style.