I've been to Disneyland since I was 3 years old, and I've always wanted to go during the Christmas season. There's just something magical and innocent walking around the park and reliving your childhood memories. Add the twinkling lights and holiday cheer, and you feel like you're in a fairy tale that you don't want to get out of. I have memories as a child watching the Disney Christmas sing-a-long tapes my parents bought us, and I am happy that it's now on YouTube! You can jam along to it here.
A few weeks ago, Cecilio told me that he had a few more vacation days from work. Days later, it popped into my head that we can spend his day off going to Disneyland if we can both take time off. With a little bit of planning, we both made it happen 🙂
I was SO thankful for the warm weather in SoCal. We live in Sacramento (which is about 6 and a half hours up north), and I dread the 30-something° weather we have in the morning, especially as I am driving to work and my Raynaud's start to kick in (Raynaud's syndrome is a condition where your hands turn really numb from cold temperatures, and it's usually a part of lupus patients). On the day we went to Disneyland, it was 87°! Hallelujah for me!
I purchased our 2-night stay in a shitty motel 15 minutes away, and Cecilio bought our tickets. We both decided to pay an extra $10 for MaxPass, which allows you to book certain FastPass Disneyland rides in advance using their app and saves time in line. You go on the FastPass lines and scan the tickets on your app before they let you in. MaxPass also allows you to get professional photos, and the photographers have a device that you can scan and download the photos on your phone. Here are some of the photos we got:
Notice how I am not wearing my rings? Long story short, I LOST my engagement ring in our apartment of all places. I left both the engagement ring and the wedding band in the drawer where I take my medications. The next day, I saw that my wedding band was there but not the engagement ring. We seriously looked everywhere, and Cecilio checked every little crevice (even the trash!) The only explanation could be that I may have dropped it as I picked up my medication tray, dropped it and one of our dogs ate it. Since then, Cecilio did not want to bring our rings to the park in case if we lost it in a ride.
We got to go inside of Sleeping Beauty's castle, something we have never done before during our times at Disney. There's a door in the back to get there, and you enter taking staircases and experiencing Sleeping Beauty's virtual reality. There are book sculptures of the narrated story, and the windows have 3D sceneries from the movie.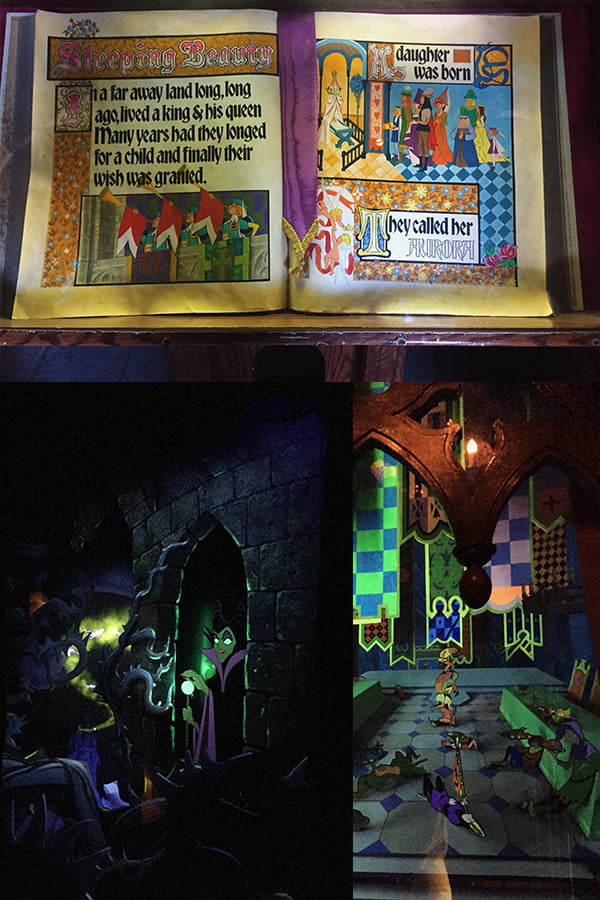 Cecilio booked us a ride to go to Splash Mountain (one of my favorite rides!), but we had a couple of hours to kill so we decided to wait in line for the It's a Small World ride. It was a 45 minute wait! Cecilio hates rides and is deathly afraid of them, so we decided to stop at It's a Small World first since it was very mild. We wanted to start off slow before we headed over to the bigger rides (which I personally love and get a high from) I tried to get some good photos inside It's a Small World, but I tried to take in the experience as much as possible. I loved seeing the figurines and sceneries of different cultures around the world represented, with Christmas flair! The music kept alternating between It's a Small World and Jingle Bells.
Afterwards, we headed back behind Sleeping Beauty's castle, just in time for our FastPass line inside Splash Mountain. I kept convincing Cecilio that it was a faster version of It's a Small World. Let's just say that he was traumatized with the 3 big drops from the ride… (the 2nd drop was unexpected because it was pitch black right before it happened, and the 1st and 3rd drops were anticipated because you were riding up beforehand)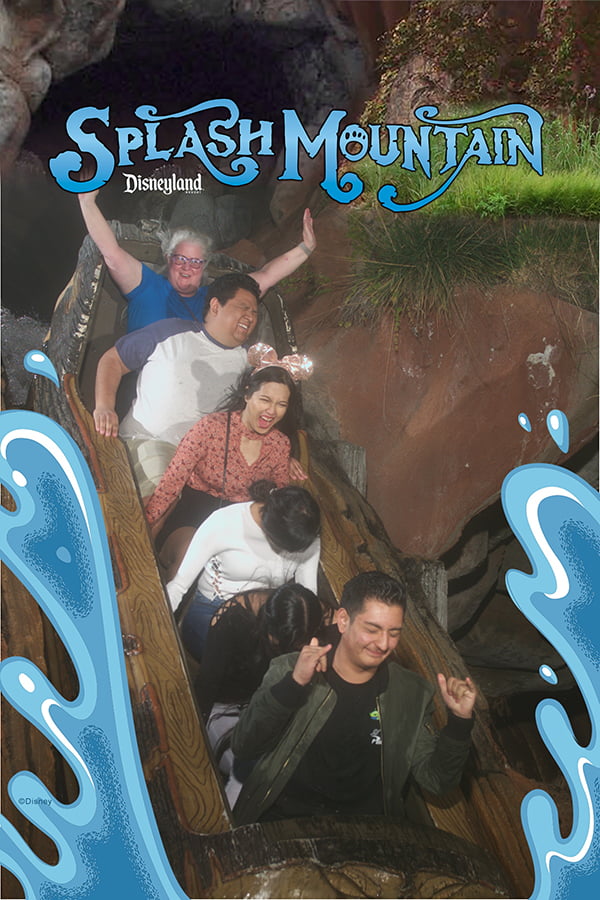 Let's just say that he did not have the time of his life during Splash Mountain. I did prod him about going on Thunder Mountain (an absolute favorite of mine), and it took a lot of convincing before he booked a FastPass ride for us 3 hours later. I kept trying to convince him that there were no drops, and his best friend Carlos (who used to work at Disneyland) constantly reassured him that it was a mild–moderate ride.
We had a lot of time to kill, so we spent it walking around the park, having lunch, getting treats from Main Street, watching the Christmas Fantasy Parade, riding the Buzz Lightyear Astro Blasters (which he loved since it was super slow and it was like playing laser tag while sitting down), witnessing a guy proposing to his girlfriend in front of the castle and waiting 50 minutes to meet Mickey Mouse.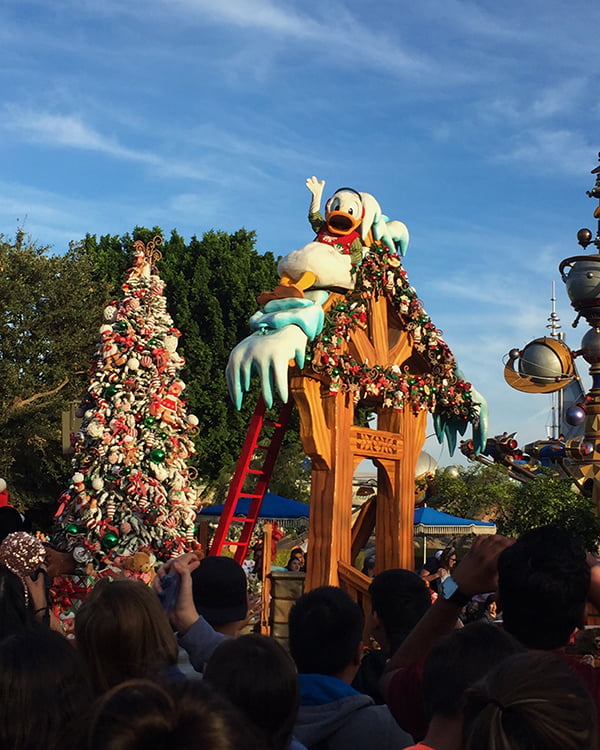 It was finally time for us to go on Thunder Mountain. We cut line thanks to MaxPass, and got seated in our ride. It was pretty fast (for me), and terribly so for Cecilio. There were so many twists and turns and he kept screaming.
Afterwards, we walked around Main Street again to get some souvenirs: we bought a Mickey and Minnie ornament, a Chip mug, and some magnets for our fridge. We went to get some hot cocoa, assuming we'd sit on the curbs waiting for the fireworks to come at 9 p.m. However, there were some announcements saying that due to the SoCal fires, the fireworks show got canceled. There was the Fantasmic show at 9:30, but we were unable to watch it because it was wayyyy too crowded and the security guards made everyone keep walking.
However, we did watch Sleeping Beauty castle light up throughout the night, and there was some little (faux) snowfall!
Though we got insanely overwhelmed by the crowds (this was the most amount of people we've ever encountered on Disneyland. Christmas + Saturday = a madhouse), walked for 12 hours back and forth (with some rests in between), and had to walk 15 minutes to our car because the trams stopped working, it was amazing and magical. It felt like another honeymoon, and it was a great way to end 2017. Next time, we will go on some milder rides and explore more of the park. I felt like Disneyland was my 2nd home since we were there for 12+ hours, walking back and forth across the park, sitting down for long breaks and taking it all in. During the times I went with my family, we were always in a hurry to go from one place to another so it was hard to slow down because my younger sister has autism so my family was always limited in what we could (or couldn't) do. It felt great taking mental snapshots and being presents, taking in the magic.
Thank you my love to making this trip happen! Here's to many more adventures with you <3
Hannah is a travel writer, graphic designer, and the founder/editor of Hannah on Horizon. She is based in Sacramento, California, living with her husband and two adorable dogs. She shares tips on how to experience luxury travel on any budget, and how to maximize time at each trip or destination, no matter what your budget or amount of vacation time at work. She enjoys making you feel like you have visited each destination with her through her storytelling and informative writing style.