It's a bit weird for me to talk about lipstick in an era where wearing a face mask is required in public. No one can see your mouth, so why bother? However, I still love wearing lipstick; it's one of my simple joys. So I wear it at home because it makes me happy. Nothing wrong with that!
When I go back to work onsite on Monday, I am going to have to wear a mask. I'm fine with that. But when I come home or lounge around during the weekends, you bet I'm gonna pucker up with some color.
I'm slowly rededicating myself to clean/green beauty, and I wanted to support a smaller business. I found Erin's Faces on Instagram. Erin's Faces is a PETA-certified, cruelty-free beauty company run by Erin Williams, a NYC makeup artist. Erin got her start working for Urban Decay and working her way up as a NYFW makeup artist. She eventually wanted to serve the everyday woman instead of those in high fashion. She developed her own clean cosmetics line, selling skincare, mineral makeup, and body care (I want to try her scrubs!).
I want to share with you the Satin Mineral Lipstick line, consisting of three shades.
When I first applied the lipsticks, it felt like a lip balm! That's how hydrating and moisturizing these are, while being incredibly opaque. I was (and still am) a bit afraid to eat while wearing these. They feather a little bit, but they don't make a huge mess like other lipsticks do. Just be careful while your eating and reapply as needed 🙂
The key ingredients for the hydrating properties are shea butter, avocado seed oil and jojoba oil.
The three shades are:
Teal, rich merlot
Katie, pinky brown
Nancy, pumpkin
Teal
This is a reddish-berry shade that looks great during the fall season. It's has a hint of plum in the swatch of my hand but it appears more read on my lips (at least in the photo…it had more plum in real life). This is definitely my kinda color, but I feel like I would need to wear a lip liner with it to keep it in place.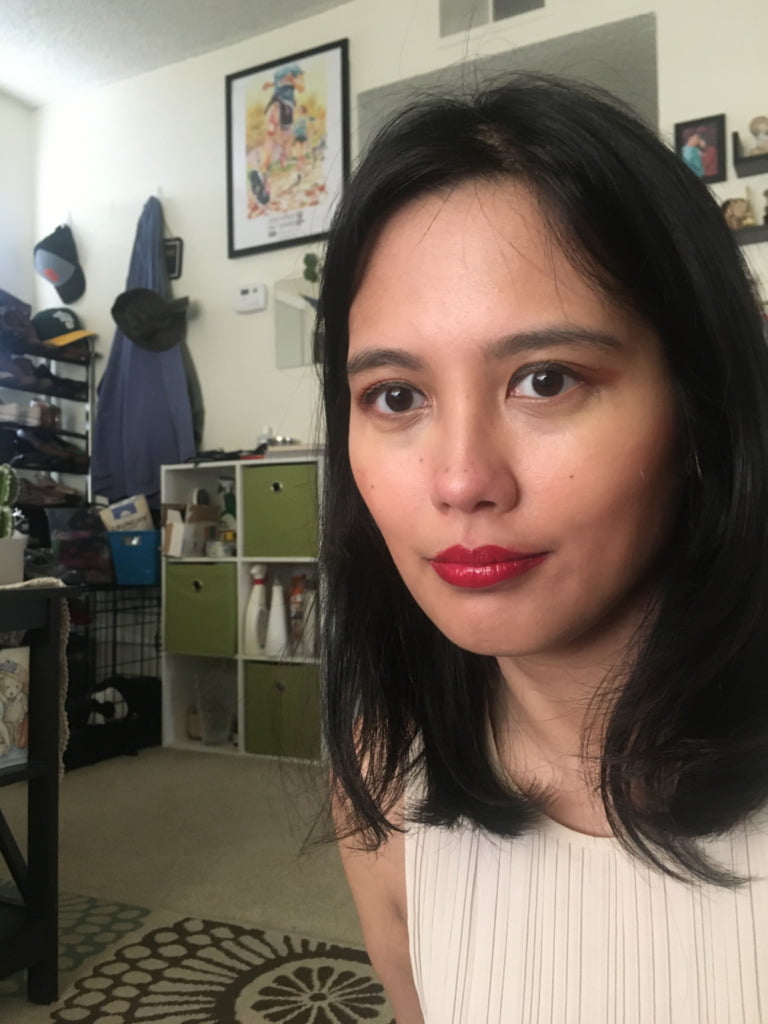 Katie
Katie is a pinky-brown, everyday kind of shade. I would consider this "my lips but better". My lips are naturally an ashy pink but this gives it a pop of subtle color. Once the masks requirements are lifted and things slowly get back to normal, this will be a work staple.
Nancy
Nancy is a "pumpkin" shade, a reddish orange, which is great for the summer and fall! I used to love these kinda shades in my early 20s.
Overall, I love all of the shades, especially Teal. I can see myself wearing Katie on a day-to-day basis.
These lipsticks are $20 a pop. But by purchasing one (or all!) of the shades, you are essentially supporting a smaller business and keeping a close relationship with them. Erin's Faces also sells sheer mineral lipsticks in six shades, and one matte mineral lipstick. She also sells lip gloss and lip balm (which I also purchased!).
If you're interested in clean, nontoxic and cruelty-free beauty, Erin's Faces may just be right up your alley!
Hannah is a travel writer, graphic designer, and the founder/editor of Hannah on Horizon. She is based in Sacramento, California, living with her husband and two adorable dogs. She shares tips on how to experience luxury travel on any budget, and how to maximize time at each trip or destination, no matter what your budget or amount of vacation time at work. She enjoys making you feel like you have visited each destination with her through her storytelling and informative writing style.