I've always wanted to go to a European Christmas Market. It's in my bucket list to visit one one of these years. Unfortunately, I don't have the funds or time to buy a plane ticket on a whim. Thankfully, my hometown offers a traditional German Christmas Market (also known as Christkindlmarkt or "Christ Child Market" in German). Enter Christkindlmarkt at Sacramento Turn Verein.
Sacramento Turn Verein is a German community center nestled in East Sacramento. Founded in 1854, it originally formed as a gymnastics club. Today, they offer educational services such as the German Language School and the German-American Cultural Center Library. In addition, they host Oktoberfest and Christkindlmarkt.
The Christkindlmarkt in Sacramento is much smaller than any Christmas market in Europe. It was also indoors and warm inside from all the body heat. It is $5 for General Admission.
Here are some of the highlights of the Sacramento Christkindlmarkt.
Window shopping around the booths
There were around 28 booths selling different items such as cookies, Nativity scenes, ornaments, jams, decor, and clothes. Even if you didn't buy anything, it was fun to walk around and get into the festive spirit.
The cookies above are called Lebkuchen, a traditional German gingerbread cookie. They are made with many spices such as cinnamon, cardamom, ginger, allspice, cloves, and aniseed. The woman selling the cookies told me that there is a museum in Poland (The Living Museum of Gingerbread) that has cookies around 400 years old and still edible due to all of the spices preserving them. How fascinating!
Coffee and cake at the Kaffeehaus
On the second floor of the building is the Kaffeehaus, which has two cafeteria-style rooms offering coffee and cake. Cecilio and I didn't have coffee, but we ate Bienenstich, also known as a "bee sting cake". Bienenstich is made with yeast dough, filled with vanilla custard cream and glazed with honey and almonds on top. It was delicious! They also offered cheesecake and chocolate cake, but why would you want to go to a traditional German Christmas market and eat desserts you can buy at the grocery store?! There was also stollen, a German fruitcake, but we didn't eat that.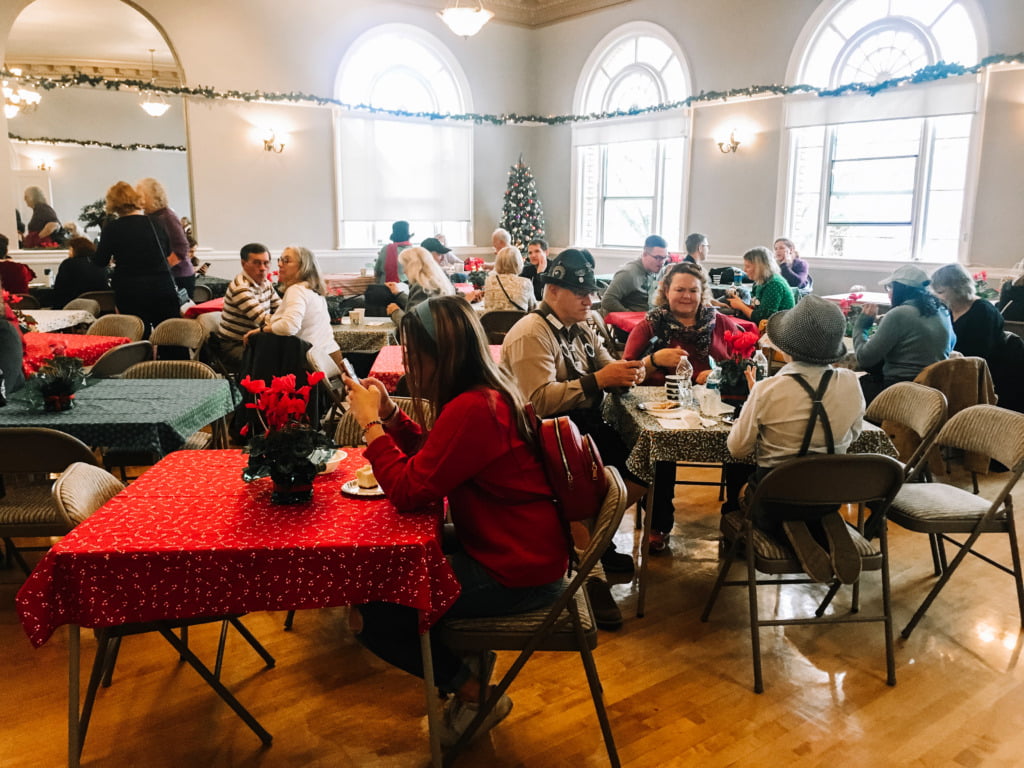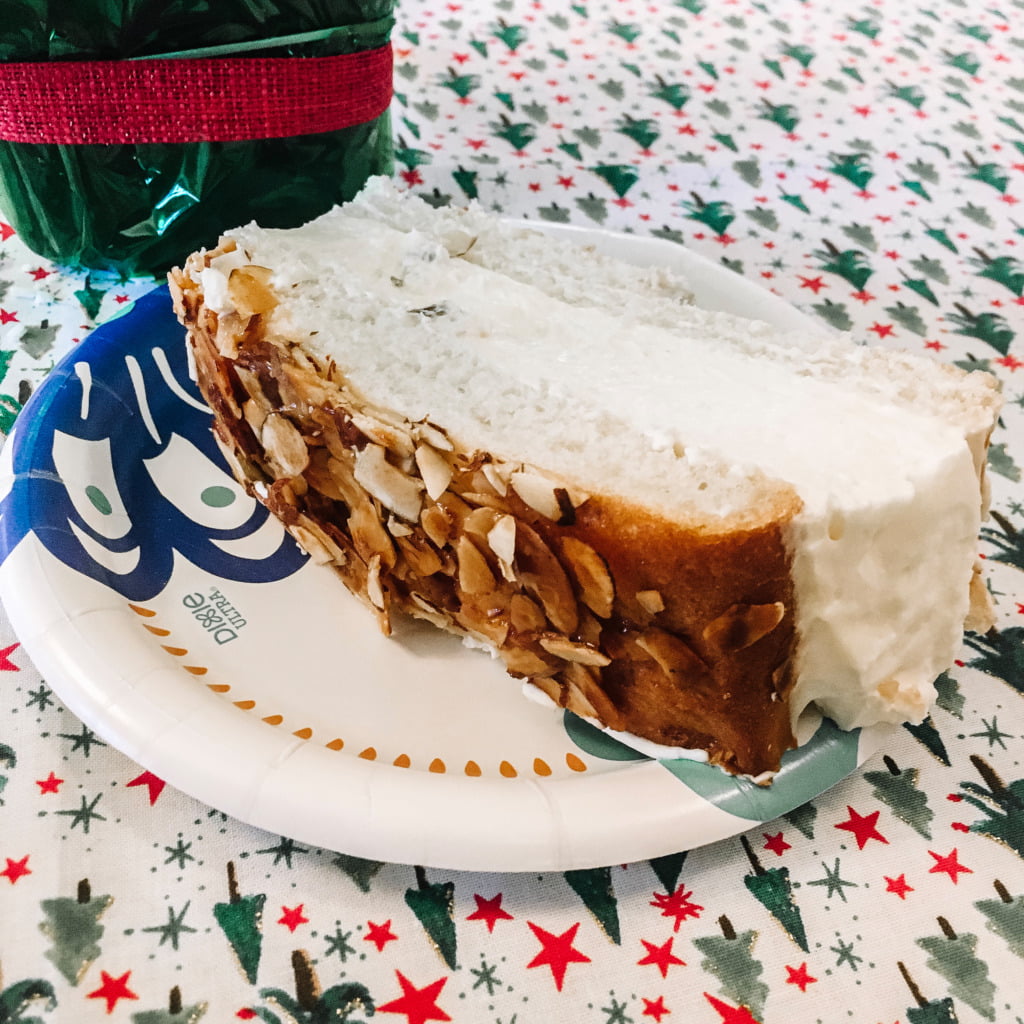 Watching Austrian and Bavarian performances
On the stage, Alpentanzkapelle, a Bavarian music group, performed numbers alongside traditional folk dances from Alpentänzer Schuhplattler. We watched them for about 15-20 minutes, although they can perform for up to an hour. The dancers and musicians also wear tracht, traditional German attire. I loved the way the womens' dresses moved and looked like mushrooms as they twirled.
Sipping mulled wine
No Christmas Market would be complete without Gluehwein (which means "glow wine"), a warm alcoholic beverage spiced with cinnamon, cloves, star anise, citrus zest and vanilla. Definitely a treat for these chilly months! I have made crockpot mulled wine before, but this version is a lot better and stronger! There was a booth selling Gluehwein in an 8 oz. styrofoam cup for $5, or you had an option to purchase a mug filled with it for $10 and refill for $4. I opted for the $5 styrofoam cup!
Purchasing sausage and other treats
There was also a sausage kitchen where you could order a bratwurst lunch. The line also had other foods such as chocolates, baked goods, and sauerkraut. We didn't get order sausage or anything in line because we decided to eat somewhere else for lunch.
Even though our Christkindlmarkt pales in comparison to any market in Europe, it was cute and interesting learning about the German Christmas customs and traditions. I especially loved seeing the live performances and eating the cake. One day, I will go to Germany, Austria or Belgium to go to their Christkindlmarkt.
Have you been to any Christmas markets before?
Hannah is a travel writer, graphic designer, and the founder/editor of Hannah on Horizon. She is based in Sacramento, California, living with her husband and two adorable dogs. She shares tips on how to experience luxury travel on any budget, and how to maximize time at each trip or destination, no matter what your budget or amount of vacation time at work. She enjoys making you feel like you have visited each destination with her through her storytelling and informative writing style.