I'm not someone who likes to "rough it out". Camping has never been my thing; while I wouldn't mind staying in a campground, you can't get me to do backcountry camping in the wilderness. I can't handle the idea of melting in the summer without air conditioning and dealing with bugs. Oh, and potentially crossing paths with a bear?! No thanks! Since I have lupus, I'm also prone to sun and heat sensitivity.
I've always liked the idea of glamping though. You get the best of both worlds; being in touch with nature while still having the comforts (plush bed, bathroom, coffee maker, air conditioner, heater) near your fingertips. So I got a chance to go glamping near San Diego for the first time when Travino invited me to stay in their property. I was so excited since this was a completely new experience for me!
Wanna know if you'd be interested in glamping in a vineyard? This post is for you!
Disclaimer: This post uses affiliate links, which means I make a commission if you book through this post. If you do decide to book using my links, thank you so much for your support!

I was hosted by Travino for a complimentary 2-night stay. However, all opinions are my own.
Glamping Near San Diego: About Travino
Travino is a new luxury glamping lodge nestled in Principe di Tricase Winery's vineyard in Ramona, a town 40 minutes east of San Diego. There are two tiny cabins as a part of Travino's accommodations; the Syrah and the Malbec. I got to stay in the Syrah cabin for two nights, so I will be talking about them in particular.
The lodges and winery offer gorgeous views of the vineyards and peaks of Iron Mountain, Mount Woodson, and Iron Mountain.
The Syrah cabin
Travino's lodges were designed for the ultimate luxury experience, making you feel at home from the minute you step in. Three large windows give you perfect views of the vineyard to wake up to. You have a super soft, bouncy queen bed to fall asleep in. Talk about cozy!
Right next to the bed, there's a couch, fireplace, and a 32″ smart TV where you can watch Netflix, Prime, or Hulu.
The kitchen has everything equipped for you, such as cutlery, cutting boards, bowls, wine glasses, coffee cups, and salt and pepper. There is also a microwave, mini fridge, 2-burner stove top, and Nespresso machine. You can brew yourself a cup of espresso with the pods they provide, which also have sugar or Stevia packets. There are also liquid creamer pods inside the fridge. I've never had a drink from a Nespresso machine, and I'm hooked! I want to buy one myself, and it's 100x times better than a Keurig machine.
Right in front of the kitchen, you have a round table for two right next to the window.
The bathroom has a cute wooden drawer equipped with towels, a steamer, and a hair dryer. There are also bottles of shampoo, conditioner, and body wash attached to the wall in the shower stall.
If lack of Wi-Fi is a concern, don't worry! Travino offers free (and fast) Wi-Fi for their guests. This was perfect for me since I got to work remotely (I have a hybrid setup of being able to work remotely on Mondays and Fridays) and do my blogging tasks.
How to get to Travino
If you are coming from San Diego International Airport (or anywhere in San Diego, since the airport is near everything), it will take 45 minutes to get to Ramona. You absolutely need a car since you will be driving through the mountains. Unless you want to waste your money on Uber (which I don't recommend). You can skip the line and rent a car in advance through Discover Cars.
If you're coming from Los Angeles, I would say it would take roughly 3 hours to get to Ramona.
Related: How old do you need to be to rent a car in California?
Do be aware of taking State Route 67 on the way to Ramona. SR 67 has been nicknamed the "Slaughterhouse Alley" due to the high number of fatal accidents. Honestly, this almost stopped me from coming, since I've never driven down a mountain (yes, I know I live by Tahoe, but I'm the passenger princess when we go there). The turns are sharp, and it's quite narrow. But I drove through SR 67 and I'm still here.
The most important thing is to drive slowly and stay in the right lane. Don't drink and drive (I shouldn't even have to say that), and don't drive at night since there are no street lights on the freeway portion.
Don't let Wikipedia or others ruin your potential experience glamping near San Diego! If I can drive through the supposed Slaughterhouse Alley, then so can you.
Who is Travino for?
With how small the cabins are, Travino is perfect for solo travelers and couples. Cecilio would've come with me, but we were already going back to San Diego later that week to house-sit his sister's dog while she was out of town, and he is using up his vacation days for our Japan trip next month.
Travino is NOT for large families unless you all split up and book both lodges. And that's if both lodges are simultaneously available.
Dogs are allowed at Travino. In fact, the drawer below the sink has 2 dog bowls and waste bags!
There is a pet fee of $75 per dog, and they must be listed in your reservations upon booking or arrival. Only two dogs are allowed maximum, and they must be leashed outside the lodges.
I wanted to bring one of my dogs, Aris, who only weighs 12 pounds. I figured that I could put him in a carrier. But Cecilio said no, because Aris has never been on a plane before and he suffers from anxiety. Just going on a long road trip makes him queasy!
How much does it cost to stay in Travino?
It honestly depends on the availability and whether you are booking during the weekday or weekend. It also depends if you are trying to book during a holiday weekend, which increases the prices significantly. A night at either the Syrah or Malbec lodge ranges from $195—$345.
But Travino graciously provided me a code for you to use for a 10% discount upon making reservations. Use code Hannah10 for 10% off your stay!
Are you even glamping in a vineyard without some wine tasting?
Travino's cabins are in Principe di Tricase Winery's vineyard. Because of that, both of them are partners aiming to provide guests with a fabulous experience of wine tasting straight from the vineyard. From vine to glass. Principe is open to the public on Saturdays and Sundays from 12—5 p.m., or you can call them or book for a private tasting on Travino.
I arrived before I was able to check in my lodge, so I spent time touring Principe and tasting their menu. Deborah, one of the co-owners, warmly introduced herself to me and showed me around. We strolled through the vineyard, where she showed me the different types of grapes they grow to make their wine. She even pointed to me their pomegranate trees, since they grow pomegranate for their wine blends.
Deborah shared that Principe prides themselves on serving clean, organic wine without sulfites.
After touring the vineyard, Deborah poured 5–6 glasses of wine for me and served up cuts of bread to dip with olive oil and vinegar. While I prefer my whites, I loved that the reds were smooth and not overpowering. Finally, she poured me samples of their red and white sangrias to sweeten my palate. I have to say that the white sangria was my favorite sip. Deborah graciously gave me a bottle to take with me during my 2-night stay at Travino.
If you end up booking a stay at Travino, wine tasting at Principe is a MUST. Their wines are high quality, and I appreciated Deborah's hospitality.
Other things to do in Ramona
Visit other wineries
While I had a wonderful experience at Principe, Ramona is an underrated and unpretentious wine region. Ramona became an AVA (American Viticultural Area) with 60 vineyards and 30 wineries. You can go winery hopping and try delicious sips from different varietals around the town. Here are some other great wineries to visit!
Take a hike in the mountains
Nestled by a few mountains and preserves, San Diego locals head over to Ramona for some of their scenic hiking trails. The most popular one leads to Potato Chip Rock in Mount Woodson. It's a 7.4 mile out-and-back hike that's considered challenging according to AllTrails. I'm not comfortable hiking solo, so I didn't go.
Visit Oasis Camel Dairy
I didn't get to do this also because it wasn't open during my stay in Ramona, but you can visit the Oasis Camel Dairy to pet and feed camels and sheep. This seems like it would be such a cute activity for couples and families. It reminds me of going to Ostrichland USA in Solvang.
Is it worth glamping near San Diego with Travino?
I'm not just saying it because Travino offered me a complimentary 2-night stay, but I absolutely would've paid to stay there even if they didn't. It's cozy, the bed was insanely comfortable, and the interiors were incredibly stylish. I felt right at home the minute I stepped into the Syrah cabin as a refuge to eat, sleep, work, and get away from the hustle and bustle of everyday life. If you're into luxury travel like I am but you want to dip your toes in glamping and outdoorsy activities, I can't recommend staying in Travino enough!
If I haven't convinced you to book yet, go ahead and do so with their reservation portal 😉 and don't forget to use the code Hannah10 for 10% off!
Love what you read? Share the love and pin away!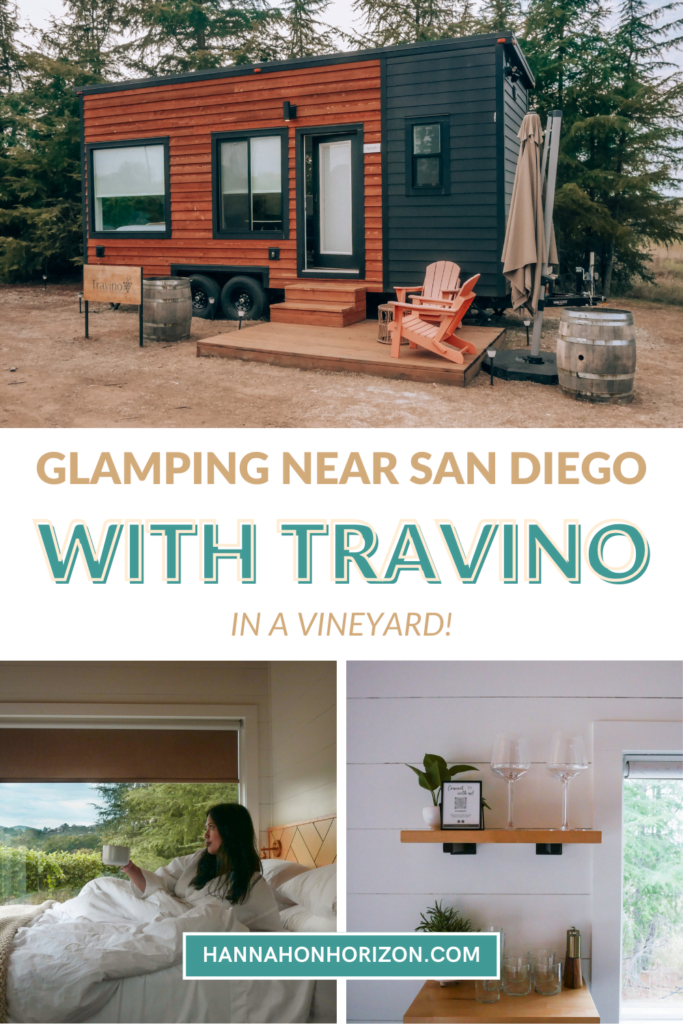 Hannah is a travel writer, graphic designer, and the founder/editor of Hannah on Horizon. She is based in Sacramento, California, living with her husband and two adorable dogs. She shares tips on how to experience luxury travel on any budget, and how to maximize time at each trip or destination, no matter what your budget or amount of vacation time at work. She enjoys making you feel like you have visited each destination with her through her storytelling and informative writing style.