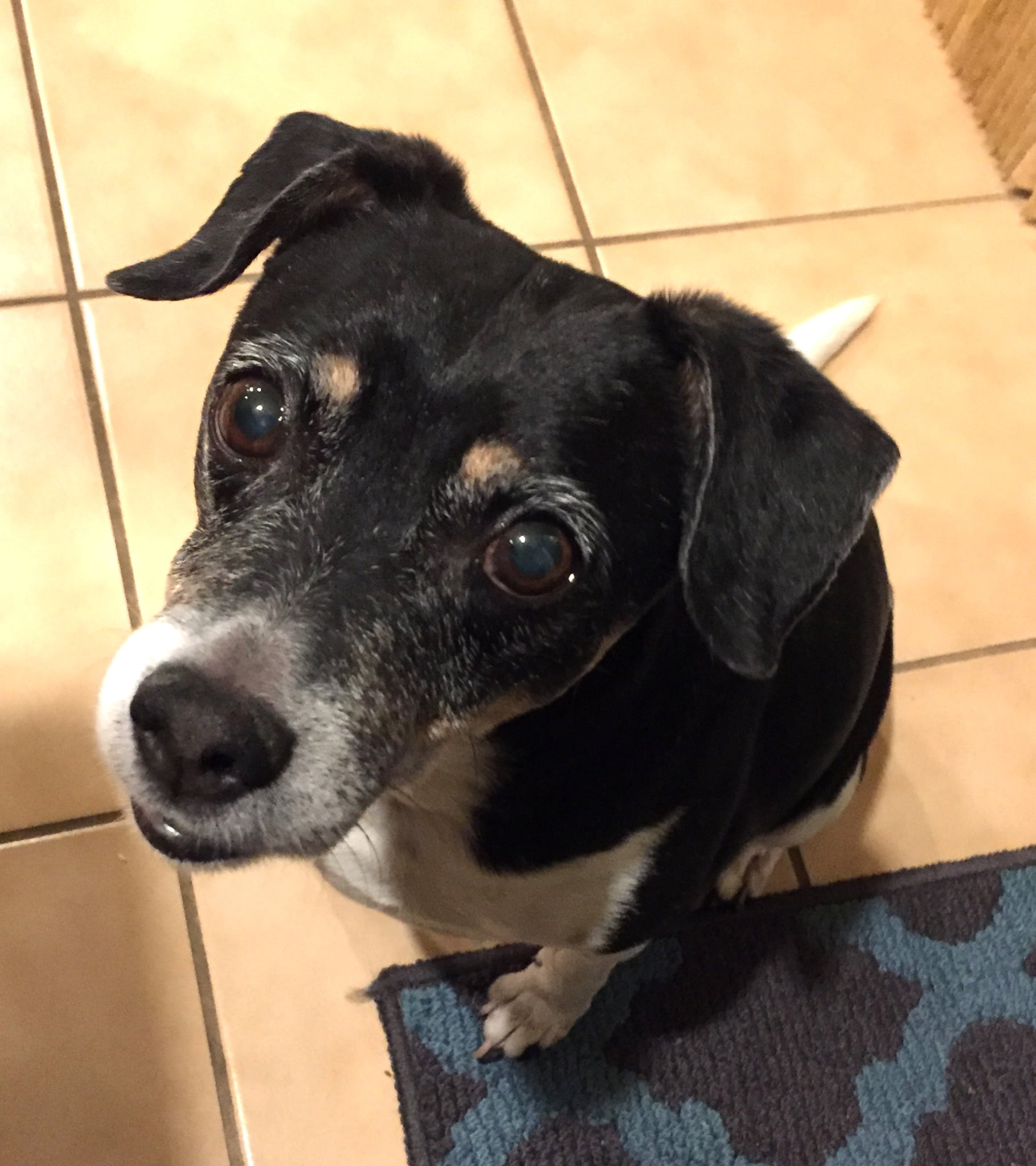 As if 2018 couldn't get any worse between my seizure and hospital stay in May and my grandma's death in June, Cecilio and I had to put down our sweet little pup, Chewy, this past Wednesday.
I know pets die all the time. I've had fish, birds and a hamster, and of course I mourned their losses when I was younger. But with dogs, it's something different. It's heartwrenching. I started having dogs in 2014, with my first being my little Aris and then Flora. Then Natasha, my stepdad's dog, came into the picture in 2016. However, Chewy has been a part of our lives since 2012.
Cecilio has always wanted a dog, as long as I have known him, but his mom was never hot about the idea (even after his sisters were able to get 2 cats). However, as he was about to graduate university in 2012, his mom sent me a private message on Facebook letting me know that the family went to the shelter to adopt a dog for him as a graduation present. I finally knew the secret and I couldn't wait for his homecoming and Cecilio's reaction!
I wasn't there when Chewy came (since we weren't living together before we got married), but Cecilio texted me a photo of this cute little rat terrier, saying, "love, I got a dog…I want to cry."
Chewy's original name was FedEx. He was 4 years old at the time of adoption and was in the shelter for 6 months. But after getting being in so much pain from getting neutered before coming home, he was making sounds and cries like Chewbacca from Star Wars. And that is where his name came from.
Chewy came home thin and a little sickly. But after getting acquainted with his new home and being well-fed, he started to gain a bit of weight. He became much happier and healthier, with his everyday walks and everyone doting on him.
He wasn't the friendliest to other dogs, but he loved my little Aris when I came to Cecilio's house for them to meet. And he loved people: though timid and shy, he was full of love and had no problem plopping on top of your lap for some cuddles. My lap was his safe place. He even started plopping himself on my stepdad and stepbrother after barely knowing them!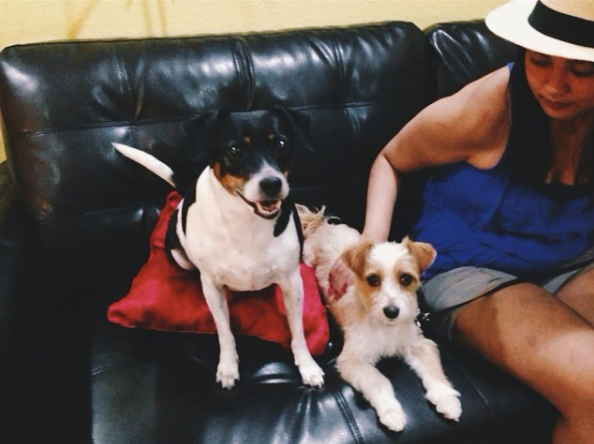 3 weeks after Cecilio and I got married, we finally moved into our apartment (during that time in between, we had our honeymoon and switched off sleeping at each of our parents' houses). We have always known that we wanted to have Aris and Chewy by our side and there they were on our first night. I took them on walks every morning since then while Cecilio was working. I took them to my mom's when I was doing respite care for my autistic sister during the day, before I got my job. Sometimes Cecilio would make me leave Chewy in the apartment so that he could come home to him after work while I was at my mom's, so I would just bring Aris during those times.
Oh, he so loved his walks! Every time one of us had this high-pitched inflection, exclaiming, "wanna go on a walk?!" He would spin around and howl so excitedly. He got even more excited when he took out his harness. During our walks, he pulled hard (if we used the double leash with Aris) or trail as fast as he could with the retractable leash. Then he would roll around the grass, so excited.
His favorite treat was Pupperoni. Everyday, we broke a stick in half for him and Aris to eat. We would also give them scraps of our dinner.
When we would give them their kibble in the morning, Cecilio would come home to Chewy's bowl being toppled over. It's partially his separation anxiety from us being gone all day.
This past Wednesday was a completely normal day. I got out of work and came home as usual. I went on the couch to watch TV with Cecilio and go on my laptop to work on my design portfolio website. Chewy jumped up and started cuddling with me, and bumping his head against my hand to pet him and pay attention to him. Then Cecilio went to cook some dinner for us: a bacon gnocchi dish. Not even half an hour later, Aris was there begging. We were wondering where Chewy was and why he wasn't begging like he usually did. We called his name multiple times and he wouldn't come. Finally, Cecilio found him in our room, completely sprawled halfway on his bed and peed all over himself. He looked really weak and could not even walk. Cecilio sensed was something wrong and felt compelled to take him to the vet ASAP. There's an emergency vet literally across the street from our apartment, so I drove while he carried Chewy the whole time and checked him in. We were taken to a room while the doctors were giving him some pain medication and doing some tests on him. The doctor came back and suspected that he may have cancer because of the fluid in his stomach and his gums were pale, and that he may be a candidate for surgery, which would've cost between $5,000–$10,000. However, she needed to do further tests on him. Both Cecilio and I were in tears figuring out what to do, praying that it wasn't cancer and that he may have just eaten something bad while he was on a walk. The doctor came back and showed us his blood tests which came out normal. But she showed us an x-ray in his stomach which had fluid and said that it may have been either liver or spleen cancer, and if we opted to give him surgery, he would have a survival rate of 6–8 more months. It was either surgery or…the unthinkable. The doctor left the room to give us privacy and let us make a decision. It was a hard decision, one we never ever wanted to do and didn't think we would have to ever do it until a few years later if he did get older, but we didn't want him to be in any pain.
Cecilio had to call his parents to let them know what was going on and asked for them and his sister to come. I called my mom about the news, and she immediately informed my stepdad. Both of them along with my 2 sisters and niece were on their way. Meanwhile, the doctor took us to a bigger room with a couch so that we can have our last moments with Chewy comfortably. One of the vet techs asked us about the plans after Chewy's passing and what we wanted to do with his body, and we decided that we would cremate him and put his ashes in an urn.
Finally, Cecilio's family came. His mom was in tears, crying out how he never warned us. Cecilio's other sister couldn't make it since she is living in the Bay Area and she really wanted to be a part of what was going on, so she was on FaceTime the whole time with us. The vet tech came back with an oxygen tank for Chewy since his breathing was labored. She also brought the injection for when it was time. Then when what seemed like forever, she brought him back wrapped up tightly in a blanket since he was having diarrhea. He was on Cecilio's lap, and we were all crying and wanting him to not leave us. He was not quite there, but there were moments when he recognized our voices and moved his head a little bit to see who was who.
Eventually, my family came. We were all mourning and just remembering all of the times we had with him. We were telling him how much we loved him. Cecilio then put Chewy on my lap because he had to go let the doctors and vet techs know that it was time. His breathing was labored the whole time and he was getting weaker, and at this point, my stepdad said that he was in sepsis.
The doctor came in and did what she had to do, while we were all crying, petting him, letting him know how much we loved him and how we wanted to see him again. Then, the doctor finally stated that he has already passed. Within less than a minute. We were all hysterical. My mom and sister kept hugging me, letting me know that everything was going to be okay. We spent the next 20 minutes petting him, in awe of how soft his fur was despite his older age. My stepdad prayed for all of us.
After our time with him, the doctor and vet tech came in to get his body, which will undergo cremation. Cecilio and I left outside back into the lobby, with a lady in line greeting us, giving us a hug and letting us know how sorry she was.
We came back home with Aris jumping all over us, not knowing what was going on. He kept sniffing the parts where Chewy was on our lap. There was no way in hell that we would be able to go to work the next day, so we texted our bosses about what had happened and that we wouldn't be coming in the next day. We were a huge mess. I had a headache from distress and not being able to eat, so I forced myself to eat something and take ibuprofen. We then eventually went to sleep only to wake up crying again the next day since we both didn't go to work.
It was so heartwrenching. So to make ourselves feel better, we went on a drive and brought Aris with us, driving across the river and the fields and ending up back in downtown. It doesn't take the pain away, but it helped relieve us a little bit so that we wouldn't stay cooped up. Plus, it's been a while since we went on a long drive like that due to work and adulting. Also, my sister texted me to let me know as soon as the doctor announced that he passed away, she envisioned him in a large field in Heaven running around under the sunlight, pain-free.
A piece of us is now missing, and now our home feels incomplete. We are so worried about Aris too. He too has separation anxiety and we worry about him being depressed when we are gone throughout the day. Yes, we are going to get another dog so he won't be lonely. But we need time to grieve first and we are waiting until we get his ashes back. We will start looking at the shelters after Thanksgiving since I will be completely busy with work all of Thanksgiving week. Another dog will never ever replace Chewy. But (s)he will enter a new place in our heart. Our hearts are filled with our love for Chewy, and with his passing opens are heart for a new one, representing this new chapter in our lives.
Chewy we love you and we can't wait to see you again. I just hope that we gave you the best life we possibly could. It hurts to lose a pet so much. But I believe God shows us His love for us through these creatures who love us wholeheartedly and unconditionally, no strings attached. And I thank God for bringing Chewy into our lives. He was just one of the sweetest and most innocent beings we have came across. And I am just so thankful that he was surrounded by people who loved him dearly during his final moments. Every time I want to break down remembering what happened, I will remember him as the dog in these photos: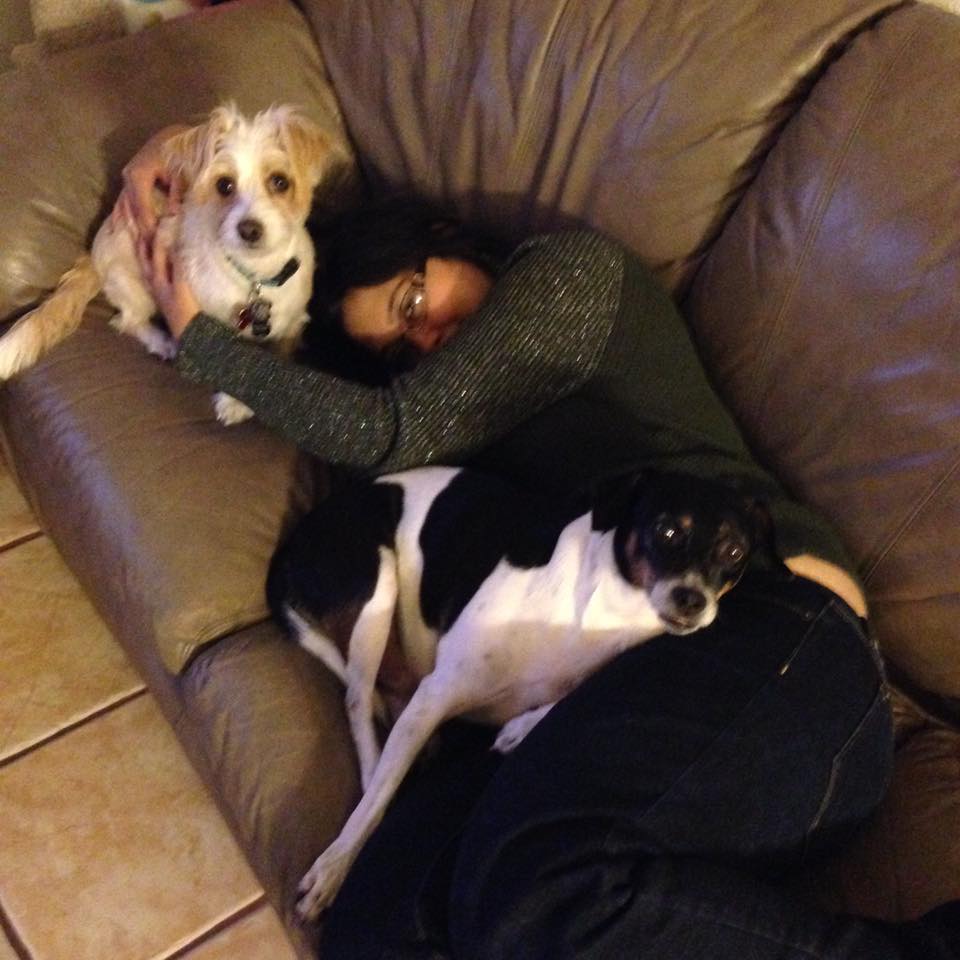 Thank you everyone for reading if you have made it this far. Sorry if my words seem jumbled, my head is just all over the place right now. I realized how much I missed blogging after my month-long hiatus and will be posting more again.
Hannah is a travel writer, graphic designer, and the founder/editor of Hannah on Horizon. She is based in Sacramento, California, living with her husband and two adorable dogs. She shares tips on how to experience luxury travel on any budget, and how to maximize time at each trip or destination, no matter what your budget or amount of vacation time at work. She enjoys making you feel like you have visited each destination with her through her storytelling and informative writing style.