We knew as soon as we had to put our precious pup Chewy down that we wanted to open our home and hearts to another dog, but we didn't think we would go looking so soon.
We were both thinking of looking at the shelters after Thanksgiving, because I was crazy busy with work events on Thanksgiving week (seriously, at the place I work, they call Thanksgiving week blackout week meaning you cannot take any time or hours off). However, exactly a week after Chewy passed, the receptionist at the vet called me and said that his ashes are ready. Cecilio went to pick up his urn. These kinds of things confirm closure. That's when Cecilio started searching online for possible dogs we can check out. I wasn't in a hurry as much because I still had my Aris Paris (Aris is more of my dog and Chewy was more of his). Then on one Friday, he was searching El Dorado County Shelter, and came across a 10-month old rat terrier that was a splitting image of Chewy…
Her original name was Prada, and Cecilio wasn't sure if we would be able to get her or check her out because he was so sure with how cute and young she was, she would get easily adopted. But I kept encouraging him for us to just check anyway, and even if we didn't end up getting her, there were other dogs.
The next day, I called them and asked if Prada was still available. She sure was, and we made the trek to see her. We weren't in too much of a hurry, so we went to get Starbucks on the way since the shelter is pretty far from where we live.
Finally, when we arrived, we asked the employees/volunteer she was already in a room meeting with a family. So we went to the kennel halls to check out the other pups. Meanwhile, there were 2 other dogs that I was interested in.
The workers eventually went up to us to let us know that we can meet Prada in the room because the family was undecided about her. Finally, we met and she immediately tackled me. Within 5 minutes, Cecilio said, "I don't want to look anymore." Next thing you know, he completed the application to adopt her while she and I were in the room together. In about half an hour, one of the workers went into the room to give me her leash.
I asked her, "Is it official?"
"Yes it is! Congratulations!"
As I leashed her, we walked out of the room and met with Cecilio at the front desk. We were greeted with kibble and treats for her. All of the workers were congratulating us!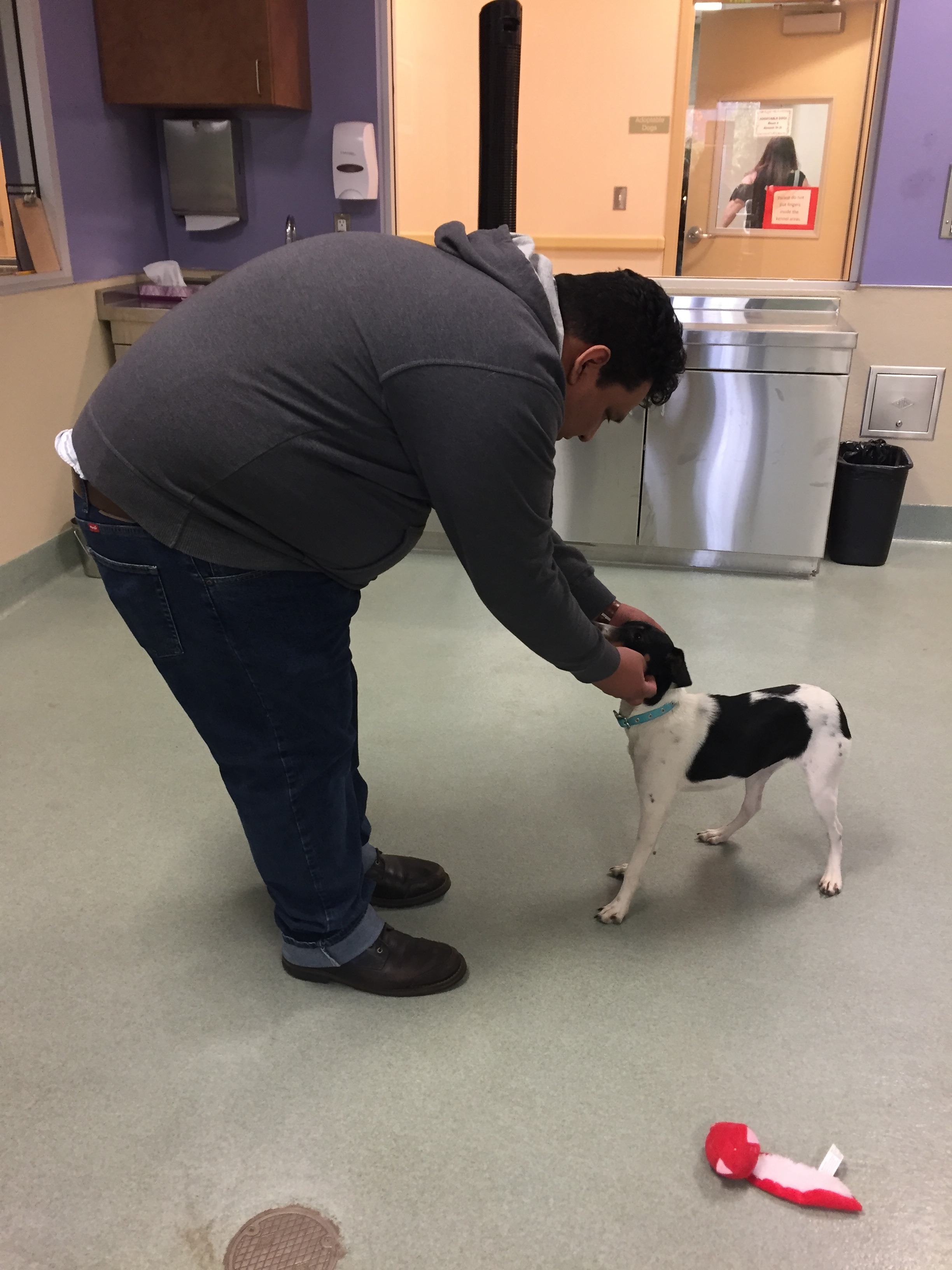 Cecilio renamed her Liara (Lee-ah-rah), a character from Mass Effect (a video game Cecilio plays). So her full name is Liara Prada Padilla.
As we went back home, I was reading her paperwork. She was described as a shy, calm and reserved. Well, she had us fooled because she is anything but! Chewy was collected and cool, whereas she is a ball of energy. She runs around our small apartment, and we are in the process of training her to behave. One of the methods we are trying to do is leash her in the house so she can be closer to us and not be destructive and pee and poop in the house (which she has been doing, but she's also been making progress and doing her business outside ever since we've been using her retractable leash instead of her regular one). We also put her in the crate when we are at work but Cecilio comes back during his lunch break to take her out. He gets out a lot earlier than I do, so he is able to walk her once again. I would venture to say that she gets like 5–6 walks a day so she can learn to do her business outside. And when she does, we shower her with praise and treats. She still has a long way to go though since she still has accidents in the house once in a while.
Liara is ultra playful. Our other dog, Aris? Not so much. She so badly wants to play with him and gets in his face, but he's not as interested so he growls at her and starts baring his teeth. When Chewy got to close to Aris and Aris growled, Chewy would back off. Not Liara. It makes her bug him even more.
She also likes to chew on everything and anything she can put her mouth in. We bought a bunch of toys for her and of course she loves those. She also chews on stuff she shouldn't be chewing on, like shoelaces and slippers. We bought her and Aris 2 flavored plastic bones but she likes to hoard both of them. Even if she has one of her own, she's still staring at Aris' and devising a plan on how to snatch it. I also have a heating pad that is like an owl stuffed animal that I use during my time of the month. Liara started playing with it and I kept trying to get it out of her mouth, and we were fighting over it on the bed. I almost felt like I was getting assaulted on the street. That's how rambunctious she is: she kept pulling the heating pad and attacking me trying to retrieve it.
I've had a puppy before (my mom's Morkie, Flora, was 2 months old when we got her back when I was living there). But wow, Liara is quite a handfull! Having her is really like having a toddler. Maybe she will train and prepare us for when we start trying to have human children.
She gets super hyper after her walk (shouldn't the walks tire her out?) and she jumps all over me while I'm still in bed. Since she's a little bigger, I am afraid of her hurting me. But I love her and we cannot imagine our lives without her. She is so sweet and affectionate, and likes to cuddle on my lap like Chewy did. And even though it can be hard and frustrating to train her, we are so happy that she came into our lives. We cannot wait for the next decade and beyond creating memories with her.
Of course we miss Chewy. We will never forget our little dude. But I am sure he is beaming from above knowing we rescued another creature (especially one that looks like him). He will always be in our heart which just made it expand for another one in our lives.
Hannah is a travel writer, graphic designer, and the founder/editor of Hannah on Horizon. She is based in Sacramento, California, living with her husband and two adorable dogs. She shares tips on how to experience luxury travel on any budget, and how to maximize time at each trip or destination, no matter what your budget or amount of vacation time at work. She enjoys making you feel like you have visited each destination with her through her storytelling and informative writing style.