I've tried countless primers in the past, from drugstore to high-end, in different formulas. While I find that some of them did make my makeup last a little bit longer (I think setting spray is better for that), none of them seemed to smooth out and "blur" my face like promised.
I reviewed the Ilia True Skin Serum Foundation a few months ago and deemed it as my holy grail foundation. I loved how it makes my skin look, but I noticed up close a bit of cakiness and it really bothered me even when I exfoliated.
I decided to purchase the Ilia True Skin Natural Priming Serum to see if it would help with the longevity and smoothing.
"Bridging the gap between makeup and skincare, ILIA's True Skin Radiant Priming Serum does more than create a perfect base for makeup application. Utilizing ingredients like hibiscus extract, aloe and beta-glucan, this silicone-free primer helps to firm, moisturize and soothe skin, while protecting it from harmful environmental factors that cause aging. Upon application, the serum has a tightening effect that diminishes the look of pores and fine lines, while improving skin texture upon drying for a silky and soft-to-the-touch feel."
—Ilia.com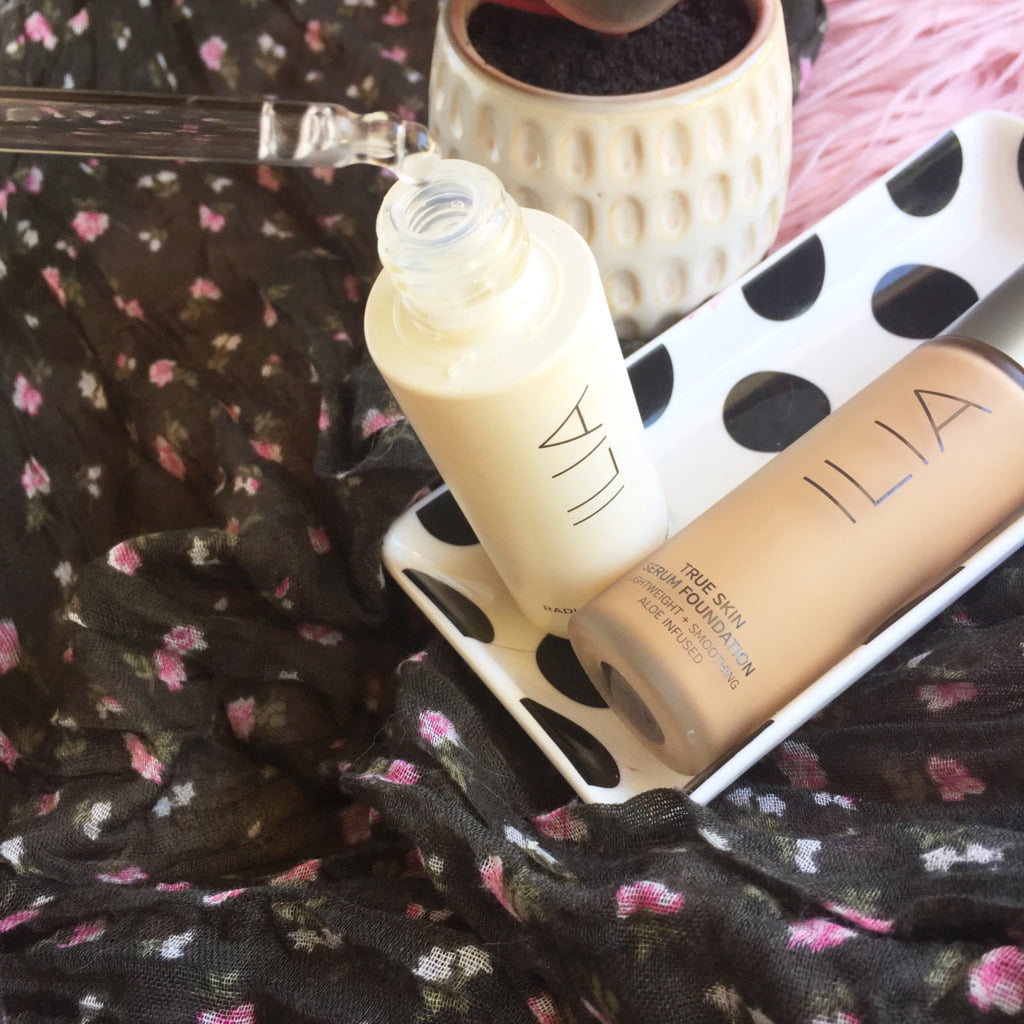 Like most of Ilia's products, the price for this comes steep at $52 and 1 oz. It has a vial attached to the cover so you can squeeze the product into it and pump out. The primer is in a liquidy form and I like to get 3–4 drops (which is actually plenty) and rub lightly all over my face. I then work on my eye makeup to let the primer absorb into my skin before I apply foundation. It does feel sticky for a few seconds after applying but it goes away eventually. I've been doing this for a few months and I find that it really smooths out my skin and that the cakiness is gone. My skin looks and feels filtered.
All I can say that is that if you have and love the Ilia True Skin Serum Foundation, you are absolutely going to love this primer. They go together like peanut butter and jelly. But I think it will go well with any other foundation and smooth out your skin.
You can buy this at Sephora, Ilia's website, The Detox Market (which is currently unavailable), Credo Beauty, and SpaceNK (for UK peeps).
Hannah is a travel writer, graphic designer, and the founder/editor of Hannah on Horizon. She is based in Sacramento, California, living with her husband and two adorable dogs. She shares tips on how to experience luxury travel on any budget, and how to maximize time at each trip or destination, no matter what your budget or amount of vacation time at work. She enjoys making you feel like you have visited each destination with her through her storytelling and informative writing style.