Glittering city lights juxtaposed with biodiverse nature and European charm, San Francisco is a couple's dream. It's California's one-of-a-kind city, and no matter how long you stay, you will never run out of romantic things to do in San Francisco. There's a reason the city is known as the Paris of the Pacific.
Whether you're an active couple, prefer city breaks and museums, or are a total foodie, you're in for a treat in San Francisco! I have lived right below in Daly City for 9 years during my childhood, and Cecilio and I visit multiple times a year. While we revisit the same spots and restaurants, we are always finding something new to do!
Because there are an endless amount of romantic things to do in San Francisco, I have broken down the list into the following categories:
Free/Cheap Date Ideas
Active Date Ideas
Food & Drink Date Ideas
Unique Date Ideas
Cultural Date Ideas
Romantic Day Trips From San Francisco
Disclaimer: This post uses affiliate links, which means I make a commission if you book through this post. If you do decide to book using my links, thank you so much for your support!
Romantic Things to do in San Francisco
Free/Cheap Date Ideas
Golden Gate Park
At 1,017 acres, you can easily spend all day in Golden Gate Park. After all, it is the West Coast version of NYC's Central Park. Nothing is more romantic than walking by the fresh blooms from the Conservatory of Flowers or admiring bison from the Bison Paddock. Grab a basket with some lunch (hello charcuterie board!) with some wine or soda for the perfect picnic on the grass.
While not necessarily free (or cheap!), there are some attractions you can visit in Golden Gate Park such as the California Academy of Sciences and the Japanese Tea Garden. You can rent a boat on Stow Lake from $26–$32.
Free Walking Tour
I love getting to know a city in-depth by going on a free walking tour (like when I went on one in Copenhagen). Also, when you're there for an extended period of time, you get to know your bearings and won't get lost. San Francisco City Guides offers over 80 free walking tours scattered along different neighborhoods, nature trails, and landmarks. Most of them are in the morning and afternoon, and you have so many tours to choose from depending on your interests!
Pier 39/Fisherman's Wharf
Yes, Pier 39 is one of San Francisco's cheesiest and most touristy spots with overpriced restaurants and gift shops, but hear me out: at the very least, visit to see the adorable sea lions on the K-Dock. There could be anywhere from 150–600 of these babies from late July to late Spring.
If you must grab a bite to eat, I suggest forgoing the sit-down restaurants and having lunch (or linner) at Boudin Bakery for the clam chowder soup on the sourdough bread bowl. If you're craving for something sweet, grab a bucket of freshly-cooked mini donuts from Trish's Mini Donuts for you and your main squeeze to share and enjoy while people-watching. There's also a Dryer's Ice Cream Shop!
Baker Beach
Admire the California Coast with a spectacular view of the Golden Gate Bridge and the cliffs. Baker Beach is where the Bay meets the Pacific Ocean. There's not much around the area and it's a bit of a trek to get to, but it's the perfect place to grab a blanket and a picnic lunch, or a cup of coffee and cuddle as you admire the Golden Gate Bridge and watch the waves crashing.
San Francisco City Hall
There's a reason why so many couples decide to get married at the City Hall and have a small, intimate ceremony. It's just so beautiful inside with its grand staircases and Beaux-Arts-inspired architecture; no decor is needed! You can walk in and walk around, but you will have to go through a security check. Otherwise, you can make reservations for a docent-guided tour, which are scheduled on Fridays at 1 pm.
You can take your own Insta-worthy photos (married or not) if you are a hobbyist photographer, but if you are hiring a professional, they will need to obtain a permit (which won't make it a cheap date anymore).
Ferry Building
Located on the Embarcadero along with Pier 39 and one mile apart, the Ferry Building is a much better and classier attraction. Yes, it's a terminal for the ferries that sail across the Bay, but the main attraction is the food hall filled with artisan bakeries, cheese shops, wine bars, and restaurants.
I highly recommend Blue Bottle Coffee for your extra caffeine fix, and Humphry Slocombe for unique ice cream flavors (I've had lavender + olive oil ice cream there). Enjoy each others' cones or coffees while watching the ferries go by, with the beautiful Bay Bridge in the background (which isn't as famous as Golden Gate Bridge, but just as beautiful and epic).
The Ferry Building also has a farmers market on Tuesdays and Thursdays from 10 am–2 pm, and Saturdays from 8 am–2 pm, only offering the freshest produce and gourmet goods!
Chrissy Field
For a picnic or walk along the pier, Chrissy Field is another romantic spot in San Francisco. Located right on the Presidio (which is already epic in itself), Chrissy Field offers a panoramic view of the Golden Gate Bridge, Alcatraz, AND San Francisco's skyscrapers. It can't get any more picturesque than that! If you are into outdoor activities, there are a lot of spaces to walk, jog, bike, and hike!
Ocean Beach
Do you want long walks on the beach? Well, head over to Ocean Beach where the coastline is 3.5 miles long. Keep in mind that San Francisco is already pretty foggy, and Ocean Beach is one of the foggiest areas (all the reason to cuddle up while walking on the beach!). It might be a bit shocking, but the best and sunniest times are from fall to early spring. You might get lucky and encounter 70°F weather like we have a few times!
Active Date Ideas
Hike Land's End
Right next to Ocean Beach lies Land's End, one of San Francisco's most popular trails with a 3.4-mile loop. Some parts are steep, so be prepared to work your core and legs, and get your sweat on. It's worth huffing and puffing along the way when you're rewarded with stunning views of the Pacific Ocean, Golden Gate Bridge, and Sutro Baths. If you guys are the nosy type, eavesdrop on other hikers' conversations about their tech jobs (yes, we totally did this). There are benches and lookouts where you can rest.
Hike Lovers' Lane and Ecology Trail
The name is perfect for couples and resides in the Presidio. You feel like you're lost in the forest full of eucalyptus and cypress trees in the middle of nowhere. The 0.6-mile trail is light enough to where it's doable for almost everyone but also keeps you moving. If you're craving for more, wander your way up to the Ecology trail, which is a steep, 30–50 minute hike, leading you to more views of the City.
Climb Coit Tower
Have you ever wondered what that interesting, tall, white column is in San Francisco? That's Coit Tower, a 210-foot tower nestled in the Telegraph Hill neighborhood. It's $10 for non-residents of SF (and $7 for residents), and 13 stories high. On the 11th and 13th floors, there are observation decks giving you 360° views of the Bay Bridge, Alcatraz, and other skyscrapers. The pathways and staircases are narrow and steep, so rest and take a breather when you are able at each stop!
Go on a Bike Tour
Walking tours are great, but if you want to explore San Francisco in a shorter period of time, bike tours are the way to go! There are so many guided bike tours around the area, depending on where you want to go; keep in mind that San Francisco is extremely hilly so if you're a novice biker, this might not be the best date idea. But it's thrilling for those who are avid bikers! You can also explore beyond the city and Golden Gate Bridge, visiting picturesque towns like Sausalito.
Not keen on going with a big group? You can also take a self-guided bike tour with just you and your boo!
Waterbike on the Bay
For something completely different to try with your other half, give waterbiking a try! Basically, it's a bike seat contraption attached between two boards (like surfboards, or paddleboards?), you pedal it around the water to maneuver it. SpinOut Fitness, a San Francisco-based waterbiking company, is the first waterbike fitness club in the world. No swimming or biking experience is needed!
Indoor Ice Skating & Bowling
Everyone knows about Union Square's famous outdoor ice rink during the holidays. But did you know that San Francisco has an indoor ice rink open all year round? Yup, you're going to want to go to Yerba Buena Ice Skating & Bowling Center in the SoMA (South of Market) neighborhood for a spin outside the holiday season. Bowling is always a fun date idea for couples as well!
Food & Drink Date Ideas
Buena Vista for your Irish Coffee fix
Are you a fan of Irish coffee? You're going to want to head over to Buena Vista Cafe, where the caffeinated whiskey concoction was popularized in the U.S. The late travel writer for the San Francisco Chronicle, Stanton Delaplane, introduced the cocktail to Buena Vista Cafe after drinking it at the Shannon Airport in Ireland.
Today, Buena Vista is a classic eatery a block away from Pier 39. They serve the typical soup, salad, pasta, burgers, and sandwiches, but the Irish coffee is what really shines. You can order their original, classic Irish coffee or you can try variations like Mexican (made with Kahlua and tequila), chocolate, Bailey's, Nutty Irishmen, and many more! You and your other half can order 2–3 each and make your own "flight"!
Wine and fine dining with movies at Foreign Cinema
There is no shortage of great food and fine dining in the City by the Bay, and Foreign Cinema is no exception! But what makes this renowned restaurant special is that they play indie movies (without audio) in their outdoor patio dining area. Foreign Cinema is oozing with romance, with twinkling lights all around, a cozy fireplace, and rustic interiors. The food is exquisite Mediterranean-American fare, made with only the freshest fish, plants, and meats in Marin County. They also serve amazing wine.
I'm sorry that Cecilio and I didn't take a lot of photos when we went a while ago (which doesn't do it justice), but you'll have to take my word and see for yourself by checking out the website and booking a reservation! You can't go wrong; dining at Foreign Cinema has to be one of the most romantic things you can do in San Francisco.
Tickle your sweet tooth at the Ghirardelli Chocolate Experience
Chocolate lovers, this is for you. You can't visit San Francisco without scoping out Ghirardelli Square, specifically the Ghirardelli Chocolate Experience. Channel your inner Hansel and Gretel by going crazy shopping for as many chocolate squares as your heart desires. You're not just limited to those little squares; you can buy gifts, souvenirs, chocolate bars, hot cocoa mixes, and more! The Ghirardelli Chocolate Experience isn't just a gift shop; you can order sundaes, milkshakes, hot cocoas, and other decadent desserts for you and your sweetie to share. The shop also has a gorgeous view of the Bay, Alcatraz, and Pier 39!
Small bites and cocktails at Top of the Mark
Another classic San Francisco spot, Top of the Mark is one of the most renowned bars in the city, located on the 19th floor of the InterContinental Mark Hopkins Hotel. You are treated to the most gorgeous 360° skyscraper views of the city, and delicious appetizers such as mussels, deviled eggs, sliders, and crab bits. The cocktails are amazing too; the last time we were there, I had an espresso martini (or two). If nothing else, go for the views and canoodle inside the lounge!
Taste the city through a food tour
Aside from a walking tour, the best way to get to know a particular city is through its food scene. San Francisco is one of the top foodie cities in the U.S., so there's no surprise that there is an abundance of food tours. With how diverse the city is (and California in general) and its ethnic enclaves, expect to taste some mouthwatering international dishes.
To me, Italian cuisine is the most romantic of them all. North Beach is the unofficial "Little Italy", so there's a chock full of Italian restaurants, cafés, and gelaterias. Why not sample a taste of culture with a North Beach food + walking tour?
North Beach Food Tours to book:
If dum sum and moon cakes are more of your thing, you're in luck! With the sheer amount of restaurants in the area, a Chinatown food tour can help you find the best eateries without getting overwhelmed and indecisive.
Chinatown Food Tours to book:
Let's not forget the Mission District! You're probably familiar with their world-famous burritos. A food tour dedicated to Mission District includes a deep dive into its history, art, Latin dishes, and beyond.
Mission District Food Tours to book:
Unique Date Ideas
Ride the cable car around the city
Okay, it sounds like another cheesy thing to cross off, but I promise you it is a ton of fun! Riding the cable car makes for another romantic thing to do in San Francisco. Cecilio and I rode the cable car for the first time during our most recent San Francisco getaway, and it saved us so much time from having to look for parking. It saves us from walking so many hills (which I don't mind doing, but sometimes it gets a bit much).
Invented right in the city, the open-air cable car takes you to some of San Francisco's top attractions with awesome scenery and a taste of local life.
You can download the MuniMobile app and purchase an unlimited day pass for $13!
Watch the Giants game in Oracle Park
Even if you're not a huge baseball fan, it's worth watching the San Francisco Giants in one of the best MLB ballparks during the summer or fall. Unlike how most of the city has that layer of fog, the sun shines in Oracle Park most of the time. It's situated on the bay, overlooking Bay Bridge and within walking distance from Embarcadero (where Pier 39 and Ferry Building are located). So you have this beautiful scenery while the game is on, making it a perfect San Francisco date idea with your SO. If you haven't got to your set yet, look for the cable car in the main concourse to take photos in front of. Don't forget to munch on Oracle's famous garlic fries or helmet nachos!
Musée Mécanique
For the playful couple, head over to Musée Mecanique in Pier 45, a vintage arcade with over 300 games, artifacts, and machines. Step back into the 20th century and experience how kids played arcades back in the day when it was all coin-operated. Even though Musée Mecanique was built in 1933, the oldest machine dates back to the 1800s (and is still in perfect condition!). Walk through images and stories of how San Francisco used to look before the 1906 Earthquake.
California Academy of Sciences
An aquarium, museum, planetarium, and indoor rainforest rolled into one building, the California Academy of Sciences makes for a unique romantic thing to do in San Francisco. The aquarium is my favorite part (and personally, it's much better than the SF aquarium in Pier 39). You are bound to see stunning coral reefs, penguins, and schools and schools of fish.
Want to experience something totally unconventional? CalAcademy has nighttime exhibits and a chance for you to sleep over with the penguins and fishies! Beware, the tickets are quite pricey at $129 for adults. But it's truly a once-in-a-lifetime experience (that I might actually want to do too!).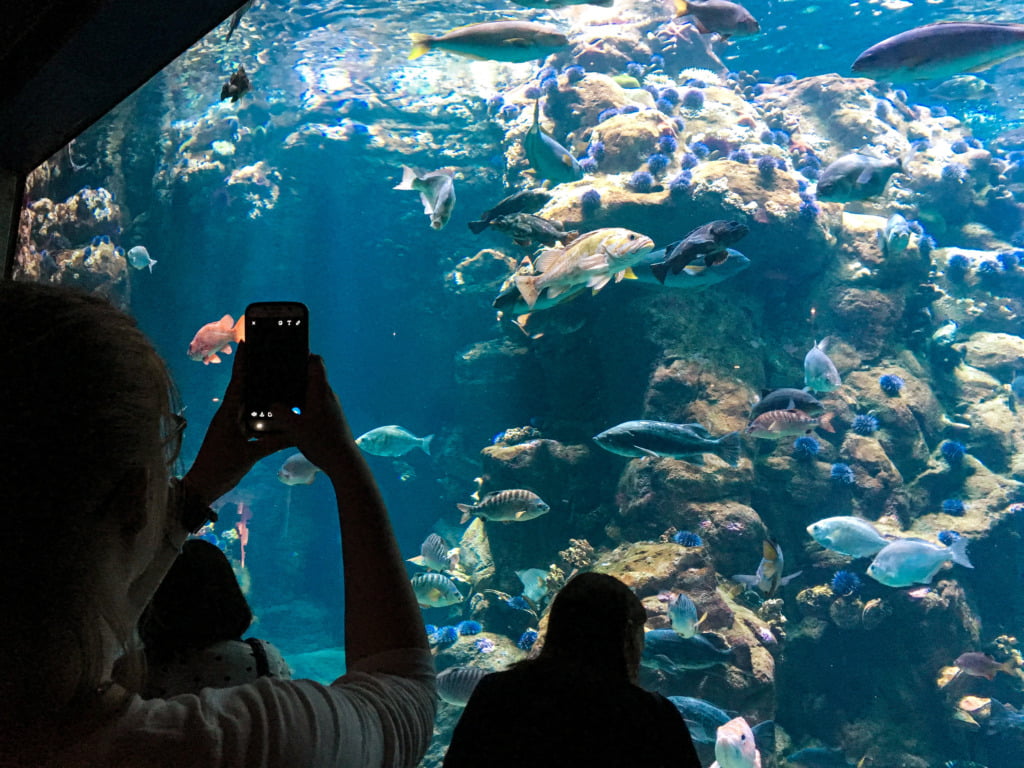 Cultural Date Ideas
Catch a Broadway show
You don't need to go all the way to New York to enjoy musicals. You can watch a Broadway show in San Francisco at the Golden Gate or Orpheum Theatres. There are so many musicals thespian-loving couples can see such as Les Misérables, Book of Mormon, and Aladdin!
Stroll, shop, and eat your way through Japantown
You might not have the means to book a ticket to Tokyo, but you can experience the closest thing in Japantown. San Francisco's neighborhood is one of the three remaining ones in the U.S. Go shopping for unique goods at Japan Center Malls; Daiso is a great store for the cheap, fun stuff. Head to the bookstore, Kinokuniya, for the manga, cookbooks, anime merchandise, and many more. The mall also has ramen restaurants and dessert shops.
Outside the mall lies Japantown Peace Plaza lies the Peace Plaza, with has the 5-tier pagoda gifted by San Francisco's sister city, Japan. Post and Geary are lined with delicious eateries like ramen/udon bars, sushi restaurants, and cafés.
SFMoMA
Museums always make for a fun, cultural, and educational date. SFMoMA (Museum of Modern Art) is no exception! I personally love going to museums with Cecilio, especially anything art-related. Bonus: There's a restaurant on the first floor (which is open to the public), and cafés on the 2nd and 5th floors!
Romantic Day Trips from San Francisco
Napa/Sonoma
Just around 2 hours away from San Francisco, Napa Valley makes a perfect date with its world-class wineries and rolling hillside vineyards. But it's not just the wine that Napa is known for: there are a plethora of upscale restaurants, including the most famous French Laundry. If you don't have that disposable income, Ad Hoc is an affordable (but still upscale!) eatery.
Sonoma is also a renowned wine destination, but slightly more affordable with more space and room for grapes to grow. You're also closer to nature with Russian River and Bodega Bay around the corner.
If San Francisco is Paris, then Napa Valley is Tuscany and Sonoma is Lombardy.
Sausalito
All you need to do is drive by the Golden Gate Bridge and Sausalito is just a few exits away! This small town has amazing restaurants, cafés, art galleries, and shops. There's also a little harbor where you and your love can cuddle while eating ice cream or drinking coffee. You're also close to Mount Tamalpais and Muir Woods if you're craving a hiking date!
Yosemite
California's most famous National Park is 4 hours away. Yosemite makes a perfect date for thrill-seekers and hikers, especially those who dare to climb El Capitan. If you're not super adventurous, Yosemite is a popular spot for photographers and artists; after all, it was shot by none other than the late landscape photographer Ansel Adams.
If you don't want to drive, there are many guided tours that will drive you from San Francisco to Yosemite.
Monterey/Carmel/Big Sur
The Central Coast offers a blend of beaches, wildlife, luxury dining/accommodations, and nature. Monterey is only 2 hours south of San Francisco, with the Monterey Bay Aquarium and Cannery Row as the most popular attractions. With its proximity to the water, seafood restaurants filled with fresh fish right on the Bay are everywhere.
For small-town European charm and luxury, head further south to Carmel-By-The-Sea. There are so many art galleries, high-end shops, and restaurants. If you're bringing your furry friend, you'd be happy. to learn that Carmel is one of the most dog-friendly cities. You also have the beach. and hiking trails around the corner.
If you want to do a rugged road trip with epic views of the coast and cliffs, go even further to Big Sur.
Lake Tahoe
While Lake Tahoe is mostly known for its snowy landscape, it's a beautiful destination that can be enjoyed all year round. Beach bunnies can enjoy jet skiing, paddleboarding, kayaking, and swimming. During the winter, couples can spend a day at Lake Tahoe skiing, snowboarding, and snowshoeing. If those activities aren't your jam, head over to Heavenly Village in South Lake Tahoe to have hot cocoa by the fireplace or go ice skating.
Lodi
This small town is a 2-hour drive from San Francisco, and 30 minutes south of Sacramento. Not many people outside of California know about Lodi, but it's known for its wineries. Lodi's wine scene is smaller and more intimate than Napa and Sonoma, but it's bustling. That means it's easy to get around and visit as many tasting rooms as you want. Lodi is known as the Zinfandel Capital of the World. Here is Lodi's Wine Trail Map, and you can get around with a pedicab, limousine, or a sip shuttle.
If you're seeking adventure, head over to Lodi Lake for kayaking, paddleboarding, and wildlife tours!
Summarizing the couples' guide to San Francisco
With world-class city life, access to nature, and delicious food, San Francisco is the perfect romantic destination for couples. Whether you're celebrating Valentine's Day, an anniversary, or going on a honeymoon, you have an endless amount of romantic things to do in San Francisco at your fingertips.
Hannah is a travel writer, graphic designer, and the founder/editor of Hannah on Horizon. She is based in Sacramento, California, living with her husband and two adorable dogs. She shares tips on how to experience luxury travel on any budget, and how to maximize time at each trip or destination, no matter what your budget or amount of vacation time at work. She enjoys making you feel like you have visited each destination with her through her storytelling and informative writing style.