When you have a chronic illness, how you feel everyday ebbs and flows. Some days, you feel on top of the world. What illness?, you may ask. Other days, you struggle getting out of bed and each movement feels like your muscles, tendons, joints, bones and organs are twisting and turning.
That happened to me on Sunday morning. I woke up at 8 a.m. with pretty bad joint pain and a sore throat (on a scale of 1–10, I would rank the pain as a 7). It hurt so much to move, and I had scheduled to take a Pure Barre class at 10 a.m. If you canceled the class within less than 2 hours it's scheduled, you get charged $10. Normally, I would come in, do the workout and come out feeling much better with my joints loosened up. But I was simply just not feeling it that morning. Plus, I only slept for like, 3–4 hours. I decided to just eat the $10, cancel the class and rest. I told myself that there was nothing wrong with a few days of resting, since working out breaks down the muscles, and the only way to repair those muscles and get stronger is through resting (and eating more protein). During the times when I took 3–4 days off, I came back being able to hold the moves longer, and sink lower and deeper.
My joint pain came from weird weather changes. Just a few weeks ago, the lows were in the 50s with the highs in the 70s! I was able to wear dresses without stockings to work, and I didn't need to bring a heavy coat. I loved it. I am a warm weather gal, through and through. Now, the temperatures have dropped to the lows in the high 20s, with warnings of hard freezes in our area. When you have an autoimmune disease, your body does not handle sudden weather changes well. It hits hard with arthritis patients (I have lupus, which is similar to rheumatoid arthritis).
I also recently had a UTI (TMI, I know…but it's common among lupus patients) and had to take an antibiotic called cephalexin for a week, which caused dizziness everyday while I was on it.
It was a good thing I had Monday off (because it was President's Day), so I got to rest, catch up on chores and blogging tasks.
Even though I am taking prednisone (which relieves pain and without it, the pain would have been so much worse), flares still happen time to time. It's incredibly frustrating, and you feel like your body hates you. I'm always at war with my body.
Everyone should practice self-care, especially in our go-go-go, work-to-the-bone society. It's much needed for our physical, mental and spiritual well-being. But it's even extra important to rest and recharge when you have a chronic illness. Here is how I've been coping, managing it and how I will in the future when a flare pops up in the middle of nowhere:
1. Don't be afraid to ask for help.
I often feel guilty because Cecilio does a lot of the chores at home (primarily because he comes home from work much earlier than I do, and during the weekend mornings I go and work out and he makes breakfast. Of course I help a lot with the chores too. He just likes to have things clean, and part of that guilt stems from me being a woman and feeling like I'm "supposed" to be the neat one (which stems from my mom lecturing me in the past for being messy and telling me that whoever I marry will not be happy with my messiness because it's more of a woman thing to keep things tidy). But that morning I could barely move. He was happy to be able to do the cleaning and vacuuming while allowing me to rest. He gave me ibuprofen to relieve my pain, which I did, and a few hours later it went down to a 2. I was able to then carry a hamper full of clothes and help out with the laundry.
2. Get moving
Oftentimes when we're in pain, there's no way we would want to peel ourselves out of bed to work out. But that's exactly what you should do, even if it's for at least 20 minutes. You should do something to get the blood flowing in your and to lubricate your joints. It will also relieve stress and negative emotions building up in your body (whether it's from the pain in itself or just from day-to-day living with a chronic illness), and release your endorphins. There's also nothing like a walk outside, immersing yourself with nature! Feel the fresh air and inhale it. Admire God's creation all around you, whether it's the textures of each leaf or the different shapes of each cloud.
3. Eat healthier meals
I don't know about you, but when I'm going through a flare (whether it's from physical pain, or being pain-free but my labs stating otherwise and then having to take prednisone), I spiral into depressive state which then causes me to binge on the junk food (hello Hot Cheetos!). I figure, why even try to eat better? I'm sick and I always will be anyway. I've even heard that some lupus patients should even actually stay away from certain vegetables such as eggplant, peppers, tomatoes, potatoes, other root vegetables and garlic. Which is really depressing because those are the vegetables I actually love. I like eggplant but don't eat it often because Cecilio hates it, do we don't make it. I haven't had a flare from eating it or any of the other vegetables mentioned above, so I will still eat those things. I always season my food with garlic. But that negative attitude of binging on all the junk (because who cares?! You're already sick!) is going to make you feel worse, physically and emotionally, and you will end up gaining more weight quicker. Sure, your diet may not cure you of your disease, but it will help your insides feel better and help you manage your pain and flares. The healthier you eat, the better you will feel in the long run. I love seasoning vegetables with garlic, onions and different spices and then roasting them in the oven, along with some protein (chicken or chickpeas). I also try to add in more servings of fruit by making a smoothie with berries and banana, and giving it more "oomph" with soy milk and peanut butter.
4. Pamper yourself.
There is absolutely nothing wrong with dedicating a whole night to pampering yourself. This past Saturday night, I spent an hour soaking in the bathtub with my lavender bath bombs and a glass of Merlot. I then took a shower and put on a hydrating face mask for about 20 minutes, which helped reduce the redness and inflammation from getting my sideburns waxed a day ago. Cecilio kept encouraging me to do something for myself that night, because I had a long, stressful week. By doing those things, I give my body a much-needed treat from pushing myself hard. It also helps speed up recovery.
5. Read other peoples' stories for inspiration.
When I was having that bad flare on Sunday, I had to lay down on my bed. I was scrolling through the Lupus Foundation of America website on my phone, and found this page that tells stories of other lupus patients managing their health while thriving in their careers. They make adjustments and adapt (even if they need some aids like a chair to reduce swollen feet, other people to help them carry heavy equipment, or the ability to work from home), but they give it their all regardless. And they practice self-care too, and allow themselves days of rest and recovery in order to come back working with excellence. This gives me hope: one of my biggest fears is that I'll get super sick that I will no longer be able work. Now, I know that that can always be a possibility. Lupus is that cruel. Some spoonies (people with chronic illnesses) absolutely cannot work, whereas others are able to balance work, family, activities on top of their health. Lately I've been feeling so negative and defeated about my disease, and reading these stories lifted my spirits because it showed me that you can still absolutely live a full, rich life despite chronic illness.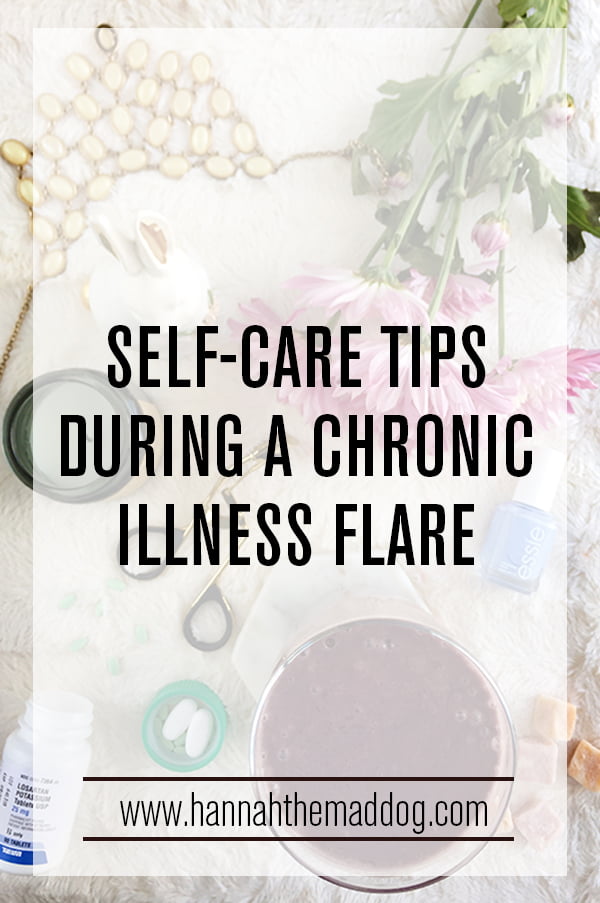 6. Let your frustrations out.
Even after 11 years of my diagnosis I still cannot accept my disease. It's even more upsetting when my doctors say, "Well, that's just the nature of lupus…" and even though they mean well, I still feel like it's unfair. Life isn't fair. I've had a few moments where I've had to shed a tear or two lately. It's okay to be upset and angry, and it's healthy to express that whether it's through crying to your loved one or yelling into a pillow.
7. Sleep longer.
When you have a chronic illness, sleep is your best friend and your lifesaver. My body and mind thrive on at least 7 hours of sleep, and maybe thrive on 6. I start to suffer on anything less than 5 hours (though I still have bad sleeping habits). I'm dizzier and hungrier, my performance suffers. I feel a lot more anxious too.
8. Don't find your identity solely on your disease.
It can be tough though. Between doctor's appointments, flares, calls to refill medications, you often wonder…is this all there is? Am all I am is this disease? Yes, this disease is a big part of you and yes it sucks that while you can manage it, there is no cure. On and off, I have those feelings. But I try to look at the positive and think of the other things that define me: I'm a talented blogger and graphic designer (although this blog doesn't really show it, you can see my work here). I am a proud dog mama. I try to be the best wife, daughter, sister and friend I can be.
It's easier to think yourself and to tell others to hang it there…but it's so difficult to actually feel it on a daily basis when dealing with joint pain, nausea, dizziness, stomach issues, doctor's appointments, side effects from medications, etc. It's constant challenge. But I promise there is always a light at the end of the tunnel.
Do you have any self-care tips or ways of coping with a chronic illness that you would like to share?
Hannah is a travel writer, graphic designer, and the founder/editor of Hannah on Horizon. She is based in Sacramento, California, living with her husband and two adorable dogs. She shares tips on how to experience luxury travel on any budget, and how to maximize time at each trip or destination, no matter what your budget or amount of vacation time at work. She enjoys making you feel like you have visited each destination with her through her storytelling and informative writing style.