Pop-up art exhibits and installations have been the rage within the past few years. From artists providing Instagrammable backgrounds to collaborating with other creatives to curate a unique experience for patrons, it is a great way for local residents to learn and appreciate the arts and the blood, sweat, and tears behind the work. The Van Gogh Immersive Exhibit in San Francisco is no expection to this.
I learned about Vincent Van Gogh and his work through art history classes for my graphic design major in university, and I got to see the Starry Night painting twice in the Museum of Modern Art in NYC. So when I found out about the Van Gogh pop-up exhibit coming to San Francisco among various U.S. and Canada locations, I immediately purchased tickets for Cecilio and myself. I even bought Van Gogh-themed face masks as an add-on to our VIP package!
The Immersive Van Gogh SF Experience started in Paris attracting over 2 million viewers. The San Francisco location is occupied in SVN West (formerly known as The Filmore West) off of South Van Ness and Market St. I have to warn you that driving around Market St. is a huge nightmare, and there is no parking provided for the exhibit. Your best bet is to park in the City Hall/Civic Center parking garage (which is what we did) and walk. Parking is $6/hour (which is A LOT cheaper than private parking garages in SF) and it was a 10-minute walk to the exhibit. You can also catch an Uber or a Lyft to drop you off.
Each exhibit is custom-tailored to the specific location. For example: We saw elements of San Francisco fused with Van Gogh's work, like this installation of the Golden Gate Bridge attached to a mural inspired by Starry Night below:
The actual exhibit in SVN West holds more than 100,000 square ft. of event space, and housed concerts for famous musicians back in the 60's and 70's. There were marked circles across the floor where people could stay and social distance. Some people used the limited amount of chairs provided, but most of us were given a seat cushion and had to sit on the floor. I walked around a few times to take photos and videos at a decent angle.
All four walls, ceiling to floor, corner to corner, showcased Van Gogh's works digitally and live. Each stroke moves as if it was how Van Gogh himself painted his pieces during his time or if it was in a movie. It's hard to explain and my photos don't do justice, so below is my TikTok video showcasing the transition of each art piece:
The show was an hour long and featured some of Van Gogh's famous pieces such as Potato Eaters, Sunflowers, Almond Blossoms, and of course Starry Night. Some pieces even showed sharp detail of the impasto techniques Van Gogh used in his paintings, which are thick layers that show the brush/knife stokes and give a 3D appearance. Use of music and lighted added an extra dramatic effect to the experience.
Once the show was finished, you were taken to the break area where you could use the restroom or walk around.
Tsungwei Moo, a Taiwanese-American artist, did some live paintings in a little corner with some of her own pieces on the wall. She is actually in residency for the Immersive Van Gogh exhibit. Please check out her work on her website or Instagram.
No detail went ignored even in the break room, from painted brush strokes on columns to the cheeky use of "Gogh".
Finally, before the exit, there was a gift shop for those who were interested in Van Gogh-themed loot. I didn't buy anything since we already had masks and posters, but it was nice to window shop. I especially liked the sunflower couture on the mannequins!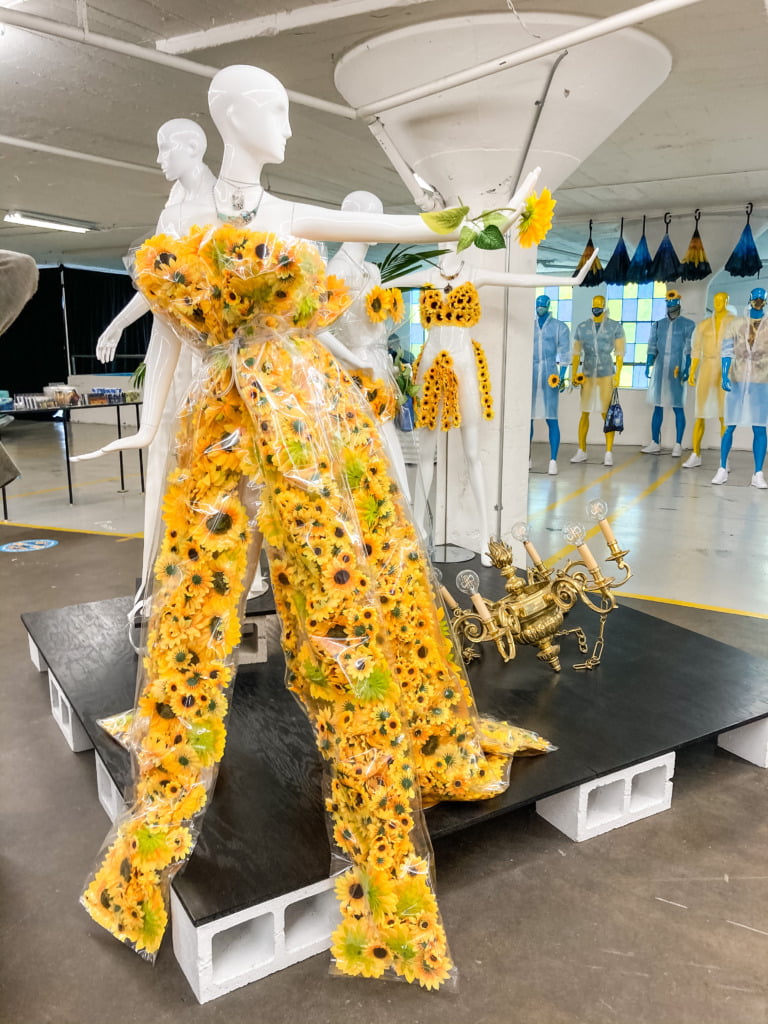 The Van Gogh Immersive Experience is a unique one I will never forget, and as a designer/creative, I understand and appreciate all the work and labor that goes into curating an experience like this. Whether you are a professional creative or an art enthusiast, I highly encourage you to check out the closest exhibit to your location. Also, the SF exhibit hosts yoga classes, so you can sign up and get your namaste on in a stunning environment!
Hannah is a travel writer, graphic designer, and the founder/editor of Hannah on Horizon. She is based in Sacramento, California, living with her husband and two adorable dogs. She shares tips on how to experience luxury travel on any budget, and how to maximize time at each trip or destination, no matter what your budget or amount of vacation time at work. She enjoys making you feel like you have visited each destination with her through her storytelling and informative writing style.