Back in 2015, Cecilio and I stayed in New York City for about 6 days (this was the trip where he proposed to me in Central Park). The day before we went to Central Park, we dedicated our afternoon to pay a visit to the Statue of Liberty and Ellis Island via the ferry. It's only fitting that I share this as the Fourth of July in the US passed.
A brief introduction to Lady Liberty
The Statue of Liberty is the most iconic monument in the U.S. It was gifted by the French, designed by Frédéric Auguste Bartholdi and constructed by Gustave Eiffel (yes, the architect who designed the Eiffel Tower). Originally, it was a symbol of friendship between France and the U.S. during the American Revolution. Now, she symbolizes freedom as she holds her torch up high, paving the way for immigrants to find a better life in the U.S.
But as millions of immigrants laid their eyes upon her with hope, they never realized what hardships they had to endure when they landed on Ellis Island for inspection before they could arrive and make themselves at home.
How to take the ferry to Statue of Liberty and Ferris Island
I booked the tickets on Statue Cruises in advance. You have different options to choose from: you could purchase a simple ticket which takes you round trip to both sites, but Cecilio and I wanted to go inside the Statue of Liberty. You could choose to go inside either up to the pedestal (which is the base where Lady Liberty sits atop of) or the crown, which is the highest level. The crown tickets were no longer available on the day I wanted to reserve so I opted for the pedestal tickets. You choose a date and time.
The Statue Cruises terminal is located near Battery Park, which is on the southern tip of Manhattan Island facing New York Harbor. You will need to check-in 15-30 minutes before your scheduled time.
New York or New Jersey?
Geographically, both Statue of Liberty and Ellis Island are on New Jersey's side. There are a lot of disputes about where the monuments belong. In fact, the US Supreme Court in 1998 declared that Ellis Island belonged to both New York and New Jersey because it's federal property. However, it depends on where you are. The Ellis Island National Museum of Immigration (which is where Cecilio and I explored) is within the boundary of New York. But 83% of Ellis Island is under the property of New Jersey.
Statue of Liberty is under the jurisdiction of New York, even though geographically it's surrounded by New Jersey's waters.
Visiting Liberty Island
The ferry will drop you off at Liberty Island, specifically Statue of Liberty National Park. From here, you can walk around and you get the view of Manhattan on one side, and a view of New Jersey on the opposite. I know it looks like it was freezing, but we went in March. And it rained on and off.
The pedestal
Once you get inside the Statue of Liberty lobby, there will be security who will check your tickets to make sure you are staying put in the correct place (for example, they will catch if you are trying to go on the crown level when you really bought pedestal tickets).
There are lockers you can rent for $2 per 2 hours to store extra belongings.
There are 215 steps from the lobby to the pedestal, or you can take the elevator.
Richard Morris Hunt, a Vermont-based architect, designed the pedestal. Now, the pedestal is a mini-museum dedicated to the makings and origins of the Statue.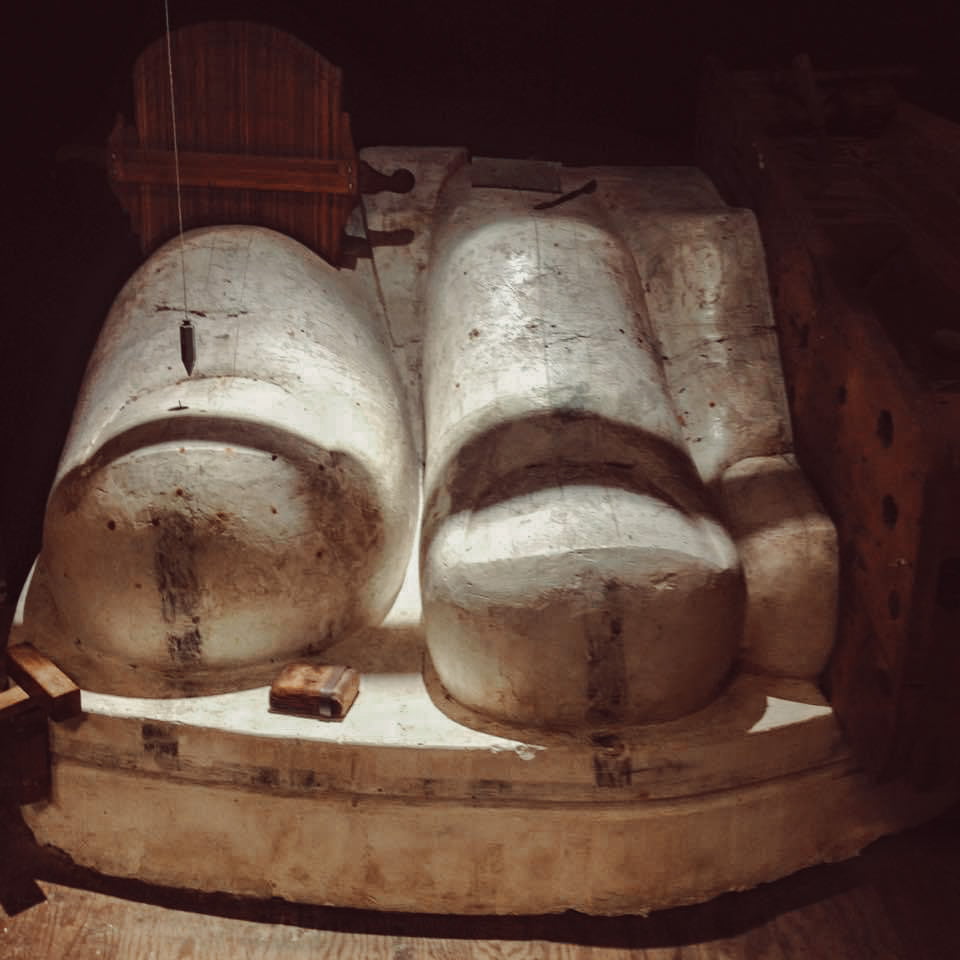 Heading to Ellis Island
Because you took the ferry, you are given a designated time to go back to the terminal on Liberty Island to head over to Ellis Island.
Most people head over to the Ellis Island Museum, which was once the station complex for immigrants crossing over to America. Stepping inside was an emotional experience. I can't imagine how those who settled from different countries struggled in a crowded space, not knowing whether or not they could call America their home.
It was also an educational experience. There were exhibits featuring photos, artifacts, videos, interactive displays, prints, and audio. The interactive displays were my favorite!
The Voices of Leaving exhibit features quotes from immigrants and audio recorded (or re-enacted) of a typical day in Ellis Island, immigrants trying to survive among the noises and hoping to get accepted into the land of the free.
I also played this fun interactive quiz that was touchscreen where it asked me questions about myself, and it would give me the reasons I would've been denied entry in the U.S. back in the 20th century.
Reading quotes and stories from those who survived customs made it more surreal.
Overall thoughts and musings
If you ever go to NYC, do not hesitate to take a trip to see the Statue of Liberty and Ellis Island. Yes, it's on the touristy side. But seeing Lady Liberty and walking inside the building where millions of immigrants suffered to declare themselves American citizens will pull your heartstrings. It makes me proud to be an American, even though I really hate how things are going with our government (which is why we absolutely need to vote in November).
And please excuse my photo quality, these were taken in 2015 back when I had the iPhone 5. I just wanted to share these experiences with you all and of course, I love storytelling (which is why I've been more drawn to travel blogging). If I could teleport myself back and retake these photos, I would. 😛
PS—If you're feeling patriotic, you're going to LOVE these Statue of Liberty quotes and captions!
Hannah is a travel writer, graphic designer, and the founder/editor of Hannah on Horizon. She is based in Sacramento, California, living with her husband and two adorable dogs. She shares tips on how to experience luxury travel on any budget, and how to maximize time at each trip or destination, no matter what your budget or amount of vacation time at work. She enjoys making you feel like you have visited each destination with her through her storytelling and informative writing style.