Photography: Elisabeth Arin Photography
Cecilio and I talked about buying a canvas print of one of our wedding photos someday, whenever we moved to a bigger space. We could've had a chance to purchase one from our photographer, but we just pushed it off and the idea of hanging it up seemed daunting. Would we need to drill it? Cecilio tries to minimize drilling as much as possible in our apartment (though he did lightly drill my vanity mirror and these wall shelves I bought). We have been mostly using command strips to hang up things.
When the people from Photowall* contacted me to send me a photo canvas, I could not pass that up! This was now a chance for us to get a beautiful canvas that captured our special day.
Photowall is a Swedish canvas and printing company, where they allow you to choose an art piece (or you can upload your own photo, which is what I did) and they send you a canvas of that print, along with the materials you have to build your canvas with (4 wooden blocks that make up the frame on each side, L brackets and screws).
Our wedding photographer sent us about 800 photos, but this particular one stood out to me: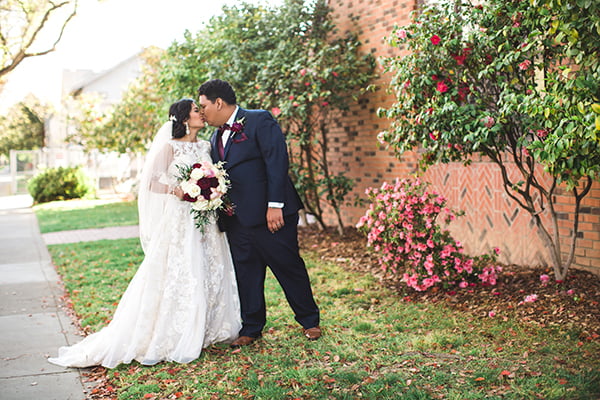 Whether you choose the thousands of designs or upload your own, Photowall allows you to crop the image and customize the size of the canvas. I wanted to go big or go home, so I chose for my canvas to be 31.5″ in. x 23.62″ in. (80 cm x 60 cm). I was amazed with how fast it delivered, considering it was from Sweden. I placed my order 2 weeks ago on a Tuesday and it was already on my doorstep on Friday!
Like I mentioned, Photowall's canvases are BIY (Build It Yourself). I am not at all a handywoman, so I needed Cecilio's help on this. It was not at all difficult and only took about 10 minutes, but I help assisted him with holding some of the items down or putting them together. We've built way more difficult furniture from IKEA before . One side of each wooden block has an adhesive that you stick on the canvas. You stick that adhesive part on each edge. Each side is meant to fit perfectly, and you use the L brackets and screws to secure it.
We then hung it on over our TV. And we did not have to drill it at all. We hung it up with command strips that had the capacity to hold up to 12 lbs., but overall I would say that the canvas weighs around 5 lbs.
There was no better time to get this beautiful piece from Photowall than now. This gift quadruples to celebrate Cecilio's belated birthday, Valentine's Day, our 9-year dating anniversary (which is the day after) and our 1-year wedding anniversary (which is coming up in March). If you have a significant other, I highly recommend gifting them with a Photowall canvas of a photo of you two as a sweet Valentine's Day memento. If you are single (or even if you have that special someone), anything goes! You can upload a photo of your family, friends, pets or even a landmark you have visited!
If you are interested in purchasing a lovely canvas print from Photowall, you can use my code HannahPadillaCampaign2018 to get absolutely anything for 20%. I am not compensated for this post. The offer ends on March 19.

*This product was sent to me in exchange for a review.
However, my opinions about the products remain 100% honest and unbiased.
Hannah is a travel writer, graphic designer, and the founder/editor of Hannah on Horizon. She is based in Sacramento, California, living with her husband and two adorable dogs. She shares tips on how to experience luxury travel on any budget, and how to maximize time at each trip or destination, no matter what your budget or amount of vacation time at work. She enjoys making you feel like you have visited each destination with her through her storytelling and informative writing style.