One of the highlights of our San Francisco mini-vacation was visiting the Fairmont Hotel. When I first found out about the life-sized Gingerbread House, I wanted to see it in person. It's grander than appears in person, but it turns out that Fairmont San Francisco has a lot more to offer than the Gingerbread House.
Fairmont San Francisco is a 5-star hotel located on the Nob Hill neighborhood, where there are also rivaling luxury hotels, art galleries, Michelin-star restaurants and boutiques reside. It's home to one of the most upper-class in San Francisco. There's a reason why it's nicknamed "Snob Hill".
The hotel itself was built in 1907, and since then, they have held their classic holiday traditions since then.
There are a few parking garages available and street parking is a bit difficult to come by. Click on SF Parking Guide for information about parking in Nob Hill.
You could also walk too if you're close by, but beware: it is one of the steepest hills in the city. Cecilio and I walked all the way from Union Square. I didn't get too winded and I thank my Pure Barre classes for giving me strong enough legs to be able to go up the hill without getting too out of breath.
So what does Fairmont San Francisco have to offer during this festive season?
Gingerbread House
The Gingerbread House is the highlight of the hotel, no doubt. It gets more and more spectacular every year. This year, it measures 25 feet high, 35 feet wide and 10.5 feet deep and it is made with REAL gingerbread bricks. 6,000 bricks, to be exact along with 1,650 pounds of candy and 3,000 pounds of icing. That's why it smells so fragrant as you get closer. The culinary and engineering teams at Fairmont San Francisco work together every year to make this masterpiece happen.
There is a line to get to the Gingerbread House. But don't worry, it's free! And it leads you to Laurel Court Restaurant & Bar.
There is so much detail in the Gingerbread House, such as the train tracks on the side or Santa on the chimney. The candy designs around the window are incredibly intricate. The icing is sandwiched between the bricks to give the house frosted feel. Life-sized human figurines and trees adorn the balcony on the second floor. The photos don't do this justice.
Laurel Court Restaurant and Bar
The Gingerbread House entrance leads you to the upscale Laurel Court Restaurant and Bar, where waiters serve you in elf outfits. Laurel Court serves California-inspired cuisine (think local produce, organic, healthy with vegetarian and gluten-free options). Unfortunately, because Fairmont gets crowded and booked in December, they only accept reservations for hotel guests. During the holidays, Laurel afternoon Gingerbread holiday tea (which is also sold out!) for $129/person. You can try to get on the waitlist but it's on a first-come, first-serve basis. You can make reservations for Christmas Eve or Christmas dinner, but it's not guaranteed until you get a confirmation.
I know, it sounds impossible to eat or drink in Laurel Court with how fast reservations for dinner and tea fill up, but most people walk by it to go to the hallway, which also has…
Cirque Bar
Fairmont's very own bar was incepted in 1933, and the first bar to open in the City after the Prohibition ended. The bar is very Art-Deco inspired with gold accents, clean lines and geometric patterns. During December, they offer holiday-themed signature cocktails. I ordered "Santa's Helper", which has Hennessy, chilled hot chocolate, spiced syrup, nutmeg and dark chocolate. It was delicious and gave me the buzz I was looking for! We didn't hang out in the bar because it was really loud, so we walked with my drink in hand to the rooftop garden.
Rooftop Garden
Right as you walk down the end of the hallway, you will find the entrance to the rooftop garden which is open to the public. The greenery is perfectly manicured and used for weddings, parties, and business luncheons. You get a good view of the TransAmerica Pyramid and Salesforce Tower. I along with everyone else outside enjoyed our cocktails or wine. It was fairly chilly, but still a lot warmer than other parts of the world which makes it more comfortable to hang out.
Santa's Playroom
Have a young family? Your kids are going to enjoy Santa's Playroom, which is right across the Cirque Bar! It's an open room with a hot chocolate bar (complete with whipped cream, chocolate shavings, and gingerbread!) and a candy bar!
Christmas Tree and Champagne Bar
We finally left the hallway to go back out to the lobby, and were in awe of the 23-foot Christmas tree. You could lounge around and enjoy while you order some bubbly at the champagne bar (and look! They made Christmas trees out of champagne bottles!).
Even if you don't stay at the Fairmont San Francisco, it's a great idea to pop on to see what holiday festivities are going on! You can take photos of the gorgeous Gingerbread House, have a drink at and chill, or take your family to Santa's Playroom!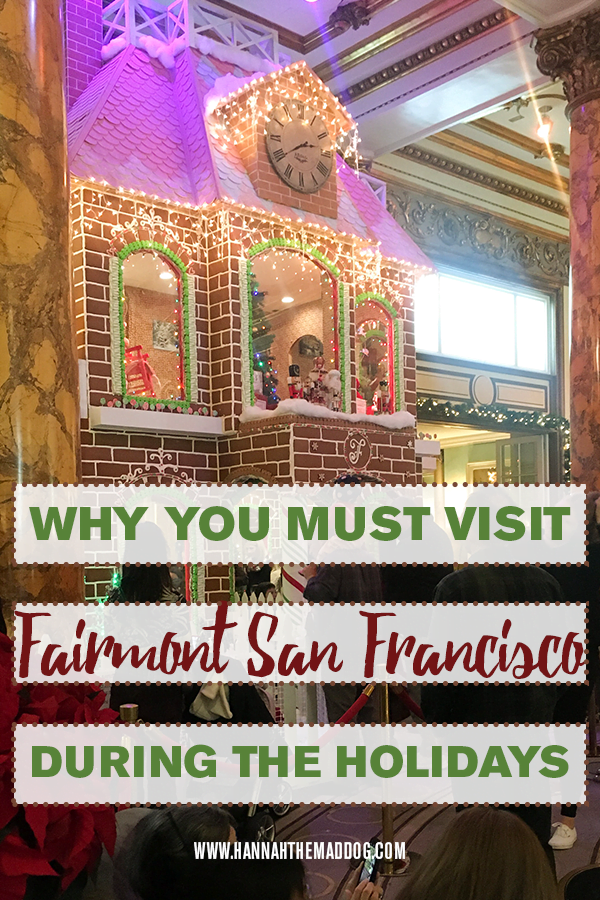 Hannah is a travel writer, graphic designer, and the founder/editor of Hannah on Horizon. She is based in Sacramento, California, living with her husband and two adorable dogs. She shares tips on how to experience luxury travel on any budget, and how to maximize time at each trip or destination, no matter what your budget or amount of vacation time at work. She enjoys making you feel like you have visited each destination with her through her storytelling and informative writing style.