There's nothing better than the calm, turquoise beaches of Mexico's Riviera Maya with its creamy sand. But what if you don't want to party it up in Cancun drinking overpriced, weak-ass cocktails or stay in the middle of nowhere in Tulum (which has been overrun by tourists and influencers in recent years)?
Enter Playa del Carmen, the perfect medium between the two.
Cecilio and I spent 1 week in Playa del Carmen for our honeymoon in 2017. It was the perfect getaway to celebrate our love and union, and decompress from the crazy wedding planning.
Playa del Carmen (PDC) has the most gorgeous beaches and a small city center, Quinta Avenida (5th Avenue) filled with walkable streets, shops, live music, and eateries. There are bars and nightclubs for those who are seeking it, but it's not in your face like how I imagine Cancun to be. PDC is also closer to other destinations and attractions like Cozumel, Tulum, and Chichen Itza. If you're looking for an even more authentic Mexican experience, you can also head over to Merida, on the other side of Cancun.
Whether you are looking to be one with the salty waves, eat your weight in tacos and margaritas, or party it up, I would say that 1 week in Playa del Carmen is all you really need to soak up your experiences.
Disclaimer: This post uses affiliate links, which means I make a commission if you book through this post. If you do decide to book using my links, thank you so much for your support!
Know before you go
Airports
Cancun International Airport (CUN), 45-minutes away from Playa del Carmen driving distance
Cozumel International Airport (CZM), 35-minutes away from Playa del Carmen through the ferry.

CZM is 9 minutes away from the ferry dock.
You have the option to take a taxi or a shared van ride to the ferry (same thing with CUN, although Cecilio and I paid for a private shuttle transfer to our hotel).
Weather
Playa del Carmen boasts of warm weather all year round, with January being the coldest month; the high of 82°F and lows of 65°F. November–May are all dry months, with rainy season pouring in from June–October. Those are also the muggiest months, so keep that in mind if you decide to go there. There's a reason why spring break is so popular in the destinations along the Atlantic Ocean.
Cecilio and I got married and honeymooned in March, and the high must've been in the mid-upper 80s, but it was so humid that it felt like 100°F. That made it perfect for swimming in the beach or pool (which you can do all year round).
Transportation
Renting a car
If you are staying in or near 5th Avenue, you will not need a car as it is extremely walkable. But if you're further away or want the freedom to drive, you can rent a car at the Cancun Airport.
Not wanting to rent a car at the airport? You can also book your rental car through Discover Cars!
Bicycle
With Playa being a walkable town, it makes sense that it's also easy to bike around. There are a plethora of bike rental companies around the town, some of which also rent scooters and attachable bike strollers. Here are a few places where you can rent a bike:
Taxi
If you don't have a car but need to go somewhere not too far away, there are taxis all over the town.
Colectivo
Colectivos are shared van services that operate like buses. They can take you from PDC to Cancun or Tulum, with multiple stops along the way. On our way to Tulum, our colectivo made a stop at Akumal, a small beachy resort destination known for its abundance of turtles.
Keep in mind that the colectivo going to Cancun does not take you to the airport.
Here are the colectivos below. Note that most of them are outside 5th Avenue, and they do not have websites but you can find them on Google Maps.
Ferry
You can take the Winjet or Ultramar ferries to go to Cozumel for 500 Mexican pesos (about $24 USD) round trip, and vice versa.
Where to stay for 1 week in Playa del Carmen
Cecilio and I stayed at Aventura Mexicana, a super cute small boutique hotel in 5th Avenue. It is also pretty affordable, especially in a sea of all-inclusives. Aventura Mexicana is a 3-star hotel that is highly rated and raved about on Tripadvisor.
While the hotel is small, it is mighty with amenities like massage services, yoga classes, two swimming pools, a restaurant, vouchers to two beach clubs nearby. The outdoor area makes you feel like you're in a jungle with all of the plants, and there is a Spanish-tiled staircase leading you to the second floor.
Not only is Aventura Mexicana in 5th Avenue, it is literally within walking distance from the beach.
We booked the honeymoon suite, the biggest suite in the hotel. Not only were the beds super comfy, it was also only about $150/night! Good luck finding a decent hotel at that rate in Hawaii or Europe. We came back every night with new towel animals.
You can book your room at Aventura Mexicana today, but if you are interested in other hotels in Playa, feel free to search below:
Safety concerns
I understand that even in a decent, tourist destination like Playa del Carmen, people have concerns about safety there with everything they hear about Mexico. Honestly, Cecilio and I were walking around past midnight and we felt extremely safe, even when we ventured outside 5th Avenue to a supermarket to get essentials. But I admit that me being with a man helped, because I wouldn't be going out late at night by myself. I actually felt more safe than I do in the U.S., especially with all the shootings here.
Just use your common sense, stick to more crowded spots (which shouldn't be too hard because 5th Avenue is pretty lively), and don't accept drinks or drugs from strangers.
Your itinerary for 1 week in Playa del Carmen
Day 1
Dinner then explore 5th Avenue
If this is your first day, you're probably going to arrive from the airport and then check in. Depending on what time you arrive and check in, feel free to relax for a bit before dinner. You can choose between eating at your hotel (if there is a restaurant) or head straight to 5th Avenue.
After that, walk around 5th Avenue and immerse yourself with the crowds, the vibes. Take everything in from the sounds of the lively Mariachi bands to the glimmering street lights to the smell of street food. Don't forget to treat yourself to a churro or scoop of ice cream!
Day 2
Breakfast and coffee at Ah Cacao
Yes, Playa del Carmen has Starbucks. But please don't tell me that you're flying all the way there for that when you could experience delicious, local coffee and pastries while supporting small businesses. Ah Cacao sources their beans from local farms and uses eco-friendly practices in their factories and cafes. I loved going drinking their delicious frappés or tasting a chocolate bar, knowing that their beans are just around the corner. They also have beauty products like chocolate-scented shampoo, soap, lotion, and reusable cups and bags. These make perfect souvenirs for yourself or loved ones!
P.S.—We loved Ah Cacao so much that we got breakfast there 3–4 times during our stay!
Head to Kool Beach Club for some lunch, swimming and all-day lounging
Don't forget that the beach is a few blocks around the corner. If you are staying at Aventura Mexicana (other hotels may or may not have this), you get a voucher to Kool or Encanto Beach Clubs! You pay a fee of 250 MXN ($12.50), and 100% of it goes to food and drink. Even though Aventura Mexicana has partnered with Kool Beach Club for this sweet deal, they are actually a part of HM Playa del Carmen, a 4-star hotel (they are also very affordable, so if you want to be within feet away from the beach for a reasonable price, this is where you should stay).
I liked being at the beach club because we got to lounge on one of the many chairs, especially under an umbrella (important for me to stay under the sun with my lupus), and we didn't have to constantly watch our stuff whenever we were both out in the water compared to if we were in on a random spot on the sand. I also appreciated being waited on for snacks and drinks!
Switching off between the ocean and the beach chairs, can life get any better? 🙂
Day 3
Day trip to Cozumel
You can't spend 1 week in Playa del Carmen and not leave without taking a trip to Cozumel, an island known for its world-class snorkeling. After all, it's a hop and a skip away through the ferry, where you can purchase tickets at the terminal, which is by Plaza Playacar. The Winjet and Ultramar ferries arrive every hour, and the ride takes around 45 minutes. Cozumel greets you with it's charming streets and high-end shops. From there, you can take a taxi to a beach to go snorkeling.
If you decide to not go snorkeling (which Cecilio and I didn't do, which I kinda regret), you can head over to a beach club to eat and relax by the water. We went over to Mr. Sancho's Beach Club, which is 20 minutes away from the downtown area/ferry dock. The food was okay, the drinks were weak, but we had an awesome time lounging and swimming for two hours straight. So even if we didn't snorkel, we did get to see some fish underwater (with my presciption goggles, of course).
Mr. Sancho's DOES provide snorkeling along with other activities such as scuba diving, parasailing, horseback riding, and an inflatable aqua park.
Once you're ready to go and head back to Playa, don't forget to wark around the Benito Juarez Park, a classic Spanish-style open plaza with benches for lounging over drinks or dessert, public art sculptures, and picturesque views of the ocean. It is especially stunning during sunset.
Dinner at Ambasciata D'Italia
This is going to sound strange, but there are a lot of Italian restaurants in Playa (oh, and sushi). Take a break from the tacos in favor of pizza for one meal during your stay! Let me suggest Ambasciata D'Italia, which is right around the corner of Aventura Mexicana. They had delicious, gooey pizzas that reminded me of the ones I had in Italy a while back, and the restaurant is stunning. They even had outdoor dining which is where we sat. Don't forget to end the night with some tiramisu!
Day 4
Spend all day in Xcaret
Most people either love or hate Xcaret. Personally, it was one of my favorite activities during our 1-week stay in Playa del Carmen.
Xcaret is an eco theme park that offers a taste of Mexico as a whole. It is filled with animal sanctuaries (including manatees!), trails filled with greenery, chapels, restaurants, and water activities. The highlight of our stay in Xcaret was swimming in the cenote (underground river). We rented fins and life jackets, and you also have the option to rent snorkeling gear. Even though the water was really cold at first, it felt refreshing after all the walking under the sun.
End your stay with Mexico Espectacular, a night performance storytelling Mexico's history, from ancient times to Spanish colonization.
I loved my time so much that I wrote a post on why you too, need to absolutely go to Xcaret. I highlight all the site points and activities so that you know what to expect.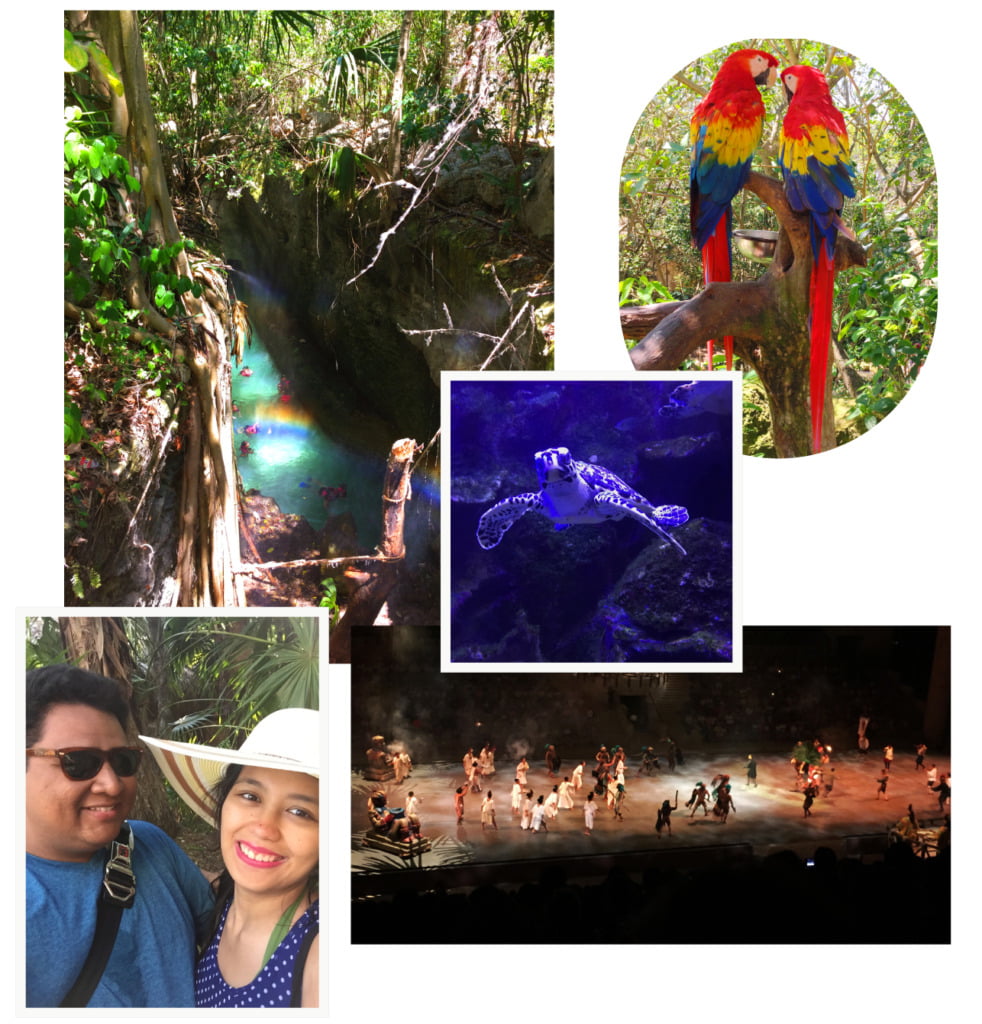 Day 5
Day trip to Tulum
If you're not staying in Tulum, you should at least take a trip there. The easiest and cheapest way to do so is through a colectivo, like I mentioned above. It's a van you share with others, and the driver makes multiple stops before your final destination. So even though the distance between Play and Tulum is only 45 minutes long, the stops add up. But it's nice to catch up on sleep (which I did both ways).
When in Tulum, do not miss El Castillo, the tallest Mayan ruin there overlooking the beach. It's been said that the entrance with the staircase, which faces west, was where religious ceremonies were held during the Ancient Mayan period. The east side, facing the ocean, had a limestone cliff in which two fires were lit to help canoers navigate safely at night.
Don't forget to walk around the other smaller ruins. But bask in all of El Castillo's glory.
You can walk to the beach too for a small dip.
Then take a bus to the center of town and try the restaurants (Tulum is known for having pretty good food). Cecilio and I didn't do this because he got sick on that day, so we took the colectivo back.
Try some authentic street tacos
Duh, we're in Mexico and there's going to be good tacos. But the best tacos I have ever had were from this random cart we walked by after getting dropped off from the colectivo, where we ordered 6 for less than $4! You will have to venture out of 5th avenue, as the cart was located between 15th Avenue and 2nd Street.
These tacos were mouthwatering with hot fresh meats and tortillas, with the perfect amount of flavor and oil. I can't find anything just as delicious in the U.S.
Day 6
Take an all-day tour of Chichen Itza
A UNESCO World Heritage Site, Chichen Itza was the center of ancient Mayan civilization. It's known for the El Castillo (like the one in Tulum, but this pyramid is a lot bigger and more epic), but there are also other ruins like the Temple of the Warriors and the Great Ball Court, an ancient sports arena where Mayans played pok-a-tok, which is basically a cross between basketball and soccer.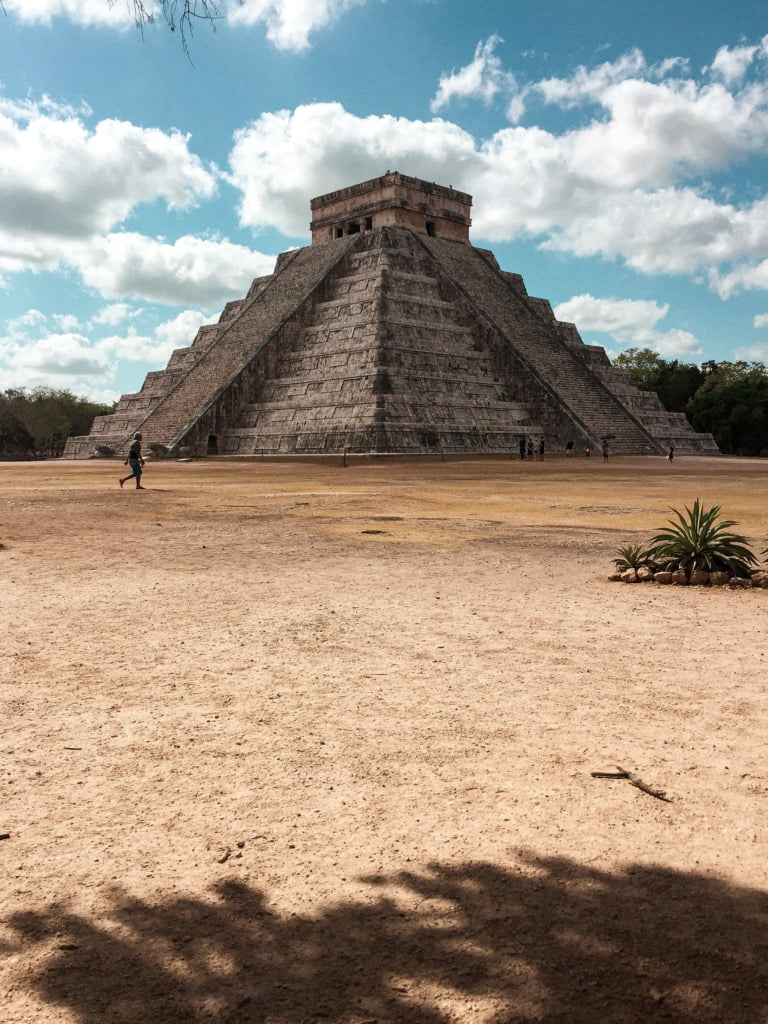 The best way to go to Chichen Itza is through a tour company like Viator, where you take a shuttle and a bus to get there and it's operated by the guide. It's also pretty expensive. But you get picked up extremely early to beat the crowds and the heat. Cecilio and I did a half day tour through Viator it was 5–6 hours long, but it's no longer there. I do suggest dedicating the whole day there since it is a 2 hour drive and there's so much to see. You even get a chance to swim in a cenote. I would suggest this 12-hour tour below:
Dinner at La Perla Pixan for authentic Mayan cuisine and mezcal
Since you are in the heart of where Mayans lived and roamed, you might as well try the regional cuisine. Let me suggest La Perla Pixan, an Instagrammable restaurant that serves traditional Mayan dishes with a modern twist. It's also a mezcaleria, meaning it specializes in mezcal, an alcoholic drink made from agave just like tequila, but is distilled differently. I loved my tepeu, a cocktail with chocolate, cinnamon, and mezcal. And it was only $4!
Day 7
Shopping time!
If you're someone who likes to shop for souvenirs for yourself and loved ones back home, you have got to stop at stores on 5th Avenue. From high-end shops to local gift stores, you're bound to find a keepsake to take home 🙂
To save on souvenirs, you can walk to Walmart which is on 30th Avenue and 12th Street. They actually have a ton of souvenirs like keychains, mugs, snowglobes, etc. It's also great to get some snacks and essentials before the flight home.
What to bring
Passport
Cash and credit cards
3–4 swimsuits
3–5 pairs of shorts or skirts
3–5 dresses
3–4 pairs of socks
Reef safe sunscreen
Wide brim hat
Because Playa is warm all year round, you're going to want to learn about summer-ish clothes and toiletries. Don't forget to protect yourselves from the sun! Click here for some sun-protecting summer essentials to help shield you. Also, if you want a full packing list, subscribe to my e-mail list at the bottom of this post and you will get 2 FREE printables, one of which is blank so you can customize your list 🙂
This itinerary is fluid
I based this itinerary on everything Cecilio and I did spending 1 week in Playa del Carmen, but you can reschedule, add or forgo some activities and excursions. It's completely up to you! And you can use this guide if you have less time, at the very least, don't miss Chichen Itza and Cozumel!
Hannah is a travel writer, graphic designer, and the founder/editor of Hannah on Horizon. She is based in Sacramento, California, living with her husband and two adorable dogs. She shares tips on how to experience luxury travel on any budget, and how to maximize time at each trip or destination, no matter what your budget or amount of vacation time at work. She enjoys making you feel like you have visited each destination with her through her storytelling and informative writing style.