Ever since the Van Gogh Immersive Exhibit popped up all over the world, there have been other exhibits paying homage to other artists. I have seen exhibits dedicated to Matisse, Frida Kahlo, and Monet. When I saw that there was going to be an exhibit replicating Michelangelo's Sistine Chapel in Sacramento, I knew I had to go and check it out.
The Sistine Chapel exhibit mirrors Michelangelo's masterpiece in the Vatican. The biggest difference is that you can actually (and should) take photos here. You may or may not know that in the real (gosh I feel weird saying that) Sistine Chapel, you cannot take photos…not even without a flash.
The marketing behind this exhibit is all about bringing Rome to you. Which is brilliant since not everyone can hop on a plane to go see the original piece.
I first learned about the Sistine Chapel in my Renaissance art history class, and since then, I wanted to visit it. I was able to go see it back in 2013 and I hope I can go back, but it's not going to be for a while.
But, you CAN attend an exhibit near you, and stare and walk in awe of the interactive paintings and frescoes as if you were in the Vatican. Click here for a list of locations.
The Sacramento exhibit is actually in Davis, but for advertising purposes it's the Sacramento location. It is located in University Mall, a shopping center right next to UC Davis. Parking is a breeze, and I'm not going to go much into it like I usually do. Here's the address:
871 Russell Blvd.
Davis, CA 95616
General admission tickets are $26.20 for adults, but we went on the opening night when they offered food and drinks, costing around $70.
Vatican's Sistine Chapel: History and Background
The chapel was named after Pope Sixtus IV and was built between 1473-1481. Today, this is the official residence of the Pope, and where each new pope is selected (also known as a papal conclave).
During Pope Sixtus IV's time, other Renaissance artists worked on different frescoes inside. These artists included Botticelli, Raphael, Ghirlandaio, Rosselli, Pinturicchio, and Perugino.
Pope Julius II commissioned Michelangelo to paint the Chapel's ceilings in 1508. At first, Michelangelo did not want to do it because it was completely out of his comfort zone; he considered himself more of a sculptor than a painter and he was already working on a marble piece in Rome. Eventually, he accepted the project, taking him four years to complete.
The ceiling's frescoes depict scenes from the Book of Genesis in the Bible.
Michelangelo also painted The Last Judgment covering the whole altar wall.
Today, it is now a UNESCO World Heritage Site attracting at least 30,000 visitors per day, or six million per year.
Experiencing Sistine Chapel near you
Unlike the Van Gogh exhibit, the Sistine Chapel isn't timed. You are given an audio guide, and each painting has an informational board where you can plug your guide and learn more about the painting.
Each painting and fresco is viewed through a projector, from floor to ceiling, with vibrant colors.
Even though Michelangelo's ceiling frescoes were featured, most of them were displayed on a wall and only a handful of them were displayed on the ceiling.
Opening Night Dinner
The Opening Night was on April 8, 2022. When I learned that there was going to be food and drinks included, I knew that this was when I wanted to go. Also, I knew there would be fewer people compared to any other day.
The food surely did not disappoint, but I may be biased because I love Italian cuisine. A small buffet was on display with a replica of Michelangelo's David sculpture as the centerpiece.
Appetizers included mini mozzarella caprese skewers, stuffed mushrooms, and bruschetta. Pasta was also served as the entree, and topped off with tiramisu for dessert. I freaking love tiramisu, so my taste buds had a ball.
And of course, there was a mini bar where they served wine, cocktails, and soda. I had a glass of Sauvignon Blanc and Aperol Spritz.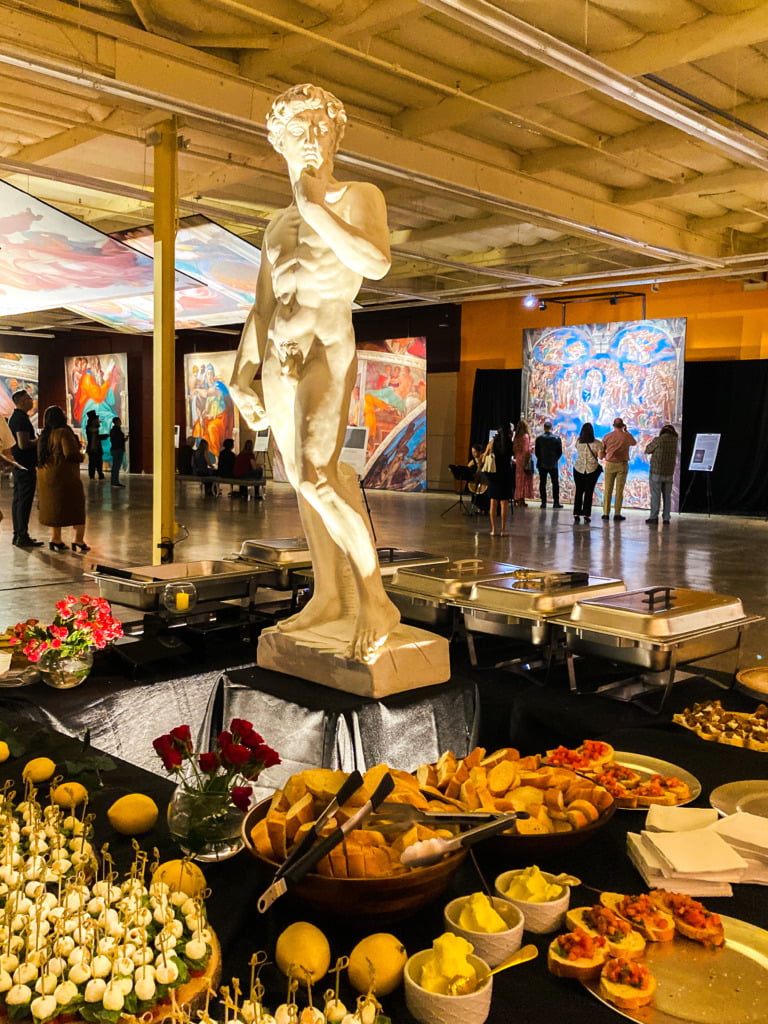 Overall
If you happen to have an exhibit near you, book those tickets. You will not regret it. Do it quick, because this exhibit is nowhere near as long as Van Gogh's. And if an exhibit near you has an opening night, I highly recommend it for the food alone too.
Not only is each piece of art Instagrammable, but it is also educational, especially with the information boards (which are also in Spanish) and audio guides. You feel like you really are in Vatican. Personally for me, I feel a deeper spiritual connection with God through these visuals, and many people during the Renaissance did as well when the Bible wasn't mass printed. This is also why visitors to the original Chapel cry upon marveling at the artwork.
Hannah is a travel writer, graphic designer, and the founder/editor of Hannah on Horizon. She is based in Sacramento, California, living with her husband and two adorable dogs. She shares tips on how to experience luxury travel on any budget, and how to maximize time at each trip or destination, no matter what your budget or amount of vacation time at work. She enjoys making you feel like you have visited each destination with her through her storytelling and informative writing style.